Correspond with us, including our executive editor, professor Yves A. Isidor, via electronic mail:
wehaitians@gis.net
Want to send this page or a link to a friend? Click on mail at the top of this window.

Must learndly read, too; in part, of intellectual rigor
Posted Wednesday, March 31, 2004
At least 20 years needed to bring peace and prosperity to Haiti
UNITED NATIONS, Mar. 31 (AP) - The world must make a commitment of at least 20 years to bring peace to Haiti and raise living standards in the Western Hemisphere's poorest country, UN special envoy Reginald Dumas said.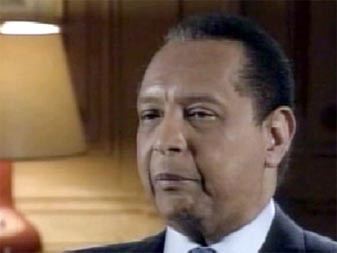 Jean-Claude "Baby Doc" Duvalier in his mid 50s. (Phototo/planet.nt)
He spoke Tuesday after briefing the UN Security Council on his recent 10-day trip to Haiti. He said 10 international missions to Haiti in the last decade failed because there was no sustained commitment.
"We cannot continue with the start-stop cycle that has characterized relations between the international community and Haiti. You go in, you spend a couple of years, you leave, the Haitians are not necessarily involved and the whole thing collapses."
"This has to stop," Dumas said he told the council.
The United Nations and a U.S.-led multinational force are trying to stabilize Haiti after a three-week rebellion forced Haiti's democratically elected president, Jean-Bertrand Aristide, to flee a month ago. UN peacekeepers are to take over the force in early June, probably led by Brazil, Dumas said.
"Clearly, a lot of people in Haiti are not exactly thrilled with the thought of yet another mission, especially when it is an armed mission," he said.
"There has to be a long-term commitment, which I perceive the council is ready and willing to give," Dumas said, adding he thinks it should be "not less than 20 years."
While the situation has improved since his initial visit, when he couldn't leave the capital Port-au-Prince, Dumas said: "The institutions of Haiti have virtually collapsed in terms of health, education, justice, human rights, the police..."
In addition, drugs continue to pass through the country, armed gangs terrorize civilians and there is "a great deal of kidnapping for ransom," he said.
Haiti's interim leaders are trying to start rebuilding but the United Nations has raised just a little over one-quarter of the $35 million US in emergency relief needed to help the shattered country and cabinet ministers said they lack the funds to do anything.
The political situation also remains unsettled.
Chile's UN ambassador, Heraldo Munoz, whose country has contributed troops to the multinational force, said council members noted some contrary "political signals."
U.S.-backed Haitian Prime Minister Gerard Latortue's government has not been recognized by Caribbean leaders, who criticized him at a summit last week for praising the rebels, including convicted assassins, as "freedom fighters."
The Caribbean Community called again at the summit for a UN-led investigation into claims Aristide was removed from office by U.S. soldiers.
Jamaica's UN envoy, whose country heads the 15-country community, was trying to reach General Assembly President Julian Hunte to discuss the possibility of the 191-country world body "examining the situation," General Assembly spokeswoman Michele Montas said.
Hunte is in Japan and no formal letter from the community, known as Caricom, has been received yet, she said.
Dumas said the investigation would not be an investigation by the United Nations but "an investigation under the auspices of the United Nations."
"We're trying to find out the difference," he said.
Copyright © 2004 Canadian Press
Wyclef to use video to get Haiti aid
31 March 2004 - Wyclef Jean is to make a political video as a way to seek more aid for the troubled Caribbean country.
MTV.Com reports that Jean will shoot a video medley of the songs 'Next Generation' and 'Party by the Sea' next week in the Little Haiti area of Miami.
A spokesperson at the singer's management company said that the video would try to realistically depict problems in Haiti.
After the shoot, Jean will announce details of a new fundraising programme for Haiti.
Posted Tuesday, March 30, 2004
Virtually bankrupt, Haiti's new government confronts daunting task to rebuild
By Stevenson Jacobs, Associated Press Writer
STEVENSON JACOBS PORT-AU-PRINCE, Haiti, Mar. 30 (AP) - Virtually bankrupt and faced with the costly mistakes of past governments, Haiti's interim leaders are trying to rebuild their shattered country - a daunting task as many ministries were looted and foreign aid is only trickling in.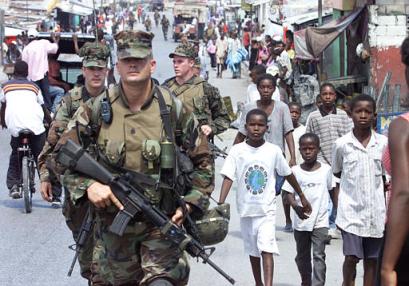 U.S. Marines walk past residents while on patrol the seaside slum of Cite Soleil in Port-au-Prince, Haiti Monday, March 29, 2004. (AP Photo/Ariana Cubillos)
The United Nations has raised a little over a quarter of the $35 million US in emergency relief needed to help stabilize Haiti after a three-week rebellion led President Jean-Bertrand Aristide to flee a month ago.
U.S.-backed interim Prime Minister Gerard Latortue is to meet foreign donors April 14 to appeal for more funds. Meantime, government agencies are virtually paralysed, unable to provide basic services like electricity and garbage collection.
"We have all this urgency and no funds to do anything," cabinet member Robert Ulysse said. "We're still trying to get the engine started, but we're not moving anywhere."
The ministries of agriculture and social affairs were gutted during the chaos and several other looted offices still have no furniture or vehicles.
Haiti's state electricity company - which had a hard time providing even half a day of service in normal times - has been forced to take out private loans to provide minimal service.
Officials blame the financial woes on corruption and mismanagement under Aristide. He and his officials pilfered as much as $1 billion, Ulysse claimed, though an audit by an international firm is pending.
"The corruption ruined the country," said Anne-Marie Issa of the seven-member Council of Sages that helped form the new government. "People are poorer, children can't afford to go to school and institutions aren't functioning.
"We can't afford to have another government like that."
Former Aristide cabinet member Leslie Voltaire, among a few who are not in hiding, refused to comment on the allegations.
The poorest country in the hemisphere, Haiti's economy never really recovered from UN sanctions during a 1991-1994 coup regime. The country's biggest source of foreign currency is remittances from millions of Haitians living abroad, mainly in the United States, Canada and France.
Most workers among Haiti's 8.3 million people are unemployed or get by with odd jobs. Most Haitians live in the deforested countryside with no electricity, no clean drinking water and no health care.
Cities are equally decrepit. Port-au-Prince, the capital, has only four elevators.
The country sunk deeper into despair after international financial organizations suspended more than $500 million in aid and most donors froze direct aid after Aristide's party swept flawed legislative elections in 2000.
Inflation soared to double digits and the Haitian gourde slumped from 20 to 40 to the dollar while the average Haitian income remained $1 a day or less, breeding deeper misery and unrest.
"Basically this government is inheriting a catastrophe," said importer Jean-Claude Assali. "Unless the international community comes up with substantial help to rebuild . . . I think it's going be almost impossible."
UN officials hope to raise enough money to cover basic humanitarian needs over the next six months, especially for the strife-torn north, where the rebellion erupted Feb. 6 and some 200,000 people dependent on food aid were cut off from relief.
So far, UN agencies have raised $9 million in cash and pledges, mostly from Canada, France, Norway and the United States.
International peacekeepers also have pitched in, clearing the capital's streets of debris and patrolling volatile areas.
Foreign donors met in Washington last week to evaluate needs ahead of the April 14 meeting in Port-au-Prince.
Adama Guindo, the UN mission chief in Haiti, is confident "There will be strong support from the international community. They would like the transitional government to succeed."
But Latortue's government has not been recognized by Caribbean leaders, who criticized him at a summit last week for praising as "freedom fighters" the rebels, including convicted assassins, who helped bring about Aristide's downfall.
Caribbean leaders also question the legitimacy of Latortue's government, given Aristide's claims that he remains Haiti's democratically elected president who was forced from power by the United States - charges U.S. officials vehemently deny.
Copyright © 2004 Canadian Press
New Haiti PM says not persecuting old PM
By Joseph Guler Delva, Associated Press Writer
PORT-AU-PRINCE, Haiti, Mar. 30 (Reuters) - Haiti's new prime minister said on Tuesday that he would take "appropriate measures" if asked to protect his predecessor, who has gone into hiding after the revolt that ousted President Jean-Bertrand Aristide.
Interim Prime Minister Gerard Latortue made the comments on local radio in response to allegations from former Prime Minister Yvon Neptune, who told Reuters on Sunday that the rebels -- whom Latortue has praised as "freedom fighters" -- were threatening to murder him.
Neptune, an Aristide appointee, said he wants U.S. protection and did not trust local police because many are working closely with the rebels and former Haitian soldiers who led the uprising that overthrew Aristide's government.
Latortue said Tuesday that if Neptune made a request for protection, "My government would study it and take appropriate measures."
He rejected Neptune's accusations that the government was persecuting members of Aristide's Lavalas Family political party.
"I want to assure Mr. Neptune that my government is committed to protecting every Haitian. My government does not have any intentions to persecute Mr. Neptune nor anybody else in his party," Latortue said.
U.S. WOULD TAKE THREATS SERIOUSLY
The United States, which leads an interim military force trying to restore order in Haiti, "would take very seriously credible threats against Mr. Neptune or anybody else in Haiti," a State Department official in Washington said.
"We urge Mr. Neptune to be in touch with the interim administration if he has concerns about his personal security," said the official, who asked that his name not be used.
Neptune's house was burned down during the month-long revolt that drove Aristide into exile. He holed up in his office for two weeks, until Latortue took over in early March, and has since been in hiding and staying briefly with friends.
"The government and the U.S. know that I am in danger," Neptune told Reuters by cellular phone from hiding. "It is their responsibility to protect me. If anything happens to me, it will be their responsibility.
"If Prime Minister Latortue had the will to assume his responsibility, he would have contacted me because he knows the outgoing prime minister has the right to protection."
Neptune said U.S. Marines whisked him into hiding after Latortue returned to Haiti to take up his new post and guarded him until March 17, trying to convince him to leave the country. When he refused, the Marines said he was on his own, and left him to his own devices, Neptune said.
Neptune is among 37 Lavalas supporters that the new government has barred from leaving the country. Latortue said the prohibition was a precaution to prevent them from fleeing while the government determines if any were involved in corruption.
Copyright © 2004 Reuters Limited
Haiti's struggle to restore the rule of law
Building a Justice System, and Perhaps Even Prosecuting Aristide
By Kirk Semple, The New York Times
PORT-AU-PRINCE, Haiti, March 28 — When Haiti's new police chief made a surprise tour of six police stations in the capital earlier this month, they were nearly empty. Only about two dozen officers were on duty when there should have been nearly 200. "And they were in civilian clothes," the chief, Léon Charles, said despondently.
As Haiti slowly emerges from weeks of violent political turmoil that led to the exile of President Jean-Bertrand Aristide, Mr. Charles and other members of the new interim government face the challenge of resurrecting the rule of law and ending official impunity. They plan to strengthen an emaciated justice system and to gut and rebuild a police force that is widely viewed as disorganized, demoralized, ineffectual and corrupt.
"There was effectively no police in the last two years," said Mr. Charles, who until recently headed Haiti's Coast Guard, working closely with the United States on drug interdiction and other issues. Of the 6,000 officers on the national police force's payroll, he said, he can count on fewer than 2,000 to even show up, let alone provide law enforcement.
Officials of the new government and human rights activists say many police officers have been involved in drug trafficking, extrajudicial killings and kidnappings. Members of the Aristide administration often used police officers to punish opponents, those officials say.
"The system was used not to protect but to abuse and oppress," the new minister of justice and public security, Bernard Gousse, said in a recent interview.
The interim government of Prime Minister Gérard Latortue, appointed on March 9 to lead Haiti to national elections, has moved quickly to track down officials in Mr. Aristide's administration suspected of involvement in criminal enterprises. The government plans to pursue several criminal cases that had languished under Mr. Aristide, Mr. Gousse said, most notably the murder in 2000 of Jean Dominique, a leading radio commentator who criticized corruption in the Aristide government.
The new government is also planning to investigate abuses committed or ordered by the Aristide administration. Mr. Aristide's opponents have accused him of human rights violations and embezzlement of state money. Officials say the government intends to build a criminal case against Mr. Aristide and could eventually seek his extradition back to Haiti to stand trial.
But Mr. Latortue, who has vowed to lead a nonpartisan government, will be closely watched for how he handles the accused and the convicted criminals among the ranks of his own government's perceived allies. Human rights advocates in Haiti and abroad say they will not stand by if the Latortue administration abuses its own power.
That challenge came into sharp focus on March 20 in the coastal city of Gonaïves during a visit by Mr. Latortue and his top justice and police officials. In a raucous ceremony in the town's central plaza, commanders of the rebel army that helped to drive Mr. Aristide into exile last month shared a stage with the government officials.
Among the rebel leaders was the notorious Jean-Pierre Baptiste, smiling and looking triumphant. It did not seem to matter that Mr. Baptiste, whose nom de guerre is Jean Tatoune, had been freed by rebels last year from a prison where he had been serving a life sentence for his participation in the killings of Aristide supporters in Gonaïves in 1994. Mr. Latortue hailed the rebels as "freedom fighters."
The events provoked alarm among some rights advocates and international observers.
Jocelyn McCalla, executive director of the New York-based National Coalition of Haitian Rights, has denounced the "unholy alliance" between the interim government and the anti-Aristide rebels. They include Louis-Jodel Chamblain, who was convicted in absentia for the murder in 1993 of a pro-Aristide businessman and returned from a decade in exile in the Dominican Republic to lead the insurgency against Mr. Aristide. Mr. McCalla accused Mr. Latortue of "fanning the flames of lawlessness."
Mr. Baptiste and Mr. Chamblain are among hundreds of accused or convicted criminals who are now freely walking the streets of Haiti. Some of them were released from prison by rebels in the final days before Mr. Aristide's departure, including Prosper Avril, a former general who seized power in a coup in 1988 and had been in prison awaiting trial on charges stemming from a massacre in 1990.
[Mr. Chamblain said Saturday that he would kill Mr. Aristide if he returned to Haiti, Reuters reported. "If Aristide comes tomorrow I will have 15,000, 20,000 Haitians armed to fight him and kill him as he killed my wife," said Mr. Chamblain, who accuses Mr. Aristide of ordering his wife's death in 1991.]
Brian Concannon, an American lawyer who helped the Aristide government bring the case against Mr. Baptiste and others involved in killings, says that hard-fought gains in the prosecution of human rights violations are being reversed.
"Right now we're back to less than zero," Mr. Concannon said in a telephone interview from Oregon, where he lives.
Camille Leblanc, a prominent lawyer in Port-au-Prince and a justice minister under former President René Préval, said: "We are waiting to see what the new government will do about this. It is one of the major tests the new government will have to pass. If you say you are not going to do anything about these cases, it's as if you are condoning the reign of impunity under Aristide."
Officials of the new government have not said how they plan to treat anti-Aristide rebels accused or convicted of crimes. "There is a plan to bring to justice everyone who has broken the law," Justice Minister Gousse said in a recent interview.
But, he added: "When society itself is in disarray, we have to heal some wounds. It's important not to forgive everything but to understand what led them."
Meanwhile, as Mr. Gousse and Mr. Charles push their new agendas to overhaul the justice and law-enforcement systems, they warn that the campaign could turn violent. An aide to Mr. Latortue said intelligence had indicated that assassins might choose top officials as targets in an effort to destabilize the new government.
Mr. Gousse now travels everywhere with a security detail. Mr. Charles still drives himself to work on occasion. But he expects that he, too, may soon be forced move only in a convoy of bulletproof vehicles packed with bodyguards.
Copyright 2004 The New York Times Company. Reprinted from The New York Times of Monday, March 29, 2004.
Posted Sunday, March 28, 2004
Haiti rebel leader wants to kill enemy Aristide
By Simon Gardner, Reuters Writer
PORT-AU-PRINCE, Haiti, Mar. 28 (Reuters) - A notorious Haitian paramilitary leader who helped lead a bloody revolt that ousted Jean-Bertrand Aristide says he will kill the former president if he ever returns from exile.
"If Aristide comes tomorrow I will have 15,000, 20,000 Haitians armed to fight him and kill him as he killed my wife," Louis Jodel Chamblain, accused of heading death squads during years of dictatorship and military rule in the late 1980s and early 1990s, told Reuters.
The former army officer convicted of murder said in an interview late Saturday at a plush, well-guarded hilltop retreat just outside Port-au-Prince that he sees himself as a patriotic leader of the Haitian people on a mission to stamp out Aristide's following.
Chamblain, who returned from a decade in exile in neighboring Dominican Republic to lead last month's uprising, accuses Aristide of ordering thugs to murder his seven-months pregnant wife in 1991 and vows he will never let another like him lead Haiti.
"I came to fight to get rid of this criminal from power to put an end to drug trafficking and terrorism (by Aristide supporters) in this country," he added. "I will not let (gangs loyal to Aristide) terrorize my people. I call on them to lay down arms."
Marauding pro-Aristide gangs have started to hand over small caches of weapons to police as part of a disarmament drive, but the vast majority remain armed, fearing reprisals from right-wing Chamblain's rebels.
SUSPECTED OF MASSACRE
Chamblain is suspected of taking part in a 1987 election massacre in which 34 voters were killed. He was convicted in 1995 in absentia of the 1993 murder of a prominent pro-Aristide businessman who was dragged out of a church service and shot in the head.
The now defunct paramilitary Front for the Advancement of Progress of the Haitian People he co-founded in 1993 was blamed for 3,000 of the estimated 5,000 killings in the three years after a military junta ousted Aristide in 1991.
Chamblain laughs at Amnesty International's calls for his arrest, accuses the rights group of a witch-hunt and says his conscience is clean.
"I am ready to present myself before the courts when there is a justice system in my country," Chamblain said, referring to courts and police in disarray after the revolt in which more than 200 people died.
"How many people did I kill? Where are the bodies? What did I kill them with? Why didn't police arrest me at the time? Why didn't the courts seek my arrest?" he said, sipping a soft drink as armed aides hovered nearby.
Chamblain and rebels in control of swaths of Haiti's rural north are able to move around unhindered by a U.N.-backed multinational military force and local police. New Haitian National Police chief Leon Charles says detaining the likes of Chamblain is "over my head."
But the rebel leader says he is working with the new government of Prime Minister Gerard Latortue to integrate his cadres into the Haitian police force given Aristide disbanded the army and there is no money to set up a new one -- one of Chamblain's long-term goals.
Aristide -- a champion of the poor majority but accused of corruption by his opponents -- accuses the United States of forcing him into exile against his will, and rights groups are up in arms at U.S. support for the ouster of a democratically elected leader.
"I say thank you very much to the American people, to French President Jacques Chirac, to the Canadian people ... for seeing the situation Haiti was in and taking on a historic responsibility," Chamblain smiled.
Copyright © 2004 Reuters Limited
French return to Haiti after 200 years
By Paisley Dodds, Associated Press Writer
CAP-HAITIEN, Haiti, Mar. 28 - French troops patrolling this former colony for the first time in 200 years are getting warm welcomes from most Haitians, but some still want Paris to pay $22 billion in restitution called for by ousted President Jean-Bertrand Aristide.
The campaign to win restitution was a cornerstone of Aristide's embattled administration, which charged France had wrongly made Haiti pay for its independence after enslaving its people and stealing its riches.
Haiti became the world's first free black republic after declaring independence on Jan. 1, 1804. But France did not recognize Haiti's independence until 1838 — after Haiti began paying France an agreed amount of 90 million gold francs to compensate former plantation owners.
Speaking in November to honor the 200th anniversary of the Battle of Vertieres, which was fought just outside this colonial city, Aristide blamed Haiti's crushing poverty on having to pay off that debt. Payments continued into the 20th century.
Although Aristide and some supporters left last month amid a spreading armed rebellion, the banners reading "Restitution for Haiti Now" that his government put up for bicentennial celebrations in January remain, sometimes with French troops patrolling underneath.
"They made us into slaves but we fought and eventually kicked them out," said Job Denis, a 30-year-old tire repairman. "But then they made us pay for our independence. They owe us that money and it should go to each and every Haitian."
The French troops are part of a multinational force of about 3,000 troops brought in to restore order after the rebellion. It is the first time a French battalion has been deployed to Haiti since its independence, said Maj. Xavier Pons said, spokesman for the French troops.
"There should be no links between 1804 and 2004," Pons said. "But we are sensitive to Haitians being proud of this history. That's why we've slowly increased our presence and we've been very tactful in our approach."
Although armed, the French troops patrol Haiti's north wearing berets, not helmets like the American troops. They also are regularly seen smiling and talking with residents who speak French and Creole.
Eating rations of pate and smoking French and Haitian cigarettes, the troops say they feel at home in their former colony.
The French have nor fired any rounds nor have they been fired on. By contrast, the American military has shot and killed at least six Haitians who they claim fired on U.S. troops or ran roadblocks.
"I feel safe now that they're here," said Emanuel Bienaime, 20. "I think that France has done a lot for this country but it would be nice if they could do more."
A French Navy ship carrying 7 tons of food aid, clothes and medicine docked in Port-au-Prince on Sunday, Lt. Col. Emmanuel Dinh said. The aid, sent by the French Red Cross, will help provide relief in central parts of Haiti.
The new interim government of Prime Minister Gerard Latortue has shied away from the idea of restitution, instead trying to revive hundreds of millions of dollars in aid suspended after Aristide's party swept disputed 2000 legislative elections.
French Foreign Minister Dominique de Villepin is scheduled to visit Thursday to meet with Haiti's new leaders.
France dismissed Aristide's demand for restitution last year, pointing to the nearly $2.4 billion lent to Haiti by the international community. More than $240 million of that aid came from France and was meant to rebuild what was once the richest colony in the New World, thanks to bountiful resources and slave labor.
That prosperity impelled Napoleon Bonaparte to order 15,000 troops to oust Touissant Louverture, a former slave who rallied blacks. The French eventually captured Louverture and imprisoned him in a mountain cell on the French-Swiss border, where he died.
Shortly afterward, French troops weakened by yellow fever and steady battles surrendered to Haitian forces.
Today, the historical link between Haiti and France is undeniable. Although most Haitians speak Creole, most vocabulary is French. Much of the country's distinctive architecture was designed by French or French-schooled architects, particularly in Cap-Haitien, a colonial city of brightly colored houses and graceful iron work.
But grudges are not easily forgotten.
"I feel like I can't live now that the French are here," said Roro Ronex, 27, a mechanic. "The only reason why they're here is because we asked for the money. Now, they'll make us suffer again."
Copyright © 2004 The Associated Press
Posted Friday, March 26, 2004
Caribbean leaders won't accept Haiti gov't
By Bert Wilkinson, Associated Press Writer
BASSETERRE, St. Kitts - The 15-nation Caribbean Community has decided against recognizing Haiti's new U.S.-backed government, senior Caribbean officials said Friday.
Regional leaders reached a consensus decision on the issue during the second and final day of a summit, said several senior officials, speaking on condition of anonymity.
The move came a day after the leaders demanded that the U.N. General Assembly investigate Aristide's claims he was abducted at gunpoint by U.S. agents when he left as rebels threatened to attack Haiti's capital.
In Haiti, meanwhile, the interim government announced it will block dozens of ex-members of Aristide's government from leaving the country, including former Prime Minister Yvon Neptune.
New Justice Minister Bernard Gousse told The Associated Press that the move was "an insurance policy" that will make the officials available for investigations into embezzlement and other alleged crimes.
"This does not mean that they are guilty. It will be for the justice system to decide," Gousse said.
Among the 37 names of the list is ex-police chief Jocelyne Pierre, former Central Bank head Venel Joseph and ex-chairman of the state-run telephone company, Alphonse Inevil, Gousse said. Neptune has already said he intends to remain in the country.
The regional trading bloc decided against opening formal relations with the new government over concerns about the manner in which ousted President Jean-Bertrand Aristide left Haiti for exile.
Asked if the regional bloc would recognize the new interim government, one national leader said, speaking on condition of anonymity: "Our people would not allow us to do that."
Talks continued Friday but officials said their minds were made up. They said they would discuss the issue again at their regular annual summit in July in Grenada.
The officials said for the time being the Caribbean Community plans to work through the United Nations and other agencies in dealing with Haiti. They said leaders had been under enormous pressure from the United States to recognize the new government.
In Haiti, a cargo ship bearing nearly 2,000 tons of rice, beans and oil docked at the northern port of Cap-Haitien, holding out relief for thousands of Haitians desperate for food in the aftermath of a rebel uprising.
Aid workers estimate nearly 270,000 people need food aid in the north, and some babies already are dying.
As for Aristide's eventual destination, Jamaican officials said he will take permanent asylum in South Africa, but not until it holds general elections next month. Aristide has been in temporary exile in Jamaica since March 15, despite protests from U.S. and Haitian officials.
Caribbean leaders are "still upset and uncomfortable" about Aristide's departure, and made that clear to U.N. special envoy Reginald Dumas when he listened to their debate, St. Kitts and Nevis Prime Minister Denzil Douglas told The Associated Press Thursday.
"We are prepared to discuss the possibility of identifying exactly what were the circumstances," Douglas said. "We are taking this matter to the U.N. General Assembly for clarification."
Conference officials said the 15-nation regional bloc wants the General Assembly to investigate rather than the Security Council, where the United States or France could veto the proposal.
The Caribbean can expect support from the 53-member African Union, which last month echoed its demand.
The officials say Aristide has told Caribbean leaders that he was abducted at gunpoint by U.S. agents and put on a U.S.-chartered aircraft that carried him to the Central African Republic.
U.S. officials say they organized the Feb. 29 departure at Aristide's request and probably saved his life as rebels who had overrun half the country threatened to attack Haiti's capital.
Caribbean leaders are angry that the Security Council refused their urgent plea to send international troops to save Aristide, Haiti's first democratically elected leader, but speedily sanctioned a U.S.-led intervention after he fled.
The Caribbean bloc refused to join that peacekeeping force, but on Thursday considered sending troops with a separate U.N. humanitarian force to help rebuild Haiti, Douglas said. It would deploy within three months.
Douglas also said Caribbean leaders remain angry with interim Haitian Prime Minister Gerard Latortue, who was not invited to the summit after he criticized the group for allowing Aristide to return to the region from Africa.
Copyright © 2004 The Associated Press
Posted Thursday, March 25, 2004
South Africa to be Aristide's new home
BASSETERRE, St. Kitts, Mar. 25 (AP) -- Ousted Haitian President Jean-Bertrand Aristide will take permanent asylum in South Africa but not until it holds general elections next month, Jamaican officials said Thursday.
But a spokesman for Aristide said it was too soon to say for sure where he would go.
``Mr. Aristide is still in consultation. A final decision has not been made,'' Huntley Medley said by telephone from Jamaica. ``The discussions are continuing with several places and people.'' Advertisement
The Jamaican officials said on condition of anonymity that South African President Thabo Mbeki's government believes the delay is necessary because it could be ``politically unsettling'' before the April 14 election.
South Africa presidential spokesman Bheki Khumalo said there would be no immediate comment. Opposition leaders have said the government should not support Aristide, once hailed as a champion of democracy but now accused of corruption and violence against his opponents.
Mbeki was among few international leaders to attend Haiti's bicentennial independence celebrations this year and is known to get along well with Aristide, who left Haiti last month during a rebellion.
In Haiti, interim Cabinet Minister Robert Ulysse said Aristide's departure would help stabilize Haiti and mend tattered relations with the Caribbean Community.
``We want to put (Aristide) behind us and allow Haiti to move forward,'' Ulysse told The Associated Press.
In the meantime, Aristide would remain in Jamaica, two high-ranking government officials said.
Jamaican officials said Aristide refused asylum offers from Venezuela and Nigeria. The officials spoke on the sidelines of a two-day summit of Caribbean leaders that opened Thursday.
At the meeting, Caribbean leaders angry about claims of U.S. meddling in Haiti considered rejecting the country's U.S.-backed interim government but also pledged to find ways to help its impoverished people, including possibly sending troops.
Caribbean leaders said they were focusing on how -- if at all -- to recognize a government that praises rebels who forced out Aristide.
They also said they had won agreement from the United States that Haiti's rebels would not participate in any government nor any reconstituted Haitian army.
St. Kitts Foreign Minister Timothy Harris said that agreement came in a foreign ministers' videoconference Wednesday night with U.S. officials including Assistant Secretary of State Roger Noriega.
In amicable talks, he said, the United States agreed that ``the rebels ... will play no part in government or in the military because it would be against U.S. policy.''
Several Caribbean leaders have criticized interim Prime Minister Gerard Latortue for hailing as ``freedom fighters'' rebels who include assassins convicted of murdering Aristide supporters.
Rights groups also have expressed shock that Latortue is entertaining rebel demands to reconstitute the army that ousted Aristide in 1991 and murdered, maimed and tortured thousands. Aristide disbanded the army after U.S. troops restored him in 1994.
Jamaican Prime Minister P.J. Patterson warned Haiti's crisis cannot reach a ``lasting and permanent solution'' unless the 15-nation Caribbean Community is involved. ``Nothing can be achieved without our collective support,'' he told leaders. ``We certainly make no claim to military power, but our influence in the hemisphere cannot be underestimated.''
Caribbean leaders have refused to join Haiti's U.S.-led peacekeeping force, but on Thursday considered sending troops with a separate humanitarian force to help rebuild Haiti, St. Kitts Prime Minister Denzil Douglas said of the force the United Nations is to deploy within three months.
Aristide arrived in Jamaica on March 15 over protests from the United States and Haiti's new interim government, both of which said his presence on the neighboring island would increase tension as a multinational peacekeeping force sought to stabilize Haiti.
Aristide fled his country Feb. 29 as rebels waging a three-week uprising threatened to attack Port-au-Prince, the capital.
He was flown on a U.S.-chartered jet to the Central African Republic, where the ousted president claimed he was forced from power at gunpoint by the Americans.
Many countries have been reluctant to host Aristide, fearing damage from the diplomatic fallout of his claim.
U.S. officials say they acted at Aristide's request and probably saved his life when they put him on a chartered plane. Aristide says he was kidnapped and never was told where he was being taken.
Copyright 2004 The Associated Press
Posted Wednesday, March 24, 2004
Haiti interim gov't holds first meeting
By Paisley Doods, Associated Press Writer
CAP-HAITIEN, Haiti - Haiti's interim government gathered Wednesday for its first Cabinet meeting as residents in the north grappled with security concerns, relying on an alliance of rebels, police and foreign peacekeepers to maintain a shaky truce.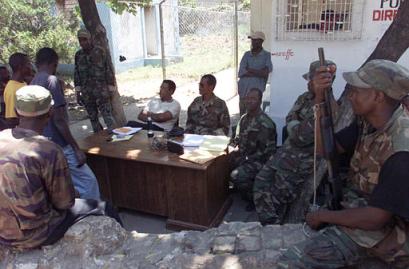 Louis-Jodel Chamblain, center left in white shirt, convicted assassin and rebel commander, acts as a de facto judge before a teenager who was arrested and accused of stealing in Cap Haitien, Monday, March 22, 2004. (AP Photo/Ariana Cubillos)
Guerrillas outnumber and outgun police in Cap-Haitien, the nation's second-largest city and a strategic northern port where humanitarian agencies are urgently trying to help the poor.
"This is the first opportunity for a brainstorming on the situation and to come up with at least a preliminary plan so we can get started," Cabinet Minister Robert Ulysse told The Associated Press.
"We all know there's a general security problem so we'll be discussing how to approach this."
Five police officers were detained on suspicion of killing five young men believed to be supporters of ousted President Jean-Bertrand Aristide's Lavalas Family party, Viles Aliazar of the National Coalition for Haitian Rights said Wednesday.
Relatives of the victims, ages 17 to 24, said the officers rounded up and executed the men over the weekend and then dumped their bodies throughout the capital, Aliazar said. The officers were detained Monday but no charges have been filed.
Cabinet ministers also planned to discuss procedures for nominating local government officials, many of whom fled from rebels in an armed uprising that pushed Aristide from power Feb. 29. Police have only recently returned to the cities, many of which remain rebel-controlled, and many government offices remain closed.
"There are some problems ... but we're trying to work out these misunderstandings," said Renan Etienne, new police chief for northern Haiti.
Fewer than half of Cap-Haitien's 100-plus officers have returned, lacking vehicles, weapons, offices and the trust of residents accusing them of acting as Aristide's henchmen.
Interim Prime Minister Gerard Latortue met with senior police officials for several hours Tuesday night, and planned to give a report to his Cabinet Wednesday, Ulysse said.
Underscoring the challenges authorities face in a region where rebels still hold sway, police also met with rebels in emergency talks Tuesday after shots rang out on Monday night. One shot was fired outside a rebel-held police station, while another crackled outside a hillside hotel that rebels have frequented since they took the city Feb. 22.
In the absence of courts and judges, one rebel leader — convicted assassin Louis-Jodel Chamblain — has started judging petty criminals and supporters of Aristide in Cap-Haitien. Chamblain sits at a wooden desk beneath an almond tree at the police headquarters torched by his fighters.
Chamblain, co-leader of a paramilitary death squad, was convicted in absentia to two life sentences for participating in a 1994 massacre of Aristide supporters and the 1993 execution of Aristide financier Antoine Izmery.
Chamblain returned from exile in the neighboring Dominican Republic to lead a band of former soldiers and ragtag recruits, who jailed dozens of people accused of offenses ranging from petty thievery to fighting for Aristide.
Cap-Haitien business owners, who have helped pay the rebels' bills for food and lodging, are turning to the insurgents and not police when there is a problem.
Some 150 French troops began arriving last week and were negotiating with rebels to secure the port for needed humanitarian aid shipments.
Looters emptied the World Food Program warehouse of 800 tons of food the day after the rebels took over. A shipment of 1,550 tons of food was expected to arrive this week and would be the largest delivery to the north since the crisis began, said World Food Program spokesman Alejandro Chicheri.
The shipment was due to arrive Wednesday but was delayed because of a strike at the port in Port-au-Prince, said Xavier Pons, spokesman for the French troops.
Meanwhile, there was still confusion over the duties of police and rebels.
"I still don't know who's who or who is supposed to do what," Etienne said.
For years, Haiti's government leaders sat on the national police council, blurring the lines of political affiliation and impartial justice.
Newly returned police officers declare their neutrality but remain at the mercy of rebels pressing for the interim government in Port-au-Prince to reinstate the army. Aristide was ousted by the army in 1991, and he disbanded it after being returned to office with the backing of U.S. troops.
"The day that the police get up and running, the Resistance Front will give up its guns," promises Chamblain, a pistol stuck in his dress slacks.
Chamblain denies he is playing judge, saying he only mediates disputes.
But New York-based Human Rights Watch maintains the rebels illegally detained at least 16 prisoners Saturday. The group urged French troops to quickly fill the "security vacuum."
"The multinational forces need to extend their reach," Joanne Mariner, Human Rights Watch director, said. "Right now there really is no rule of law."
Copyright © 2004 The Associated Press. All rights reserved
Posted Tuesday, March 23, 2004
Convicts rule Haiti town, executions plague another
By Michael Chritie, Reuters Writer
PORT-AU-PRINCE, Haiti, Mar. 23 (Reuters) - The northeast Haitian town of Fort Liberte lives up to its name for 150 murderers, rapists and thieves freed from the local jail. They run the place.
Three weeks after a multinational force landed in Haiti to restore order after President Jean-Bertrand Aristide was driven into exile by an armed revolt and U.S. pressure, lawlessness remains the rule in parts of the impoverished Caribbean nation.
Most of Fort Liberte, a small town on the pockmarked road to the Dominican Republic border from the northern port of Cap-Haitien, is in the hands of escaped convicts, the United Nations said on Tuesday. Stores are shuttered and the streets are empty.
"The town is virtually deserted. There is no market. Many houses have been burned. Prisoners control most parts of the city," said U.N. spokeswoman Elisabeth Byrs.
Far to the southwest, in the seaside town of Les Cayes, armed rebels who helped oust Haiti's first democratically elected leader carry out public executions, unchallenged by police or foreign troops.
In the main square every morning, they shoot accused thieves before an expectant crowd, according to reports sent to the United Nations from nongovernmental organizations
"There is no trial," Byrs said.
The 3,000-strong U.N.-sanctioned force, led by U.S. Marines and christened on Monday as "Operation Secure Tomorrow," has restored an uneasy calm to the bustling capital, Port-au-Prince, since landing on Feb. 29 -- hours after Aristide was flown out in the face of the monthlong revolt.
Late last week, French legionnaires began to deploy to the north, setting up base in Gonaives, where the rebellion began on Feb. 5, and Cap-Haitien, Haiti's second-largest city.
Skittish Marines, who have shot at least eight people, and Canadian troops are expected to spread out slowly to the south in coming weeks, U.S. military officials said.
Even where foreign peacekeepers have begun to patrol, bringing back the rule of law is proving a slow process.
SHARING SAME TURF
In Cap-Haitien, armed rebels, some still in stolen police gear or military fatigues, 200 French foreign legionnaires and a 50-member deployment of Haitian National Police share the same turf in a fragile detente.
Neither the French soldiers nor the police have taken any action to free Aristide supporters illegally detained by the rebels, or to confiscate weapons.
"There is a bit of tension between the military (the rebels) and the police, but there have been no shootings, nor any clashes," said Cap-Haitien's new police chief, Renan Etienne. "The French are patrolling the streets and things are getting normal."
Etienne, whose unit would have numbered up to 300 before the force disintegrated as the rebels advanced, said a shot had been fired at a building on Monday night, but it had not been aimed at anybody in particular. He had no further details.
U.S.-based rights group Human Rights Watch urged the U.S.-led force to fill the "security vacuum" quickly.
"It's been three weeks since the Multinational Interim Force arrived in Haiti, but the rule of law has yet to be re-established in the north," Joanne Mariner, deputy director of the group's Americas Division, said in a report on Monday.
(Additional reporting by Ibon Villelabeitia in Port-au-Prince)
Copyright © 2004 Reuters Limited
Haiti police, rebels struggle for power
By Paisley Dodds, Associated Press Witer
CAP-HAITIEN, Haiti, Mar. 23 - Police and former rebels held emergency talks Tuesday after gunfire erupted within 48 hours of the return of police to Cap-Haitien, a strategic port city claimed by rebels during the insurgency that ousted Jean-Bertrand Aristide.
Late Monday, shots rang out in front of a charred police station manned by rebels and by a hillside hotel rebels used as a headquarters after they seized this strategic northern port city Feb. 22.
Neither side admitted to firing the shots.
The dispute underscores the challenges in Haiti's north, where rebels have stepped in to fill the void in law enforcement. During the insurgency, many police and government workers fled their posts fearing reprisal attacks.
"There are some problems between factions of the police and rebels right now but we're trying to work out these misunderstandings," said Renan Etienne, the city's new police chief and director of police in the country's northern departments. More than 30 police officers have returned to the city — Haiti's second largest with more than 500,000 people — but former rebels still outnumber and outgun police.
Human rights groups have criticized the former rebels for targeting former supporters of Aristide or his Lavalas Family party. On Tuesday, the ex-commandos were holding five prisoners and had just released nearly a dozen who they say committed crimes ranging from theft to illegal weapons. Two were being held on allegations they were armed Aristide loyalists.
Rights groups also were questioning interim Prime Minister Gerard Latortue's actions at a weekend rally, where he celebrated the gangsters who began Haiti's uprising as "freedom fighters."
The New York-based National Coalition for Haitian Rights accused Latortue of "fanning the flames of lawlessness" when he shared a platform with rebel leaders in his hometown of Gonaives on Saturday.
Meanwhile, Lavalas officials appeared to be regrouping and warned there could be no peace without the participation of Haiti's largest political movement.
"Everywhere Lavalas is a victim," said Sen. Yvon Feuille, a Lavalas member. "Besides those physical massacres, we see there is a political massacre being prepared behind Lavalas' back," he said. "Without Lavalas, there is no solution."
Aristide left Feb. 29, claiming he was forced from power by the United States as rebels threatened to attack Port-au-Prince. Some 3,300 troops from the United States, France, Chile and Canada are in Haiti as peacekeepers. More than 150 French troops are patrolling the north, sometimes passing armed commandos and the newly arrived police.
Under a U.S.-sponsored plan, Latortue last week formed a transitional government that he said is neutral but includes no Lavalas member and is loaded with Cabinet members critical of Aristide.
Aristide is staying temporarily in Jamaica, but Nigeria announced Monday it has agreed to a request by Caribbean leaders to grant him temporary asylum. Allies said the exiled leader is not interested in the offer.
Latortue, the United States and others have criticized Jamaica for accepting Aristide, saying his presence near Haiti would raise tensions.
Copyright © 2004 The Associated Press
Aristide passes on Nigeria asylum offer
By Bert Wilkinson, Associated Press Writer
ST. JOHN'S, Antigua - Ousted Haitian President Jean-Bertrand Aristide will not take Nigeria up on its offer of temporary asylum, an associate said Tuesday.
Randall Robinson, an African-American activist, also accused the United States of exerting diplomatic pressure to shuttle Aristide far away from the Caribbean.
Robinson said he had spoken with Aristide, who is in Jamaica, by telephone after Nigeria Monday offer of asylum.
"He has not asked and does not want to go to Nigeria," Robinson said by phone from his home on the nearby island of St. Kitts. "He has not requested to do so."
Robinson is a former president of TransAfrica, a Washington-based group that monitors U.S. policy toward Africa and the Caribbean.
Aristide left Haiti Feb. 29 as rebels threatened to attack the capital of Port-au-Prince. He later said U.S. troops kidnapped him, a charge denied by the United States.
Aristide arrived in Central African Republic on March 1 and stayed there with his wife until March 15, when he flew to Jamaica to be with his two daughters. Robinson accompanied Aristide on that flight.
Jamaica's government has said it will allow Aristide and his wife, Mildred, to remain for 10 weeks while they seek permanent asylum.
Interim Haitian Prime Minister Gerard Latortue, the United States and others have criticized Jamaica for accepting Aristide, saying his presence in the Caribbean could raise tension in Haiti.
"Were elections to be held in Haiti tomorrow, Aristide would be overwhelmingly re-elected," Robinson said. "This fear has enraged the U.S. and has caused it to behave undemocratically and awfully."
Unofficially, Jamaican officials say Aristide wants to go to South Africa, which has indicated it would accept the former leader.
Copyright © 2004 The Associated Press
Posted Monday, March 22, 2004
Head of Haiti force says won't disarm gunmen
By Ibon Villelabeitia, Reuters Writer
PORT-AU-PRINCE, Haiti, Mar. 21 (Reuters) - The commander of a multinational force in Haiti insisted on Sunday it was not his mission to disarm militants, differing with earlier U.S. assertions that the force would confiscate weapons.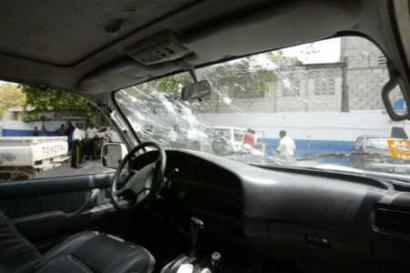 The bullet-ridden vehicle of Louis Rene Balmir sits at a Port-au-Prince's police station after receiving eight bullets when he tried to speed by a U.S. Marines roadblock. (Reuters/Daniel Morel) More photos
"This is a country with a lot of weapons and disarmament is not our mission. Our mission is to stabilize the country," U.S. Marine Corp. Brig. Gen. Ronald Coleman, head of the 3,000-strong U.N.-sanctioned force, told Reuters.
Army Gen. James Hill, who oversees the Haiti operation as head of Miami-based U.S. Southern Command, told a Pentagon briefing this month the 1,600 U.S. Marines in Haiti would begin confiscating weapons from everyone without a valid permit.
Saying, "you've got to take guns off the street," Hill said Marines would start going after caches.
But in an interview at his headquarters in Port-au-Prince, Coleman described a much less active role for the international force in disarmament -- a thorny issue in the still tense Caribbean nation. He said it was up to the Haitian police.
The U.N.-sanctioned multinational force, also made up of French legionnaires and gendarmes and troops from Canada and Chile, was sent to restore order after the Feb. 29 ouster of President Jean-Bertrand Aristide, driven into exile by an armed revolt and U.S. pressure.
"If one of the good citizens of Haiti comes to us and informs us of a stockpile of weapons we will go, to the best of our ability, always with the Haitian national police. The Haitian national police will be in the forefront," he said.
Haiti, the poorest nation in the Americas, is awash with weapons -- from rusted rifles to modern automatic weapons.
Rebels who helped oust Aristide as well as pro-Aristide militias known as "chimeres" -- or ghosts -- remain armed to the teeth, and international observers say there will be no lasting peace until all rival groups lay down their weapons.
DISARMAMENT NOT RESOLVED
Senior commanders of some of the foreign units deployed in Haiti say the issue of disarmament has not been resolved.
The force does not want to leave anyone vulnerable by taking away weapons that may be their only form of defense in a country with few police and a barely functioning legal system.
Nor do they want to appear to be taking sides in the bitter divide between supporters of Aristide and his foes who are again in the ascendancy.
In a sign of the difficulty in taking arms off the streets, rebel leaders on Saturday turned in only a dozen dilapidated weapons to Prime Minister Gerard Latortue when he visited the port city of Gonaives, where the revolt began on Feb 5.
Rebel chief Guy Philippe, a former soldier, told Reuters his men wanted to hand in all their guns, but they could not while there was still no security to protect the people.
In the teeming slums of Port-au-Prince, strongholds of Aristide supporters, gunmen enraged by the ouster of the poor Caribbean country's first democratically elected leader say they fear reprisal killings if they disarm.
Gang leaders last week handed in a few dozen weapons in the slum of Cite Soleil. But they were old and rusty and are not believed to have made much of a dent in their arsenal.
Attacks on patrols by U.S. Marines have eased after a Marine was shot in the arm a week ago by gunmen thought to be supporters of Aristide.
However, on Saturday night, U.S. Marines opened fire on a car as it sped toward a checkpoint in Port-au-Prince. Two Haitians were wounded. Marines confiscated one weapon -- a 9 mm pistol.
Coleman said there was "still work to be done" before his force could say it had restored sufficient order for a formal U.N. peace-keeping mission to land here in just under three months.
He said U.S. Marines were helping Haiti's new authorities to clear garbage from streets and that they planned to build a soccer field and a basketball court.
Copyright © 2004 Reuters Limited
Posted Saturday, March 20, 2004
Haiti's drug money scourage
By Nick Caistor, Regional Analyst
Concern over the Aristide government's involvement in illegal drugs trafficking has been cited as one of the main reasons why the US was keen to see the Haitian leader leave.
The annual US state department report assessing the co-operation of foreign governments in the war against drug trafficking, published on 1 March, strongly criticises the Aristide government.
Launching the report, a top state department narcotics official said some members of the Aristide government had drugs links.
"We do know that elements of that government were corrupt and shot through with drug money," Robert Charles said.
The state department report quotes frequent allegations that "members of the government and the Haiti National Police, most notably the Presidential Security Unit and the Palace Guard, were actively involved in drug trafficking".
Another recent US Narcotics Control Report said about 8% of illegal drugs entering the United States had passed through Haiti.
The use of Haiti as a transhipment point for cocaine and other drugs produced in Latin America and destined for US markets is thought to have begun as long ago as the 1980s under "Baby Doc" Duvalier.
When he was ousted, the military groups fighting for control of Haiti were often said to be financed by drugs money.
The military regime which overthrew Mr Aristide in September 1991 was reported to be in the pay of Colombian drugs cartel bosses, with the head of police Michel Francois allegedly controlling the trade.
In those days, Mr Aristide was seen as "Mr Clean". But when he came back to power in 1994, and during his second term from 2000, accusations surfaced regularly of his government's corruption, particularly with regards to taking drugs money.
The most recent of these come from Beaudoin Ketant, a former close confidant of Mr Aristide's, and his daughter's godfather. When he was convicted on drugs charges in a Florida court at the end of February 2004, he directly attacked Mr Aristide.
"He controlled the drug trade in Haiti. He turned the country into a narco-country. It's a one-man show. You either pay (Aristide) or you die," Mr Ketant told the court.
Mr Aristide's lawyer denied the allegation, and the US has not directly accused the former president of involvement.
At the same time, the rebels who ousted Mr Aristide have also been linked to the illegal drugs trade.
One of the rebel leaders, Guy Philippe, allegedly had his US visa revoked because of involvement in the drugs trade when he was police commissioner of the north coast city of Cap-Haitien.
Another prominent rebel, Jodel Chamblain, is known to have been close to Michel Francois in the early 1990s, when he was one of the leaders of the Fraph paramilitaries.
He has also been sentenced to life imprisonment for the death of a businessman and the 1994 killing of Aristide supporters.
Sympathisers of the former president have also alleged that the rebels who took control of Haiti in February 2004 were directly financed by drugs money, but there has so far been no proof of this.
Presenting the US state department report, Assistant Secretary Charles called for all drugs money to be "banished" from the Haitian economy.
"It brings with it so many devastating consequences: health, economic, societal," he said.
But in a country where almost three-quarters of the population live in abject poverty, the temptation to earn easy money from the drugs trade is always going to be a threat to stability.
Source: The BBC, March 19, 2004.
Haiti's interim leader praises uprising
By Paisley Dodds, Associated Press Writer
GONAIVES, Haiti, Mar. 20 - Sharing a platform with rebel leaders, Haiti's interim leader Saturday praised the gunmen who began the uprising that chased Jean-Bertrand Aristide from power and even paid tribute to an assassinated gangster.
About 3,000 people cheered and clapped for Prime Minister Gerard Latortue, who held his first rally in his hometown of Gonaives, where Haiti's independence was declared 200 years ago and starting point for its recent rebellion.
"I ask you for a moment of silence for all the people who fell fighting against the dictatorship, and especially for Amiot Metayer," Latortue said as the crowd went wild. Metayer was the leader of the Cannibal Army street gang, and his death sparked the rebellion.
Rebel leaders who still run Haiti's fourth-largest city sat on a platform alongside Latortue, Organization of American States representative David Lee, recently installed interim Cabinet ministers Bernard Gousse and retired Gen. Herard Abraham, and new Haitian police chief Leon Charles.
Rebel leader Winter Etienne, self-declared mayor of Gonaives, welcomed Latortue and told the crowd his fighters would surrender their weapons when a police presence is restored to the city, which had about 250,000 people before the uprising erupted Feb. 5.
Latortue paid tribute to Metayer and those who died fighting to oust Aristide, Haiti's first freely elected leader. More than 300 people died, including dozens of police defending Aristide's government.
Metayer's Cannibal Army gang ran the docks at Gonaives and was said to control drug-trafficking through the port. The gang also was believed to have been armed by Aristide to terrorize his opponents.
Aristide finally had Metayer arrested last year after months of pressure from the OAS, which demanded he be tried for allegedly burning homes of opponents. Gang members rammed a tractor into the prison to free him in September, and Metayer's bullet-riddled and mutilated body was found days later.
"They took out his eyes. They took out his heart," Latortue said of Metayer.
Metayer's brother, Butteur, assumed leadership of the gang; he claimed Aristide ordered his brother's killing to keep him from publicizing damaging information about him.
With his death prompting the uprising that brought about Aristide's downfall, Metayer has become a hero in the town. Many feared him. Others saw him as a Robin Hood who lavished gifts on slum-dwelling Aristide supporters.
Thousands of them have fled the city since the Feb. 5 gunbattle in which Metayer's men killed several police officers and torched government buildings.
Lee said Latortue's visit symbolized "a return of authority." But Charles acknowledged the city would continue to be run by rebels until a police presence is re-established.
About 150 French Legionnaires rolled into Gonaives on Friday. On Saturday they remained behind the walls of the State University, where they set up camp. Another 200 French troops went to Cap-Haitien, the rebel-held northern port of 500,000 that is Haiti's second largest city.
In Gonaives, rebels swapped their looted police gear for civilian clothes when the French arrived, and stopped strutting around town with assault rifles.
The French mission is to allow relief organizations to deliver food and medicines disrupted by the rebellion.
In Port-au-Prince, police said Saturday they arrested Amanus Mayette, a former Aristide legislator and alleged leader of the "Clean Sweep" gang accused of killing dozens of people last month in St. Marc, a port town between Gonaives and the capital.
American missionary Terry Snow said attackers forced victims — including women and children — into houses before setting them ablaze.
On Saturday, as the visitors were enjoying a buffet lunch, Butteur Metayer arrived in a looted police all-terrain vehicle and laid down a dozen rusty weapons wrapped in a Haitian flag — two machine guns but mainly World War II-era M-1 assault rifles and shotguns.
"We are not handing them over because we are scared. But we were fighting against Aristide and not against the Republic of Haiti," Metayer said.
Later, he told The Associated Press the rebellion could return.
"Our plan is to keep working with the government, (but) if the government cannot work with us, we will overthrow it," he said.
Latortue acknowledged the weapons handover was "just a symbolic gesture."
"Obviously we have weapons spread throughout the country, and many people still believe they can't give (up) all of their weapons," he told the AP. "But the symbolism of what happened today is very important."
Lee, asked how he felt about the praise for Amiot Metayer, said, "We're trying to encourage reconciliation."
At the rally earlier, Latortue promised a better life, saying his government would ensure clean drinking water in Gonaives, provide medical equipment and build at least 100 homes and a four-lane highway to replace the potholed two lanes that are Haiti's main south-north highway.
People shouted they also needed working telephones and electricity. Latortue urged patience: "I cannot give you everything at once and I will not lie to you."
Copyright © 2004 The Associated Press
Aristide spent millions to lobby
WASHINGTON - The Haitian government spent almost $5 million on lobbyists and lawyers, including a Miami firm, since former President Jean-Bertrand Aristide returned to power in 2000, according to reports filed with the Justice Department.
Aristide's critics have called such expenditures exorbitant for the hemisphere's poorest nation. But the use of $1.2 million in U.S. taxpayer funds to help Aristide's opposition is also receiving scrutiny.
The twin controversies illustrate the gulf that exists between the allies and foes of Aristide, who resigned and left Haiti Feb. 29.
How the money was spent on both sides of the divide has caused a debate marked by rancor and suspicion.
Ira Kurzban's Miami law firm earned $3 million from the Aristide government for legal work since 2000, according to the Justice Department records. Other lobbying shops reported earnings of $1.8 million to put Aristide's case before U.S. government officials, diplomats from other countries and the media.
Kurzban said those activities were needed to deal with ``the reality that Aristide had become a political football between Democrats and Republicans in Washington. We had to address that.''
Much of the money for legal representation paid for efforts to recover assets hidden overseas by the Duvalier family that once ruled Haiti and to build cases against human rights abusers, Kurzban added.
The Justice Department records showed part of the money also went to lobby for unfreezing U.S. aid to the Aristide government, cut off after disputed elections in 2000.
Some Haiti experts question that level of spending. Robert Maguire, who directs the Haiti program at Trinity College in Washington, said some small countries pay for lobbyists to get better access in Washington when they should beef up their embassies instead. ''Hiring people who get a paycheck to make your case limits your credibility,'' Maguire said. ``Building up an embassy with professional diplomats . . . is more effective.''
For the most recent six-month reporting period ending in June 2003, Aristide's government spent at least $945,227 for legal work and lobbying. In contrast, the neighboring Dominican Republic spent a mere $171,000.
Haiti also hired an Oakland firm that includes former Rep. Ron Dellums, once a powerful member of the Congressional Black Caucus, and a Washington shop led by Hazel Ross-Robinson. Her husband, Randall Robinson, founded the advocacy group TransAfrica.
Also paid was the powerhouse Washington firm of Patton Boggs.
On the other side of the political fence, the GOP-linked International Republican Institute used $1.2 million that it received from the U.S. Agency for International Development to arrange ''party building'' seminars for members of the Haitian opposition in the Dominican Republic and Miami.
Like its Democratic counterpart, the IRI is a nonprofit group that tries to promote democracy with training sessions for political parties, labor unions and civic groups. It has programs in more than 50 nations.
But Democratic critics, led by Sen. Chris Dodd of Connecticut, have complained that IRI staffers with ties to Haiti's former military rulers worked with the opposition to undermine Aristide.
Maguire and Alex Dupuy, a Haiti expert at Wesleyan University, said the close relationship between U.S. officials and the opposition's umbrella Democratic Convergence emboldened it to refuse to share power with Aristide as a bloody revolt in February spread through Haiti.
''In a sense, the U.S. bought their allegiance by pampering them,'' Maguire said. He added that the opposition may have received messages from friends in Washington to not negotiate with Aristide.
IRI officials say their efforts in Haiti mirrored work in other countries, have been above board and will stand up to any congressional scrutiny.
''In all our work with the opposition, we've always emphasized in sessions that you can't just be anti-Aristide,'' IRI spokesman Thayer Scott said. ``The whole idea is to build democratic institutions.''
Assistant Secretary of State Roger Noriega, the administration's point man on Latin America, told a Senate committee last week that IRI vice president Georges Fauriol ``spent numerous phone calls with opposition leaders trying to convince them to join in this power-sharing deal.''
With the departure of Aristide, his backers and the IRI now share one thing in common -- uncertainty over future finances.
The Miami Herald, March 20, 2004.
Posted Thursday, March 18, 2004
New Haiti cabinet takes office
By Paisley Dodds, Associated Press Writer
PORT-AU-PRINCE, Haiti, Mar. 17 - Haiti's new U.S.-backed Cabinet took office Wednesday without a single member of ousted President Jean-Bertrand Aristide's party or the former opposition, setting the stage for a showdown before the government even gets to work.
Several Haitian politicians complained the new government unfairly excluded Aristide's Lavalas Family party, the country's largest, and the opposition Convergence coalition. They said Prime Minister Gerard Latortue had promised Lavalas would be represented.
U.S. Ambassador James Foley said "Latortue chose wisely" and that Haiti could expect significant U.S. and international aid.
"I do think that the situation will stabilize, which is remarkable given the complete breakdown ... a virtual state of anarchy," he told The Associated Press.
At the National Palace, Latortue handed the Cabinet letters of appointment and then apologized to Haitians for past governments.
"I feel obliged to ask you for forgiveness for all that the other governments have done," he said.
The installation ceremony came as French peacekeepers began the dangerous task of disarming slum strongholds of the ousted Jean-Bertrand Aristide.
"We're giving our guns up right now but if Aristide doesn't come back we'll fight with machetes," said one armed militant, Robert Mackinson.
Defense Minister Gen. Herard Abraham told the AP in an interview that a Haitian army could help with the disarming. He said a commission will study how to recreate the army — which had been widely viewed as a corrupt, coup-prone force before being disbanded by Aristide in 1995.
"With the instability and the amount of guns that are spread around the country, we need a force that can proceed with disarmament," Abraham said.
The interim government is supposed to steer this Caribbean nation, divided between enemies and supporters of Aristide, to legislative elections within eight months. Haiti has been in crisis since flawed 2000 legislative elections swept by Lavalas.
Officials of the 15-member Caribbean Community said leaders would discuss whether to recognize Latortue's government at a summit March 25. The economic bloc has demanded an international investigation into Aristide's claims he didn't resign.
Aristide fled on Feb. 29 as a three-week rebellion threatened Port-au-Prince.
Aristide's return Monday from exile in the Central African Republic to temporary asylum in Jamaica is souring relations between Haiti and the rest of the Caribbean even as it gives Aristide's followers hope.
Aristide claims he was forced out under U.S. and French pressure. Washington insists he resigned before the bloody insurrection led by a street gang and former army officers could engulf the capital.
Under a U.S.-backed plan, Latortue was chosen to return home from decades in exile in Florida, and came to Haiti last week promising to bring Lavalas into his government and to help reconcile the country.
At the ceremony, Latortue defended his choice of Cabinet members.
"This is a government of transition. It is a way of showing that it is possible to govern this country differently and to create a new relationship between the state and its people ... This is a government that is nonpartisan, and I invite everyone to judge it by its results."
His Cabinet included lawyer Bernard Gousse as justice minister, business leader Henri Bazin as finance minister and former general Herard Abraham as interior minister. While the 13 Cabinet members don't belong to any political party, the majority have been critical of Aristide and are considered allied with his opposition.
Politicians from both sides criticized the process, saying their candidates were rejected without explanation.
Opposition leader Evans Paul, a former Port-au-Prince mayor, said that while "the people chosen are good ... the process is not transparent."
"It's more of a personal government of Latortue than a real government of consensus," Paul said.
"You cannot call this a government of national unity," Mischa Gaillard, of the opposition Convergence coalition, said on Radio Vision 2000.
Aristide and party leaders have lost support as corruption flourished alongside poverty and they reacted to opposition by using police and militants to attack opponents.
Canada sent 170 more soldiers to Haiti on Wednesday, joining more than 2,600 U.S., French and Chilean troops.
The peacekeepers launched a nationwide disarmament campaign with a small ceremony in the vast harbor-side slum of Cite Soleil — an event marked by residents' demands that Aristide return.
Still, they handed over more than 50 assault rifles, pistols and shotguns to a small convoy of French troops accompanied by Haitian police. Two French helicopters circled overhead.
"This is the people's initiative," said Col. Daniel LePlatois. "We're hoping that all the slums will adopt the same position."
"The incentive for us is that we're hoping Jean-Bertrand Aristide will return," said 25-year-old Jondek Chery as he surrendered a submachine gun. "But if not, we'd rather have (foreign troops) here than the former army."
The French presence Wednesday — open-top jeeps, no helmets — was in marked contrast to heavily armed U.S. patrols in downtown Belair, where Marines have traded fire with gunmen. Six Haitians have been killed and one Marine wounded in Belair.
A U.N. peacekeeping force is to take over in three months, and Brazil has offered its leadership and 1,100 troops.
A decade ago, disarmament under 20,000 American troops included roadblocks, seizing armories, and buying arms. New Police Chief Leon Charles said that wouldn't work this time.
"If we did that again, the money we would give people for their weapons they would just use to go out and buy another weapon," Charles said. "Expectations have to be met this time. I don't think they'll cooperate with disarmament until they feel safe."
Copyright © 2004 The Associated Press
Posted Wednesday, March 17, 2004
Haiti politicians say new gov't partisan
By Ian James, Associated Press Writer
PORT-AU-PRINCE, Haiti, Mar. 17 - Haitian politicians complained a new U.S.-backed government to be sworn in Wednesday is partisan and risks further polarizing a population divided between enemies and supporters of ousted President Jean-Bertrand Aristide.
French peacekeepers, meanwhile, set up roadblocks to start a risky disarmament campaign in the Cite Soleil seaside slum, an Aristide stronghold. They hope to succeed where U.S. troops failed a decade ago to persuade residents to surrender weapons.
Opposition politician Mischa Gaillard asked Wednesday why no members of his Convergence coalition of political parties and civic groups was in the new Cabinet.
"You cannot call this a government of national unity," Gaillard said on Radio Vision 2000.
From the other side of the political divide, former Aristide Prime Minister Yvon Neptune warned that locking Aristide's Lavalas Family party out of the government risked further polarizing this Caribbean nation shaken by a rebellion and the president's sudden departure on Feb. 29.
"There should at least be a sincere expression of accepting Lavalas as an organization," Neptune said in a telephone interview. "The plan was to try to set the stage for reconciliation."
Neptune resigned March 10 to make way for the U.S.-backed Gerard Latortue, who had pledged to include Lavalas in a unity government. Aristide's party is believed to command the largest following in Haiti.
There was no immediate comment from Latortue, a retired U.N. official and business consultant who returned from decades in exile in Florida with promises to reconcile Haiti.
Latortue's 13-member Cabinet was to be sworn in Wednesday, his aides said after a meeting with interim President Boniface Alexandre.
The Cabinet includes Yvon Simeon as foreign minister; Henri Bazan, president of the Haitian Association of Economists, as finance minister; and former Gen. Herard Abraham as interior minister.
In an interview published Tuesday, Aristide repeated his claim that the United States committed a coup d'etat, saying, "They broke the constitutional order by using force to get me out of the country."
The United States denies the claim and says it acted at Aristide's request, probably saving his life as rebels threatened the capital.
Aristide told Amy Goodman of Radio Pacifica's "Democracy Now!" that before he left Haiti, the United States stripped him of his personal security detail, which had been provided by the California-based Steele Foundation.
Aristide said 19 agents who were guarding him in Haiti told him that "U.S. officials ordered them to leave and to leave immediately." He claimed another 25 agents who were supposed to reinforce the team were told that they could not leave the United States.
U.S. officials have previously acknowledged that Aristide was told that if he remained in Haiti, U.S. forces would not protect him from the rebels. After his ouster, he was flown to the Central African Republic.
On Wednesday, Aristide was in neighboring Jamaica, which offered him temporary asylum despite fears in Port-au-Prince and Washington that his presence in the Caribbean would provoke more violence among his supporters.
The 15-member Caribbean Community, chaired by Jamaica, has called for an investigation into his ouster. Venezuela offered Aristide asylum and said it won't recognize the new government.
Latortue protested Aristide's presence in Jamaica and suspended Haiti's participation in the Caribbean Community, which has said it will decide at a summit later this month whether to recognize Haiti's interim government.
Haiti's crisis stems from flawed legislative elections in 2000 that were swept by the Lavalas Party. Aristide and party leaders lost support because of corruption, their failure to improve life for Haiti's impoverished majority, and attacks on opponents.
Copyright © 2004 The Associated Press
Row deepens as Jamaica says it won't recognize Haiti's new government
PORT-AU-PRINCE (AFP) - A row triggered by ex-president Jean Bertrand Aristide's visit to Jamaica deepened with authorities in Kingston saying they won't recognize the government Haiti's Prime Minister Gerard Latortue was due to announce later in the day.
Jamaica's foreign ministry said in a statement that it was not acknowledging Port-au-Prince since recognition of Haiti's interim government had not yet been extended by the 15-nation Caribbean Community (Caricom).
The announcement came a day after Latortue froze relations with the neighboring Caribbean nation.
Haitian authorities, as well as US officials, fear the Jamaica visit could incite more violence by pro-Aristide gangs, who went on a shooting and looting rampage following the ex-president's February 29 departure.
Aristide and his wife Mildred, who arrived in Kingston Monday, were expected to spend several weeks in Jamaica, visiting their two daughters.
A US State Department spokesman said the visit "doesn't, in our view, serve a useful purpose."
Meanwhile, Latortue, 69, who was named a week ago said he hoped to form a government of national reconciliation Tuesday evening.
Over the past days, Latortue has held meetings with political party representatives, including members of Aristide's Lavalas party.
He said the government's first priority will be to restore peace and stability to Haiti, following a deep political crisis that started after fraudulent elections in 2000, surging in recent weeks as an insurgency played a key role in getting Aristide to resign and flee to Africa.
It was not clear whether the ex-leader would return to the Central African Republic after his visit to Jamaica, but Venezuelan President Hugo Chavez said that "the doors of Venezuela are open for President Jean Bertrand Aristide."
Chavez also urged the Organization of American States to condemn "the decision to capture a president elected by the people and kidnapped by troops of a country that preaches democracy."
Aristide insists he remains president of Haiti and claims the United States and France kidnapped him and forced him to fly to Bangui. Asked about the claim, US State Department Spokesman Adam Ereli said Tuesday: "False. Completely, utterly without basis."
Aristide said his supporters were pleased he was now close to Haiti.
"I do believe many Haitians who are poor or suffering, or in hiding, think that if I am closer physically, it's better for them instead of being far away," he told the Washington Post.
In the Haitian capital's volatile pro-Aristide Bel Air neighborhood, militant supporters of the exiled president rejoiced at the news Aristide was only 200 kilometers (120 miles) from home.
"President Aristide in Jamaica: for us this is a continuation of the struggle," said Wilgo Supreme Edouard, a leader of the staunchly pro-Aristide Bel Air Militant Front.
In a statement that could help ease fears of renewed violence, he said no demonstrations were planned in the immediate future and that pro-Aristide militants were prepared to work toward national reconciliation.
The worst of the violence that followed his departure has since subsided, though it has erupted again sporadically, and US troops of the multinational force in Haiti have come under attack on several occasions.
US troops suffered their first casualty when a Marine was shot in the arm late Sunday while patroling in Bel Air.
The new commander of the 2,900-strong multinational force, General Ronald Coleman, said Monday the troops would step up their presence in the streets, and would not hesitate to get tough with any attackers.
Meanwhile, two armed Haitians were shot and killed over the weekend by rebel leader Guy Philippe's security guards as he drove through the southwestern city of Petit-Goave, an opposition politician said Tuesday.
In another development, Canadian police Monday arrested Haiti's former security chief Oriel Jean during an immigration hearing that focused on claims he trafficked narcotics and committed war crimes.
Copyright © 2004 Agence France Presse
Posted Tuesday, March 16, 2004
Posted Monday, March 15, 2004
Authorities could extradite former Haiti security chief
By Chris Mallinos, Reuters Writer
TORONTO, Mar. 15 (Reuters) - Haiti's former security chief, who was being held by Canadian immigration authorities, could face extradition to the United States after being served with a U.S. warrant on Monday on drug trafficking charges.
Canadian police served Oriel Jean, once head of security for exiled Haitian leader Jean-Bertrand Aristide, with a U.S. warrant for conspiracy to traffic in cocaine.
Jean, 39, was in the middle of an Immigration and Refugee Board hearing in Toronto to determine whether his detention should continue when the warrant was served by the Royal Canadian Mounted Police.
An extradition hearing will now be scheduled.
The U.S. Drug Enforcement Agency issued the warrant, which gave no details of evidence against Jean.
Jean has been in Canadian custody since Wednesday after being detained at Toronto's Pearson International Airport on suspicion of crimes against humanity and links to international drug cartels.
"Justice in this country has just gone downhill," said Jean's lawyer, Guidy Mamann, moments after the immigration hearing abruptly ended. "Something stinks. I don't know what it is, but it stinks bad."
When the RCMP arrived, Mamann had just finished arguing that his client, who was Aristide's security chief from 2001 to 2003, was not a criminal and was being used by the U.S. Drug Enforcement Agency to track down known Haitian traffickers.
Copyright © 2004 Reuters Limited
U.S. Marines shot, wounded
By Peter Prengaman, Associated Press Writer
PORT-AU-PRINCE, Haiti, Mar. 15 - The first American peacekeeping casualty — a U.S. Marine who was shot and wounded — came as police cracked down on supporters of Jean-Bertrand Aristide and the ousted leader flew back on Monday to the Caribbean from his African exile despite objections from U.S. and Haitian officials.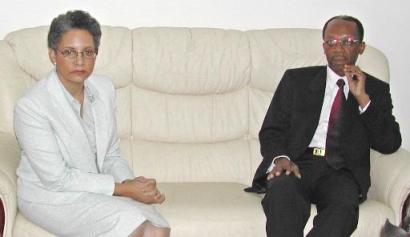 ARISTIDE, RIGHT, THE MAN THE U.S. MUST INDICT AND ARREST FOR DRUG TRAFFICKING AND MUCH MORE - Former Haitian President, Jean Bertrand Aristide, and his wife Mildred, in Bangui, Central African Republic, shortly before they left for Jamaica on Monday March 15, 2004. (AP Photo/Str)
Aristide's imminent arrival — to temporary asylum in neighboring Jamaica — has increased tensions in Haiti, where his followers plan more protests to demand the return of Haiti's first democratically elected lgieader.
Interim Prime Minister Gerard Latortue announced Monday he is recalling Haiti's ambassador to Jamaica and is putting relations with that country on hold. Last week Latortue said it was an "unfriendly act" by Jamaica.
Aristide was expected to arrive Monday afternoon in Jamaica for what officials there said would be a visit to reunite with his two daughters while he seeks permanent asylum in another country.
But the Haitian leader, speaking cryptically as he often does, indicated he has not abandoned his desire to return to govern Haiti.
"For the time being, I'm listening to my people," Aristide said before boarding the plane in the Central African Republic. "The more we listen to them, the more we serve them, the more we will know what to do at the right time.
"We all have to do what we can to promote peace.
" The wounded U.S. Marine had been patrolling the Belair neighborhood, an Aristide stronghold Sunday night when he was shot in the left arm, Staff Sgt. Timothy Edwards told The Associated Press on Monday. The weapon was believed to be a small-caliber pistol, and the injury is not life-threatening, Edwards said.
Col. David Lapan told the AP that it was not immediately clear if more than one shot was fired, nor whether Marines shot back. He said they were investigating.
Anger has been brewing in Belair, near the presidential National Palace, since Marines — under fire — shot and killed two men on Friday. The Marines said the two were gunmen, but no weapons were recovered. Residents said those killed were neither militants nor armed, and that one had been playing basketball. Several people were wounded in the fierce but brief firefight.
U.S. troops have been attacked several times and have shot and killed at least six Haitians in the past week. In Aristide strongholds, Marines are seen as an occupation army by militants who believe Aristide's charges that the United States abducted him and forced him to leave the country.
U.S. officials say they acted at Aristide's request and probably saved his life as rebels were preparing to attack Port-au-Prince.
Meanwhile, Marine Gen. Ronald S. Coleman on Monday took command of the Multinational Task Force numbering some 2,600 troops from the United States, France, Chile and Canada that is the vanguard of a U.N. peacekeeping force. Coleman has served in Vietnam, the Balkans in 1999 and most recently in Iraq.
"You have my word that all law-abiding Haitian citizens will be treated with respect, but make no mistake, my Marines will not idly stand by while thugs and rebels kill innocent civilians," Coleman said in a ceremony attended by U.S. Ambassador James Foley, President Boniface Alexandre, Prime Minister Gerard Latortue and Police Chief Leon Charles.
"We have no hidden agenda. This is not an occupation force ... It's a stabilizing force. I believe in my heart that peace will triumph here and Haiti's star will continue (to) shine."
Although few Haitians attended the short ceremony, Latortue explained the need for a foreign presence in the troubled nation.
"I know a lot of you are wondering in the 200th year of independence why foreign troops have come to our country," Latortue said. "They didn't come to occupy us; they came to help us. We were not able to solve our problems ourselves."
He also said the police had a tainted past, with direct involvement in drug trafficking — something he pledged to correct.
"Recently members of the police were directly, or indirectly involved in drugs. There must be an end to this," Latortue said.
Police detained at least six Aristide partisans Sunday for suspected involvement in criminal activities, opposition politician Evans Paul said. A police log book showed that among them were Harold Severe, a former deputy mayor of Port-au-Prince, and Jacques Nazaire, a former security chief at the National Palace.
Police could not immediately be reached for comment.
At his last African refueling stop, on the island of Cape Verde, Aristide and his wife discussed concerns about events in Haiti in an interview with Amy Goodman of Pacifica Radio's Democracy Now! program.
Aristide complained his private foundation's University of Peace had been made into a U.S. military base in Port-au-Prince, and that teachers at the state hospital's medical school had been threatened and were afraid to go to work.
Latortue, the interim leader, has warned that Aristide's return to the region could threaten a fragile stability. U.S. Defense Secretary Donald H. Rumsfeld told CNN television that "the hope is that he will not come back into the hemisphere and complicate the situation."
Latortue was making final decisions on his Cabinet and should name some members on Monday, said aide Robert Ulysse. He is to form a transitional government uniting former enemies from Aristide's Lavalas Family party and an opposition coalition.
"They are trying to get names that are acceptable to everybody," said Aristide Cabinet Minister Leslie Voltaire.
Aristide was scheduled to stay eight to 10 weeks in Jamaica. Jamaican officials said Aristide had been warned not to use the visit to promote his campaign to return to Haiti.
The rebellion was started Feb. 5 by a street gang that used to terrorize Aristide opponents and was spread by former Haitian soldiers who seek to reinstate the country's disgraced and disbanded army. More than 300 people died before Aristide fled, according to estimates by the AP and the Pan American Health Organization.
___ Associated Press reporter Ian James contributed to this report.
Copyright © 2004 The Associated Press. All rights reserved
Wehaitians.com, the scholarly journal of democracy and human rights