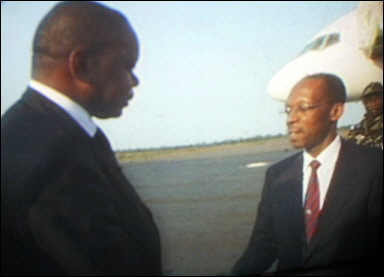 Ousted Haitian uncommonly totalitarian dictator Jean-Bertrand Aristide is greeted by Central African Communications Minister M'Bay (L) at Bangui airport, March 1, 2004. (AFP/Desirey Minkoh)
October 1994, the month of the regrettable big mistake by United States President William Jefferson Clinton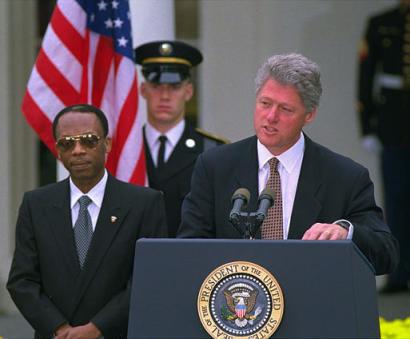 FILE ** President Clinton, accompanied by Haitian President Jean-Bertrand Aristide, speaks at the White House in this Oct. 14, 1994, file photo during a farewell ceremony for the Haitian president on the eve of his return to Haiti. 20,000 U.S. troops intervened in 1994 to restore Aristide to power, after he was ousted only months after becoming Haiti's first democratically elected leader in 1991. On Sunday, Feb. 29, 2004, Aristide fled Haiti, driven out by a bloody rebellion and appeals from the United States and France to resign for the sake of his impoverished Caribbean nation. (AP Photo/Ron Edmonds, File)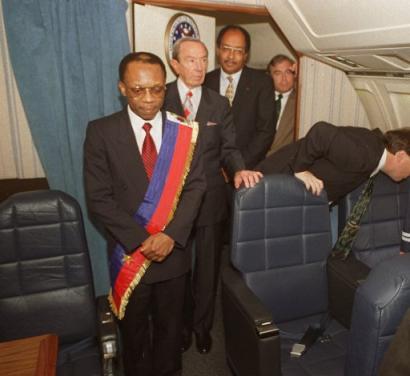 Haitian President Jean-Bertrand Aristide, left, enters a U.S. government plane en route to Port-au-Prince, Haiti in this Oct. 15, 1994 file photo. President Jean-Bertrand Aristide resigned and flew into exile Sunday, Feb. 29, 2004 pressured by foreign governments and a bloody rebellion. Gunfire crackled as the capital fell into chaos, and Washington dispatched Marines. (AP Photo/Daniel Morel, file)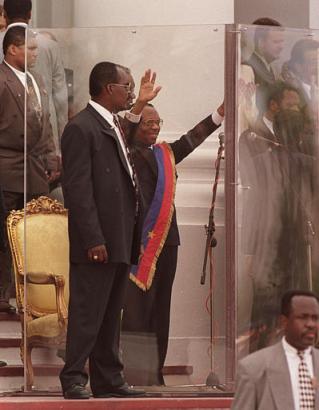 Haitian President Jean-Bertrand Aristide waves as he stands behind a bullet-proof shield at the national Palace in Port-au-Prince, Haiti in this Oct. 15, 1994 file photo. (AP Photo/J. Scott Applewhite)
Former tyrant Aristide's major accomplishments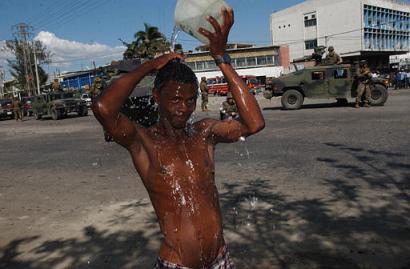 A resident of Port-au-Prince bathes as a US Marines patrol the streets of Port-au-Prince, Haiti Wednesday, March 3, 2004. (AP Photo/Rodrigo Abd)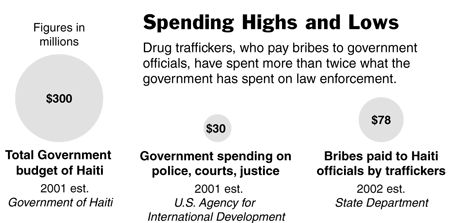 The New York Times - Tuesday, March 9, 200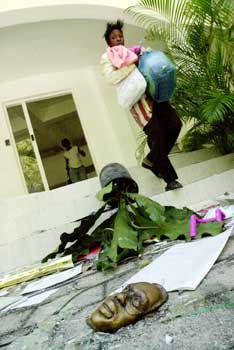 A mask of Jean-Bertrand Aristide lies broken at the entrance of his looted grand home in the Port-au-Prince suburb of Tabarre, Haiti March 1, 2004.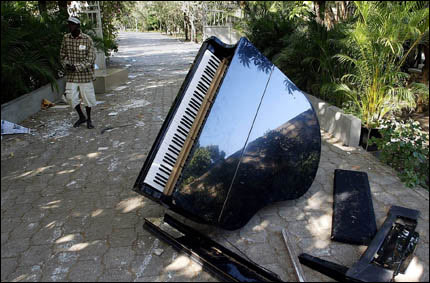 A baby grand piano sits in the long curving driveway leading to where Jean-Bertrand Aristide resided before he was march to the Port-au-Prince's sole airport by United States special forces at gunpoint on February 29, 2004.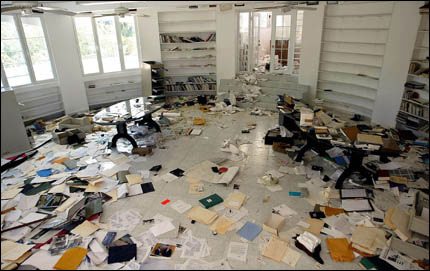 Hundred of books litter the grand home of deposed thug Jean-Bertrand Aristide on March 3, 2004.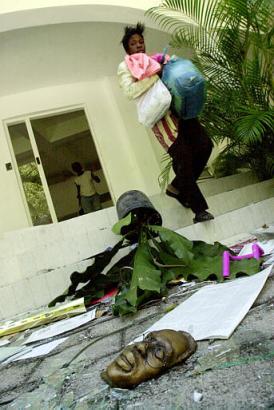 A looter leaves the house of former President Jean-Bertrand Aristide in Port-au-Prince, Haiti Monday, March 1, 2004. On the ground is a mask of the former president. (AP Photo/Walter Astrada)
When the United States was the 'Great Satan'
The White House a devilish place
Washington, D.C. the imperialist capital, and senior officials of the International Monetary Fund (I.M.F.) were all internal criminals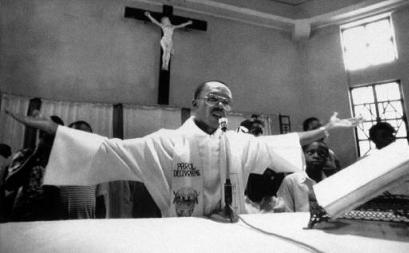 Haitian priest Rev. Jean-Bertrand Aristide, center, is shown at St. Jean Bosco Church in the shantytown of Lasaline, Haiti, in this Sept. 26, 1988, file photo. On Sunday, Feb. 29, 2004, President Jean-Bertrand Aristide fled Haiti, driven out by a bloody rebellion and appeals from the United States and France to resign for the sake of his impoverished Caribbean nation. (AP Photo/Jean Max Benjamin)
$Wehaitians.com is urgently awaiting your financial contributions$