Want to send this page or a link to a friend? Click on mail at the top of this window.
Placing former Haitian murderous dictator, alleged drug lord Aristide in tight handcuffs, whose job is that?
____________________________
Democracy and happiness in Haiti, as they appear, are largely linked to the arrest and incarceration of the Caribbean nation's fabulously wealthy former uncommonly vicious tyrant and accused drug lord of drug lords Aristide, whom has long been considered to be "devoid of any capacity for democracy and respect for human rights," with "an inherent tendency to revert to savagery," even after affixing his signature at the bottom of a document promising a society in which the rights of all citizens, for example, will be respected.
____________________________
CAMBRIDGE, MA - Historians will no doubt look back on ousted Haitian de facto President Jean-Bertrand Aristide as a mentally unstable and little "red" man, a demagogue, add corrupt to the teeth person, who not only turned Haiti into the most misgoverned nation, an uncommonly totalitarian country in the Americas, but a narco-state.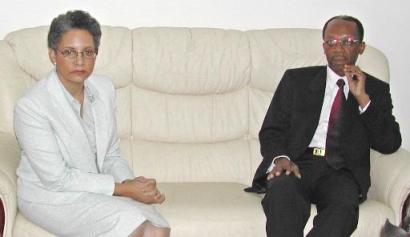 Former de facto Haitian President, Jean-Bertrand Aristide, and his bourgeois de souche (bourgeois by birth) wife Mildred, in Bangui, Central African Republic, shortly before they left for Jamaica, on Monday, March 15, 2004. Hopefully, Mildred will not argue with Aristide over the lost her title, Haiti's first lady, and then suffer the fate of Nadya Allilueva, Josef Stalin's second wife, who in 1932, thirteen years after they wed, committed suicide after an argument with her paranoid husband who believed the solution to every human problem was brutal death. Stalin, which means "man of steel," his son Yakov from his first marriage died in a German Nazi concentration camp in1943 after his sadistic father who thought him a German spy forsook the younger Stalin. (AP Photo/Str)
Band of extremely dangerous brothers, or drug lords
The best explanation, however, is that Aristide's government possessed the perfect credentials for a criminal syndicate. It is, for example, no accident that Oriel Jean, 39, the ousted Haitian uncommonly vicious tyrant's notorious security chief is being held in Canada since Wednesday on suspicion of crimes against humanity and links to international drug cartels and that a few days after his arrest a warrant issued by the United States Drug Enforcement Agency (DEA), but first obtained from the court, for his extradition to the U.S. on the same charges was served by Canadian Mounted Police.
Jean, whose United States' visitor visa was withdrawn in 2002 over allegations that he was trafficking in narcotics, his de facto Haitian government annual salary could easily be viewed as the minimum income (income differentials) required to sustain life (for example, estimating minimum dietary needs and how these can be most cheaply met), in the U.S., was carrying U.S.$17,000 in cash and a chčque for about $U.S.300,000 when he was arrested at the Toronto's Pearson International Airport after he and his wife flew in from the Dominican Republic.
Jean is not alone. For many years, Jacques Beaudouin Kétant, 42, was more than the godfather of Aristide's second and youngest daughter, Michaelle Aristide. On quite a few occasions, he paid the minuscule salaries of some of extremely chaotic Haiti's public employees and financed activities related to the nation's annual carnival celebrations, which usually rather served as pacifiers, given the infernal cycle of misery and repression that defined the lives of the vast majority of Haitians as Aristide himself and members of his de facto government pillaged the public treasury, for example.
Then gone, too, in addition to the man the poverty-stricken employees could occasionally rely on to be compensated for their effort, or hard labor hours, were the days when Kétant was a familiar VIP visitor at the Haitian national palace.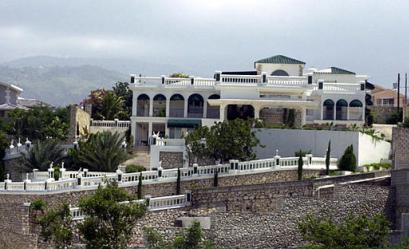 The U.S.$8.5 million ultra-luxury mansion of fambloyant Jacques Beaudouin Kétant in the Port-au-Prince small posh suburb of "Vivi Michel," not far from the wealthy suburb of Pétion-Ville, Haiti. (File/AP/wehaitians.com/Photo)
Also, at the private ultra-luxury residence of Aristide (he is no longer in possession of a U.S. visitor visa) in the Port-au-Prince suburb of Tabarre (in the wee hours of the night), where in the immediate aftermath of his departure for exile looters found stacks of $100 bills - possibly as much as $350,000 - in a hidden safe, the St.Peters Times reported Thursday, March 4, 2004. So did many other publications. The bills, which are largely believed to be linked to drug payments, were either crumbling into dust or stuck together so tight that they couldn't be pulled apart the newspaper said.
This was rather so, in a Miami federal courtroom, on February 25, 2004. Minutes before he was sentenced to 27 years in federal prison on drug trafficking charges, according to a Haitian national palace insider who spoke to me on the customary condition that he is not identified in this story and others (under journalistic convention, that means, he cannot be identified at all), Kétant caused one particular "Big Man" in the underground Haitian economy to suffer from insomnia the nights thereafter, to experience a growing fear of arrest by United States' authorities that even today continues to be manifested by his tormented life, his strange behavior.
"He turned the country into a narco-country; it's a one-man show; you either pay (Aristide) or you die," Kétant told United States' District judge Frederico Moreno, who also fined him U.S.$15 million.
"I was far from being a top-echelon druglord in Haiti," he further told judge Moreno, "this guy, Aristide, is a drug lord of drug lords; he controlled at least 85 percent of the U.S.$1 billion-plus drug market in Haiti," ironically not only the poorest nation in the Western Hemisphere, but one of the poorest nations on earth. It ranks 150th out of 173 countries on the United Nations' Human Development Index. And the average level of national income, for each one of its estimated population of 8.2 million citizens, is less than $480 (2001 est.) as it continues to experience a population trap, and rapidly so.
Unlike many other nations, given the enormity of Haiti's problems, especially economic and social, the idea of ultimately joining the Group of 77 - a loose coalition of over 100 predominantly developing countries, originally formed by 77 countries at the United Nations Conference on Trade and Development in 1964 to express and further their collective interests regarding the institutional development of the world economic system - in the distant future, say, 40 years from now, honestly cannot even reluctantly be considered a dream.
Kétant, who in September 2001 was featured on the program "America's Most Wanted," was indicted by a United States' grand jury in 1997 and arrested (in handcuffs and chains, still he attempted to flee on the tarmac of the Port-au-Prince airport) many years later, on June 17, 2003, by five U.S. Drug Enforcement Agents and U.S. Marshals, in Haiti. He chastised his former compadre (an expression of friendship common in Latin America) Aristide for his downfall - alternately, he had a few more extremely damaging words for him, but first drawn, in part, from the Bible.
"I've been paying him throughout the years; he betrayed me like Judas betrayed Jesus."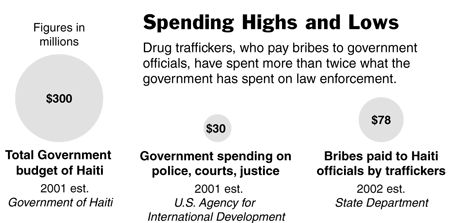 The New York Times
History has recorded that in 100 B.C., in China the Huan dynasty created the Keno game to generate needed revenues to help pay for the items of the nation's budget. Benjamin Franklin used a lottery to buy cannons for the Revolutionary War. Harvard, Yale, Princeton and Columbia universities were all founded with the earnings from the investment of money capital in lotteries.
But for Aristide, a fiery leftist who met Kétant in 1998, through another drug lord, unfortunately, the concept "return on investment," is referred to as a percentage of 80 percent, rather than 30 percent, of the total profit (net) generated from the sale (wholesale) of 70kgs of cocaine in the United States last year.
Hector Kétant, the older brother of Jacques kétant, who vehemently refused to give Aristide 80 percent of the narcotics proceeds, allegedly to pay for the cost of Haiti's annual carnival festivities, hours later was shot dead at his distinctive home by Rudy Thérassant, Aristide's so-called anti-narcotics chief.
To paraphrase Adam Smith, who spoke of money as "the obvious and simple system of natural liberty," this belief, rather, also meant "brutal death" for one of Hector Kétant's bodyguards, Herman Charles, whom several fatal shots were pumped into his body by Thérassant, too.
The man, who did not hesitate to show that the refusal to give Aristide most of the money generated from the sale of 70kgs of cocaine meant violence, resulting in brutal death (a general deterrence, to put it simply), after the murders moved to Miami. He has since been living under federal protection, and has provided crucial information related to the whole of the drug trade in Haiti to United States' authorities.
A different definition of money, however, for other 50 or so Haitian drug lords is "prison," as their arrest and incarceration by United States authorities suggest.
Aristide, the son of dirt-poor peasants, who in 1998 began receiving a monthly cash retainer of U.S.$500,000 from Kétant, according to a member of his legal team, in return for use of a stretch of Route 9, a 3-mile long new highway in the vicinity of Aristide's luxury mansion and constructed with World Bank money, and where police constantly stopped traffic to allow helicopters, with cocaine as their sole cargo, to land safely, deposited more than U.S.$300 million in United States' banks.
In December 2003, through its Ambassador, James Foley, stationed in Haiti, the United States demanded an explanation as to how the defrocked priest (with a penchant for theology of liberation; an agnostic, many believe), whose organized crime foundation, Aristide Foundation for Democracy and so-called Family "Lavalas" political movement, literally "Flood" political movement, were each paid U.S.$500,000 annually, became fabulously wealthy within just a few years.
When will America do the job?
The lasting question raised by the accusations that the former slum leftist priest was Haiti's super-drug kingpin, and for a longtime so, is when will the United States serve him, too, with an arrest warrant?
DEA Agents' Next Stop: Former Haiti hell-sent dictator, accomplished embezzler Jean-Bertrand Aristide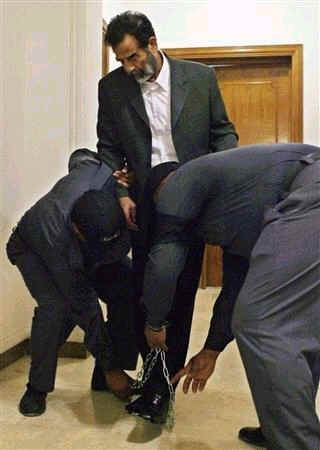 Iraqi guards handle the shackles on Saddam Hussein (C) during the day of his Iraqi special tribunal hearing in this July 1, 2004 file photo, released on July 2, 2004. (REUTERS)
Will doing so certainly help the United States to be successful this time in laying the basis for a more democratic Haiti? Already there are worrying signs that Aristide, with the help of narco-dollars, many continue to say, with certitudes, was mainly complicit, from his exile in the Central African Republic - where, speaking cryptically as he often does, repeatedly claimed to be a victim of kidnapping and an American coup against democracy? - in undermining the transition from totalitarian dictatorship to democracy in his ravaged native country.
No, he is no longer in the Central African Republic, a destitute small African nation that is heavily dependent on foreign aid and whose president, or latest tyrant, came to power last year through a coup d'état. Now, his presence rather in neighboring Jamaica (115 miles west of Haiti), where he arrived Monday aboard a luxury jet at an economic cost of more than U.S.$180,000, is a manifestation of something else: not to be reunited with his two young daughters, as he claimed, but to be close to Haiti to lead a bloody revolt, precisely through his die-hard chimčres, as his notorious bandits who remain in the dirt-poor Caribbean nation are called, especially against members of the multinational peacekeeping force.
By contrast to the Athenians, in 427 B.C., who refused to believe at first that their vassal state of Mytilene had the sophistication and resources to achieve what they had long expressed interest in doing, revolting against its rulers, for an exorbitant number of Aristide's senior loyalists, or partners in crime, the news that he had been forced into exile demanded a prompt and very different reaction.

"Some of Mr. Aristide's more senior loyalists fled the country soon after him, including about 60 who reportedly left on helicopters provided by the Dominican Republic, at a charge of U.S.$10,000 a head. But that still leaves his dreaded chimčres gunmen," The Economist Magazine, March 11, 2004.
More, can anything of dictatorial nature, after his anticipated victory (an obsession) over freedom fighters be considered unthinkable? Since he continues to make a mockery of himself by claiming that he is still the president (his soi-disant government now figures among the world's two dozen or so governments in exile; only the Tibetans and the Polisario have real clout) of Haiti he will, hopefully, return there to ultimately commit more atrocities - exterminate freedom fighters and others who played a prominent role in consigning to the archives of history his long reign of terror.
Aristide, who first returned to Haiti in 1994 after more than three stubborn years in luxury exile in the United States on the back of the imperialist horse, as he used to call the U.S., and for many years so, his call this time, by contrast, to resist U.S. troops and others has been apparently dignified as "resistance against the foreign occupiers" or "usurpers," whom he simply declares "illegitimate" - an innate absurdity.
The United States may well act now before it is too late - by way of explanation, before more U.S. Marines and other foreign troops who are attempting to help peace triumph in troubled Haiti are wounded or shot dead by Aristide's thugs.
The United States' choice and that of the new Haitian government of Prime Minister Gerard Latortue (he returned from the sunny U.S. state of Florida to accept his post, optimiscatilly promising to bring together all Haitians; also, he felt obliged to ask his fellow Haitian compatriots and friends of Haiti for forgiveness for all that the other governments have done wrong), Yvon Neptune's replacement, is between the democratic way and totalitarian dictatorship way, alternately chaos. That, now, is what is at stake in Haiti.
He may now be living in his sandy exile in Jamaica, tough temporary, it is said. So long as Aristide still shows an uncontrollable appetite for power (history will pay dividends on his effort), he still remains the main obstacle to a hopeful democratic Haiti - that is the thinking.
The man with an egregious human rights record, still has a touch of "Aprčs moi, c'est le déluge" in his so-called speeches." Some extraordinary advice: the United States must feel obliged to take Aristide out of the circulation in tight handcuffs and secured chains to face the bar of justice. This, is precisely what needs to happen to a druglord of druglords, an enemy of democracy and human rights who seems to have taken his inspiration from Pablo Escobar, Fidel Castro, Josef Stalin, and why not especially from Osama bin Laden.
Yves A. Isidor, who teaches economics at the University of Massachusetts-Dartmouth, is spokesperson for We Haitians United We Stand For Democracy and executive editor of wehaitians.com, a journal of democracy and human rights.
Wehaitians.com, the scholarly journal of democracy and human rights