Want to send this page or a link to a friend? Click on mail at the top of this window.
In Haiti and elsewhere, why Haitians say uncommonly genocidal dictator Aristide must go
Democracy and happiness in Haiti, as they appear, are linked to the forced resignation of the Caribbean's nation uncommonly vicious tyrant Aristide.
CAMBRIDGE, MA - More than a sense of desperation attends the decision of the vast majority of the Haitian people - men and women of insignificant or no economic means, citizens of extreme economic means - to demand that Jean-Bertrand Aristide, who until a little more than ten years ago was said to have gained an almost mythic status, mainly among Haiti's dirt-poor, resigns the office of the Haitian presidency, and immediately so.
Haitians' problem with erroneous dictator Aristide is that multi-party democracy, to begin with, is out of fashion. Opposition candidates for public office are constantly threatened with death or brutally murdered. So, too, the lives of human rights and democracy advocates are defined by repeated death threats and on many occasions assassinated in broad daylight.
So what happened in May 2000 and shortly thereafter, for example? Not much of a series of elections were held, but as members of the democratic opposition, including Léon Manus, the forced exiled electoral council president at the time, continue to point out, with certitudes, largely fraudulent votes, favoring candidates, drug dealers aligned with Aristide and his Lavalas Family party.
Aristide, who often terrifies the Haitian ruling class, the political opposition with his fiery rhetoric of Karl Marx nature, his words are most of the time matched by action.
Many eruptions of brutal killing, the victims, political opponents of Aristide, perceived political foes of Aristide, have ravaged Haiti during the thirteen years past.
And more, continuing brutal beatings, illegal detention, especially over the past four months or so, also have added urgency for tens of thousands of Haitians, in Haiti and the immigrant diaspora communities, to almost on a daily basis peacefully protest Aristide's reign of terror, to demand that he vacates the nation's national palace.
All good governments rely on civil society, the opposition for a bit of guiding wisdom; unfortunately, in Haiti, hell-sent Aristide has on many occasions reaffirmed that he is an uncommonly vicious tyrant.
Opposition members, civil society members - including former ardent supporters and political opponents - of the poorest nation in the Western Hemisphere with a per capita income of less than $480 for each one of its estimated 8.2 million citizens, were once again stoned Sunday by de-facto government thugs, and this, as usual, in a futile effort to prevent them from protesting the dictatorship of Stalinic nature, ultimately ousting it.
Like many before it, Haiti's 1987 constitution creates a legal system and denies the president the powers to directly or indirectly dictate judges how to conduct the judicial affairs of the state, and that no person, including the president of the republic, should even assume to be above the law. Unfortunately, the laws of the land have long been rather defined as the rules laid down by Aristide. Often, after a peaceful demonstration, the kangaroo court system is used in a futile attempt to harass freedom fighters, to silence critics. One of the victims is André Apaid, the leader of the 184-Group, a gigantic coalition of religious, businessmen and many other organizations reflecting national life.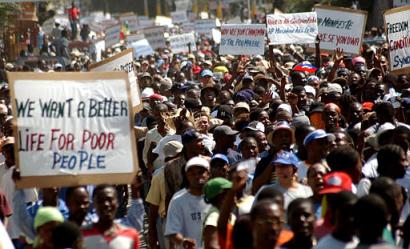 Tens of thousands of Haitians took the streets of Port-au-Prince, Haiti, protesting chief bandit Jean-Bertrand Aristide's gross incompetence and dictatorial rule, February 2, 2004. Protesters want democracy, human rights and an acceptable quality of life for all Haitian citizens. (Reuters/Daniel Aguilar)
The dehumanizing poverty that firebrand, corrupt to the teeth Aristide has long forced the vast majority of Haitians to endure is another reason, beyond dispute, for millions of Haitians to force him out of office. More than 80 percent of Haitians are either unemployed or underemployed and survive on less than U.S.$1 daily, despite repeated promises, and most recently, on January 1, 2004, from Aristide who had vowed to change for the better the poor's quality of life, to bring dignity to them.
By contrast, for the former priest of the shanty-towns and cronies, the meaning of their own lives is ultra-luxury material standard of living (An extremely painful comparative analysis of lives), as evidenced by their private mansions, fleets of luxury automobiles, to name only these ones.
All a monster like Aristide knows is spreading murder, carnage and grand theft throughout the fake state, the criminal syndicate he has long turned Haiti into as the unprecedented widening and unwieldy democratic movement for his removal from illegal office increasingly continues to be in its glorious fecundity and give hope for a democratic Haiti, a prosperous nation, benefiting all of its citizens - not those who seize state powers by force or obtain them by fraudulent means for criminal purposes.
I no doubtless find reasons to believe that the history of Aristide, to paraphrase Voltaire, is a 'tableau of odious crimes' against almost the whole of the Haitian family and foreign friends.
Still, the conventional wisdom in dealing with a ferocious little man like Aristide has been that a democratically elected president cannot be forced to resign his office. But United States' president, Richard Nixon, for example, was forced to say 'adieu' to the presidency, in 1974, about two years after his inauguration.
Over the years virtually every mechanism available to the Organization of American States (O.A.S.) has been employed to try to force Aristide to conform his behavior, to help turn Haiti into a democratic state, where the rule of law is also respected. Nothing has worked. So now why should one assume the main cause of the fast growing Haitian problem, including an armed uprising that has spread to nearly a dozen towns in western and northern Haiti, can be its solution?
Aristide does not have even the minimal intelligence and will to begin addressing the multitude of painful problems he has long created and fostered for the vast majority of his fellow Haitians.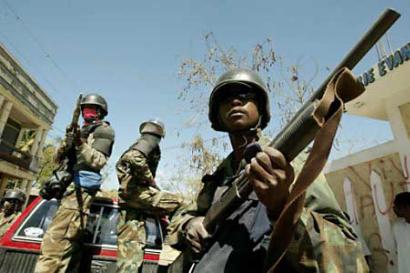 Armed rebels patrol the streets of the provincial city of Hinche in central Haiti, Tuesday, February 17, 2004, one day after killing its police chief. (Reuters/Daniel Aguilar)
As the political crisis deepens, with violence flaring, there is an urgent need for a new direction in Haiti, and that the international community, of which the United States prominently belongs to, must be convinced helping Haitians to democratize the Caribbean nation is in its interest, too, and inevitable. And the effort must be writing the obituary of Aristide's gangster warlord regime from the start. Otherwise, it is most likely that the Bush's Administration will place itself in the unusual position of dealing with an exodus of Haitian refugees during a critical presidential election year.
Yves A. Isidor, who teaches economics at the University of Massachusetts-Dartmouth, is spokesperson for We Haitians United We Stand For Democracy and executive editor of wehaitians.com, the journal of democracy and human rights.
Wehaitians.com, the scholarly journal of democracy and human rights