Correspond with us, including our executive editor, professor Yves A. Isidor, via electronic mail:
letters@wehaitians.com
Want to send this page or a link to a friend? Click on mail at the top of this window.

Must learndly read, too; in part, of intellectual rigor; in part, the repository of ultimate knowledge
First posted Wednesday, January 10, 2006; reposted Monday, January 15, 2007
A continuing investigation
Posted Monday, January 15, 2007
Posted Sunday, January 14, 2007
Sen.: Drugs smuggled to Haiti by plane
By stevenson Jacobs, Associated Press Writer
PORT-AU-PRINCE, Haiti, Jan. 13, 2007 - Drug traffickers are increasingly favoring planes over boats to smuggle U.S.-bound cocaine from South America into Haiti and the Dominican Republic, U.S. Sen. Bill Nelson (news, bio, voting record) said Saturday.
The Florida Democrat attributed the drop in sea smuggling to a 1998 agreement allowing U.S. drug agents to patrol Haitian waters for drug traffickers.
"It has been successful and the amount of drugs coming in by sea has been reduced," Nelson told reporters at the end of a two-day visit. "But the amount of drugs coming in by airplane has considerably increased."
Most of the small planes originate from southern and northwestern Venezuela, Nelson said. Venezuela is a major transit point for drugs — primarily cocaine — being smuggled out of Colombia for the United States and Europe.
In a speech this past week, Haitian President Rene Preval said U.S. anti-drug aid has not significantly stopped the flow of illegal drugs into his impoverished Caribbean country.
Nelson, who sits on the Senate Foreign Relations Committee, said Washington's agreement with Haiti only allows U.S. authorities to stop drug traffickers at sea — not by air — "because obviously we cannot interdict the plane unless we shoot it down."
The senator said he agreed with Preval's call for more help fighting drug traffickers but stressed that Haiti's national police is the main defense against cocaine-smuggling flights.
"The main way of solving the drug problem coming by air into Haiti is to get the Haitian national police to where they can arrest them when they land," Nelson said.
Haiti's police is among the region's most corrupt, with only a few thousand officers to patrol the nation of 8 million.
Posted Friday, January 12, 2007
Policy change raises new concerns for immigrants
By Joao Ferreira, Standard-Times Staff Writer
NEW BEDFORD — Advocates are praising Gov. Deval Patrick for rescinding a policy set by former Gov. Mitt Romney that would have allowed the state police to detain illegal immigrants.
However, they are concerned that another agreement being sought with the Department of Corrections to accelerate deportations could affect legal immigrants.
After his announcement yesterday, Gov. Patrick directed Public Safety Secretary Kevin M. Burke to negotiate a memorandum of agreement between Corrections and the U.S. Immigration and Customs Enforcement. The agreement would allow specially trained corrections officers in two state detention facilities to perform limited immigration law enforcement functions, including initiating deportation proceedings against convicted illegal immigrants.
"I think that strikes the right balance between our responsibility to assure public safety and our responsibility to respond to the concerns about illegal immigration," Gov. Patrick said during a Statehouse news conference.
Gov. Patrick spokeswoman Cindy Roy said yesterday the agreement is meant to "strictly target" immigrants who are in the United States illegally, but could not fully exclude the possibility that it could end up affecting legal residents.
"It's likely that these sorts of issues will be discussed as the memorandum is drafted," she said.
Helena S. Marques, executive director of the Immigrants' Assistance Center, is skeptical.
"I don't have a problem if the targeted population is undocumented," she said. "But I usually come to find very early (from past experience) that it's targeting legal permanent residents, and they say, 'Oops, I've made a mistake.'
"I hope the discussion becomes very detailed," she said.
She referred to a former accelerated program ran by District Attorney Paul Walsh Jr. that said it targeted illegals but ended up affecting legal immigrants who had long lived in the United States.
Many of those immigrants were among the hundreds deported from the area to the Azores after tougher deportation laws were enacted in 1996.
"It's an issue with immigrant law that casts a very wide net," said Ali Noorani of the Massachusetts Immigrant and Refugee Coalition. "The solution in the end of the day lies in the hands of the federal system."
Immigration and Customs has signed similar agreements with correction officials in California, Florida and Arizona.
A press release that announced the Arizona program in 2005 didn't make a distinction between immigrants living illegally in the United States and those who live here legally but subsequently broke the law.
"That's what scares me when people make statements like that and they're so vague," Ms. Marques said. "It can be devastating on the legal permanent residents. I see it on a daily basis how devastating it is for the families and the children."
Under the agreement yet to be negotiated, some 12 state Department of Corrections workers, operating out of the prison-classification centers at Concord (for men) and Framingham (for women), would review the immigration status of convicts and consider them for deportation.
Mr. Burke, who will negotiate the new agreement with the U.S. Immigration and Customs Enforcement agency, estimated there are 700 illegal immigrants in state custody — although the new initiative is expected to focus on incoming convicts.
Gov. Patrick said if they are determined to be illegal immigrants, "they're out of here" after they complete their sentence. He said he would also consider working with sheriffs to expand the program at county correctional facilities after assessing it at the state level.
Material from The Associated Press used in this report.
Contact Joao Ferreira at jferreira@s-t.com
Date of Publication: January 12, 2007 on Page A05
© 1995-2006 The Standard-Times
Life after prison can be deadly, a study finds
BOSTON, Jan. 10 (Reuters) — Being released from an American prison may be more dangerous than being in one.
Death and prison records from Washington State show that 30,237 convicts released from 1999 to 2003 were 12 times more likely to die from a drug overdose and 10 times more likely to be slain in a two-year period than the general population.
The study, to be published in The New England Journal of Medicine on Thursday, said the reason went beyond the bad habits and willingness to take risks that probably landed people in prison in the first place. "We know this is a population that has a higher rate of smoking, higher rate of mental health problems, higher rate of chemical dependency, and more risk-taking behavior," said Dr. Ingrid Binswanger, a researcher at the University of Colorado, Denver.
"But you might not expect the higher death rate to be as dramatic as it is," said Dr. Binswanger, who led the study.
The danger peaks sharply "in the first few weeks of their transition back into their communities," she added.
The high rate of drug overdose may have been caused by heroin or cocaine users who relapsed and overestimated the amount it takes to get high, not realizing that they had lost the tolerance they had before they were imprisoned, the study said.
More than 600,000 inmates are released from American prisons every year. An additional 7.2 million people are let go after being held in jails while awaiting trial or serving short sentences for misdemeanors. The United States has 2.2 million people behind bars, about a quarter of all the world's prisoners.
Heart disease "is the second-leading cause of death in this population," Dr. Binswanger said, maybe because prisoners smoke more, or because they may have other risk factors like diabetes or high blood pressure.
21 linked to Dorchester gang charged with drug dealing
By Shelley Murphy, Globe Staff
A crackdown on Dorchester's Greenwood Street gang by Boston police and federal agents led to charges yesterday against 21 people, including three juveniles, for allegedly selling crack cocaine, law enforcement officials said.
Boston Police Commissioner Edward F. Davis said the arrests take "some very dangerous people who have been involved in violent activity and narcotics activity off the street."
People from Greenwood Street have been involved in "gun activity" with people from Hendry Street, Davis said in a telephone interview.
"We want people in the neighborhoods to know that if you participate in gun violence, we'll use any method we can to put you in jail," he added.
All 21 were charged with cocaine distribution. Eleven were charged in federal court, where they face stiffer penalties if convicted. The others were charged in state court.
Twelve of those charged were arrested early yesterday, four were already in custody on previous charges, and the remaining five were being sought late yesterday, officials said.
"We remain committed to bringing federal resources to bear on community crime problems, particularly in the area of gangs, guns, and drugs, so that our neighborhood streets are safe for all law abiding citizens," US Attorney Michael J. Sullivan said in a statement.
Two affidavits filed in federal court and unsealed yesterday indicated the arrests sprang from a continuing investigation, launched in November, "of drug dealing by known or suspected members and associates of a group sometimes known as the Greenwood Street gang, operating in the area of Greenwood, Harvard, and Bernard Streets in Boston."
An undercover Boston police officer bought crack cocaine in November from two men who were among those arrested yesterday -- Gary Wallace, 19, and Chris Bryant, 35, both of Dorchester -- according to the affidavits.
The others charged in federal court include, Kelly Smoak, 34; Gerald Scott, 36; Fernando Phillips; Jean Janvier, 21; Kelly Walker, 24; John Webbe, 29; Nicholas Otey, 19; Melvin Green, 19; and Anthony Johnson, 24.
Davis would not comment on how many shootings are believed to be linked to a feud between gangs from Greenwood and Hendry streets.
But he said that if there's insufficient evidence to charge suspected shooters, then police will pursue charges they believe they can prove.
"We will take steps to do whatever we can to put pressure on them to stop shooting at each other," he said.
Reprinted from The Boston Globe of Thursday, January 11, 2007
© Copyright 2007 Globe Newspaper Company. © 2007 The New York Times Company
Posted Wednesday, January 10, 2007
U.S. defends anti-drug efforts in Haiti
By Stevenson Jacobs, Associated Press Writer
PORT-AU-PRINCE, Haiti, Jan. 10, 2007 - The U.S. defended on Wednesday its anti-drug efforts in Haiti, two days after the Caribbean nation's president accused America and other major drug-consuming countries of failing to adequately fight the narcotics trade.
In a strongly worded speech to Parliament on Monday, President Rene Preval called drug trafficking the main cause of instability in his impoverished nation and said failed efforts by the United States and other countries to stop the trade had made Haiti a "victim."
U.S. Embassy spokeswoman Shaila B. Manyam said Wednesday the United States has undertaken a range of measures to defend Haiti against drug trafficking, including strengthening its weak justice system and training its coast guard.
The U.S. has also contributed more than $40 million to Haiti's national police since 2004, Manyam said. "The United States shares Haiti's concern about drug trafficking," Manyam said. "Our two countries have a long history of cooperation on combatting this scourge and that cooperation will continue."
Drug traffickers have long taken advantage of Haiti's weak defenses and vulnerable coastline to smuggle in cocaine bound for the United States, Canada and Europe.
Manyam said Preval's comments "indicate the government of Haiti shares our strong commitment to deal with the threats to stability and security posed by drug trafficking."
Preval's cash-strapped government has struggled to contain gang violence sparked by a bloody 2004 revolt that ousted former President Jean-Bertrand Aristide, Haiti's first democratically elected leader.
Ransom-seeking gangs have kidnapped dozens of people in recent weeks, prompting criticism that police and an 8,800-strong U.N. peacekeeping force are not doing enough to fight crime.
U.N. troops and police have stepped up patrols in recent days and arrested two suspected kidnappers.
Related text: Putting former Haitian murderous dictator Aristide in tight handcuffs for drug trafficking, whose job is that?
Prosecution alleges 'execution' over road rage case testimony
By Laurel J. Sweet, Boston Herald Writer
An epileptic Mattapan man who survived being stabbed in a road rage incident was shot to death by the same driver 10 months later to stop him from testifying, prosecutors alleged yesterday.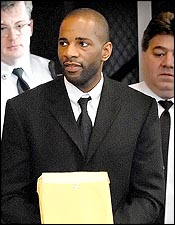 Ricardo Gittens enters Boston's Suffolk Superior Court, January 10, 2007 for his trial in the murder of Mattapan man Anthony Regis. (Boston Herald Staff Photo by Ted Fitzgerald)
"This was nothing short of an execution," assistant Suffolk District Attorney Patrick Haggan told jurors on opening day of the murder trial of Ricardo Gittens, 32, of Dorchester.
Gittens, a former gangbanger suspected of - but never charged with - being the getaway driver in the 1995 murder of Assistant Attorney General Paul R. McLaughlin, stalked Anthony Regis, plotting his demise after the two clashed over a fender-bender on April 7, 1995, Haggan said.
On Feb. 27, 1996, three days before Gittens was to go to trial for attempted murder and as Regis sat on his family's Westmore Road porch, Haggan said Gittens ran up to Regis and shot him four times, including between the eyes.
"He silenced Anthony Regis," Haggan said.
Nearly a year after the shooting, the murder weapon, a .380-caliber semiautomatic, was found in the Dorchester home of Gus Swafford, Gittens' "best friend," Haggan said.
Despite having no eyewitnesses to put on the stand and the passage of nearly 11 years, Haggan promised, "Whether it's one month or 20 years, the facts will still be overwhelming."
Regis, a 24-year-old West Roxbury High graduate, came to Boston from Haiti in 1980.
In 2001, Gittens was sentenced to life in prison for the 1995 drive-by murder of Jacqueline Bispham, 32, and the shootings of two men, one of whom was paralyzed. But in 2004, the Supreme Judicial Court overturned the conviction for lack of evidence. Gittens only faced charges for Regis' murder in 2005.
Gittens' attorney, John Swomley, portrayed one of Haggan's key witnesses as a lying rat trying to keep himself out of jail.
"Nobody deserves to die before their time," he said, "but Ricardo Gittens didn't kill Anthony Regis."
© Copyright by the Boston Herald and Herald Media.
Reprinted from The Boston Herald of Wednesday, January 10, 2007.
Posted Monday, January 8, 2007
Haiti extreme violence-issued, largely inaticulate President Preval accuses U.S.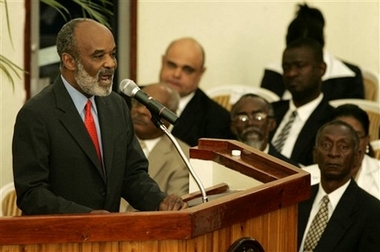 Haiti's President Rene Preval speaks during the opening session of the Parliament in Port-au-Prince, Monday, Jan. 8, 2007. Preval said Haiti remained a 'victim of drug-consuming countries' in a speech Monday, accusing the United States in particular of not doing enough to help his impoverished nation fight the narcotics trade. (AP Photo/Ariana Cubillos)
Fire destroys large indoor market in Haiti's capital
PORT-AU-PRINCE, Haiti (AP) -- A fire ripped through a large indoor food market in Haiti's capital Monday, destroying merchandise but causing no injuries.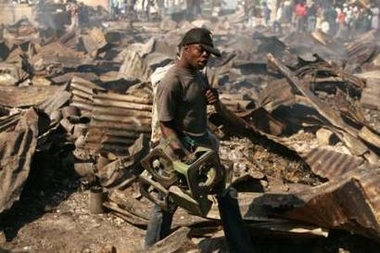 A man walks with items salvaged from a burnt market in the Port-Au-Prince suburb of Petionville January 8, 2007. No one was injured in the fire, which started early in the morning. (REUTERS/EDUARDO MUNOZ)
The blaze began before dawn and quickly consumed the La Couple market in the Port-au-Prince suburb of Petionville. The normally bustling market was closed at the time and no vendors or shoppers were inside, witnesses said.
The cause wasn't immediately clear, but some bystanders accused political militants of torching the market in a feud over last month's disputed local elections. Police did not immediately comment on the fire.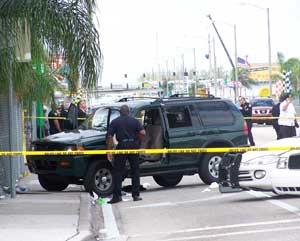 One Haitian woman dead; two criticallly hurt in North Miami Little Haiti Monday, January 8, 2007 drive-by shooting (Photo: David Ovalle/Miami Herald Staff)
Firefighters arrived hours later and extinguished the flames, which destroyed thousands of dollars worth of vegetables, fruit, rice, flour and oil.
Vendors wept as they sifted through smoldering mounds of corrugated tin and charred vegetables to salvage anything of value.
The market is a vital economic hub for hundreds of landless peasants who make long treks from the countryside each morning to sell their wares.
Suspect arrested in slaying of two Jordanian peacekeepers in Haiti
PORT-AU-PRINCE, Haiti, Jan. 6, 2007 (AP) - UN troops and local police raided a slum in Haiti's capital Friday and arrested an alleged gang member wanted in the slaying of two Jordanian peacekeepers, the UN mission said.
No shots were fired during the pre-dawn operation in Port-au-Prince's Cite Soleil slum, a base for well-armed gangs blamed for a spate of kidnappings and shooting deaths, the mission said in a statement.
An alleged gang member identified only as Zachari was captured and turned over to Haitian police for the Nov. 10 killing of the Jordanians, who were driving back to base when their jeep came under heavy gunfire.
A suspected kidnapper also was arrested in the raid.
The UN mission said Zachari directed kidnappings for the feared Beloney gang, which authorities allege is behind a wave of recent abductions for ransom.
In December, UN troops and Haitian police raided Cite Soleil and killed five people in the peacekeeping mission's bloodiest crackdown in months.
UN troops have announced plans to increase patrols next week to prevent kidnappers from targeting children returning to school after the Christmas holiday.
The 8,800-strong UN force arrived in July 2004 to restore order in the Caribbean country after a chaotic uprising toppled former President Jean-Bertrand Aristide, Haiti's first democratically elected leader.
Fourteen peacekeepers have died since the mission began, including six Jordanians.
First posted Friday, January 5, 2007; reposted Saturday, January 5, 2007
Posted Saturday, January 6, 2007
Prisoners take turns sleeping in Haiti's overflowing jails
By Joseph Guyler Delva, Reuters Writer
PORT-AU-PRINCE, Haiti, Jan 5 (Reuters) - Haiti's prisons have grown so crowded prisoners must take turns sleeping as police step up arrests of alleged gangsters blamed for a wave of violence and kidnappings, government and human rights officials said on Friday.
"We're facing a critical situation with our prisons which have no more room to hold prisoners," Haiti's Secretary of State for Public Safety Eucher Luc Joseph told Reuters.
The national penitentiary in the capital, Port-au-Prince, was built to hold 800 prisoners and now houses over 2,000.
"We're experiencing the same situation in all the other prisons and police custodies around the country," Joseph said.
Haitian police have intensified operations against criminal gangs and the number of arrests has increased considerably in the past few months.
The United States has also increased the number of Haitian criminals deported (U.S., thanks for deporting them, and that's more greenbacks for us) to their homeland to about 100 a month, from 25. Haitian officials said many of those deportees have long criminal records and will be held even though they have not been charged with crimes in Haiti and have already served their sentences in the United States.
"We have to detain those deportees because they pose a threat to the country's national security," said Joseph.
In many prisons, detainees sleep in turn on the floor, live in inhumane conditions and are deprived of adequate medical care, said Renan Hedouville, head of the Haitian Lawyers Committee for Human Rights.
"Some prisoners have to stand up, while others sleep for one or two hours before giving up their place to other inmates," Hedouville told Reuters.
"The living conditions in those prisons are in total violation of the principles of human rights."
Government officials acknowledged that the situation in the country's detention centers is critical, but argue that they have an obligation to hold prisoners while they work to change conditions.
Reposted Tuesday, January 3, 2007
Posted Wednesday, January 3, 2007
Ban's U.N. spokeswoman fled Haiti
By Justin Bergman, Associated Press Writer
In a Jan. 2 story about the U.N. secretary-general's new spokeswoman, The Associated Press erroneously reported that Michele Montas' husband was killed in April 2000 after his radio show criticized then-President Jean-Bertrand Aristide's government. The broadcasts were critical of Aristide's party, but Aristide was not in power at the time.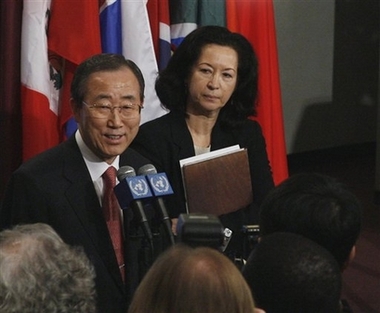 In this handout photo released by the United Nations, the new United Nations Secretary-General, Ban Ki-moon, Left, addresses the media after his first official day of work at U.N. headquarters in New York, Tuesday, Jan. 2, 2007. Standing next to Ban is his spokesperson, Michele Montas. Montas, who carried on her husbands radio program in Haiti after he was assisnated six years ago after becoming increasingly critical of the government, began her new job that day as well, this time on the other side of the microphone. (AP Photo/United Nations, Paulo Filgueiras-HO)
UNITED NATIONS, Jan. 3, 2007 (AP) - Michele Montas' husband was assassinated six years ago in Haiti after he broadcast critical reports of the government on his radio program. She continued the broadcasts herself until gunmen opened fire on her home and sent her death threats, forcing her to flee the country.
On Tuesday, Montas began her new job on the other side of the microphone, conducting her first media briefing as spokeswoman for U.N. Secretary-General Ban Ki-moon, who succeeds Kofi Annan.
Though she would have preferred to stay in Haiti, she sees her new position as a way to further her causes in her home country and publicize other human rights abuses around the world.
"Working as a journalist in Haiti ... we touched people's lives on a daily basis," she said in an interview with The Associated Press at U.N. headquarters. "Of course, as a spokeswoman I will be talking about other things besides Haiti. However, it's always there and it's part of me."
Montas has been a spokeswoman before — for the president of the U.N. General Assembly from September 2003 until September 2004, soon after she fled to New York.
She looked comfortable in her new and much larger role as Ban's main spokeswoman at Tuesday's media briefing, flashing a warm smile as she bantered with a crowded room full of journalists and answering a barrage of questions in her rapid-fire, accented English.
The U.N. press corps did not go easy, peppering her with tough questions about Ban's stance on the death penalty, the situation in Darfur and Ban's appointments to senior U.N. positions.
Montas began her journalism career in Haiti in the early 1970s with her husband, Jean Dominique. Dominique's station, Radio Haiti-Inter, was attacked several times in the 1980s and 1990s, and the couple was forced to flee the country twice to briefly live in exile.
Dominique, the country's most prominent anti-government journalist, was assassinated in April 2000 after broadcasting increasingly strident criticisms of Jean-Bertrand Aristide's party on his program.
Montas took over the radio station, but shut it down in February 2003 and fled to New York after her bodyguard was gunned down in an attack on her home and she received several death threats.
The decision to stop broadcasting is still painful to her.
"We all felt very strongly that we couldn't put any more lives in danger. We had to do it, so we did it. It was not a choice," she said.
Montas has not stopped speaking out about Dominique's slaying, though. She helped director Jonathan Demme produce a 2003 documentary about her husband's life called "The Agronomist."
Media freedom groups have faulted the Haitian government for failing to bring Dominique's killers to justice.
Montas said the investigation has been "completely blocked" through intimidation tactics such as the slaying of witnesses, threats against judges and the attack on her home in Haiti.
Whether she will eventually return to Haiti is also in doubt.
"I would eventually want to go back. It's my country. Would the condition allow me to go back? At this point, no. Will it happen in the future? I hope so," Montas said.
Wehaitians.com, the scholarly journal of democracy and human rights