Want to send this page or a link to a friend? Click on mail at the top of this window.
First published October 20, 2000
Please God, may the U.S. deport more Haitians ...
more greenbacks for me, brutal dictator, Aristide
CAMBRIDGE, MA, Oct. 20 - Suppose you were interested in determining the statistical relationships between the dependent variable (Y), which could be defined as: former Haitian President and still radical leftist, Jean-Bertrand Aristide and successor, Rene Preval, a man who drinks vodka for breakfast, and the following independent hypothesized explanatory variables: x1 (extortion), x2 (rape), and x3 (killing). You might begin by giving thousands of Haitian national convicts deported to Haiti by the United States but since have been languishing in Haitian jails a questionnaire, asking them how much money they or their families have to pay Arisitide and Preval's cronies if they are to regain their personal liberty.
You might well find that those detainees or their families have to pay up to $20,000 (all payments in U.S. currency), suggesting that there is a strong positive correlation between Aristide, Preval, and prison officials' horrible behavior, who simply serve as collectors and bagmen for both chief extortionists (Aristide and Preval), and the following painful issues: extortion, rape, and killing.
"Last month," reports the Boston Globe of October 19, 2000, "Claudette Etienne, a 44-year-old deportee from Miami and a mother of two children, who were deported to Haiti after serving a one-year probation sentence for wielding a broken bottle during an argument with her husband, died while being held in a Port-au-Prince jail."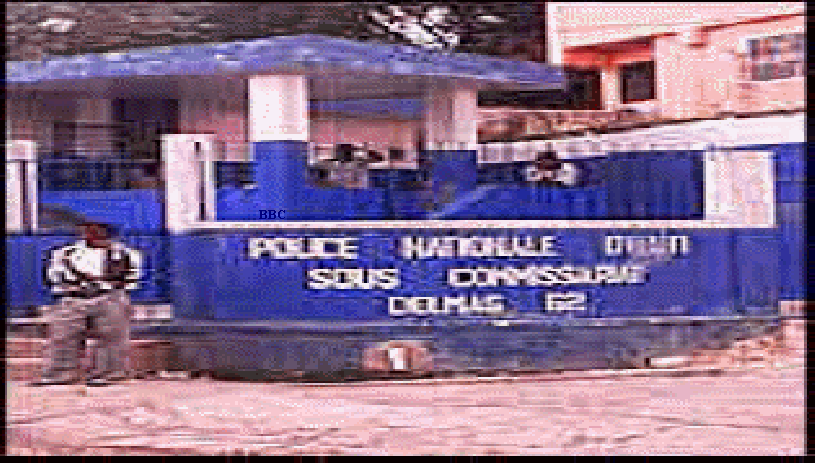 The jail or shack, where Claudette found death.
"The sad history of Mrs. Etienne, who, in fact, did not commit a crime in Haiti, still was detained there - arguably kidnapped by the most despicable radical leftist dictator and a drunk - and forced to cohabit with offenders of the law, if any, of the land because she did not have the economic means to pay $10,000 to the representatives of the junior extortionists (jail officials) as a condition to regain her liberty in a land made so horrible by the senior extortionists (Aristide and Preval) that thousands more Haitians have been disembarking in Florida lately," said a cousin of hers who spoke to us yesterday for this article on the condition that his name not be printed, may not end here.
"Forced by necissity to drink Haitian tap water, Etienne suffered diarrhea, fever, and vomiting. Prison officials transferred her to a hospital only hours before she died," added the Boston Globe.
And, there are more similar sad histories of Haitian deportees, with the exception that their days are numbered, as radical leftist Aristide and the drunk Preval continue to advocate burning political opponents alive, more holding largely fraudulent elections - all in an effort to consolidate the dictatorship of the proletariat.
"Many say they have been told they would be freed only when they or their families could come up with anywhere from $1,000 to $20,000, reported the Boston Globe, too.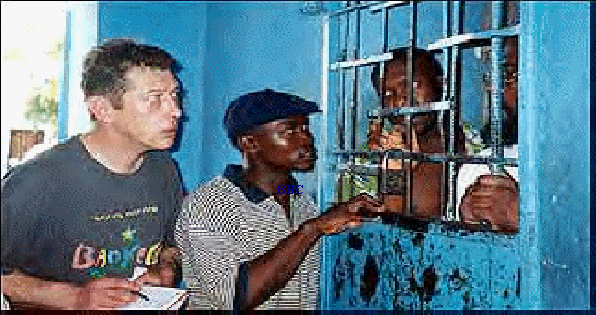 A BBC journalist, Andy Kershaw, left, interviews deportees in the filthy police cell, in Croix-des-Bouquets. Man at right is a translator.

By most recent human rights charts, in which Haiti is a signatory, such unacceptable behavior is surely a gross violation of the deportees' human rights. Since they have already served their sentences in the country that is the U.S., where they journeyed into the world of criminality, the radical leftist Haitian government has no legal grounds to detain them upon their forced return to Haiti from the U.S.

Was this type of shameful behavior, including many others, criminalized in Haiti, and the law being enforced, as its provides for, both Aristide and Preval (defendants) would have been found guilty at the conclusion of a bench trial, or a trial by jury.

And because of the gravity of the crime, or crimes, committed by the defendants the sentence imposed would be, at least, five life sentences, however, to be served concurrently in a high security prison, if not, otherwise, being candidates for the death penalty. The sentence, though severe, would, too, serve as a general deterrent.
After more than three years in detention on false accusations, he is still awaiting his day in tyrant Jean-Bertrand Aristide's kangaroo court.
In turn, in an effort to recover a substantial sum of money (punitive damage) for the wrongful-death of their love ones surviving relatives (plaintiffs) of the victims would retain attorneys to commence legal proceedings (civil) in a court of law against the defendants, but first filing injunctions with the said court to prevent them from selling or transferring the ownership of their ill-gotten assets, both tangible and non-tangible, if any, to other parties, serving, for example, as straw buyers.
As the Haitian democratic opposition continues, adroitly, to call on the grossly incompetent Preval and his brutal Marxist government, which serves as a vessel for Aristide's dictatorship of the proletariat, to stop violating the human rights of citizens, while trying to make that government history, honest citizens will in the near future, hopefully, say with might and authority: no more abuse of questionable power! no more rapes! no more extortion! no more killings! ... as Aristide and Preval are confined for life, and their assets, which today can hardly be explained by their incomes, be confiscated.
Yves A. Isidor teaches economics at the University of Massachusetts-Dartmouth and is spokesperson for We Haitians United We Stand For Democracy, a Cambridge, MA-based nonpartisan political pressure group.
Wehaitians.com, the scholarly journal of democracy and human rights