Correspond with us, including our executive editor, professor Yves A. Isidor, via electronic mail:
letters@wehaitians.com
Want to send this page or a link to a friend? Click on mail at the top of this window.

Must learnedly read, too; in part, of intellectual rigor; in part, the repository of ultimate knowledge
Posted Thursday, October 27, 2005
Posted Wednesday, October 26, 2005
Jesse Jackson hails Aristide as Haiti's 'legitimate' leader
JOHANNESBURG, Oct. 26, 2005 (AFP) - US civil rights leader Jesse Jackson voiced strong support for Jean-Bertrand Aristide after meeting with the ousted Haitian leader, saying he was a "legitimate" president who had been overthrown by Washington.
"The people did not remove him, the US government removed him," Jackson told reporters after meeting with South Africa's anti-apartheid icon Nelson Mandela.
"He did not finish his term. He was a legitimate democratic elected leader," said Jackson, who met Aristide on Tuesday.
"I've known him for a long time," he said, adding: "We regard him as a democrat."
Aristide swept to power in Haiti in 1990, only to be overthrown in a coup eight months later. With backing from the United States, he returned to power in 1994 but fell from grace amid claims of vote-rigging in the 2000 elections and political violence.
Faced with an armed insurrection and large street protests, Aristide bowed to pressure from the United States, France and Canada and fled Haiti on February 29 last year. He has been living in exile in South Africa since May 31 with his wife and two daughters..
Posted Monday, October 24, 2005
Once again, U.N. peacekeeper in Haiti killed
PORT-AU-PRINCE, Haiti, Oct. 24, 2005 (AP) -- A U.N. peacekeeper who was shot while on patrol near the volatile Cite Soleil slum of Haiti's capital died Monday at a hospital in neighboring Dominican Republic, a spokesman for the United Nations said.
The peacekeeper was shot in the head Saturday in the Port-au-Prince neighborhood while his patrol was trying to rescue a kidnapped woman, said Lt. Col. El Ouafi Boulbars, the U.N. military spokesman in Haiti.
The peacekeeper was identified as Muhammed Khalaf, 32, a corporal from the Jordanian army.
Some 7,600 U.N. troops and police are trying to re-establish order in the Caribbean nation ahead of elections to replace the interim government imposed after the February 2004 ouster of President Jean-Bertrand Aristide.
The death brought to four the number of peacekeepers killed in clashes since the U.N. mission arrived in June 2004.
Khalaf, who was married and had three children, was scheduled to return in two weeks.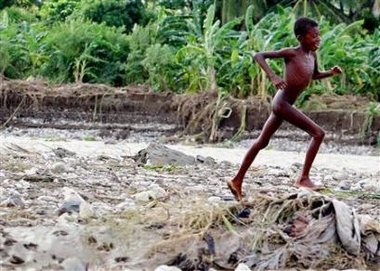 A Haitian runs near a river after Tropical Storm Alpha passed and destroyed some roads and houses in Jacmel, Haiti, October 24, 2005. (Eduardo Munoz/Reuters) What's Donald Trump really worth?
"This tragic death does not alter our determination to make progress in our mission," Boulbars said.
Cite Soleil is the base for armed gangs that U.N. authorities say are loyal to Aristide, who fled the country following a violent rebellion.
The shooting occurred after the patrol intervened as gang members tried to hijack a car, Boulbars said.
The peacekeepers were told by one of the people in the car that the same gang members were holding a woman captive. U.N. troops entered the slum and met with heavy fire from rooftops and alleys, he said.
Khalaf was standing in the armored vehicle and returning fire when he was struck in the head by a bullet, officials said.
Posted Wednesday, October 19, 2005
Haiti election official say Texas man broke law with filing
By Alfred de Montesquiou, Associated Press Writer
PORT-AU-PRINCE, Haiti, Oct. 19, 2005 — A wealthy Texas businessman who is seeking to run for president of his native Haiti could face criminal charges for allegedly making false claims when he filed candidacy papers, electoral officials said Wednesday.
Haiti's Provisional Electoral Council has submitted a criminal complaint to the country's chief prosecutor alleging that businessman Dumarsais Simeus falsely claimed to have met residency, citizenship and property requirements in his long-shot bid for president of the Western Hemisphere's poorest nation, said Andre Joel Petithomme, a lawyer for the election agency.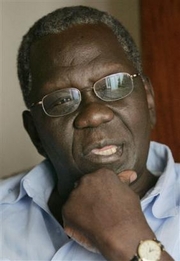 THE PRIDE OF THE VAST MAJORITY OF HAITIANS, EXCEPT THE PROFESSIONAL CROOKS Haitian Presidential candidate Dumarsais Simeus speaks during an interview with the Associated Press in Port-au-Prince.
The charges carry a potential sentence of three to five years in prison, but Haiti's chief prosecutor said he had not decided whether to pursue the case.
Simeus, who has pledged to use his business skills to help rebuild the shattered economy of his native land, said he would continue to seek the presidency in the first elections since a violent rebellion forced President Jean-Bertrand Aristide to flee the country in February 2004.
"I'm very surprised and disappointed by these maneuvers," Simeus said, the 65-year-old owner of a food services company in Mansfield, Texas.
The electoral council had previously said Simeus could not be a candidate because he holds U.S. citizenship and Haiti's constitution prohibits anyone with dual nationality from being president.
But the Texas businessman appealed to the Supreme Court, which ruled that the council, which is charged with managing the election, had failed to prove Simeus has U.S. citizenship.
Two days after that decision, interim Prime Minister Gerard Latortue said he had formed a commission to evaluate the nationality of all 34 presidential candidates — and that the Supreme Court would no longer be allowed to intervene in electoral issues.
The elections, which have been postponed twice, are now expected to be held in mid-December to replace the interim government imposed after Aristide's ouster.
Simeus is believed to be one of several candidates with dual nationality since many in Haiti find it convenient to have a second passport.
The American businessman said he would not cooperate with the commission reviewing the citizenship claims of the presidential candidates and that the opposition to his candidacy is simply a fear of the "radical change" that he offers the troubled nation.
Posted Tuesday, October 18, 2005
U.S. urges Haiti to speed up election plan
By Edith M. Lederer, Associated Press Writer
UNITED NATIONS, Oct. 18, 2005 - The United States on Tuesday urged Haiti to speed up planning for elections now expected to take place in mid-December, saying every day is critical and it is essential to avoid further postponements.
U.S. Undersecretary of State Nicholas Burns said Haiti's interim prime minister told key countries involved in restoring order to Haiti after the ouster of President Jean-Bertrand Aristide in February 2004 that the repeatedly delayed elections will be held between Dec. 11-18.
Burns also met privately with Haitian Prime Minister Gerard Latortue, and told reporters he had emphasized the need for more speed and efficiency in the upcoming vote.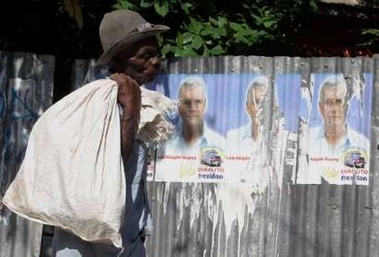 A Haitian man walks in front of the presidential candidate Charles Henri Baker's banner in Port-au-Prince, Haiti, October 20 2005. (Reuters/Eduardo Munoz)
"They're very important elections for the Haitian people and frankly the organization of the elections to date has not been sufficient," Burns said.
Latortue promised the elections would take place on the new dates.
"I recognize the right of people who don't know about Haiti to believe it might not be the case, this is a personal opinion, but I give you the guarantee it will take place," Latortue said after a Security Council meeting.
Haiti is struggling to distribute voter identification cards, print ballot materials and set up polling stations for the race to replace the interim government established after the ouster of Aristide. The election for president and 129 legislative seats was originally scheduled for October, then postponed until Nov. 20.
Later Tuesday, the Security Council expressed concern about the possibility of another election delay, saying in a statement that "important challenges to the preparations of the elections remain yet to be overcome."
The top U.N. envoy on Haiti, Juan Gabriel Valdes, said he was pleased that people were registering for the vote — more than 3.2 million so far — and though security is precarious, the situation is getting better.
"There have been clear and tangible improvements in the security situation in the country in recent months," Valdes told the Security Council.
EU ends development aid freeze to Haiti
EU Ends Development Aid Freeze to Haiti Mon Oct 17, 6:16 PM ET
BRUSSELS, Belgium, Oct. 17, 2005 - The European Union unblocked $87 million in development aid for Haiti on Monday, ending a freeze imposed almost five years ago because of allegedly flawed elections in the Western Hemisphere's poorest nation.
The EU said the money would support Haiti's democratic process as its transitional government prepares for presidential and legislative elections tentatively scheduled for December — the first since the bloody 2004 rebellion that helped topple President Jean-Bertrand Aristide.
The EU froze payments to Haiti in January 2001 claiming Aristide's government was not complying with the "democratic principles" of the Cotonou Agreement, which governs EU's relations with African, Caribbean and Pacific nations.
The EU's administrative body suggested the restrictions be lifted after Haiti's interim government made commitments to democratic reform during a March visit by the EU development commissioner. Governments of the 25 EU nations had to agree before the restrictions could be lifted.
The European Commission plans to host an international donor conference for Haiti on Thursday and Friday. Thierry Fagart, the U.N. human rights chief in Haiti, on Friday described the rights situation there as "catastrophic," citing gang violence and multiple cases of arbitrary arrest, torture and summary execution by Haitian police.
Posted Monday, October 17, 2005
In Boston, FCC can no longer tolerate pirate radios
By Johnny Diaz, Globe Staff
In a corner studio overlooking bustling Blue Hill Avenue, the young woman behind the controls spins a booming tropical mix of compas, reggae, and contemporary Haitian tunes, plus a little bit of Destiny's.
''This is Radio Concorde," she enthusiastically declares in Creole inside this tangerine-hued studio at Mattapan's WRCB-AM 1580 station. Posters of hip-hop artist Wyclef Jean adorn the walls along with a mural of a sunset over a tropical island.
The DJ's voice resonates in the hallways of this office building, sails over the airways along Blue Hill Avenue, ripples out to Gallivan Boulevard in Dorchester and floats over Grove Hall and the outskirts of Southie.
Drive deeper into the metropolis and the station's signal fades into a swirl of static.
Radio Concorde entertains its listeners, serving as a community resource for local news and Haitian-related bulletins in Creole. It's also unlicensed -- what some in the industry call ''pirate radio."
The station's signal, emitted from a transmitter somewhere amid the triple-deckers and storefronts in Mattapan, could cost the station federal fines or get it shut down, for unauthorized broadcasts on an already-crowded radio dial.
''It's entrepreneurial spirit that is illegal," says Al Sprague, president of the Massachusetts Broadcasters Association, who said the station does not come up on his list of licensed stations in the state. The Federal Communications Commission, which regulates all broadcast outlets, also has no record of the station. Some community residents say the station and others like it provide neighborhood access programs similar to those on local cable television, in their native languages, which aren't offered anywhere else.
In the view of licensed radio operators in and around Boston, however, such pirate stations are broadcast outlaws, radio renegades that function as real stations but don't play by FCC rules or pay the costly application, licensing, and maintenance fees for legitimate status. They also say these unlicensed operations cut into their local advertising dollars with their commercials.
For a motorist trying to tune into a station while driving through the city, such bootleg outlets can cause interference or static, elbowing out established commercial and legal signals. The FCC says these signals can also jam emergency and police channels.
Because pirate channels fly under the FCC radar, it's hard to nail down the exact number of these station scofflaws in Boston. The FCC would not comment on any specific local pirate radio stations. Drivers may catch a pirate signal while navigating in a certain neighborhood, or stumble upon their frequency when pressing ''SEEK" on their car radios.
''It's not as if the foreign language communities are not adequately served by licensed broadcasters," said Stu Fink, general manager of WRCA in Cambridge. ''WRCA, WNTN, WUNR, and other stations, operate full schedules, servicing the ethnic communities, and provide airtime, when available, to anyone who requests it. Pirate stations are not only illegal, but they are detriment to the sound quality of radio."Continued...
Under FCC regulations, a low-power station (from one to 100 watts) is not required to be licensed if it doesn't exceed a transmission range of 200 feet and is used for non-commercial purposes such as public safety or traveler's information. Legit operators and broadcast officials say those unlicensed signals, with help from a labyrinth of antennas, can be audible for miles.
But at least one host of an unlicensed radio show sees a need that goes unmet on mainstream channels.
''I don't see it as pirate radio," says Oswald Neptune, a cofounder of Radio Nouveaute, which was shut down by the FCC this summer. Neptune was also a former director of Radio Concorde, where he hosted his own news talk show. He said he stopped hosting his show there last year when the FCC stopped by and told employees the station was reaching farther than its legal coverage area. Neptune says he now buys airtime on WNTN 1550 AM, which is licensed by the FCC, where he hosts a weekly health news show in Creole. He says that too many unlicensed or low-power stations can do more damage than good by crowding one another out, like birds squatting on a power line.
''If you have one or two of them, you can accomplish your mission, which is educating and informing the community," Neptune said. But when you have 10 or more, as is the case around Boston, it creates problems, he said.
Over at Mattapan's Radio Bel Ayiti (WRBAB 1700 AM), an unlicensed station, director Marcus Darbouze says that the steep cost of establishing a licensed radio station, which can run from thousands of dollars to six figures or more, is out of reach for ethnic communities like Boston's Haitians, who tend to be working-class.
''The high-power stations are too expensive for the community, and we have a lot of youth and community organizers who want to reach out to the airwaves," says Darbouze, who helped start Radio Bel Ayiti three years ago. The station features talk shows and commentary about immigration, domestic violence, health, political news from Haiti and music, from a studio on Blue Hill Avenue.
''We unfortunately are bound to use the low-power stations to reach our people, but they don't go far enough," he added.
Other station managers have grown so incensed over these airwave-sailing pirates that they have posted a website listing 22 low-power or unlicensed stations in Greater Boston, with their websites and call letters. They list at least five in the Dorchester, Mattapan, and Roxbury area. One Cambridge consulting company, Broadcast Signal Lab, compiled a report two years ago called ''Do they comply?" that studied the signal power of eight unlicensed AM stations in greater Boston that allegedly operated beyond their legal power levels. The report, commissioned by Waltham's WNTN station, found that these stations mounted antennas on triple-deckers and other buildings around Mattapan, Cambridge, Ashmont in Dorchester, and Forest Hills in JP, to boost their range.
The FCC cracks down on pirate radios stations when there are complaints, or when mavericks interrupt legal channels or jam police and emergency channels, according to a commission spokeswoman.
When investigating a pirate station, the FCC sends a letter requesting the managers stop their operation, then follows up with an order to stop transmitting. Fines for unlicensed radio operations can range from $10,000 a day to a maximum of $75,000. The FCC also threatens operators with criminal prosecution.
''Don't do it!" warns the FCC website.
In August, the FCC's Boston-area office shut down 1640 AM Radio Nouveaute and fined it $10,000 after repeatedly ordering owner Sylvane Simon to stop operating without a license. Community leaders say the station was the first of Boston's four Haitian stations, and operated in a studio the size of a large closet on Blue Hill Avenue.
Radio Nouveaute launched seven years ago and grew to become a major news outlet for the community, especially last year, when chaos erupted in Haiti after president Jean-Bertrand Aristide resigned and fled the country. Callers phoned the station to find information about their loved ones and where to wire money.
Throughout 2004, says a FCC report, its agents used a meter to track the station's signal from a studio at 1333 Blue Hill Ave. to a transmitter at a nearby Duke Street apartment building. When the agents spoke to Simon about the radio broadcasts, he told them he would remain off the air until he received FCC authorization. But agents kept picking up the station's signal, the report continues.
Calls to Simon and e-mails to the station's website were not returned. That website states that the station is currently looking to reopen in a new studio soon. In the meantime, they have gone back on the air, sporadically.
''What generally happens is that these guys go across the street," Sprague said, ''and start over again."
Johnny Diaz can be reached at jodiaz@globe.com
© Copyright 2005 Globe Newspaper Company. Reprinted from Globe City/Region stories of Sunday, October 16, 2005.
Wehaitians.com, the scholarly journal of democracy and human rights