Correspond with us, including our executive editor, professor Yves A. Isidor, via electronic mail:
letters@wehaitians.com
Want to send this page or a link to a friend? Click on mail at the top of this window.

Must learndly read, too; in part, of intellectual rigor
Posted Sunday, November 6, 2005
Bodies of three Haitian women found on Fla. beach
By Denise Kalette, Associated Press Writer
POMPANO BEACH, Fla. Nov 6, 2005 — The bodies of three women thought to be Haitian migrants washed ashore on a South Florida beach, authorities said.
The women, whose bodies were found early Saturday, were among a group that included up to 12 other people who apparently were trying to illegally migrate to the United States, said sheriff's spokeswoman Liz Calzadilla-Fiallo.
A deputy saw 10 to 12 people running from the water nearby, Calzadilla-Fiallo said.
No identification was found but the women were believed to be from Haiti and in their 20s and 30s, she said. They were found at three locations along an oceanfront road, she said.
The U.S. Coast Guard searched waters near the coastline where the women were found but found no boat, said Barbara Gonzalez, spokeswoman with U.S. Immigration and Customs Enforcement.
Five people in the group were detained. Four were turned over to the U.S. Border Patrol and the fifth, who was injured, was taken to Broward General Medical Center for treatment, Calzadilla-Fiallo said.
Authorities are investigating whether the group was part of a smuggling operation, said Steve McDonald, border patrol spokesman. All the people in custody were Haitian nationals, he said.
Posted Friday, October 14, 2005
An extremely bad report card for Haiti; human rights violated, says U.N.
By Alfred de Montesquiou, Associated Press Writer
PORT-AU-PRINCE, Haiti, Oct. 14, 2005 - The U.N. human rights chief in Haiti on Friday described the rights situation in the hemisphere's poorest nation as "catastrophic."
Thierry Fagart, who heads a team of about 30 human rights monitors, said there had been multiple violations of human rights by police and private citizens.
His assessment comes just weeks ahead of Haiti's first presidential and legislative elections since the February 2004 ouster of former president Jean-Bertrand Aristide.
Elections have been postponed twice and are now tentatively scheduled for December, though authorities have yet to set a date.
As the elections were postponed, tension have increased across the country. Fagart listed multiple cases of arbitrary arrests, torture and even summary executions committed by Haitian National Police. Street violence committed by gangs still plagued the capital, Port-au-Prince, he said.
Human rights groups say that over 1,500 people have died in political violence during the past year.
Earlier this week, Haitian National Police chief Mario Andresol said 15 officers had been detained and would be prosecuted for their suspected role in killings last August at a soccer stadium in the impoverished Martissant neighborhood of the capital.
Andresol said at least six people were hacked to death or shot by police and vigilantes in the event, though human rights groups have put the death toll at 10.
Posted Thursday, October 13, 2005
Haiti tardily seeks to bar dual nationals from troubled presidential race
By Alfred de Montesquiou, Associated Press Writer
PORT-AU-PRINCE, Haiti, Oct. 13, 2005 - A wealthy U.S. businessman who is running for president of his native Haiti faced a new obstacle Thursday after the interim prime minister announced the creation of a committee to review the citizenship of all 34 candidates for the upcoming election.
Interim Prime Minister Gerard Latortue said the committee would block the candidacy of anyone who has dual nationality _ and that the Supreme Court would not be able to reverse the decision.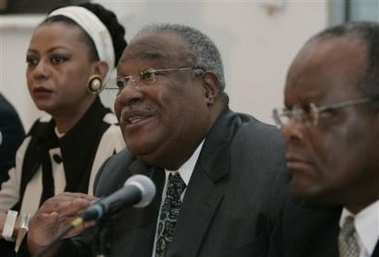 From left, Culture Minister Magalie Comeu-Denis, Interim Prime Minister Gerard Latortue, and Interior Minister Paul Magloire attend a news conference in Port-au-Prince, Haiti, Thursday, Oct. 13, 2005. Haitian authorities announced Thursday they had created a new hurdle for candidates expecting to run in the coming presidential and legislative elections. Latortue said the commission has been created to control the nationality of each candidate and he also detailed a series of reforms that would be made to improve the efficiency of the flailing Provisional Electoral Council. (AP Photo/Ariana Cubillos)
The announcement came two days after Haiti´s highest court ruled that Haitian-born U.S. businessman Dumarsais Simeus should be allowed to run in the first election since a rebellion forced the ouster of President Jean-Bertrand in February 2004.
Candidates have already begun campaigning for the election, which Latortue said would likely be postponed until December to give Haitian authorities more time to prepare.
The Supreme Court had ruled that election officials failed to provide proof that Simeus, owner of one of the largest black-owned businesses in the United States, had given up his Haitian citizenship.
Latortue told reporters that under Haiti´s constitution anyone who acquires citizenship in another country automatically loses their Haitian citizenship and therefore can´t run for president.
"If anybody can run by using judicial loopholes, this country´s institutions will be destabilized," he said. "We cannot let this happen for the coming elections."
Simeus, the owner of food services company in Mansfield, Texas, did not immediately return phone calls seeking comment. He has said that he has always maintained close ties to his native country and that his candidacy would open up new roles in the country for Haitians who have lived abroad.
Latortue said it is possible that the new six-member Citizenship Verification Committee will reject other candidates who have dual nationality _ which is not uncommon in a country where many people live abroad and have a second passport.
Haiti is struggling to distribute voter identification cards, print ballot materials and set up polling stations for the race to replace the interim government established after the ouster of Aristide. The election for president and 129 legislative seats was originally scheduled for October, then postponed until Nov. 20. A new date has not yet been set but Latortue said it would likely be in December.
Latortue said he would soon nominate a new general director to oversee the country´s Provisional Electoral Council, which is charged with managing the balloting, and that the change in the election date would not prevent a handover of power on Feb. 7.
Gunmen kill businessman in long bandit contaminated Haiti's capital
By Alfred de Montesquiou, Associated Press Writer
PORT-AU-PRINCE, Haiti, Oct. 12, 2005 - Kidnappers shot and killed a businessman on a busy street in Haiti's capital Wednesday after he resisted being taken, then sped off in his car with his wife and two children, police said.
Archange Honore, who ran a large auto parts business, was driving through downtown Port-au-Prince's when gunmen tried to kidnap him, Deputy Judicial Police Commissioner Ulysse Jean Daniel said.
The kidnappers shot Honore after he resisted, dumped his body in the street and then drove off in his car with his wife and two children, Jean Daniel said.
The assault was the latest in a wave of kidnappings in Haiti that have added to insecurity ahead of the first elections since the February 2004 ouster of President Jean-Bertrand Aristide. Police reported more than 50 kidnappings in September.
The rash of kidnappings has targeted both poor and prominent Haitians, as well as foreigners. Haitian police and the FBI on Friday helped free 9-year-old U.S. citizen Olivia Geneus, who was kidnapped in the capital last month, the U.S. Embassy said in a statement.
Two men were arrested and were extradited to the United States. Yves Jean Louis, 24, and Ernso Louis, 19, could face up to 25 years in prison each if convicted.
Posted Tuesday, October 11, 2005
Two Haitians indicted and arrested for taking hostage a nine-year-old American girl in Haiti
By The U.S. Department of Justice
Contact: Channing Phillips of the U.S. Department of Justice, 202-514-6933, Web:http://www.usdoj.gov/usao/dc
WASHINGTON, Oct. 11 /U.S. Newswire
United States Attorney Kenneth L. Wainstein announced today that Yves Jean Louis, 24, and Ernso Louis, 19, both of Haiti, were indicted on Friday, Oct. 7, by a federal grand jury in Washington, D.C., on charges of taking hostage a nine-year-old girl who is a United States citizen. The girl had been living with her family in the area of Port-au-Prince, Haiti. If convicted, both Yves Jean Louis and Ernso Louis face maximum sentences up to life imprisonment.
The two defendants were arrested on Friday in Haiti and brought to the United States. They were presented today on the charges in Miami before U.S. Magistrate Judge Patrick White, who scheduled a removal and detention hearing for Oct. 14.
United States Attorney Wainstein stated, "the United States Government will deal severely with those who kidnap and hold American citizens for ransom. There will be justice in this case for the trauma inflicted upon this innocent child and her family."
The ordeal began in the early morning hours of Sept. 26, 2005, when Yves Jean Louis, Ernso Louis and two other assailants allegedly abducted the child from her bed, after having invaded the family's home. The child was taken to another location and held there for more than one week. The child was told repeatedly that if she told anyone or tried to escape, she would be killed. During that time, the hostage-takers made demands for ransom, starting at USD $200,000. A citizen in the area where the child was being held became aware of her presence and alerted the authorities. The child was rescued on Oct. 4. The authorities apprehended Ernso Louis at the scene and located Yves Jean Louis a short while later. The two other hostage-takers remain at large.
In announcing the indictment and arrest, U.S. Attorney Wainstein praised the hard work of FBI's Extraterritorial Squad, Evidence Response Team and Special Weapons and Tactics Squad all based in Miami, FBI Legal Attache based in Santo Domingo, Dominican Republic, the Haitian National Police and the United Nations Civilian Police and the Regional Security Office and Consul General at U.S. Embassy Port au Prince, Haiti. Furthermore, he acknowledged the efforts of Assistant U.S. Attorneys John A. Beasley, Jr., and Jeanne M. Hauch, who are prosecuting the case as well as Assistant U.S. Attorney Benjamin Daniel in the Southern District of Florida who is handling the initial appearance and removal hearings of the defendants in Miami.
The charges contained in this indictment are allegations only and the defendants are presumed innocent until convicted at trial.
Haiti rules Haitian-American citizen can seek the office of the presidency
By Alfred de Montesquiou, Associated Press Writer
PORT-AU-PRINCE, Haiti, Oct. 11, 2005 - A Haitian-born U.S. businessman may run for president, Haiti's highest court ruled Tuesday in a decision the would-be candidate said marked a turning point in the roles expatriate Haitians could play in their homeland.
The elections will be the first since a February 2004 revolt toppled President Jean-Bertrand Aristide, the first democratically elected president in the country that has suffered decades of civilian and military dictatorships and coups.
Presidential and legislative elections were scheduled Nov. 20, but elections officials have said preparations are behind schedule and the vote likely will be postponed for up to a month.
The provisional Electoral Council had ruled that Dumarsais Simeus, owner of a food services company in Mansfield, Texas, could not run in the election because he is a U.S. citizen.
But the Supreme Court's five judges ruled he could run because the electoral commission had not produced documents to prove Simeus had given up his Haitian citizenship, the court's chief clerk Andre Bignon said. The provisional Electoral Council likely will challenge the decision, council lawyer Andre Joel Petithomme told The Associated Press.
"This decision is completely illegal, the court did not even let us to talk," Petithomme said.
Simeus said his candidacy would allow new roles in Haitian politics for Haitians abroad.
"It's not a personal victory, it's a victory for the Haitian people," Simeus told The Associated Press by telephone. "This victory showed that we will break the spine of the status quo that has done nothing for this country in over 200 years."
Simeus, 65, would compete against 33 other candidates and is not considered among the front-runners.
In notoriously troubled Haiti, 15 officers to face the bar of justice for brutal murders
PORT-AU-PRINCE, Haiti, Oct. 11, 2005 (AP) -- Fifteen police officers will be prosecuted in an attack that killed at least six civilians during a soccer match in Haiti's capital, the national police chief said.
The officers were detained following a nearly two-month investigation into the August 20 attack in Martissant, a poor neighborhood of tin-roof shacks in southwestern Port-au-Prince, police chief Mario Andresol told reporters Monday.
State prosecutors will decide what charges the officers will face, Andresol said. However, many criminal suspects wait months or years before being charged because of delays within Haiti's corrupt and inefficient justice system.
Witnesses claimed police were seeking gang members aligned with ousted President Jean-Bertrand Aristide when they stormed a soccer stadium during a match and ordered the crowd of 5,000 to lie on the ground. Other police and civilians surrounded the stadium, shooting or hacking people with machetes as they tried to flee, the witnesses said.
Andresol said an investigation found that six civilians were killed, although others have put the death toll at 10. Andresol said it was possible other bodies never reached the morgue and therefore weren't counted.
Nearly three dozen police officers were investigated in the attack, said Andersol, who took command in July with the mammoth task of cleaning up Haiti's ill-equipped, corruption-riddled force of 6,000 officers.
"There is a large corruption problem," said Andresol, who just returned from touring the country's police units. "About a quarter of the force is involved in corruption, kidnappings or even arms trafficking."
Pierre Esperance, a local human rights activist, praised the move to prosecute the 15 officers as a turning point for Haiti's police force, which rarely investigates officers for rights abuses.
Human rights groups have long accused the police force of killing Aristide supporters under the pretext of restoring order to the violent capital.
"I believe this is the first time the police have so thoroughly investigated its own abuses," Esperance said.
Haiti PM Gerard Latortue to visit French PM
PORT-AU-PRINCE, Oct 10 (AFP) - Prime Minister Le Gerard Latortue will meet with his French counterpart Dominique de Villepin November 18-20, Haiti's government announced Monday.
The meeting looks to renew cooperation between the two countries, the government said.
The head of the provisional Haitian government makes his second official visit to France since coming to power after the February 2004 exile of former president Jean Bertrand Aristide.
He will also meet French business leaders and the secretary general of the International Organization of French-speaking countries, Abdou Diouf.
At the end of that week, Latortue will join an Ibero American summit in Madrid. The following week in New York, he will meet with the UN Security Council. Earlier, Latortue told AFP that an initial round of parliamentary elections, set for November 20, will be delayed some weeks due to technical problems.
"We have problems, we have considerable delays in the logistics and finalization of the lists of candidates," he said.
The date of the elections will be pushed back three weeks.
However, he did not give a specific date, allowing the Provisional Electoral Council to announce an election day. In Haiti, elections are held on Sunday.
The prime minister gave the presidential candidates assurances that February 7 would remain unchanged as the date to inaugurate the new president.
It was the fourth time the authorities had changed the date of the general elections since the beginning of the year.
Posted Friday, October 7, 2005
Former Haiti officer acquitted of all narcotics charges
By Curt Anderson, Associated Press Writer
MIAMI, Oct. 7, 2005 - A former senior Haitian police official was acquitted Friday of charges he took bribes to let Colombian drug lords move cocaine through the island nation and into the United States.
Evintz Brillant, 33, was cleared of conspiracy.
Three other Haitian police officials — including the former national police director and the former police chief at the Port-au-Prince airport — have pleaded guilty in an investigation into what authorities said was a network of corrupt public officials who had been bought off by drug smugglers.
The graft took place during the government of President Jean-Bertrand Aristide, who was ousted under U.S. pressure in 2004 and is living in exile in South Africa. He has not been charged or directly implicated in drug trafficking.
Brillant, once chief of Haiti's anti-narcotics unit, was accused of taking thousands of dollars in payoffs to let tons of cocaine move through Haiti to the United States, Europe and elsewhere. Many of the shipments were put on U.S.-bound flights at Haiti's airport in the capital of Port-au-Prince, prosecutors said.
U.S. Attorney R. Alexander Acosta issued a statement saying that prosecutors respect the jury's decision. He added that that 18 people have been convicted in the drug trafficking investigation, including six former Haitian government officials.
Brillant's lawyer, Howard Schumacher, said Brillant was an honest police officer.
"Evintz Brillant was making arrests. He was making seizures. But what he wasn't doing was going along with the team plan," the attorney said.
The lawyer also raised questions about the credibility of the former officials who testified against Brillant in hopes of gaining immunity or a reduced prison sentence.
Brillant was not immediately released from jail because his immigration status had to be determined. Schumacher said he could ask for asylum in the United States or return to Haiti.
Posted Thursday, October 6, 2005
Unrest, violence continue in Haiti
PORT-AU-PRINCE, Haiti, 07oct05 - A POLICEMAN has been kidnapped in the Haitian capital amid continuing unrest and political violence, authorities said overnight.
"For security reasons, we will not divulge the identity or the circumstances in which he was kidnapped," said Frantz Lerebours, spokesman for the Haitian police.
The officer had intended to arrest two fellow policemen suspected of corruption, Mr Lerebours said.
Illegal arms and vehicles were retrieved from the residence of one of the officers linked to the kidnapping.
Three other people have been kidnapped in the capital since October 1 and some 50 were abducted in September.
Police and UN peacekeeping troops have been struggling to maintain security in the Caribbean nation, the Americas' poorest, since the ouster of former president Jean Bertrand Aristide last year. Hundreds of people have been killed in recent months.
The first round of elections since Aristide's ouster is to be held on November 20 and a second round on January 3, after local elections December 11.
Impoverished Haiti offers U.S. Katrina aid
By Joseph Guyler Delva, Reuters Writer
PORT-AU-PRINCE, Haiti, Oct 4 (Reuters) - The Haitian government and a group of businessmen from the poorest country in the Americas on Tuesday offered the United States $36,000 in aid donations for victims of Hurricane Katrina.
The interim authorities in the unstable and destitute country of 8 million people, half of whom survive on a dollar a day, acknowledged the amount was modest.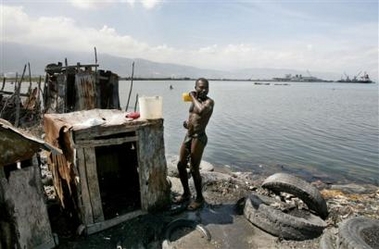 A man takes a shower in the seaside slum of Cite Soleil in Port-au-Prince, Haiti,Tuesday,Oct. 4, 2005. General elections are scheduled for Nov. 20, the first since the ouster of President Jean-Bertrand Aristide in February 2004.(AP Photo/Ariana Cubillos)
But Finance Minister Henri Bazin said it was a testimony to the friendship and solidarity between the richest nation in the hemisphere and its poorest neighbor.
"Despite our meager means, we want to be counted among those who showed solidarity toward you (the American people)," Bazin told the top U.S. diplomat in Haiti, Timothy Carney, during a joint news conference.
"Others have provided more substantial assistance, but for us, we let our heart speak when we give that modest contribution," he said.
Haiti's government, appointed after former president Jean-Bertrand Aristide fled into exile in February 2004 after an armed revolt and street protests, gave $25,000. The Haitian-American Chamber of Commerce donated $10,000 and a private bank contributed $1,000.
About 30,000 Haitians live in Louisiana, where Katrina killed around 900 people after coming ashore on Aug. 29 and flooding the low-lying city of New Orleans. Haitian-American Chamber of Commerce chairman Rene Max Auguste said thousands of those had been affected by the disaster. More than 200 people were also killed in Mississippi.
Haiti is no stranger to natural disasters itself. Hurricane Jeanne, while still a tropical storm, triggered flash floods in September 2004 that killed 3,000 people in the Haitian port city of Gonaives.
The U.S. government donated $34 million in emergency relief to Haiti then.
Wehaitians.com, the scholarly journal of democracy and human rights