Correspond with us, including our executive editor, professor Yves A. Isidor, via electronic mail:
letters@wehaitians.com
Want to send this page or a link to a friend? Click on mail at the top of this window.

Must learnedly read, too; in part, of intellectual rigor; in part, the repository of ultimate knowledge
Posted Tuesday, November 15, 2005
Thanks to UN troops, less four extremely contagious bandits in troubled Haiti
By Alfred de Montesquiou, Associated Press Writer
PORT-AU-PRINCE, Haiti, Nov. 15, 2005 -- U.N. peacekeepers and gang members traded gunfire Tuesday in the volatile Cite Soleil slum of the Haitian capital, leaving at least four people dead, witnesses and a U.N. official said.
The deaths were the latest casualties from sporadic clashes between gangs and U.N. troops, who were called to the country following the ouster of President Jean-Bertrand Aristide.
The bodies of two young men were displayed by gang members in the slum. U.N. military spokesman Col. El Ouafi Boulbars said the bodies of two other suspected gang members were turned over to police.
Gang members say at least a dozen people have died in the area over the past week. U.N. military spokesman Col. El Ouafi Boulbars said it was not possible to provide an exact death toll, but confirmed that several suspected gang members had been killed in recent clashes.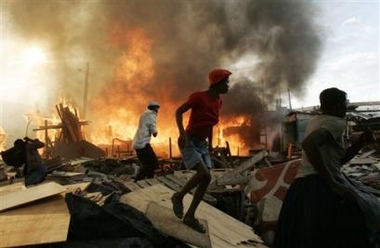 People run from a fire in a market in Port-au-Prince, Haiti, Tuesday, Nov.15, 2005. A large market in Haiti's capital apparently caught fire from an electrical cable. (AP Photo/Ariana Cubillos)
Boulbars said peacekeepers arrested 29 suspected gang members during Tuesday's raid.
Over the weekend, peacekeepers killed one suspect during a series of sweeps to root out well-armed gangs in several areas of the capital, a U.N. statement said. Peacekeepers also made nine arrests and seized an unspecified number of weapons and stolen vehicles.
"The situation is very tense. We're reacting to heavy pressure from the gangs and the situation has begun to degenerate," Boulbars said.
There have been no reports of U.N. casualties in the latest violence, Boulbars said.
Gang leader William Batiste accused U.N. peacekeepers of firing without provocation and of wounding unarmed civilians in the crossfire.
"They shoot at us every single day," Batiste said. "It's persecution."
Cite Soleil, home to about 200,000 people, is among the most lawless and violent areas in Haiti, with numerous well-armed gangs that authorities claim are loyal to Aristide, who was forced from power in February 2004 following a violent uprising.
Haiti's interim government and international authorities have pressed the U.N. peacekeepers to crack down on the gangs ahead of national elections tentatively scheduled for next month.
Posted Friday, November 11, 2005
Gross incompetence and consequences
Extremely proud of being dirt-poor, corrupt and ignorant, Haiti ferociously shuts the door on a great many times millionaire native son
By Alfred de Montesquiou, Associated Press Writer
PORT-AU-PRINCE, Haiti, Nov., 11, 2005 - Haitian electoral authorities on Friday issued a revised presidential candidate list — one that did not include two businessmen with U.S. passports who have been barred from running for the highest office in their native country.
Dumarsais Simeus, owner of a large food services company in Texas, and Samir Moura, a longtime resident of Florida, are not among the 35 approved presidential candidates for the first election since a bloody rebellion forced the ouster of President Jean-Bertrand Aristide in February 2004.
The decision to exclude the men was expected since Haitian authorities have said for weeks that the constitution bars anyone from running for president if they have dual nationality and have not lived in the country for the past five years.
Simeus successfully appealed to the Supreme Court after he was dropped from the first candidate list in October. The interim government then created a commission to review the nationality of all those seeking to run for president, leading to the decision to drop the two businessmen from the race.
Simeus and Moura have both stated they would run regardless of the electoral council's decision, which they described as politically motivated.
No new names will be added to the candidate list, which includes a range of former officials from past regimes, but it's possible that some may be removed for holding a second passport, said Max Mathurin, the head of the country's Provisional Electoral Council.
Haiti has been struggling to organize the elections, which have been postponed twice and are now tentatively scheduled for mid-December.
Mathurin said a new date for the elections would be announced next week.
EDITOR's NOTE: When you are dirt-poor; especially when the security of your so-called president, Alexandre Boniface, is mainly assured by members of United States private securiy firms, contracted by the U.S. Department of State, you certainly do not permit yourself to be viewed as a Third World fool, if not brainless, to be more specific.
Haitian man to be deported to eat rocks in dirt-poor-Haiti following sentence
By Francine Sawyer, Sun Journal Staff
NW BERN, S.C., Nov. 11, 2005 - A New Bern man was sentenced to a year in federal prison, and when his sentence is served, he will be deported to his native country of Haiti.
Lucien Germain, 42, of the 2000 block of College Street, was sentenced this week in U.S. District Court in Greenville on a charge of possession of a firearm by a convicted felon.
New Bern police began an investigation of Germain after hearing complaints from residents.
"They complained that Germain was operating an illegal liquor house, selling controlled substances and gambling at his College Street house," said Chris Stansbury, New Bern police spokesman.
Stansbury said that neighbors complained that the illegal activities were happening at all hours of the night and was a constant menace to the neighborhood.
Police increased patrols of the area and put the house under surveillance for a month to monitor activity.
When a shooting occurred on Oct. 31, 2004, behind Germain's house, New Bern police major case unit detectives got a search warrant for the house.
Stansbury said police found a number of drugs and a gun inside.
"It was determined that his gun was not involved in the shooting, but Germain was a convicted felon in possession of a firearm,"
Stansbury said. Stansbury said Germain was turned over to federal authorities under Project Safe Neighborhoods, which began in 2004. The program, aimed at reducing gun violence, makes turning over convicted felons with guns over to federal prosecutors easier and faster. Stansbury said Germain has a criminal history including drug and robbery charges in New Bern and drug charges in Florida.
Francine Sawyer can be reached at 635-5671 or at fsawyer@freedomenc.com.
Posted Tuesday, November 8, 2005
Prominent Haitian community leader Kebreau sentenced to life in prison; punished for raping and impregnating two of his own underage daughters
By Karen A. Kapsourakis, Daily Item of Lynn and Herald Interactive Writer
A former Lynn man convicted last month of rape and molestation chargesreceived a life sentence Monday.
Frank Kebreau, 53, formerly of 77 Cook St., Lynn, was found guilty last month by a Superior Court jury on nine of the 10 chargesagainst him involving incidents with two family members.
Kebreau was sentenced by Judge David A. Lowy.
As the sentence was read, Kebreau showed little emotion, only to shake his head in disbelief as the judge handed down his punishment.
The two victims wept as they told of their anguish, disappointment and distrust they endured over the years as they were raped and molested by Kebreau.
"Yes, I do hate him for all that he has done to me," the oldest victim, now 29, said.
"No one would ever know how bad this man is," she said, asking for justice for the crime
The other victim told how angry she was growing up and how she doesn't trust anyone, but mostly men, she said.
"You are a liar and a sick man," she angrily said to Kebreau, who showed no reaction.
The convictions involved sexual assaults of the two female family members from the time each was 10 and 11, dating back to 1988 through 1996, their teenage years.
The incidents came to light when the younger girl, now 22, was involved in counseling in her church.
Kebreau, who had been living in Cambridge, insisted on the stand he never committed the crimes, but the jury thought otherwise.
Jurors deliberated for two days before reaching their decision, convicting him of two counts of rape of a child, four counts of indecent assault and battery on a child under 14as well as threats to commit a crime and assault and battery. The jury acquitted him on a single charge of incest.
Assistant District Attorney Kristen R. Buxton proposed 18 years in prison.
"He used his love and trust to convince them that what he was doing was OK," Buxton said. "He used force and threats when they challenged his actions."
Buxton continued, "His crime was like a cancer, it metastasized ... He should never be free from the eye of the court."
Defense lawyer Rudolph Miller pleaded for leniency proposing that the judge impose a sentence within the state guidelines range.
Miller suggested a rehabilitation program while explaining Kebreau's health problems, saying he has suffered two strokes and has advanced diabetes.
Miller asked to consider his poor health while pleading for some form of compassion.
But the judge said a sentence in prison for life was appropriate given the crime.
Kebreau will be eligible for parole after serving 15 years in prison.
He has spent 100 days in jail on bail that will be credited toward his prison term.
Copyright by the Daily Item of Lynn and Herald Interactive
Haiti election supervisors 'quit'
NOV. 8, 2005 - The UN has voiced concerns about the Haitian government's delays
The members of a high-level committee set up to improve the organisation of the forthcoming elections in Haiti have resigned, local media reports say.
The panel was set up by the interim prime minister, Gerard Latortue, because of concerns about the work of the Provisional Electoral Council. But the head of the committee, Christian Rousseau, said that it had received no political support. Poor organisation has resulted in the elections being delayed twice already.
Both the United Nations and the United States have voiced concerns about the postponements.
The polls are now planned for some time between 11-18 December under the UN supervision.
They will be the first since President Jean-Bertrand Aristide fled into exile in 2004.
'Free and fair' Mr Rousseau, quoted by local media, said that the committee had not even officially existed because the decree setting it up had never been published in the state gazette.
The group included senior ministers and members of the Council of the Wise.
Last month, the UN Security Council called for free and fair elections in Haiti to take place as scheduled in December.
It issued a presidential statement increasing pressure on Haiti's administration.
An interim government was installed after Mr Aristide was forced into exile and UN peacekeepers were sent to the impoverished Caribbean country.
However, political and criminal violence and instability have continued.
Posted Friday, November 4, 2005
Haiti's interim government sues Aristide for 'grand theft'
MIAMI, Florida, Nov. 3, 2005 (AP) -- Haiti's interim government has sued former Haitian President Jean-Bertrand Aristide, accusing him of stealing millions from the Haitian treasury and state-owned telephone company.
The 74-page civil lawsuit (You can bring a qui 'Tam Lawsuit' against former tyrant Aristide and others), filed Wednesday in a U.S. federal court by several law firms representing the Haitian government, alleges that Aristide and eight co-defendants broke U.S. law with wire transfers made with stolen public funds and revenues from Haiti Teleco.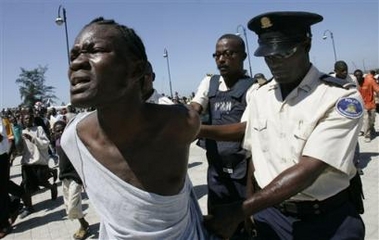 Haitian police arrest a man, a supporter of former notorious tyrant Jean-Bertrand Aristide, suspected of being a thief during the rally supporting Presidential candidate and former Haitian president Rene Preval in Port-au-Prince, Haiti, Thursday, Nov. 3, 2005. Haitian police released him under intense pressure from the crowd attending the rally. (AP Photo/Ariana Cubillos)
"The misappropriated funds were frequently diverted and laundered through fictitious companies, established for this purpose by Aristide and his accomplices, both in Haiti and the United States," the lawsuit claimed.
"Aristide and his accomplices stole tens of millions of dollars from the public treasury and transferred a portion of those funds to the United States."
Haiti's state-owned telephone company accused Aristide and the other co-defendants of "knowingly and intentionally participating in an ongoing and fraudulent scheme to steal revenues rightfully belonging to Teleco," according to the lawsuit.
The federal lawsuit was based on evidence gathered by Haiti's government.
A message left late Wednesday for Aristide's Miami attorney, Ira Kurzban, was not immediately returned.
Aristide has been living in South Africa since his ouster in February 2004 in an armed rebellion.
Posted Tuesday, November 1, 2005
Three kidnapped children rescued in Haiti
By Alfred de Montesquiou, Associated Press Writer
PORT-AU-PRINCE, Haiti, Oct. 31, 2005 - Police rescued two kidnapped children and a foster child of an American missionary couple during a raid on an apartment in Haiti's capital, officials said Monday.
Police said Hannah Lloyd, 3, her brother David, 5, and their Haitian foster sister Miriam Meinvil, 7, were unharmed.
The children of Pentecostal minister David Lloyd and his wife, Alicia, were abducted after they left school on Friday and rescued the next day. Police said they delayed in publicizing the crime until Monday to avoid jeopardizing an investigation.
Lloyd, of Claremore, Okla., told The Associated Press in a telephone interview that while the children weren't injured, "my little girl is still very scared."
He said the older children told him that at one point, the kidnappers threatened Hannah that they would shoot her unless she stopped crying.
Police said the kidnapping occurred shortly after Alicia Lloyd picked up the children. Several armed men dressed as police officers in van marked "police" cut them off in downtown traffic, seized the children and sped away.
Police traced the men to an apartment building in the volatile Delmas neighborhood and raided the property on Saturday, freeing the children and arresting seven suspects, including a former police officer, said Michael Lucius, the head of Haiti's Judicial Police.
"We operated very fast and no one was hurt," Lucius said.
He said police were investigating if the other six suspects were current or former police officers.
The children were the latest victims of a surge of kidnappings that have added to insecurity ahead of the first elections since the February 2004 ouster of President Jean-Bertrand Aristide. Police reported more than 50 kidnappings in September.
Lloyd said someone phoned him asking for a $350,000 ransom for the children's release, but he said he couldn't sure if it was the captors.
He said the captors allowed him to speak with the children by phone several times before they were freed. During one conversation, the children said they were fed a pack of cheese puffs and a soda for dinner.
Lloyd, who runs the "Missions in Haiti" charity with his wife, said he wouldn't leave Haiti. The charity helps raise 21 Haitian foster children.
"It's been a pretty rough year, but we feel this is where God wants us to be, and we will stay with our mission," Lloyd said.
Texan seeking to lead Haiti skips deadline to prove citizenship
PORT-AU-PRINCE, Haiti, Oct. 31, 2005 - A Texas businessman seeking to run for president of his native Haiti says he ignored today's deadline to prove his citizenship.
Dumarsais Simeus, who owns a food services company in Mansfield, says he doesn't consider a special commission legitimate, the Haiti Supreme Court has ruled he can run -- and he will.
Simeus says he wasn't among the dozens of candidates to submit paperwork to a special commission _ which the government said was required.
Haitian electoral officials say their constitution bars candidates who have dual nationality and haven't lived in the country for the previous five years.
But the Haiti Supreme Court then ruled electoral officials failed to prove that Simeus had given up his Haitian citizenship _ prompting the interim government to create the new commission.
The elections are tentatively set for December.
Wehaitians.com, the scholarly journal of democracy and human rights