Want to send this page or a link to a friend? Click on mail at the top of this window.
Boot out largely incompetent Mayor Kalisz Jr. of New Bedford City Hall
CAMBRIDGE, MA - The whaling city of New Bedford's predicament is dismal. Eight years of growing brutal murders, and most of them in broad daylight. To add insult to the grieving parents and friends, the crimes quasily remain unsolved.
Yet, record unemployment, as the very few menial jobs suggest; a near evisceration of public elementary and secondary education, as its 33 percent dropout rate affirms.
And what many other communities of comparable size and wealth have successfully contained, H.I.V./AIDS is prevalent and dangerous in New Bedford, where men, in large numbers, solicit sex in exchange for a few dollars in the open. The last Massachusetts' report on the state of the pandemic is indicative that the virus and disease continue, at a fast pace, to make the jump.
The real reason is a lack of a serious rudimentary 'public education' campaign, at the very least, by City Hall aimed at discouraging prostitution, aggravated by crushing poverty and even desperation, which has helped a multitude of young and middle age women to unfortunately turn many neighborhoods, especially the city's downtown, into quasi-outdoor brothels as long-term homelessness, drug trafficking and public alcohol consumption, to say nothing of public urinating, are taking their toll.
That convincingly says, on Tuesday, November 8, these unfortunate systemic problems, which for too long have caused an immeasurable number of residents to look for the first exit out of the southeastern Massachusetts city, especially after graduation from college, must surely spell political death for Frederick M. Kalisz Jr. who, as mayor, has, apparently proud, presided over the mess.
By way of simplistic explanation, the city of approximately 90,000 (most of them honest and hardworking), if the absolute majority of its citizens wish not to further be victimized by Mr. Kalisz Jr.'s "dangerous gross incompetence," they must, with the power that their votes confer them pronounce attorney Scott W. Lang (he has, among many others, a proven record as a prosecutor) their long awaited extremely anticipated competent mayor.
New Beford's Whaling Museum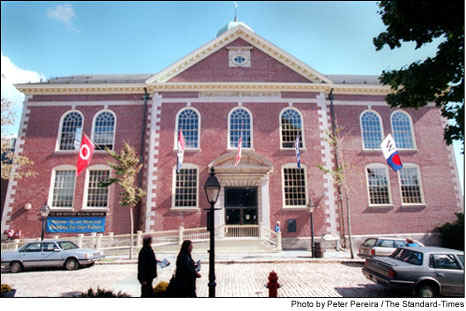 Photograph, via newbedforddowntown.com
Arguably, Mr. Kalisz Jr. is a man with a hidden (macabre) plan. Poverty, for the next four years, will continue to be not too adroitly redefined, in addition to being imperfectly measured. For instance, on a ten-point scale poverty will be measured as 2 (not important at all for my administration).
The numerical quantity of 2 painful multiplying effect rests on the assumption that there will be a rise of insufficient economic opportunities, as has been the case for the past eight years, further preventing citizens from honestly earning, on the average, the minimum level of income needed to sustain life: for example, estimating minimum dietary needs and these can be most cheaply met.
The largely ineffective civil servant that is Mr. Kalisz Jr. will personally avoid disaster since he will collect a paycheck from the taxpayers and drive around downtown in his city-issued SUV during sunny days or permit himself to be in the comfort of his bed during a major snow storm, as the last one attests.
Regime change is long overdue in the city of New Bedford, and for the better so. Otherwise, four more years of Mr. Kalisz Jr. constitute a lot more unbearable social and economic problems.
Boot out Mr. Kalisz Jr. of City Hall (regime change) will certainly be the swiftest and intelligent political salvage operation, to begin with, in recent memory ever mounted.
The Truly Long Awaited New Bedford
Thanks to that and the leadership of attorney Lang, New Bedford will hypothetically in many ways be no longer on the map of United States' cities perceived to be repairs for notorious dangerous criminals, including those who have now attained their criminal menopause.
Think also of an acceptable quality of life for its citizens. And, yes, too, writing, in part, the epitaph of extremely hard to obtain menial employment opportunities in favor of better ones, translating into more tax revenues and, ultimately, help pay for the (economic) cost of long denied services - multiplying effect.
Overall, the intelligent electorate of New Bedford, a city that used to be one of the largest four maritime ports of entry and, wealthy, too, in the United States, your overwhelmed rejection of Mr. Kalisz Jr., again on Tuesday, November 8, will, too, be a necessary rite of passage with an element of historical self justice - Boston, for example, we are now determined not to permit him to cause us to continue to endure a good deal of ridicule.
The same will later prove to be true of the absolute majority of New Bedford's citizens.
"We are now very happy; the road to a reinvented New Bedford, in the positive terms, is no longer planted with land mines, which we long equated to Mr. Kalisz Jr."
The anticipated unprecedented unrestrained hopefulness and contentment, of course, further lie somewhere in the next few and final lines.
"Though we do not view Mayor Lang as a magic solution, still he represents someone with a vision and, big, to change the status quo; conjointly with him, we are arduously working for the betterment of all and, in fact, just because we are now extremely hopeful so, for the first time in eight years, especially ever since we forced Mr. Kalisz Jr. to rejoin the rank of unemployed citizens, life has clearly improved."
Yves A. Isidor teaches economics at the University of Massachusetts-Dartmouth and is the executive editor of wehaitians.com. Correspond with professor Isidor by way of electronic mail: yvesisidor@wehaitians.com.
Related text: Vote for Lang is turning point
Wehaitians.com, the scholarly journal of democracy and human rights