Correspond with us, including our executive editor, professor Yves A. Isidor, via electronic mail:
wehaitians@gis.net
Want to send this page or a link to a friend? Click on mail at the top of this window.

Must learnedly read, too; in part, of intellectual rigor; in part, the repository of ultimate knowledge
Posted Tuesday, November 29, 2005
U.N. official terms Haitian courts to be extremely inferior to kangaroo
PORT-AU-PRINCE, Haiti, Nov. 29, 2005 (AP) -- A U.N. human rights official criticized Haiti's justice system for jailing hundreds of people without charge, including an activist priest he compared to a political prisoner.
Louis Joinet's comments Monday marked one of the strongest recent condemnations of Haiti's inefficient and corruption-prone justice system from a member of the international community.
The exact size of Haiti's prison population isn't known, but the overcrowded National Penitentiary in the capital of Port-au-Prince holds more than 1,700 inmates, only a few dozen of whom have been charged.
"If the Haitian judiciary does not have the means to try the people it detains, it should be compelled to release them," Joinet, the Haiti expert of the U.N. Commission on Human Rights, told The Associated Press.
Joinet was speaking following a two-week visit to assess human rights conditions in the impoverished Caribbean nation of 8 million. He is scheduled to present his findings to the United Nations in April.
Joinet also condemned the jailing of several allies of ousted President Jean-Bertrand Aristide, including former Prime Minister Yvon Neptune and popular Roman Catholic priest, the Rev. Gerard Jean-Juste.
Neptune has spent more than a year in jail on accusations of masterminding the killings of political opponents. Jean-Juste has been jailed since July for alleged involvement in the abduction and slaying of a well-known Haitian journalist. Both men deny the charges.
Joinet said the charges against Jean-Juste "seem quite weak" and questioned the motives for detaining the priest, who had been seen by some as a potential presidential contender in upcoming elections.
"When a prisoner remains in jail longer than what the law allows, he becomes a political prisoner. This seems to be the case for Jean-Juste," said Joinet."
Haitian officials weren't immediately available for comment.
Joinet's visit comes as Haiti's interim government and the United Nations struggle to prepare for national elections scheduled for early next year, the first polls since Aristide fled into exile amid a February 2004 revolt.
The elections have been pushed back several times because of logistical snags and violence blamed on street gangs.
Related text: Please God, may the U.S. deport more Haitians ...
Posted Friday, November 25, 2005
In London, Bahamas head of government protests over 'alarming' Haitians presence on nation soil
By Ian Smith, The Nassau Guardian Staff Reporter
NASSAU, Bahamas, Nov. 25, 2005 - Christie: 'We need help' PM says country can't shoulder Haitian problem
The Bahamas alone can no longer shoulder the burden of illegal immigration, the country's chief revealed.
Prime Minister Perry Christie said for too long The Bahamas has had to bear the "unfair burden" of Haiti's instability through thousands of illegal immigrants coming to The Bahama islands. Speaking with British Prime Minister Tony Blair after a meeting with Caribbean Community leaders in London on Tuesday, PM Christie said the country's plea for help must echo throughout the world.
"That is wrong, it's unfair," he said. "And we have to much stronger [communicate] our concern and the need for assistance."
PM Christie told the British Premier The Bahamas must tell the world that it cannot shoulder the burden of the illegal Haitian problem. He added that because of The Bahamas' advanced economy and sophistication, Haitian immigrants zero in on these attractions.
With the General Elections set for December in the impoverished country, he said Haiti has again descended into violence, leaving people there to run for their lives.
"This unfair burden that is visited upon us through our proximity to Haiti and the fact that we are the gateway and proceed to be that to the United States of America, where they wish to go," Prime Minister Christie said. "We have this added burden of instability in Haiti, which if not addressed by the world, will leave us again to carry the burden. That is why at the very highest level on a sustained basis, we would be making an effort to bring that about."
The closure of the 2005 Hurricane Season is expected to usher in more illegal immigrants, PM Christie said.
As the season comes to an end on Wednesday, he added that more efforts will be made by Haitians to get to The Bahamas.
PM Christie linked The Bahamas' illegal immigration problems to those faced by Malta and said, "The Bahamas has come a long way with the region towards what we thought to be the most practical solution."
He said with 200 years of independence, Haiti is still struggling to come to terms with its existence and how it should operate.
"But in the meantime, we carry the brunt of it," he said. "That is one of the points that I have to make, to impress upon people again, that Haiti is more than just a pastime. It has to be dealt with."
Prime Minister Christie heads The Bahamas delegation at the Caribbean Heads of Government Meeting (CHOGM) in Malta, November 25 to 27 in Valetta, Malta under the theme: "Networking the Commonwealth for Development." Minister of Foreign Affairs Fred Mitchell, Minister of Tourism Obie Wilchcombe and other government officials accompany him.
This is the Prime Minister's first official international trip since falling ill in May.
Risible Haiti again pospones presidential voting
By Alfred de Montesquiou, Associated Press Writer
PORT-AU-PRINCE, Nov. 25, 2005 - Haiti's electoral board on Friday again postponed the first elections since the ouster of President Jean-Bertrand Aristide, saying it needs need more time to organize the vote in the impoverished country.
The nine-member Provisional Electoral Council set a new date of Jan. 8 for presidential and legislative elections, followed by a Feb. 15 runoff.
Council members said they would be unable to set up polling sites by Dec. 27 — the election date announced last week by interim Prime Minister Gerard Latortue — because of crumbling infrastructure and a lack of trained election workers in the poorest nation in the Americas. "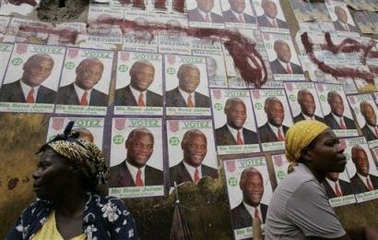 Street market vendors stand near a wall plastered with posters of presidential candidates in Port-au-Prince, Haiti on Friday,Nov. 25, 2005. Haiti's electoral board on Friday again postponed the country's first elections since the violent ouster of President Jean-Bertrand Aristide, deciding they needed more time to organize balloting to replace the interim government of the poorest nation in the Americas. The Provisional Electoral Council set a new date of Jan. 8 for presidential and legislative elections, followed by a Feb. 15 runoff.(AP Photo/Ariana Cubillos) More Images
Our main responsibility was to make sure that the vote did not turn to a fiasco," council member Patrick Fequiere told The Associated Press.
The postponement marks the fourth date Haitian authorities have set for elections to replace the interim government installed after a violent rebellion forced Aristide into exile in South Africa in February 2004.
International observers have urged Haiti to not hold the elections at the end of December, warning that the holiday season would result in lower voter turnout. Observers also said the country needs to do more to stem political violence that has killed more than 1,500 people since the rebellion.
But the latest postponement means Haiti will now miss an important deadline.
Under the constitution, the five-year term of the president is supposed to begin and end on Feb. 7, to mark the anniversary of the 1986 demise of the 29-year father-and-son Duvalier dictatorship. The new election date makes it impossible to have a new government installed by then, election officials said.
"For practical reasons, it was inevitable that we would miss the deadline," Fequiere said.
Council Secretary-General Rosemond Pradel said the council has not finished printing ballots, distributing more than 2.5 million voter identification cards and training poll workers. But he vowed that the elections will now certainly be held on Jan. 8.
"There was a series of practical points that needed to be addressed for the elections to take place in serene conditions," Pradel said. "These dates are the real dates, perfectly final and based on serious planing."
Several private organizations expressed similar views in recent days. In a report released hours before the election was postponed, the Brussels-based International Crisis Group urged Haiti to delay the balloting.
"Holding these elections over the holidays will mean low turnout and insufficient international observation," said Alain Deletroz, director of the group's Latin American Program. "And one month is not enough time to fix the serious organizational and security problems."
Voters will choose from about 35 candidates for president and hundreds of candidates for 129 legislative seats.
The revolt that ousted Aristide, a former priest hugely popular among the poor but who was accused of corruption while in office, was led by former soldiers linked to the repressive military regimes of Haiti's dark past.
Posted Wednesday, November 23, 2005
Dec. 27, once again tentatively a new date for election in child's play Haiti
By Joe Mozingo, Miami Herald Writer
Haiti's prime minister was expected to announce today that the nation's presidential and legislative elections would be on November 27, 2005.
PORT-AU-PRINCE, Nov. 23, 2005 - Under withering U.S. and French pressure to put a new government in office by Feb. 7, Haitian officials have tentatively agreed to postpone presidential and legislative elections until two days after Christmas, foreign advisors said.
Prime Minister Gérard Latortue was expected to announce the decision today, although there was still some debate about the date, given that many Haitians will be visiting families far from their designated polling places during the holidays.
If the decision stands, it could significantly diminish voter turnout and threaten the legitimacy of the new government to replace President Jean-Bertrand Aristide, who was ousted in a violent revolt last year.
TIME RUNNING OUT
Yet preparations for the elections have been so beset by controversy and mismanagement that Dec. 27 is virtually the only date by which the balloting can be held and still have time for a runoff on Jan. 31, if no candidates win more than 50 percent of the vote.
The runoff date would allow only a few days to resolve the virtually inevitable disputes over the results and still inaugurate the new president on Feb. 7 as required by Haiti's constitution. With 35 presidential candidates, the margins between each are likely to be close, and observers expect at least some candidates to cry foul.
U.S. Secretary of State Condoleezza Rice has told the interim government that it's critical to put a democratically elected government in the National Palace by the deadline in order to assure its political legitimacy. France is also pushing to meet the Feb. 7 deadline, its officials have said.
U.N. electoral advisors say it's still possible, albeit barely, to hold an election little more than five weeks from now. But some Haitians insist that is unrealistic.
''I don't think it's possible,'' said Patrick Féquire, a member of the Provisional Electoral Council. ``We still need to hire 40,000 poll workers. That's a lot to do -- and train them too!''
DATE QUESTIONED
Some observers question why Haitian officials and U.N. electoral advisors, who spent months registering 3.4 million voters, would hold the first round during the holidays, when many leave the capital.
''The 27th is a weird, weird day,'' said Robert Fatton, Jr., a Haiti expert and political science professor at the University of Virginia. ``I don't see why they don't wait until the end of January when they are ready.''
Fatton said he doesn't understand ''the obsession'' with having a new government by Feb. 7, when it is clear that Latortue is planning to relinquish his power when elections are complete. He said it's far more important to have an election that is seen as legitimate.
The elections were originally set for Oct. 9, then postponed to Nov. 20, although officials floated other dates as well.
The ballots only went to the printer on Monday after a fight over whether Dumarsais Simeus -- a Haitian American who runs a $100 million food empire based in Texas -- could run for president.
Simeus is a naturalized American citizen, but Article 13 of the Haitian Constitution says citizenship is lost by naturalization in another country.
The electoral council denied his candidacy in September. He appealed to the Supreme Court, which unanimously ruled that the council did not have enough evidence to reject him. But on Saturday, the council released its final list of 35 presidential candidates -- and he was not on it.
`SHAMEFUL ATTEMPT'
In a news release Simeus called the move ``another shameful attempt by this same small clique of power-hungry anti-democracy forces to mastermind the outcome of Haiti's presidential election.''
Simeus and his attorneys insist that his U.S. passport should not negate his Haitian citizenship. He plans to petition Rice and other foreign leaders to pressure Latortue to allow him to run. He also said he might go to a judge to force the council to abide by the Supreme Court's ruling.
If he succeeds, it would likely further stall the process.
EX-LEADER'S MOMENTUM
While the bureaucrats scramble to prepare, the candidates are campaigning in earnest. No comprehensive political polls have been made public, so it is difficult to know whether there is a clear front-runner.
But many observers say former President René Préval, a leftist and Aristide ally, seems to be the candidate to beat.
''Préval is the front-runner, no doubt,'' said Félix Ulloa, resident director of the U.S.-funded National Democratic Institute of International Affairs, which helps parties organize in Haiti. ``Even the right-wing say they're okay with him.''
Oddly, Préval is running as an independent, not on the ticket of Aristide's Lavalas Family party, which supported his winning presidential bid in 1996. ''He wants to break with Aristide,'' Ulloa said.
Aristide has not endorsed a candidate or the elections as a whole. But residents from the slum of Cité Soleil -- a stronghold of his supporters and a place that has been militantly opposed to the election until recently -- marched in support of Préval earlier this month, according to news reports.
LAVALAS CONTENDER
The official Lavalas candidate, Marc Bazin, is also considered a heavyweight contender. Bazin lost to Aristide in the 1990 presidential election and later worked as a minister in his administration. He has vowed to free all political prisoners, which Lavalas party leaders have been demanding for months.
The sideshow over Simeus' citizenship has given him much free publicity in Haiti and there's anecdotal evidence that he might have support in poor neighborhoods, where some residents have said they want a ''rich'' president because he will be less susceptible to Haiti's notorious corruption and cronyism.
Posted Tuesday, November 22, 2005
Haitian authorities postpone formal announcement of election calendar
PORT-AU-PRINCE, Haiti, Nov. 22, 2005 - Haitian electoral authorities adjourned Monday without reaching a decision on a final date for presidential elections.
The Provision Electoral Council has been charged with formalising a final election date. Last week, Interim Prime Minister Gerard Latortue said Haiti's first elections since the ouster of President Jean-Bertrand Aristide would take place on December 27, with a runoff on January 31.
"We can't announce a firm date for now, the fact is there are still too many unknowns," said Stephane Lacroix, the spokesman for the Provision Electoral Council.
The presidential elections were originally scheduled for November 13, then postponed until November 20. The government then said they would have to be delayed again, then stated they would be held between December 11-18. Last week Latortue set December 27 as the date.
Posted Monday, November 21, 2005
Junior partner, Jean, of alleged druglord Aristide sentences to three years in prison
By Jay Weaver, Knight Ridder Newspapers Writer
MIAMI, Nov. 18, 2005 - Oriel Jean, the one-time security chief for former Haitian President Jean-Bertrand Aristide, was sentenced Friday to just three years in prison for his role in helping drug traffickers move tons of Colombian cocaine through Haiti to the United States.
With good reason: The 40-year-old defendant, held in custody since March 2004, gave federal investigators invaluable information on Haiti's drug underworld and the location of fugitives - and even continued to testify after a cocaine smuggler threatened his life.
Indeed, Jean proved to be the prosecution's star witness. At his sentencing hearing in Miami last week, U.S. District Judge Jose Martinez paid Jean a compliment, praising his "good work" for the government.
The judge then gave him half of the six-year sentence he otherwise would have received for his money-laundering plea deal.
Jean has helped the U.S. Attorney's Office take down many of the 18 Haitians and Colombians convicted in the politically charged case - including a handful of Haiti's former top police officials. A few more convictions and arrests are on the horizon.
The probe's only setback so far: A Miami federal jury acquitted an anti-drug commander last month in a verdict that stunned prosecutors and the Drug Enforcement Administration.
Jean also testified about his former boss before the grand jury and during two Miami federal trials, implicating Aristide indirectly in Haiti's drug trade. But it remains to be seen whether prosecutors will ever ask the grand jury to indict Aristide, partly because he is a former head of state.
Also, evidence of his role in Haiti's narcotics network - which accounts for a small percentage of all the cocaine smuggled into the United States - has been largely circumstantial.
Despite last month's trial loss in federal court, the DEA, IRS and other federal agencies are still aggressively investigating whether Aristide was involved in the alleged cocaine-smuggling conspiracy, received kickbacks from traffickers, or stole money from his own government and funneled it through U.S. banks and shell companies.
Earlier this month, Haiti's interim government sued Aristide, his brother-in-law, a former finance director and others, accusing the ex-president of directing the theft of "tens of millions of dollars" from the Haitian treasury and state-owned telephone company.
Miami attorney Ira Kurzban, who has represented Aristide for years, said the U.S. government has orchestrated a "disinformation campaign to demonize" the ex-president because the Bush administration never liked the former priest or his politics to help the poor.
Kurzban strongly condemned the U.S. government's criminal investigation and the Haitian civil lawsuit filed in Miami, saying no evidence has directly linked Aristide to any narcotics trafficking or public corruption.
"The bottom line is this: Aristide took no money from drug traffickers and he took no money from his country," Kurzban said, adding that the former president and his wife are working as university teachers in Pretoria, South Africa, where they are in exile.
"He has no money," he said. "He is still poor."
The federal criminal probe has generated international publicity because it exposed senior Haitian police officials close to Aristide who were shaking down drug traffickers for hundreds of thousands of dollars. The protection money allowed the smugglers to use Haiti as a Caribbean base to ship Colombian cocaine to South Florida, New York and Canada.
Under pressure from the U.S. government and Haitian rebels, Aristide left his homeland on Feb. 29, 2004 - just days after one of Haiti's biggest drug-traffickers, Jacques Ketant, went on a tirade against the former president at his sentencing in Miami federal court last year.
Ketant, once a friend of Aristide, accused him of turning the impoverished island nation into a "narco-country." Ketant said he paid hundreds of thousands of dollars to the former president and his security chief so the trafficker could land cocaine-loaded planes on Haiti's main highway near the capital.
At two trials, Jean himself testified that Aristide approved a national palace security badge for another convicted major drug smuggler, Serge Edouard, which allowed him to travel freely throughout Haiti without being searched by police. Jean testified that Aristide was unaware of his involvement in Edouard's drug organization until he confronted the security chief in 2003.
Jean did not testify that he or Edouard ever gave any drug money to Aristide, nor was he asked that question on the witness stand. But Jean testified that Edouard gave an unspecified amount of money to the Aristide Foundation, one of the former president's private social welfare organizations. Jean's testimony provoked Edouard, from the Miami federal detention center, to threaten to kill him and his family.
At trial, Jean never testified that Aristide was directly involved in Haiti's narcotics trade, which escalated over the past decade as Colombian traffickers and their Haitian partners exploited the country as a shipping route.
The smugglers allegedly paid hundreds of thousands of dollars to Aristide's security chief, national police commanders, a Senate president, an American Airlines employee and others. In exchange for hefty kickbacks, they provided protection for traffickers who moved tons of Colombian cocaine through the country's airport into the United States.
For his part, Jean admitted in a plea agreement negotiated by his attorney, David Raben, and federal prosecutors that he received between $200,000 and $400,000 in drug proceeds from 2001 to 2003. During that period, he ran security operations at Haiti's presidential palace.
At his sentencing hearing Friday, an apologetic Jean called it a "dirty business."
Posted Thursday, November 17, 2005
Finally, Haiti set 'firm' election date
Electoral campaigning is already under way Haiti is to hold its long-awaited presidential and legislative elections on 27 December, it has been announced.
Interim Prime Minister Gerard Latortue said the date was "firm and final". The poll has already been postponed twice.
He said an election run-off would be held on 31 January, so a new government can be sworn in by 7 February as set out under the country's constitution.
These are the first elections since President Jean-Bertrand Aristide fled into exile in February 2004.
"We took our time to fix a date, but now we are fully confident we will achieve good elections," Mr Latortue told the Associated Press news agency.
"All the problems have been anticipated, and we have a solution for each of them.
" The elections were originally due to be held on 13 November, but were delayed because of organisational difficulties.
Both the United Nations and the United States have voiced concerns about the postponements.
The impoverished Caribbean country has been blighted by political and criminal violence and instability over the last two years, despite an interim government and the presence of UN peacekeepers.
Wehaitians.com, the scholarly journal of democracy and human rights