Correspond with us, including our executive editor, professor Yves A. Isidor, via electronic mail:
wehaitians@gis.net
Want to send this page or a link to a friend? Click on mail at the top of this window.

Must learndly read, too; in part, of intellectual rigor; in part, the repository of ultimate knowledge
Haiti is a nation that measures history by totalitarian dictatorships, dynasties, revolts, bloody coups, bloodless coups, gross incompetence, rampant corruption, crushing poverty and, yes, too, largely fraudulent elections.Will the next democratic exercise permit the dirt-poor Caribbean quasi-island to consign the ugliness of its more than 200.years of history to the archives of history? Or, will the Caribbean Republic once again enjoyed a good deal of ridicule in the democratic world, arising from the perennial problems listed above. This, is the question, no matter how difficult it may be, our executive editor, Yves A. Isidor, a scholar with stratospheric intellect, will attempt to answer by offering an elegant demolition of arguments by way of a soon to be published column.
Posted Monday, August 29, 2005
Posted Saturday, August 27, 2005
Many say an alleged chief terrorist is now where he long belonged to
PORT-AU-PRINCE, HAITI, Aug. 26, 2005 - Authorities have transferred a jailed Roman Catholic priest and prominent supporter of Haiti's ousted president from the National Penitenciary to a more secluded prison often used for high-profile detainees, his lawyer said Friday.
The Rev. Gerard Jean-Juste, who is considering a run for the presidency, has been sent to an annex of the National Penitenciary in Pacot, an upscale neighborhood in the capital of Port-au-Prince, said attorney Mario Joseph.
Yvon Neptune, a former prime minister under Aristide who has been jailed for more than a year without trial on charges of orchestrating political killings, is also being held in Pacot.
Jean-Juste, who has been in jail since July without charge, is accused of being behind the abduction and slaying of prominent Haitian journalist Jacques Roche. Police detained him while he tried to attend Roche's funeral, saying they were responding to the "clamor" of protesters demanding his arrest.
Jean-Juste, who was in Miami when Roche was kidnapped, has denied the allegations.
Joseph said he did not know when Jean-Juste had been transferred. The Associated Press interviewed him at the National Penitentiary on Tuesday when he said he would run for president if he received approval from Aristide, who was ousted in a 2004 armed uprising and is in exile in South Africa.
Jean-Juste also said he planned to start a hunger strike Thursday to demand the release of other Aristide loyalists he described as political prisoners. Joseph had not seen Jean-Juste since his transfer and it was unclear if he had gone through with the strike.
Jean-Juste is one of hundreds of prisoners in Haiti who have been held without sentence - or in some cases charges.
The U.S.-backed interim government has faced mounting international pressure to release prominent prisoners, whose prolonged detention have fueled allegations from Aristide loyalists of political persecution and focused attention on the nation's crumbling judicial system.
Posted Friday, August 26, 2005
Massachusetts Haitian cabdriver stabbed to death over $7 fare
By Christina Silva, Globe Correspondent
The taxi driver's supervisor and friends said they believe Heros Previlon died fighting over a $7 fare.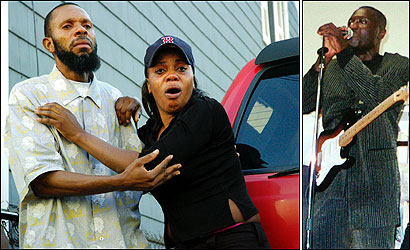 Pastor Lucien Duprenier of Grace Tabernacle Church of God Inc. Chealsea tried to comfort his wife, Mary, who was Héro Previlon's (right) friend and bandmate. (Globe Photo/Zara Tzanev)
Previlon, 32, a Haitian immigrant studying to become a pastor, picked up a man at the Reservoir MBTA stop early yesterday in Brighton and took him to Washington Street, according to John McNeeley, his supervisor at Bay State Taxi Inc. in Brookline.
Boston police refused to talk about the events surrounding the slaying, but McNeeley, who spoke with detectives, and the victim's co-workers said they believe the passenger refused to pay the fare, forcing the cabdriver of seven years to lock the car doors. The passenger may have kicked out the windows to escape, the driver's friends believe. Previlon got out of the cab to confront the passenger, who then stabbed him in the chest, fellow cabdrivers and his boss speculated.
''All this for what was probably a $7 job," McNeeley said. ''I can't stress this enough: No fare is worth risking your life."
The passenger is at large, and his identity is unknown, Boston police said.
Previlon, 32, was born in Haiti and moved to the Boston area 15 years ago. He was choir leader at Grace Tabernacles Church of God Inc. in Chelsea. He taught Sunday school and was studying to become a pastor at a seminary school in New Hampshire, said his sister, Murana.
''My brother is my heart," she said. ''He is my best brother. He always prayed with me. . . . He is my life."
Previlon said she does not believe that her brother could have died over a $7 fare, the estimated cost of a ride from the T stop to Washington Street.
''He always gave money to anyone who needed it," she said. ''He never would have fought over money."
Previlon picked up a passenger who called Bay State at about 1 a.m. asking for a ride from the Cleveland Circle area to Caritas St. Elizabeth's Medical Center, according to McNeeley, the radio room manager at Bay State.
He said investigators and the cab company are trying to piece together what happened after Previlon left to pick up his fare. He never called the dispatcher after the pickup, McNeeley said.
Five hours later, the car was found with the rear passenger window smashed, McNeeley said. There was blood on the shattered glass in the parking lot and in the front seat, according to witnesses who saw the cab.
His co-workers said they believe Previlon managed to get back inside the car after the attack and tried to get away. He crashed the vehicle into a pole in a parking lot at St. Elizabeth's, McNeeley said. A nurse found him at about 6 a.m. inside the cab, covered in blood.Continued...
Boston police would say only that they found a cabdriver inside the car suffering from apparent trauma. The slaying is the 46th in Boston this year; there were 45 at this time last year. The last time a cabdriver was slain in Boston was in a 1993 shooting.
If anyone saw Previlon that night, they most probably thought he was just taking a break, said McNeeley. ''People think nothing of a cab parked. Nobody had a chance to save him."
Previlon's family gathered yesterday at the house of one of his three brothers, also cabdrivers. Surrounded by friends from church and work, the young man's siblings screamed and cried outside the three-decker home in Cambridge. ''Why?" wailed Murana Previlon.
Previlon, who was working on his third album of gospel calypso, dreamed of quitting his job and becoming a full-time pastor, his family said.
''He had a vision to become something, to help people" said Lucien Duperier, the pastor at Tabernacle.
The youngest of five children, Previlon had been active in the church since he was a boy.
''He always wanted to bring people to God," said Wilbert Previlon, one of the victim's brothers. He had no girlfriend and no children, just his devotion to his faith, Murana Previlon said. ''All he did was focus on God," she said. ''All the children at the church loved him."
Taxi and livery drivers are 60 times more likely than any other worker to be murdered on the job, according to the National Institute for Occupational Safety and Health.
The organization has pushed for safety measures, such as partitions between drivers and passengers. Previlon's Bay State cab did not have a partition, because it was licensed in Brookline, which does not require the shields. Partitions are mandatory in cabs licensed by the city of Boston.
Drivers have asked repeatedly for town officials to require the shields, said Jean Kelly Roland of Waltham, an employee at the cab company.
''People are dying now. What more do they need?" Roland asked. ''We're all thinking of changing our careers now."
Maria Cramer and Megan Tench of the Globe staff contributed to this report.
© Copyright 2005 Globe Newspaper Company.
Posted Thursday, August 25, 2005
Haitian gangs seek truce that would ease elections
By Bill Varner, Bloomberg News writer
(Update1) Aug. 25 (Bloomberg) -- Haitian gangs that have been waging daily firefights with United Nations troops from a Port-au-Prince slum say they're ready to surrender their arms, removing the last major obstacle to national elections this fall, UN and government officials said.
Hocine Medili, deputy head of the UN peacekeeping mission in Haiti, said gang leaders sent messages within the last week from their impoverished sanctuary, which houses as many as 500,000 people. The UN met yesterday with leaders of Haiti's transitional government to discuss how to respond, Medili said.
Disarming the gangs inside Cite Soleil and permitting the people there to register to vote is crucial to the credibility of the election of local leaders, a parliament and president, Medili said. The slum is a stronghold of supporters of former Haitian President Jean-Bertrand Aristide, who was forced out of office during a February, 2004, rebellion.
``It will be a fragile government anyway, because of the lack of state institutions and the level of the economy,'' Medili said in an interview in his office at UN headquarters in Port-au- Prince. ``If the next government has a wide political and social base there will be a chance in the next four-five years to really make this transition successful.''
New Election Timetable
The government is to announce a new election timetable today, moving the first round to early November from Oct. 9, according to Jean-Junior Joseph, spokesman for the office of Gerard Latortue, prime minister of the transitional government that is to turn over power to elected leaders on Feb. 7, 2006.
``For now, there is a lot of concern that the shantytowns are not going to be able to participate because of the violence, and there is also the notion that they represent the Lavalas Party, followers of Aristide,'' Medili said.
Lavalas is one of 50 political parties that gained the 5,000 signatures needed to participate in the election, and 2 million of Haiti's 4.5 million eligible voters have been registered.
Joseph confirmed the messages from Cite Soleil and the government's desire for a political solution, while saying Latortue won't ``negotiate with terrorists.''
``We have been attempting to get these people to talk,'' Medili said. ``They initiated the contact and we think it is serious. Obviously, there are issues with people who have committed serious crimes, but this is the best solution.''
Dangerous Patrols UN troops consider foot patrols inside Cite Soleil to be too dangerous, and their armored personnel carriers can't get through the narrow streets. They are forced to monitor the area from checkpoints on roads leading into area, and from a sandbag- reinforced concrete fortress that is fired on every day, according to Colonel Elouafi Bourlbarse, UN force spokesman.
UN soldiers from Peru patrolling an oil storage facility just outside Cite Soleil came under fire yesterday from inside the slum, according to Bourlbarse.
He said a Peruvian officer was shot in the leg and the two sides exchanged fire for an hour before the troops left the area. Haiti, which has lurched between periods of violence and fragile peace for the past 20 years, is calm outside Port-au- Prince and the UN achieved a breakthrough in stability inside the capital by disarming gangs in the Bel Air slum that is next to the port and the presidential palace, Joseph said.
Removing Garbage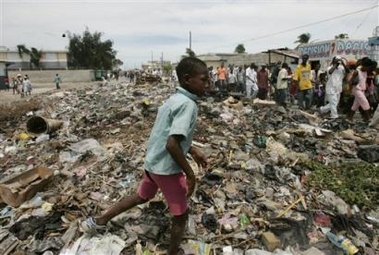 A boy walks over a garbage pile as demonstrators mrach during a small demonstration calling for the return of ousted President Jean-Bertrand Aristide in the slum of Cite Soleil in Port-au-Prince, Haiti, Thursday, Aug. 25, 2005. (AP Photo/Ariana Cubillos)
General Eduardo Lugani, deputy UN force commander, said his troops are ready to begin removing garbage from the streets of Bel Air and deliver humanitarian aid to people there who have no electricity, sanitation or access to clean water. Tap-taps, the brightly hand-painted pickup trucks that serve as public transportation in Port-au-Prince, have returned to Bel Air, as has some commercial activity on the streets.
At the same time, less than half of the $1 billion pledged at a donors' conference for Haiti in Washington last year has been disbursed in the Caribbean nation, which is the poorest in the Western Hemisphere.
Almost 1 million of the nation's 8 million people depend on the UN's World Food Program for food, spokeswoman Anne Poulsen said in an interview.
Even with an increasingly assertive and expanding UN force, Haiti is also the most violent nation in the hemisphere. Haitian police said nearly 50 kidnappings occur in the capital each month, and reported that six gang members were shot and killed at a soccer match in a Port-au-Prince suburb on Aug. 20.
Out of 170,000 weapons that were unaccounted for when the Haitian army disbanded, 20,000 have been recovered, Bourlbarse said. Overall, six UN soldiers have been killed and 24 wounded since the mission was established in April 2004.
To contact the reporter on this story: Bill Varner in Port-au-Prince, Haiti, at wvarner@bloomberg.net
Last Updated: August 25, 2005 15:10 EDT
©2005 Bloomberg L.P
Migrant slaying trigger tensions between Haiti and Dominican Republic
PORT-AU-PRINCE, Haiti, Aug. 25, 2005 (AP) - Haiti recalled its top diplomat to the Dominican Republic on Thursday after three Haitian migrants were beaten and burned to death in the neighbouring country, an official said.
Pierre Willy, Dominique Gilberto and Paul Cinius were attacked Aug. 16 in a small suburb just south of the Dominican capital, Santo Domingo, where they worked at a furniture factory, Dominican police said.
According to the Dominican Attorney General's Office, the three men, aged 19 to 22, had been drinking alcohol with a group of Dominicans at a neighbourhood store. Later that night, the Dominicans went to a house where the Haitians were staying and demanded money from one of them.
After he refused, the group jumped the men, beat them, doused them with a flammable liquid and set them ablaze, the Attorney General's Office said in a statement. The men died days later from burn wounds in a Santo Domingo hospital.
In response to the killings, Haiti's interim government recalled its charge d'affaires "for consultation," said Jean Daniel Lafontant, a spokesman for Haiti's Foreign Affairs Ministry. "The Haitian interim government energetically condemns these criminal acts. It deplores that such deeds have occurred at a time when significant efforts are being made to lastingly improve relations between the two countries," a Foreign Ministry statement said.
The Dominican National Police said Thursday it had formed a commission to investigate the attack and find the killers.
The slayings seemed likely to further inflame growing tensions between the uneasy Caribbean neighbours, which share 390-kilometre border on the island of Hispaniola.
In May, the Dominican government deported at least 2,000 Haitians following the killing of a Dominican woman. No one was arrested the slaying, but Dominican neighbours went on a retaliatory rampage, beheading two Haitian migrants.
Although Haitian migrants are considered a burden in a country whose own citizens flee poverty by the thousands each year, Dominican farm owners often truck in Haitians to work in the fields, saying they need the cheap labour.
U.N. to investigate Haiti slum lynchings
By Joseph Guyler Delva, Reuters writer
PORT-AU-PRINCE, Haiti, Aug. 24, 2005 (Reuters) - The U.N. mission in Haiti has launched an inquiry into the lynching of at least 20 people by vigilantes armed with machetes and by Haitian police last weekend, U.N. officials said on Wednesday.
During a soccer game on Saturday funded by the U.S. Agency for International Development and the interim Haitian government, hooded police and individuals with machetes attacked people they called "bandits," according to residents of the Port-au-Prince slum of Martissant.
"Everybody gathered to watch the game, suddenly the police surrounded the area and ordered everyone to lie on the ground," said Roland Roy, a community leader in Martissant.
"Then a group of people, armed with machetes, who came with the police, started identifying people one by one, saying here is a bandit, here is another one. They cut them with machetes and killed a number of them," said Roy. He said up to 30 people died, some shot by police.
Another community leader, Lionel Mondestin, said at least 20 people were killed on Saturday during the soccer game and on Sunday during another police operation. Many other residents gave similar accounts.
French Lt. Col. Philippe Espie, the head of international police who are part of a U.N. force keeping the peace since former President Jean-Bertrand Aristide was ousted by an armed revolt last year, said the incident was being investigated and would not be tolerated.
"In the first place, we can only condemn what happened. It is intolerable to accept that sort of situation where people take justice into their own hands," Espie told Reuters.
The soccer game was part of a "tournament for peace," funded by USAID and the interim Haitian government that took over after Aristide fled into exile at the end of February 2004, organisers said. Once viewed as a champion of Haiti's fledgling democracy, Aristide faced increasing accusations of corruption and despotism.
POLICE ABUSES ALLEGED
The head of a U.N. human rights unit, Thierry Faggart, said his office was also investigating the incident and several other cases of human rights abuses blamed on police.
Haiti's new police chief, Mario Andresol, said he was ready to punish any officers, if their involvement were confirmed.
"We are here to protect the population, not to repress them or kill them. Such behaviour won't be tolerated while I'm there," Andresol told Reuters.
Both the Haitian police and U.N. forces have previously announced investigations into alleged abuses by police officers. To date, no reports have been published.
Dozens of people have been hacked to death in vigilante justice that often accompanies police operations in slums regarded as strongholds of support for Aristide.
The authorities blame Aristide supporters for violence that has killed at least 700 people in the past year while Aristide's Lavalas Family party says it is being persecuted. Haiti, the poorest country in the Americas, is scheduled to hold elections in November. Email this story
Copyright © 2005Reuters Limited
Once again, a former senior Haitian security official of corrupt Aristide pleads guilty in drug case
Posted Wednesday, August 24, 2005
By Mc Nelly Torrres, Sun-Sentinel writer
Miami Bureau, Aug. 24 2005 - A former Haitian security official pleaded guilty Tuesday to conspiracy to import cocaine.
Romaine Lestin, who was the police commander in Port-au-Prince, entered the plea in U.S. District Court in Miami.
Lestin also once commanded the Haitian National Police SWAT unit. He was arrested at a hotel in the Dominican Republic in July 2004. A Drug Enforcement Administration affidavit accused him of protecting cocaine shipments at the Port-au-Prince airport and shaking down traffickers for bribes.
He allegedly dispatched Haitian police officers to a drug trafficker's villa, where the officers picked up cocaine and drove it to the airport in marked police vehicles.
Lestin was among the first drug traffickers expelled from Haiti under DEA pressure in the months before the government of ousted President Jean-Bertrand Aristide fell. Lestin could be sentenced from 10 years to life in prison and be fined $4 million. He will be sentenced Nov. 9.
Evintz Brillant, a former Haitian anti-drug chief, is the only defendant left in the case. His trial is scheduled for Sept. 12.
Copyright 2005, Sun-Sentinel Co. & South Florida Interactive Inc.
More guns to in turn brutally kill more Haitians
By Yves A. Isidor, wehaitians.com executive editor
CAMBRIDGE, MA, Aug. 24, 2005 - If there were an official criminal organization in Haiti, deposed genodocidal tyrant Jean-Bertrand Aristide and his notorious subordinate bandits would surely be founder members.
A multitude of guns, largely believed to be purchased by proxy by retrograde outfit Aristide, to be ultimately delivered to his bandits in troubled and dirt poor Haiti, were, thanks God, subsequently confiscated at the Haitian-Dominican border by the Dominican Republic Army Tuesday.
In that respect, argue many human rights advocates, "many innocent Haitians' lives and others have been saved."
Posted Friday, August 19, 2005
Canadian killed in Haiti in reported kidnapping
VANCOUVER, British Columbia, Aug. 19, 2005 - A Canadian citizen has been killed in Haiti, Canada's Department of Foreign Affairs said on Friday.
Details of the incident remained sketchy and a department spokesman could not confirm media reports that the victim was killed in a kidnapping incident.
The name and hometown of the victim were not released.
Canada has been advising its citizens against travel to the impoverished and violence-torn country, and urging those already there to leave unless their presence was considered essential.
Canada has long been a destination for refugees from French-speaking Haiti, many of whom settle in Quebec.
Haitian-born Michaelle Jean has been named to be Canada's next governor general, the representative of head of state Queen Elizabeth.
U.N. condemns 'lynching' in Haiti
By Joseph Guler Delva, Reuters writer
PORT-AU-PRINCE, Haiti, Aug.18, 2005 (Reuters) - A spokesman for the U.N. mission in Haiti condemned on Thursday what he called the lynching of several alleged bandits by machete-wielding residents, whom witnesses said were accompanied by Haitian police.
Spokesman Damian Onses Cardona said the U.N. mission to stabilize Haiti, known as MINUSTAH, was very concerned and that the attacks were "absolutely unacceptable."
"We can never tolerate a popular justice like that. We cannot tolerate people lynching people like that," Cardona told journalists during a news conference on Thursday at the U.N. compound in Port-au-Prince.
According to witnesses and radio reports, at least 15 people were hacked to death with machetes in the slums of Bel-Air and Solino within the past two weeks.
Police acknowledged last week that seven people had died in such attacks. They declined to comment on witness reports that several of the killings had occurred in the presence of police officers.
A Reuters cameraman filmed youngsters with machetes as they chopped the face and body of an unarmed man who had just been shot by police. Police did not deter the attack and described the victim as a bandit.
Last week, several slum residents congratulated themselves on local radio after killing a presumed bandit called Chabba, and thanked the police for their support.
A spokeswoman for the Haitian police, Jessie Coicou, declined to comment. The director for the Haitian administrative police, Renan Etienne, said he was absent and had not yet received any report on the matter.
Residents of the slums of Bel-Air, Cite Soleil and Solino have reported killings, kidnappings and other crimes carried out by armed bandits, and some viewed the attacks on alleged bandits as acts of frustration or vengeance.
"Those presumed bandits should be handed over to the legal forces that will transfer them to the judicial authorities who solely have the authority to decide their fate," Cardona said.
With the police and U.N. troops cracking down on criminal gangs over the last few weeks, several gang leaders have expressed interest in negotiating with the U.N. mission within the framework of a Demobilization, Disarmament and Reinsertion program.
U.N. officials said on Thursday they were ready to talk with illegal armed groups that want to disarm.
"We are going to seize all real opportunities to peacefully disarm groups," Cardona said. "The very concept of DDR programs, not only in Haiti but around the world, is based on the will to cooperate to give a chance to pacification."
U.N. peacekeepers were sent to Haiti after its elected president, Jean-Bertrand Aristide, was driven out during an armed rebellion in February 2004. Ongoing political and gang violence has hindered efforts to register voters for legislative and presidential elections set for November.
Haitian native Michelle Jean won't lose French citizenship
Michaelle Jean won't lose French citizenship as G-G, says embassy Thu Aug 18, 4:41 PM ET
OTTAWA, Aug. 18, 2005 - Michaelle Jean won't have to give up her dual citizenship in France to become governor general of Canada.
Questions had been raised about Jean's status because of a 19th century article of the French civil code that lays out a process for stripping citizenship from anyone who takes a position in a "foreign army or public service." But Moncef Follain, a spokesman for the French embassy, said Thursday that there's no chance the law would be invoked under the present circumstances.
"It's an extremely theoretical process, and quite obviously there is absolutely no question, not for a second, that it could apply in the case of Madame Jean," said Follain.
Jean, who was born in Haiti, took French citizenship when she married Jean-Daniel Lafond, who was born in France. Both also hold Canadian citizenship.
The question of their dual nationalities had been noted by media commentators, but was largely overshadowed by the controversy over allegations that Jean and Lafond may have expressed past sympathies for Quebec separatism.
The governor general-designate sought to quell that storm Wednesday, issuing a statement saying she and her husband are proud to be Canadian and have never been part of the separatist movement.
The statement satisfied most critics, but the Royal Canadian Legion contended Thursday it didn't go far enough.
"The missing word for us is loyalty," legion president Mary Ann Burdett said in a news release.
She called on Jean to issue a stronger denunciation of separatism and to "clarify how she can proclaim her true allegiance to the Queen of Canada while pledging loyalty to France as a citizen of that country."
Melanie Gruer, a spokeswoman for Prime Minister Paul Martin, dismissed the concerns.
"The prime minister is aware she holds dual citizenship, and he understands that decision was made for personal reasons," said Gruer.
"It's not a barrier to serving."
Haitian regains eyesight thanks to connection
Randy Dockendorf, Yankton Press and Dakotan
YANKTON, S.D., Aug. 19, 2005 - Pierre Fritzner sees the world in a whole different way, thanks to the generosity of Yankton surgeons. In the span of five hours last Thursday, the Haitian man was examined, underwent cataract surgery and regained sight in his right eye thanks to a Lewis and Clark Specialty Hospital team led by Dr. John Willcockson.
And the surgery was performed at no cost to Fritzner, commonly known as Fritz.
"After I was done with surgery, I read in the car. I saw (billboard) signs, I saw a red truck," Fritz said. "This is the work of God. This is a miracle. Thank you, God."
Fritz shared his story last Sunday at First United Methodist Church in Yankton. "I have to share what God has done for me," he said.
Fritz and Willcockson were connected by Dr. Dan Johnson, a surgeon at the hospital. In 1999, Johnson befriended Fritz, an interpreter during Johnson's mission trips with Helping Hands for Haiti. Fritz now coordinates the non-denominational organization's relief effort.
Last winter, while Johnson was in Haiti on a mission, Fritz mentioned the loss of sight in his right eye. By the time Fritz arrived for a scheduled visit in Yankton last week, Johnson decided to take action.
Johnson contacted Willcockson last Thursday morning. Willcockson said to bring Fritz in at noon Thursday, then scheduled a 3 p.m. surgery. Fritz was out the door by 5 p.m., enjoying the new vision in his right eye.
"This surgery was done on my 50th birthday," said Johnson, who was present for the procedure. "I usually have trouble remembering what I did for it, but this is one birthday I will remember. It was my pleasure."
Willcockson said he thought it was unusual for someone Fritz's age - 46 - to have a cataract. However, Willcockson detected trauma in the right eye.
Fritz believes the trauma can be traced back to an incident when he was 10 years old. Fritz was not living with his family, and he lived on the streets or was moved around from one person to another. At the time, he was living with his godmother. She beat him with a stick as discipline, poking his eye in the process.
While the beating eventually cost him his sight in one eye, Fritz refused to criticize his godmother. "I recognized I did wrong (at the time)," he said. While cataract surgery is common in the United States, Fritz said his Haitian doctor couldn't do anything. "He gave me eye drops and another pair of glasses, but it didn't help matters," Fritz said.
The local operation was the opposite of the usual treatment of foreign patients,
Willcockson said. "A lot of physicians go overseas for missionary care, but this was an oddity with a Third World patient already in the United States," he said. Willcockson said he has gained as much as the patient from the procedure.
"Fritz was mystified. He was in a foreign country, and someone took him in. He was baffled but grateful," the surgeon said. "It's been fun to see his happiness. From my standpoint, it's a gift."
The impact of Fritz's surgery will be felt far beyond himself, because he can now better help the Haitian people, Johnson said. Haiti is the poorest country in the Western Hemisphere, and its AIDS rate is comparable to Africa, Johnson added.
Fritz collects overseas donations so Haitian children can attend school. In Haiti, most schools are operated by churches, and even state-run schools charge for tuition, uniforms, books and supplies. Haitian students must pay to take exams during the school year.
Fritz receives the donations and takes them directly to the schools, said Dave Hansen, an Irene farmer who met Fritz on a 1989 mission. Hansen is hosting Fritz during his current visit and recuperation.
"If the money goes to the family, they will use it for other needs and hope the money becomes available later for school," Hansen said. "Through Fritz, we have 123 kids in school right now. He is working for God. He helps get kids to school." Much work remains to be done, Hansen said. "For every kid you see in a uniform headed for school, you see so many others not in uniforms. You know they can't afford school," he said.
Besides his work with young people, Fritz also helps with food, housing construction and rent payments for poor Haitians.
"God asked me to do that - find food for people in the street who need help," Fritz said. "Where I live, people always knock on my door because they need help and know I can help them."
For now, Fritz said he is enjoying his South Dakota visit. He said he enjoyed Riverboat Days so much in 2003 that he coordinated this trip to coincide with Yankton's largest annual festival.
Fritz leaves South Dakota Aug. 25 and, after a brief visit in Michigan, arrives back in Haiti Aug. 29. However, he said he will not forget the fellow Christians who gave him sight and helped refresh his soul.
"They are my brothers. We live as a family," Fritz said, motioning to those around him at the Yankton surgical center.
But Fritz also longs for home, Johnson said. "He dreams of Haiti every night. He is homesick and anxious to go home," the surgeon said.
Fritz agreed. "Haiti is my mother, and I would never forget my mother."
Information from: Yankton Press and Dakotan, http://www.pressanddakotan.com/
Posted Monday, August 17, 2005
UN mission in Haiti says murders have increased, appeals for calm
The United Nations mission in Haiti today condemned a rising rate of shooting deaths and presumed lynchings in the last two weeks in the capital, Port-au-Prince, and appealed for calm at a time when the priorities included establishing security and ensuring the return of a normal economic and social life.
The UN Stabilization Mission in Haiti (MINUSTAH) said these acts violated human rights and were grave crimes under the law and Constitution of the Caribbean country.
MINUSTAH was continuing to support the Transitional Government in its efforts to reform and strengthen the country's institutions, actions that are fundamental for the establishment of a State based on the rule of law as the only guarantee of social and political stability.
While acknowledging that the Haitian National Police and the judicial system still needed strengthening, "MINUSTAH calls on the population to increase its collaboration with the public security forces and to reject in all its forms the violence which constitutes an obstacle to the process of normalization and peace-building in the country," it said.
Special Representative of the Secretary-General (SRSG) Juan Gabriel Valdés told a crowd gathered in the historic southern seaport of Cayes yesterday to start a programme of decentralization from Port-au-Prince in the country emerging from civil conflict that the UN would support development projects, in general, and the decentralization programme, in particular.
MINUSTAH, together with UNDP, the Office of the Prime Minister and local authorities, have been working on decentralization to ensure a smooth transition after the elections of 2005, a report to the Security Council from Secretary-General Kofi Annan said earlier this year.
As an illustration of the work needed in a decentralized Port-au-Prince, Mr. Valdés said, "The South (Department) of the country is very well-organized, with the young people having good initiatives for their region."
Transitional Prime Minister Gerard Latortue told the gathering in Cayes that decentralization would reduce the ills affecting Port-au Prince, including criminality, unemployment, unsanitary conditions and the expansion of its shanty towns. The international community and the Transitional Government were allied in making the needed investment, he added.
Copyright 2005 The Associated Press.
Prominent Catholic priest jailed in Haiti collapses in cell
By Alfred de Montesquiou, Associated Press writer
PORT-AU-PRINCE, Haiti, Aug. 16, 2005-- A prominent Catholic priest who has been jailed for nearly a month collapsed in his cell and had to receive medical treatment, his lawyer said Tuesday.
The Rev. Gerard Jean-Juste, a prominent figure in the party of ousted President Jean-Bertrand Aristide and a possible presidential candidate, passed out for 20 minutes Sunday at Haiti's National Penitentiary, Bill Quigley, Jean-Juste's American lawyer, told reporters.
Quigley said Jean-Juste had been sweating profusely before collapsing in his cell, which the lawyer described as hot and dirty.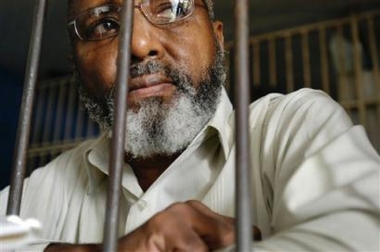 An alleged terrorist who is largely belieived to have contaminated Haiti with criminal deviants - Rev. Gerard Jean-Juste talks to The Associated Press from a cell at the Petionville police station in Port-au-Prince, Haiti, July, 22, 2005. The American lawyer for the prominent Catholic priest detained in Haiti said Tuesday Aug. 16, 2005 his client had nearly died last Sunday Aug. 14 in prison, and had been saved by fellow prisoners who carried him on their back to the prison's dispensary. The priest, an outspoken supporter of ousted President Jean-Bertrand Aristide, is accused by authorities of having ordered the murder of a prominent journalist who had opposed the toppled president. He has been held without charge since his arrest last month. (AP Photo/Evens Sanon)
Several other inmates carried Jean-Juste to the prison infirmary, where he was treated for an unknown ailment, Quigley said.
Quigley said he visited the 57-year-old priest earlier Tuesday and found him "very weakened." He produced a letter from Jean-Juste, in which the priest said he almost died from the incident, without giving details.
"I almost died Sunday morning. I fell unconscious for some time but was rescued when some of the other prisoners took me on their backs to the dispensary," the letter said.
Jean-Juste, once as prominent in the Haitian community in South Florida before he returned home, was detained July 21 as he tried to attend the funeral of slain journalist Jacques Roche. He was mobbed by protesters who accused the priest of involvement in the killing. Police said he was detained because of the "public clamor" for his arrest by the angry demonstrators.
The director of Haiti's National Penitentiary, Voltaire Spady, said he had no report of Jean-Juste collapsing.
"Not even the dispensary has sent me a report, so I consider all this to be untrue," Spady said in a telephone interview.
He acknowledged Jean-Juste's cell might be hot, but insisted the priest's living conditions were better than most other inmates.
Police say they're investigating Jean-Juste for weapons possession, kidnapping and murder, but have yet to charge him with a crime.
The priest, who was in the United States when Roche was kidnapped in Port-au-Prince on July 10, has denied any connection to the abduction and slaying.
Last modified: August 16. 2005 11:2005.
Copyright 2005 The Associated Press.
Violence intruding on elite in Haiti
By Joe Mozinggo, Miami Herald writer,
PORT-AU-PRINCE, Haiti, Aug. 15, 2005 - In the quiet green hills above this lawless city, a couple hundred of Haiti's well-to-do gathered last month in the upscale Hotel Montana to attend a daylong seminar. The subject: How to keep one's sanity under the constant threat of violence.
In the past few months, a surge of kidnappings and killings has traumatized Haiti's upper classes. Women and children have reportedly been raped in front of relatives, men have been tortured and families have paid ransoms, sometimes only to retrieve their loved ones in the form of a mutilated corpse. Some of those wealthy enough to afford it have fled the country, cooling their heels in Miami and Paris and hoping to return once the chaos runs its course. Those who have stayed live in a strange state of comfortable siege, holed up in hillside homes behind iron gates and shotgun-wielding guards, while making panicked runs to work, the grocery store and the rare social event.
These days, having money in the hemisphere's poorest nation does not always entail the easy lifestyle that once got Haiti's privileged few branded by foreign diplomats as MREs -- Morally Repugnant Elites. Now, theirs is a narrow, paranoid world, growing more so.
'My family calls me from Miami and says: `What are you, nuts? When are you getting out of that place?' '' said Jean Pierre Mangones, who runs a program that promotes Haitian crafts and owns a second home in Plantation. ``A lot of my friends have left. My wife will be leaving before November.''
No one knows how many have left, but the number of Haitians with the money to get a visa and fly out is relatively small. The average Haitian earns less than $1 a day, and there have been estimates that 1 percent of the country's 8.1 million people controls nearly half its wealth.
The current bout of violence began last year during the armed rebellion that ousted President Jean-Bertrand Aristide, who had vowed to help the poor and had vilified the well-off and the skewed distribution of wealth. Since then, the political warfare has evolved into waves of brutal crimes blamed on almost anyone from street criminals to political gangs to drug traffickers.
WANTS TO STAY
Mangones plans to stay. He says Haitians' long tradition of fleeing abroad when things get dangerous at home has created a devastating, long-term brain drain.
''We are a repugnant elite because we haven't taken any responsibilities, which is what the elite should do,'' Mangones said. ``Instead, we leave for a year and come back when somebody fixes it for us.''
And really, nothing is ever fixed.
Wealthy Haitians -- some truly rich, others middle class by American standards -- simply circumvent the country's problems with money. Electricity doesn't work? They buy generators. TV is spotty? They hook up a satellite. Roads are awful? They drive four-wheel-drives. Police force barely functions? They hire armed guards.
And even in relatively peaceful times, the opportunities for education, high culture and amusement are so limited that Haitians of any means tend to have one foot out the door. They send their children to summer camps in the States, or college in Canada. They buy homes in Florida and the Dominican Republic and take long vacations in Europe.
''If you want to open the horizons for your children, you have to,'' said Mangones, whose son attended Barry University in Miami Shores and whose daughter went to American International in Massachusetts.
But many leave for good, particularly middle-class professionals with no land or business holdings in Haiti.
FACTORY OWNER
Georges Barau Sassine, who owns a garment factory, lost numerous supervisors, his executive secretary, his head mechanic and his computer expert in recent months. Only the latter is expected to return -- his son, whom Sassine told to stay with relatives on the French Riviera until the situation calmed down.
Sassine said he has seen friends kidnapped and had employees who were hit by stray bullets while on the job. The owner of a nearby business was executed on the dirt road in front of the factory.
''People on the street told us we were next,'' he said.
STRESSFUL DRIVES
In July, when kidnappings hit a frightening high, Sassine woke up in a sweat every day before dawn, worrying about the morning commute.
''I would drive down with one hand on the wheel and one hand on my gun,'' he said at his office earlier this month. ``The second I arrived, I called my wife and told her I'm here.''
In the past few weeks, a slight lull in the crime -- what Sassine calls the ''eye of the hurricane'' -- has allowed him to put the gun back under his seat. Sassine accuses Aristide loyalists of waging the campaign of violence, sowing chaos to prevent the U.S.-backed interim government from gaining any effective authority. Aristide supporters deny he or his Lavalas Family party are behind it.
As president, Aristide attacked the elite as a light-skinned minority aligned with U.S. business interests and perpetuating a class system that has kept most Haitians in abject poverty.
Business and academic leaders reacted against Aristide in an opposition movement that gained supporters across all sectors, while a band of gang members and ex-soldiers forced him out.
Since then, life for rich and poor alike has just grown worse, and the specter of class war continues to loom over Haiti as it prepares for national elections, scheduled for November.
Business leaders say economic growth is the only way to lift most Haitians out of poverty. Sassine employs 700 workers now, sewing sweat pants for Hanes. If he leaves the country, his employees join the estimated two-thirds of Haitians who have no jobs.
But he says he has no plans to. ''We're stuck here,'' he said. ``I have no capital. The hits we have taken have dilapidated our reserves.''
After work, he unwinds when he can, but there is little to do. The roads are rife with carjackers and kidnappers. He no longer goes hunting for guinea fowl and doves in the Artibonite Valley. He does not relax on the Ctes des Arcadins, where some own beach homes.
ANXIETY ABOUNDS
Ginette Maguet, a psychologist in the capital who helped organize the Montana Hotel seminar on keeping one's sanity, said the violence is causing symptoms of post-traumatic stress disorder -- trembling hands, insomnia, anxiety attacks.
To help them cope, Maguet tutored the participants in yoga and breathing techniques, and urged them to go easy on the sedatives. She told them to be aware of their surroundings without becoming hyper-focused on the possibility of violence.
''We have to be vigilant about being safe, but we don't have to think of it all the time,'' Maguet said. ``Some people just listen to the radio all day and it just increases the fear.''
Bernie Leon, 46, joined dozens of others at the Petionville Club on a recent night to drink and get away from that kind of paranoia. A cheerful bear of a man who runs one of the capital's port terminals, he mingled amid the flow of alcohol, beat of music and tropical heat.
It was a momentary break from a different reality. Earlier in summer, his wife moved to Miami due to the violence. While the relief of not having to worry about her was like ''taking a piano off my back,'' the distance has put an obvious strain on his relationship. ''She said if I don't move out in a year, we're getting a divorce,'' he quipped.
He hopes circumstances change and allow him to stay. ``I'm devoted to this country. I don't need to be here. I could easily get on a plane and drink piña coladas with you in South Beach tonight, but I don't.''
Reprinted from The Miami Herald of Tuesday, August 16, 2005.
A wealthy Haitian-American CEO makes bid to run Haiti
By Danna Harman, Christian Science Monitor staff writer
Dumarsais Siméus, the most successful Haitian-American businessman in the US today, is going home to run for president of Haiti.
"I wanted my fellow native sons and daughters of the Artibonite Valley to hear it from me first.... I am a candidate for president of Haiti," Mr. Siméus, the son of illiterate peasants, announced Wednesday in his rural hometown of Pont-Sondé. "Today marks the start of a new beginning for our country ... in a time of crisis."
PONDERING HIS MOVE:
Dumarsais Siméus announced his candidacy for Haiti's November presidential election.
After months of speculation, the CEO of one of the largest black-owned businesses in the US told supporters he will start campaigning for the November election, the first since Jean-Bertrand Aristide was ousted following a violent rebellion in February 2004.
"What a contender!" says James Morrell, director of the Haiti Democracy Project in Washington. "Here is the richest and most successful Haitian around - running to lead a country where nothing works. This has to look awfully good. Here is evidence of someone who can get things done."
But the hurdles ahead are many. Siméus has no political experience, no name recognition, and no party in Haiti. Then, there are the worsening problems of the hemisphere's poorest nation: The gang violence, kidnappings, and other crime now are such that it is unclear whether the elections will take place this fall.
Even if the vote goes ahead, under the current interpretation of the Constitution, Siméus would be ineligible to run.
Article 135 of the Haitian Constitution states a presidential candidate must "be a native-born Haitian and never have renounced Haitian nationality," and have resided in the country for five consecutive years before the election. Siméus, 65, has taken US citizenship, and has been living in the US for 44 years.
But in a phone interview Wednesday, Simeus disagreed: "I don't have anything to overcome in terms of the Constitution or getting on the ballot. I never renounced my citizenship....My residence has been listed here ever since I was born. I have been fortunate to have other homes and other citizenships, but I never gave up my Haitian ones."
Siméus, a father of three, is a Howard University graduate with an MBA from the University of Chicago, and has held key management positions in companies such as Atari, Inc., Rockwell International, Bendix Corporation, and PromoCapital, the first investment banking firm in Haiti. He served as CEO of TLC Beatrice Foods, a $2 billion multinational conglomerate.
Today, he is CEO of Siméus Foods International, Inc. based in Mansfield, Texas, the largest minority-owned businesses in that state, according to Black Enterprise magazine. It does some $160 million in yearly sales to such customers as Denny's, T.G.I. Friday's and Burger King. He runs his own foundation, sending money to help poor communities in Haiti, and he sits on Florida Gov. Jeb Bush's Haiti Task Force. His parents, who once sold a plot of land so as to be able to send their eldest of 12 children to college in the US, still live in Haiti.
Emmanuel François, head of the Washington-based Alliance for Overseas Haitians, and a friend of the candidate, says Siméus will challenge the current interpretation of the constitution in Haiti's Supreme Court and set a precedent for other Haitian-Americans with political ambitions. "The Alliance has encouraged him to run. He has the name, the power, stamina, desire. He is a man who made a fortune but never forgot his roots," says Mr. François.
Others note that Haiti is far from a close reader of its own Constitution lately. "There is no parliament," says Morrell, "...and a permanent electoral commission has not been constituted," he adds. "With so many provisions of the constitution already breached, what logic would it make to suddenly be a stickler?"
There are an estimated 2 million Haitians living in the US, but significantly, they cannot vote in Haiti. "There is a tendency in Haiti, to look askance at members of diaspora who come back and seemingly throw their weight around," says Robert Maguire, a Haiti specialist at Trinity University in Washington. "Mr. Siméus would have to find a way around this and build trust."
Moreover, says Mr. Maguire, the country is filled with "political wannabes" who see Siméus as a threat and would "do everything they can to derail his candidacy." There are already at least half a dozen Haitians who have indicated they will run for the presidency in the elections.
But it's not certain there will be elections in November. "Adequate security, public understanding of the elections, and broad participation by those who want to register and vote are essential if there are to be fair and free elections," says Alain Délétroz at the International Crisis Group (ICG), a Washington think tank. "Unfortunately, there is little sign any of these are possible right now."
In a report released earlier this month, the ICG suggested that elections be postponed. "Empty elections that produce a government with little legitimacy could drive Haiti into permanent failed-state status, run by drug and criminal networks," it said.
Other observers differ. "Anytime is a good time to hold elections. There is no bad time, because whenever you do it - its going to be messy," says Simon Fass, author of "Political Economy in Haiti: The Drama of Survival." "Everyone is saying you have to have peace before you can hold elections - but you need a real government to make peace, and to have a government you need elections."
Haiti is one of the poorest nations in the world. It is chronically dependent on international aid, along with an estimated $800 million sent home annually by Haitians working abroad. An interim government and a 7,400-member multinational UN force has been trying to keep order in Haiti since Aristide fled the country in 2004 and lawlessness engulfed the capital.
But Siméus is undeterred "Running a country like Haiti, which is broke and in bankruptcy," he admits, "takes many of the same skills as a successful businessman: leadership, knowing how to pick the right people to work for you, knowing how to create jobs for people."
He vows to create a "country that can function properly and an environment for investment.... I want to be realistic about how long this turn around will take. It will take at least a generation, but within the first year change will start taking off. We will start the rebuilding process."
• Ms. Harman is Latin America bureau chief for the Monitor and USA Today.
Copyright © 2005 The Christian Science Monitor.
*"Sadly, Haiti is in worse shape ... not broke, not bankrupt, as reported The Christian Science Monitor. The Caribbean nation is, rather, presently 'on life-support,' wehaitians.com.
Wehaitians.com, the scholarly journal of democracy and human rights