Correspond with us, including our executive editor, professor Yves A. Isidor, via electronic mail:
wehaitians@gis.net
Want to send this page or a link to a friend? Click on mail at the top of this window.

Must learndly read, too; in part, of intellectual rigor; in part, the repository of ultimate knowledge
Haiti is a nation that measures history by totalitarian dictatorships, dynasties, revolts, bloody coups, bloodless coups, gross incompetence, rampant corruption, crushing poverty and, yes, too, largely fraudulent elections.Will the next democratic exercise permit the dirt-poor Caribbean quasi-island to consign the ugliness of its more than 200.years of history to the archives of history? Or, will the Caribbean Republic once again enjoyed a good deal of ridicule in the democratic world, arising from the perennial problems listed above. This, is the question, no matter how difficult it may be, our executive editor, Yves A. Isidor, a scholar with stratospheric intellect, will attempt to answer by offering an elegant demolition of arguments by way of a soon to be published column.
Posted Monday, August 15, 2005
Haiti under pressure to release Neptune
No mention of Jean-Juste and Auguste
By Aina Hunter, Village Voice writer
The outgoing U.S. ambassador to Haiti recently joined a chorus of politicians expressing outrage over the unlawful imprisonment of former prime minister Yvon Neptune, who, along with many other politicians and activists belonging to former President Jean-Bertrand Aristide's Famni Lavalas party, has been kept in the notoriously foul National Penitentiary for over a year without trial. Last Tuesday Juan Gabriel Valdes, U.N. special envoy to Haiti, suddenly insisted on Neptune's immediate release, and soon after Haiti's new justice minister reportedly denounced the U.S.-backed interim government's practice of imprisoning people without any hope of trial.
Why the sudden outrage?
Insiders predict that the interim government is preparing to stage a massive release of imprisoned Lavalas politicians—but only the soft ones. Ira Kurzban, former lawyer for the Aristide government of Haiti, says the release has been calculated to make it easier for a faction of Lavalas that appears to be in the U.S.'s good graces to run a candidate in the upcoming presidential elections.
"Neptune cooperated with them from the beginning—they'll let him go, and probably a hundred or so others," Kurzban tells the Voice. Weeks before the coup, in February 2004, Neptune was arrested on charges that he'd ordered the killings of several anti- Lavalas rebels after a well-publicized clash between pro- and anti-government armed groups. Last week U.S. ambassador James Foley told reporters that no one has come forward with "the least evidence, the least clue, the least testimony" that would implicate the former Prime Minister.
"They never have any evidence," says lawyer Mario Joseph, who represents Neptune through a non-profit organization. "You have to understand that this is a dictatorship. They do what they want. I just try to do my job as best as I can, and I do a good job, but I cannot say what they will do."
Neptune may stand a good chance of being released soon, but others aren't likely to see the light of day until after the election. The interim government doesn't want populist leaders like Gerard Jean-Juste and Annette August to rile up the Lavalas faithful, says Kurzban.
Last year the Catholic Church's Justice and Peace Commission estimated that there are about 700 political prisoners in Haitian jails. Now, activists say, there are hundreds more, with Jean-Juste, a Catholic priest, being the most recent high-profile addition since his arrest by Haitian police last month.
Even more disturbing story is the story of Haitian born, 20-year Brooklyn resident Annette Auguste, a grandmotherly community activist and folk singer affectionately known as "So Anne"—which means "Sister Anne" in Creole. She was arrested in her home in May 2004 by U.S. Marines who, her lawyer says, blasted through her door with grenades, shot the barking family dogs, and put everyone, including four children, in handcuffs before marching them off to the police station in the middle of the night.
Lt. Col. Dave Lapan, a spokesman for the U.S. Marines in Haiti, last year told Newsday that only one dog was shot, not two, and that although Auguste was originally arrested for allegedly helping a group of Haitian Muslims organize attacks on the United States, the charges were dropped. Now she is being held by the Haitian government on charges of paying people to attack anti-Aristide demonstrators. At a hearing last Thursday, lawyer Joseph says his client was questioned by a judge about the allegations, and that it seemed to go well.
"But people like her and Jean-Juste—they have good mouths when it comes to speaking to the people. So I think [the interim government] will hold them until after the elections."
Copyright © 2005 Village Voice Media, Inc., 36 Cooper Square, New York, NY 10003 The Village Voice and Voice are registered trademarks. Reprinted from The Village Voice of August 15, 2005.
From lawless homeland, demand for ransom
By Yvonne Abraham, Globe Staff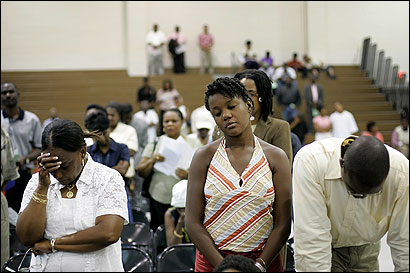 Staff Photo/Dina Rudick
Denise Jean-Charles (left), Regine Jean-Charles, and Ohene Asre joined other Haitians at the Reggie Lewis Center on Thursday to pray for peace. Dozens are kidnapped in Haiti each week in a new wave of violence.
One evening in late June, Roberthe got the call everyone with relatives in Haiti has come to dread.
Armed men had snatched three of her close family members from their car on a busy street in Port-Au-Prince. The kidnappers wanted $300,000 to release them. If Roberthe and her family did not raise the money in a few days, their relatives would die.
''It's like our life was stopped," said Roberthe, who did not want her last name published because she is afraid for her family's safety. ''It was very hard for my family and I. . . . We were crying and praying, because we were waiting for a miracle to happen."
Dozens of people are kidnapped in Haiti each week, victims of a crime that has become an industry in the desperate and deteriorating Caribbean nation. The epidemic of abductions is the talk of Boston's 15,000-strong Haitian community, the graphic stories passed around at the Haitian churches and at a Bon Appetit restaurant in Dorchester.
Because so many Haitians have relatives in the United States, each of the kidnappings touches the community here. Many people seem to know someone who has been a victim, or a relative who has received frenzied calls from Haiti begging them to help raise thousands of dollars. Few who have ransomed relatives are willing to speak about it, afraid that those who remain in Haiti are still vulnerable and that the gangs will come back for them.
''This is affecting the community a lot," said Jean Peres Nazaire, a Mattapan doctor who treats many Haitians and whose classmate from medical school was recently kidnapped and killed in Haiti. ''It's terrible. A lot of people are getting depressed; a lot of people cannot go home. People's minds are affected."
Fewer local Haitians dare venture home to see relatives, or even to attend funerals. They say they would be easy targets: The violence in the nation of 7.6 million has become too commonplace, too random.
''When I was in Haiti [in June], I nearly got snatched," said Pierre Nicolas, 50, a math and science teacher who has lived in Milton for 27 years. ''A band of seven people, armed with the latest machine guns, they circled the people with me. If they knew I was from the US, they would have kidnapped me, but I was wearing dirty jeans and a T-shirt. Maybe that saved my life."
Mary Cantave, a room attendant at a Boston hotel, is too afraid to go to Haiti, though she had planned to spend a two-week vacation visiting her sick sister there this summer. ''I need to go," she said, tears rolling down her cheeks as she stood outside the Haitian Consulate on Boylston Street on a recent sweltering afternoon. ''She is in [the] hospital; she has collapsed because of the pressure. People tell me, 'Don't go, the country is too hot.' I want to go, but I'm scared."Continued...
Most families of people who have been kidnapped do not bother to go to the police: Instead, they immediately accede to the gangs' demands. A United Nations peacekeeping force of 7,600 is stretched thin, barely able to contain myriad outbreaks of violence in the nation. A police force of 3,000 is vastly inadequate to address the country's crime problems, say those who have visited recently.
Unemployment in Haiti has hit 70 percent. Some families are so poor that they eat cakes made from soil, butter, and water. Haitians in Boston often express frustration that the international community has done little to alleviate the nation's problems. They have held rallies outside
Haitian consulates and prayer meetings like the one attended by several hundred at Roxbury Community College on Thursday night. So far, they say, their attempts to shine a light on Haiti's problems have failed to bring more of a commitment from developed countries.
''This is a lawless society and a failed state," said US Representative William D. Delahunt, who visited Haiti in April. ''This is not about ideology. It's about survival in the worst of all possible circumstances. There is no rule of law, no police force as we know it: They are obviously overwhelmed and understaffed, and there is considerable corruption."
Without anywhere else to turn, those who want to save captive relatives appeal to Haitians in the United States.
After she got the call saying her relatives had been kidnapped, Roberthe and 10 family members gathered in her mother's living room in Boston. They managed to come up with $80,000 between them. They knew the kidnappers would accept that amount.
But even so, they worried that their relatives could be killed anyway, ''because when they take some member of your family, sometimes you give the money, and they are still killing them," Roberthe said. But as Roberthe and her family were preparing to transfer the money, a police raid in Haiti killed seven of the captors and liberated her relatives. Roberthe said she knows how lucky her family is, but she said her relatives are even more vulnerable now.
Roberthe declined to say where her mother lives, and which of her relatives were kidnapped, because she said she is afraid kidnappers will be able to identify them and go after them again.
''I am afraid for them," she said. ''They are hiding now. For myself, for all my family, life will never be the same again. Those kidnappers, I call them terrorists. I want President Bush and [UN Secretary General] Kofi Annan and everybody in power to do something immediately."
Three weeks ago, Gerthy Lahens was contacted by relatives of a 19-year-old man kidnapped at a bus station in Port-Au-Prince. The community activist helped coordinate the family's response, spending hours every day on the phone with the man's frenzied grandmother and cousin. She urged them to borrow the $10,000 ransom from whomever they could. She would help them repay the loans by raising money from her contacts here, she told them.
''I was crying everywhere," Lahens said. ''I couldn't sleep. I have a 20-year-old son. Everybody seemed not to know what to do."
The man's cousin, who lives in Boston, feared retaliation, and refused to be interviewed for this story.
The money was raised and sent to the man's mother in northern Haiti. She traveled hours to deliver his ransom. When the kidnappers did not meet her, she was terrified they had killed him. A couple of days later, she discovered that the police had raided their hideout, killed some of the kidnappers, and were holding her son for her.
''I know of many, many other cases," Lahens said. ''My son's godfather, they killed four members of his family. They had no choice but to pay the ransom, thank God they did not harm them. Just imagine those poor people who have no choice but to live there. People here talk about it every day. They say, 'Please, God, don't let me go there.' "
But Lahens continues to visit Haiti, to do relief work. In the past, the violence in Haiti was mostly political, she said, as loyalists to former president Jean-Bertrand Aristide, ousted in February 2004, battled his opponents. But as chaos has descended upon Haiti, poverty has surpassed politics among kidnappers' motivations, and made their crimes more frequent and random.
Yvonne Abraham can be reached at abraham@globe.com.
© Copyright 2005 Globe Newspaper Company. Reprinted from The Boston Globe of August 15, 2005.
Posted Friday, August 12, 2005
Haiti releases freedom fighter
By Alfred de Montesquiou, Associated Press Writer
PORT-AU-PRINCE, Haiti Aug 12, 2005 — A Haitian rebel leader who once led a paramilitary group accused of killing and torturing thousands of people has been released from prison, his lawyer said Friday.
Louis-Jodel Chamblain, a leader of the armed uprising that ousted President Jean-Bertrand Aristide in February 2004, was released Thursday from the National Penitentiary, attorney Stanley Gaston said.
Chamblain was jailed in April 2004 on two counts of murder.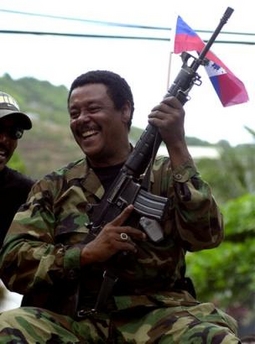 Chamblain was released Thursday Aug. 11, 2005 from the National Penitentiary, attorney Stanley Gaston said. Chamblain was jailed in April 2004 on two counts of murder. He was acquitted but kept in prison while authorities investigated allegations that he masterminded a 1993 fire that devastated part of Cite Soleil, a vast waterfront shantytown outside of Port-au-Prince, Gaston said. (AP Photo/Pablo Aneli/File).
He was acquitted but kept in prison while authorities investigated allegations that he masterminded a 1993 fire that devastated part of Cite Soleil, a vast waterfront shantytown outside of Port-au-Prince, Gaston said.
An appeals court ordered him released on July 26, ruling there were insufficient grounds to hold him for the arson, Gaston said. The lawyer said it took three weeks to push authorities into carrying out the order for Chamblain's release.
A former army sergeant, Chamblain was one of two leaders of the Front for the Advancement and Progress of the Haitian People, a paramilitary group suspected of killing and torturing thousands of people during the 1992-1994 military regime that seized power in the coup that first ousted Aristide.
A U.S. military intervention restored Aristide to power in 1994, and Chamblain went to the Dominican Republic. He returned to Haiti in February 2004 to help lead the revolt that ousted Aristide a second time.
Jean-Claude Bajeux, the director of the local Ecumenical Center for Human Rights, condemned Chamblain's release.
"Chamblain is a hired gun. Killers like him are always ready to serve dictatorial regimes," Bajeux said. "What makes us indignant is not Chamblain's release but the shortcomings of the judicial system and the incompetence of its investigations."
In 1995, Chamblain was sentenced in absentia to life imprisonment for his alleged role in the 1993 slaying of businessman Antoine Izmery, an Aristide financial backer. In April 2004, he turned himself in to face a retrial in the case and was acquitted four months later.
35 killed in Haiti perpetual unrest
At least 35 people have been shot to death in violence-wracked Haiti in the past four days.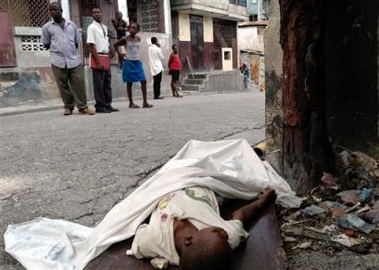 The body of an unidentified teenage boy lies on the ground after being killed in the Bel-Air slum of Port-au-Prince, Haiti, Wednesday, Aug. 10, 2005. Police stormed the volatile slum Wednesday in an attack on well-armed gangs that witnesses said left at least five people dead, including a pregnant woman and the teenage boy. Police spokeswoman Gessy Coicou said the officers raided Bel-Air to arrest gang members but only opened fire because a mob was trying to lynch some of the suspects before they could be arrested. (AP Photo/Evens Sanon)
Dozens of bodies riddled with bullets were processed at the morgue in Port-au-Prince's general hospital between Saturday and today, according to hospital sources.
At least 23 bodies were taken there last week, sources said.
The staggering figure came as nine suspected criminals were killed in a police operation in the Port-au-Prince slum of Bel Air today, police said.
Police this week have conducted raids in Port-au-Prince neighbourhoods considered bastions of supporters of former president Jean Bertrand Aristide, who fled the country amid a popular uprising last year.
In other unrest, former chamber of deputies president Kelly Bastien was kidnapped yesterday in the capital, relatives said. Kidnappers are demanding more than $260,000 from the family.
Copyright 2005 The Associated Press.
Haiti justice minister urges release of detained prisoners
By Joseph Guler Delva, Associated Press Writer
Haiti justice minister urges release of prisoners By Joseph Guyler Delva Wed Aug 10, 5:50 PM ET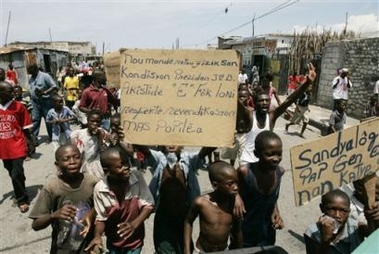 Haitian boys participate in a protest in Cite-Soleil, an impoverished section of Port-au-Prince, Haiti, Thursday, Aug. 11, 2005. Protestors demanded the liberation of all political prisoners in the country and the return of exiled politicians.(AP Photo/Ariana Cubillos)
PORT-AU-PRINCE, Haiti, Aug. 10, 2005 (Reuters) - Haiti's new justice minister called on Wednesday for the release or trial without delay of hundreds of prisoners being held without charge, which he denounced as a violation of human rights.
Justice Minister Henri Dorlean said it was unacceptable for judges and prosecutors to use their powers to keep people in jail in violation of the law and urged police and judges to make sure those who are punished are real criminals.
"Depriving people of their freedom is a serious matter and keeping people in jail for months and months without trying them is a serious and unacceptable violation of their human rights," Dorlean told Reuters in an interview.
Human rights groups have criticized Haiti's U.S.-backed interim government, installed after the ouster of President Jean-Bertrand Aristide in February 2004, for illegally imprisoning members of Aristide's Lavalas Family political party, including ex-Prime Minister Yvon Neptune.
The U.N. special envoy to Haiti, Juan Gabriel Valdes, called on Tuesday for Neptune's immediate release and said his detention was a source of concern for the U.N. Security Council and secretary-general.
Aristide left amid bloody rebellion and pressure to quit from Washington and Paris. Elections to choose a new government are planned for October and November, and U.N. peacekeepers are trying to stem political and gang violence that has killed more than 900 people since September.
Dorlean, a former human rights activist and adviser to President Boniface Alexandre, took over as justice minister on June 22 following the resignation of Bernard Gousse.
He said 95 percent of the 1,300 prisoners at the national penitentiary had been jailed for months without being charged or tried and the situation is the same in most of the Caribbean nation's prisons.
"The justice system should not be an instrument for injustice and revenge and while I am here, I won't allow that to happen," Dorlean said.
"A judge cannot decide to keep people in jail just because there is too much criminality in the streets," he said.
Neptune was arrested on allegations that he masterminded killings on Feb. 11, 2004, in the village of La Syrie, which Aristide's opponents have called a massacre.
Neptune, who served as prime minister under Aristide, denies the accusations and says his detention is politically motivated.
Dorlean said he had asked the investigative judge in the case to release Neptune or formally charge him, in which case he would be sent before a criminal court to be tried.
Another leading figure of Aristide's party, Rev. Gerard Jean-Juste, has been detained since July 21 on allegations he played a role in kidnapping and killing journalist Jacques Roche. Jean-Juste has denied the accusations.
Copyright 2005 The Associated Press
Posted Wednesday, August 10, 2005
Haiti to postpone October local elections
PORT-AU-PRINCE, Haiti, Aug. 09, 2005 - Local elections scheduled for this fall will be postponed until after legislative and presidential elections, Haitian officials said Tuesday.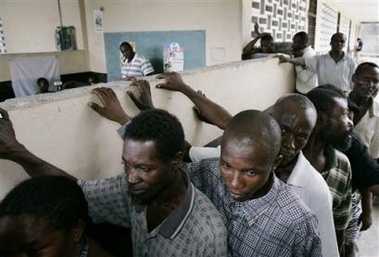 Tue Aug 9, 7:00 PM ET People wait in line to register to vote at the opening of a registration center in the impoverished neighborhood of Bel-Air in Port-au-Prince, Haiti,Tuesday, Aug. 9, 2005. The U.N. special envoy to Haiti Juan Gabriel Valdes said Tuesday, Haiti's elections commission decided to extend the registration to Sept. 15 to allow more people to participate.The deadline to vote in the October and November elections was Tuesday.(AP Photo/Ariana Cubillos)
The electoral council decided to postpone the Oct. 9 local elections until late December so that the nation could better prepare for the November legislative and presidential elections, said interim Chief of Cabinet Michel Brunache.
The presidential and legislative votes will moved up from Nov. 13 to Nov. 6, Brunache added. A runoff presidential election is scheduled for Dec. 11, he said.
The changes will not affect the interim government's goal of handing over power by Feb. 7, said Max Mathurin, the head of the Provisional Electoral Council.
The elections are the first since Haiti's first freely elected president, Jean-Bertrand Aristide, was ousted following a violent rebellion in February 2004.
About 1.5 million people, or a quarter of the electorate, have registered to vote so far, Mathurin said.
Copyright 2005 The Associated Press.
Long after dictatorial bully Aristide turned Haiti into a sinkhole of carnage, his so-called party faction to run in Haiti elections
PORT-AU-PRINCE, Haiti, Aug. 10, 2005 (Reuters) - A moderate faction of ousted Haitian President Jean-Bertrand Aristide's party has registered for general elections later this year, but it was unclear whether its radical members would participate.
The country's electoral officials also said on Tuesday that local government elections, due to be held on October 9, would be postponed -- a sign of the troubles that Haiti faces organizing a vote amid political and gang violence that has killed some 900 people since September.
But officials refused to delay legislative and presidential elections in November, which are seen by the United Nations as key to restoring democracy.
Aristide, a former priest credited with helping to end the Duvalier dictatorship, was ousted in February 2004 by an armed revolt, facing growing accusations of corruption and despotism and pressure from the United States and France to quit.
But many of Haiti's poor masses still support him and the country has been riven by violence since he fled, despite the presence of around 7,500 U.N. peacekeepers and police.
A win by his Lavalas Family party could be embarrassing for Washington, which spearheaded international opposition to Aristide. A victory would open the way for Aristide to return to Haiti.
"We registered to participate in the election, which we will win, in order to end the political persecutions, arbitrary arrests and detentions and the summary executions our members and sympathizers have been subject to," Rudy Herivaux, a spokesman for the Lavalas faction, said.
"It would have been totally absurd of us to refuse to participate in an election we can win," Herivaux told Reuters, saying victory would allow for the return of all political exiles, including Aristide, who is in South Africa.
Members of the moderate faction within Lavalas, led by former senator Yvon Feuille and others, said the decision to run in the election was not unanimous. But they are in discussion with more radical factions of Lavalas that have refused to participate unless Aristide is allowed to return.
Leaders of the radical group within Lavalas said they would meet on Wednesday to decide their position.
U.N. representative Juan Gabriel Valdes welcomed the decision for the Lavalas to run, and warned that any attempt to prevent anyone from participating in the elections would not be tolerated.
The legislative and presidential elections are set for November 13, with a runoff on December 18.
According to the latest figures released by the Electoral Council, 1.7 million out of Haiti's 4.5 million eligible voters have registered for the elections.
Copyright © 2005 Reuters Limited.
Wehaitians.com, the scholarly journal of democracy and human rights