---
Posted Friday, August 25, 2005
Natural talent Lely star senior takes to game like fish to water
By Chris Umpierre, The News-Press writer
Wondy Pierre-Louis had never heard of football when he moved to Naples from Port-au-Prince, Haiti, in August 2002.
Pierre-Louis joined the 2002 Lely High School freshman football team because a few friends told him to do so. His freshman coach put him at running back.
"I didn't know what I was doing," Pierre-Louis said. "I didn't speak any English. The coach said, 'Run the ball this way and don't let anybody catch you. Don't pass the out-of-bounds line.' "I didn't know what to do. I didn't even know how to hold the ball."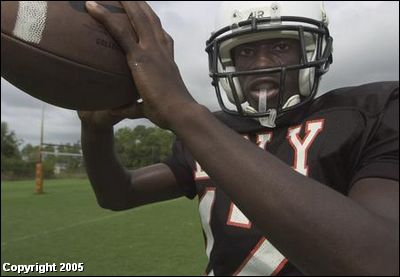 Wondy Pierre-Louis, a native of Haiti, is being recruited by a number of high-profile college programs.
Three years later, Pierre-Louis knows what to do. One of Southwest Florida's best prep cornerbacks, the senior has received 20 NCAA Division I scholarships offers. The list includes high-profile programs such as Wisconsin, West Virginia and Minnesota.
Colleges love his athleticism. The 17-year-old has a 37-inch vertical leap. He won Class 4A state titles in the long and triple jumps with leaps of 23 feet, 11 inches and 40 feet, respectively, last season.
"He's blessed with unbelievable, God-given athleticism," Lely football coach Chris Metzger said. "Some of his mistakes in the past were because he didn't have a full understanding of the game. He made up for his mistakes with his athleticism. "I think now he's coming into his own. He has a better grasp of the game. We're looking for huge things out of him this year."
Pierre-Louis marvels at how fast he picked up the game. His 18-year-old brother, John, who played his senior year at Lely in 2004, and Metzger taught him football's intricacies. "I knew when I first caught onto the game, I was going to be good. Because I knew I was going to work hard at it," said Pierre-Louis, who learned English mostly by watching Disney Channel shows such as "That's So Raven."
Pierre-Louis said he started catching onto football last year. He had 36 tackles, two fumble recoveries and two interceptions in 2004. He returned both of his interceptions for touchdowns. He had a 43-yard interception return against Cape Coral and a 50-yard return against Barron Collier.
Cape Coral's Nate Allen threw a deep pass down the left sideline and Pierre-Louis leaped and caught the ball at its highest point. "That was the most athletic interception I've ever seen," Metzger said. "Players are taught to go out of bounds after interceptions. But he cut across the field and outran some athletic people."
Pierre-Louis is more than just a cornerback. He's the team's starting kicker and punter, too. Ninety-percent of his kickoffs went into the end zone last season, Metzger said. He was 2-for-2 on field-goal attempts, connecting from 45 and 43 yards. Pierre-Louis will play some at receiver this year, Metzger said.
Pierre-Louis prefers football over track. "It's more fun," he said. "You can hit people legally, you know what I mean?"
Pierre-Louis plans to play both sports in college. He said he's leaning toward going to Wisconsin "because that's where I can get the most playing time." What are his future goals?
"The NFL, the Olympics. Or both," Pierre-Louis said.
Copyright 2005 , The News-Press.
Wehaitians.com, the scholarly journal of democracy and human rights