Correspond with us, including our executive editor, professor Yves A. Isidor, via electronic mail:
wehaitians@gis.net
Want to send this page or a link to a friend? Click on mail at the top of this window.

Must read, too; in part, of intellectual rigor
Posted at 2:01 a.m., Wednesday, September 24, 2003
Posted at 3:41 p.m., Tuesday, September 23, 2003:
Body of Haiti fugitive leader found
By Michael Norton, Associated Press Writer
PORT-AU-PRINCE, Haiti - The bullet-riddled body of Amiot Metayer has been found, more than a year after he escaped from prison and allegedly went on a rampage terrorizing government opponents.
Metayer, 39, a longtime supporter of President Jean-Bertrand Aristide and leader of the so-called "Cannibal Army," was found Monday night. He was shot once through each eye and once through the heart, Daniel Jean-Charles, the central government's representative, said Tuesday.
A passer-by found Metayer (related story and photos) outside St. Marc, on the west coast, and his body was taken to his hometown of Gonaives after family members identified him.
"He is better off dead," said opposition leader and former Sen. Paul Denis. "The government he worked for had no interest in having him appear before a court of justice to answer for his crimes."
Metayer was arrested on arson charges on May 21, 2002, in connection with an alleged attack on a rival gang in Gonaives. He broke out of prison in August 2002 with help from supporters.
Authorities failed to recapture Metayer, saying they did not want to raid his seaside shantytown stronghold of Raboteau and risk sparking a violent confrontation. Witnesses said Metayer and the Cannibal Army spent months burning down houses and assaulting Aristide opponents.
In November, seven journalists went into hiding after members of the group allegedly attacked a radio station.
According to an Organization of American States report, Metayer had also participated in other attacks on Aristide's opponents, including a Dec. 17 assault on the residence of politician Luc Mesadieu in Gonaives.
Mesadieu's assistant, Ramy Daran, was doused with gasoline and burned to death. Mesadieu said he saw Metayer giving the order to kill Daran. At least 20 houses were torched.
In May of 2003, a judge withdrew Metayer's arrest warrant, saying there were no grounds for the arson case against him.
A judge and a prosecutor who worked on the case fled to the United States, saying they feared for their safety after refusing to comply with what they said was government pressure to drop the charges against Metayer.
Copyright © 2003 The Associated Press
Posted at 1:39 a.m., Tuesday, September 23, 2003
Posted at 4:19 a.m., Sunday, September 21, 2003
Haitians feel abandoned by U.S.
By Michael Norton, Associated Press Writer
PORT-AU-PRINCE, Haiti, Sept. 20 - When U.S. troops landed in Haiti nine years ago Friday, Kesnel Wilson believed they would help his hapless country recover from years of military-backed rule.
Today, he feels abandoned as he watches U.S. assistance dwindle and his poverty-stricken country sink deeper into despair.
"The United States was right to intervene. But it was wrong to lead us into believing it would help us rebuild our nation," said Wilson, a 43-year-old carpenter in Haiti's crumbling capital.
President Jean-Bertrand Aristide won a landslide victory in 1991 and governed for seven months before the Haitian army ousted him in a bloody coup. Three years later, 20,000 U.S. troops arrived on Sept. 19, restoring Aristide to power and stemming a Haitian exodus.
A windfall of U.S. aid came with the intervention. But since Aristide's government has fallen out of favor with the United States, none of the aid has been directed at development. The relationship began to fray in 2000, when Aristide's Lavalas Family party swept flawed legislative elections. Since then, the government and opposition have been deadlocked and the opposition has accused Aristide of attempting to establish a one-man, one-party rule.
The opposition and civil groups refuse to sit on an electoral council that will organize legislative elections this year until the government disarms its partisans, ends judicial impunity and reforms the police according to two resolutions from the Organization of American States.
Although opposed to demands that Aristide step down, the United States has been increasingly critical of the government, saying it is dragging its feet on implementing the OAS resolutions.
"All friendships go through changes," Judith Trunzo, spokeswoman for the U.S. Embassy in Haiti, said on Friday.
But U.S. Assistant Secretary of State Roger F. Noriega went a step further last week.
"The U.S. intervention to return Aristide in 1994 has ended up a complete failure, due to the Haitian leaders' inability and lack of willingness to move the country along a democratic path," he said.
Aristide has blamed the country's deteriorating economic and political situation on international "political and economic terrorism."
"Most Haitians believed there would be a change in the traditional U.S. policy of supporting the minority against the majority," said government spokesman Mario Dupuy. "But the United States still supports the elite ..., imposing an unjust embargo on international aid and causing the political crisis to drag on."
Some $427 million in international aid poured into Haiti in 1995. It has steadily dwindled since then, with the United States allocating some $70 million in humanitarian aid this year, and international lenders suspending aid or grants to demand democratic reforms and stability.
Meanwhile, Haiti has plunged even deeper into poverty and unrest.
Most Haitians are jobless or unemployed and live on less than $1 a day. Income is 40 percent lower than in Nicaragua, the second poorest country in the hemisphere. Inflation is at 30 percent.
But it's also a no-win situation for the United States.
Haitians either blame the United States for not providing enough support or for failing to get rid of Aristide, whose government has been accused of using violence to stem dissent.
"The United States has let us down," said tailor Sauveur Pierre, 49, once a fervent Aristide partisan. He hates the opposition, but his disappointment is so great he has become apolitical.
This year he can only afford to send one of his three children to school. Haitians often still risk their lives to take rickety boats bound for better economic opportunities in the United States.
Wilson, meanwhile, says Haiti's allies have vanished.
"I was sure the United States would help set the country back on its feet," he said. "But life is harder than ever."
Copyright © 2003 The Associated Press
Posted at 3:29 p.m., Tuesday, September 16, 2003
POLITICS AND POP Demo presidentianl pick favorite songs Springsteen, Buffett, Sinitra are what Democrats blast while on the Belway
By Geoff Boucher, Los Angeles Times Service
Forget stump speeches and campaign finance reports. If you really want to know what's in the hearts and minds of politicians, snoop around their CD collections -- the songs they blast while cruising the Beltway reveals far more than their sound bites. That's why we were thrilled when the Democratic presidential hopefuls were asked at a debate to name their favorite song. Here's one take on their tunes:
• Former Vermont Gov. Howard Dean: Wow. Dean is, as usual, full of surprises. He picked Jaspora by Wyclef Jean, the Haiti native, member of the hit group the Fugees and an innovator in hip-hop who taps his Caribbean heritage in song. Jaspora is sung in French-Creole on Wyclef's 1997 solo album The Carnival. Does Dean speak French-Creole? Does he just dig the beat? Watching Dean's favorable press coverage and populist momentum, the other nominees may be humming a different Fugees selection: Killing Me Softly.
• Rep. Richard A. Gephardt: Remember when President Reagan cited Bruce Springsteen's Born in the U.S.A. as capturing the spirit of a modern patriotism in the 1980s? Well, Reagan probably never read the lyrics about the unraveling of the American dream: ''Born down in a dead man's town / First kick I took was when I hit the ground / End up like a dog that's been beat too much / Til you spend half your life just covering it up.'' Maybe the Missourian candidate picked this to highlight economic woes and the impact on the working poor.
• Sen. John F. Kerry: Ah, interesting. Gephardt went with the big Springsteen hit, and the Massachusetts rival took a lesser-known Boss song, No Surrender, off the same 1984 album. A Vietnam War veteran, Kerry may be touched by the song's war-weary imagery ('Like soldiers in the winter's night with a vow to defend / No retreat no surrender''), but the whole song is really about some scruffy neighborhood kids who cut class and listen to rock `n' roll. He should have gone with Jungleland.
• Sen. John Edwards: The man raised in tiny Robbins, N.C., could have made it three Springsteen songs by citing My Hometown, but instead he went his own way with the more upbeat 1985 hit Small Town by John Mellencamp. The tone is fine, but the lyrics suggest Edwards may end up in a little pink house instead of a big white one. ``Well I was born in a small town / And I can breathe in a small town / Gonna die in this small town / And that's prob'ly where they'll bury me.''
• Sen. Joe Lieberman: Bad enough that the Connecticut statesman cited two songs when asked for one, but then one of them was Don't Stop by Fleetwood Mac -- say, haven't we heard that somewhere else? His second pick was My Way, one of Reagan's favorite songs, suggesting Lieberman is positioning himself as a record-store centrist. On closer inspection, My Way, written by Paul Anka and recorded by Frank Sinatra, may not rouse the campaign volunteers: ``And now the end is near / And so I face the final curtain. . . . ''
• Sen. Bob Graham: The Floridian went with home-state hero Jimmy Buffett's 1977 song Changes in Latitudes, Changes in Attitudes, a title that nicely evokes tropical climes and progressiveness. But Buffett also sings of an all-night bender and offers a line that could be the motto for all the candidates: ``With all of our running and all of our cunning / If we couldn't laugh, we would all go insane.''
• Former Sen. Carol Moseley Braun: She cited the 1994 self-esteem hit You Gotta Be by British soul singer Des'ree. The lyrics are motivational (''You gotta be tough, you gotta be stronger''), but one line seems to speak to the Moseley Braun campaign: ``Some may have more cash than you / Others take a different view / My oh my.'' The Illinois politician was the only one to pick a song that was a Top 10 hit in the past decade.
• Rep. Dennis J. Kucinich: The man from Ohio picked Imagine by John Lennon, which fits in with his pledges to create universal health care and champion nuclear disarmament. It's more debatable whether it fits in with his pledge that, if elected, he will immediately jettison North American Free Trade Agreement and abolish the World Trade Organization. ``Imagine there's no countries / It isn't hard to do.''
• The Rev. Al Sharpton: The flamboyant New Yorker went with Talking Loud, Saying Nothing, a 1972 slice of funk by James Brown. Sharpton said the choice was a reference at the empty rhetoric of Republican leadership.
Copyright 2003 The Los Angeles Times
Posted at 2:19 p.m., Monday, September 15, 2003
Haiti's opposition rallies against government
By Michael Norton, Associated Press Writer
CAP-HAITIEN, Haiti, Sept. 14 - Defying threats of renewed violence, more than 4,000 opposition supporters protested President Jean-Bertrand Aristide's government Sunday and clashed with a counter-demonstration in Haiti's second largest city.
Dozens were injured by police and Aristide supporters in a similar protest Aug. 30 also in northern Cap-Haitien. The United States and the Organization of American States criticized the government for excessive force in that incident.
Sunday's protest ended with at least 13 injuries, after opposition organizers defied warnings from Aristide activists that another demonstration could produce a bloodbath.
"We won't be cowed by threats. We have a right to assemble and express our opposition to this dictatorial regime," said Jean-Robert Lalane, coordinator of the opposition North District Front.
Lalane said police had promised to protect Sunday's demonstrators, but as they traced their scheduled route through the city, they met by a pro-Aristide group of nearly 1,000.
Police attempted to halt the pro-government group's advance, firing tear gas but failing to disperse the crowd.
"We're democrats," pro-Aristide organizer Mawoum Marcellus said. "Everybody has the right to assemble and demonstrate."
The two groups then began hurling rocks and bottles at each other, prompting police to use tear gas to disperse the opposition.
Haiti's government and the opposition have been deadlocked since Aristide's Lavalas Family party swept flawed May 2000 elections. Haiti has plunged deeper into poverty and unrest, and some international lenders suspended aid to demand democratic reform and greater stability.
Aristide plans to call new legislative elections this year, but has been thwarted by the opposition's refusal to participate until the government fulfills OAS resolutions to disarm partisans, end judicial impunity and reform the police.
Copyright © 2003 The Associated Press
Posted at 11:59 p.m., Wednesday, September 10, 2003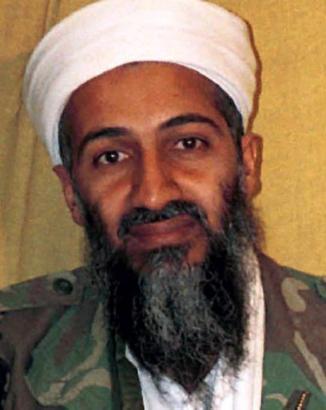 Osama bin Laden (AP Photo, File)
Haitian flash flood deaths reach 24
PORT-AU-PRINCE, Haiti, Sept. 9 - The death toll from flash flooding in western Haiti two weeks ago has risen to 24, officials said Tuesday.
Hours of torrential rains caused rivers to burst over their banks and flood the town of St. Marc, about 45 miles northwest of the capital, Port-au-Prince.
Authorities initially reported that 11 people dead and several missing. Since then, 13 bodies have been recovered, government civil defense director Yolene Surena said. Authorities don't expect the death toll to rise.
Seventy people were also injured and 12,000 people left homeless, Surena said. About 400 homes were destroyed and 400 damaged when the raging waters tore away flimsy tin-roofed shacks built on the banks of the Grande Riviere.
The Haitian government created a $25,000 emergency fund to supply food to the flood victims. International donors also have contributed, including $82,000 from the United States.
Mother Teressa on sainthood express
By Paul H.B., Sin Daily News Staff Writer
The Catholic Church is putting the late Mother Teresa on the fast track.
The Vatican is giving "serious consideration" to proclaiming the Albanian-born nun a saint in one step, skipping the intermediate step of beatification, church sources said yesterday.
A Vatican official sent a letter on behalf of Pope John Paul to cardinals this year asking for opinions on canonizing Mother Teresa in one move, breaking with centuries of tradition.
The effort to declare the sainthood of Mother Teresa - known for her care of Calcutta's destitute - has already progressed at record speed since she died in 1997 at age 87.
"One of the things that has been so characteristic of this Pope," said the Rev. Joseph Koterski of Fordham University, "is that he has been interested in moving the process along for lots of people."
But the initiative by the Pope - who has canonized more saints than any predecessor - to avoid meticulously vetting a candidate has stirred resistance within the Vatican among those concerned about the precedent, church sources said.
"I know some serious Catholics who are worried about this kind of cultism - too great a veneration and bending too many rules," said author Christopher Hitchens, who has criticized Mother Teresa's ultraconservative views on dogma and her collaboration with Haiti's notorious former dictator Jean-Claude (Baby Doc) Duvalier.
The Vatican asked Hitchens to testify on Mother Teresa's beatification two years ago, part of its scrutiny into candidates' lives.
To be declared a saint, one miracle has to be attributed to the candidate before beatification and a second must be attributed after beatification. The Pope was already set to beatify her at an Oct. 19 ceremony at the Vatican. With News Wire Services
Originally published on September 10, 2003.
All contents © 2003 Daily News
Posted at 12:29 a.m., Wednesday, September 10, 2003
Haiti: Public prosecutor working on drug case reports being threatened
Broadcast by Haitian Signal FM radio on 8 September
[Cerisier] Attorney Louis Amiot Francois, the public prosecutor at the Civil Court of Port-de-Paix, says that he has been subjected to pressure and persecution from government authorities.
The investigations he is carrying out to find the authors of crimes against people in several communes of the West Department are allegedly the origin of this pressure and persecution (tyrant Aristide and partners in crime are dead)..
Francois says he was the victim of an armed attack in his own office by a police inspector who demands the unconditional release of Anson Remy, a well known boat owner in the city, who is being kept in custody for questions about a drug-trafficking case in Jean-Rabel. The public prosecutor has therefore asked for the support of the general management of the Haitian National Police so that he can continue to work freely.
[Francois] [words indistinct] persecuted. We are persecuted because, as I said a moment ago, a meeting was held at Le Recif in Saint-Louis du Nord. Among the people who participated in the meeting is the departmental delegate.
They wanted to assassinate Senator Beauplan and me. A police inspector whose name is Jackson Louissaint, who went to the office of the public prosecutor and pulled out his gun and pointed it at the revered figure of the public prosecutor, is also persecuting me. He is claiming that he will shoot the Jacmel public prosecutor.
This means that we are persecuted because we are doing noble work. We are doing a job in which we are instituting legal proceedings for the action that took place in Guillette, a Jean-Rabel locality, where drugs were unloaded. More than four people have been killed and more than 12 people have been injured.
[Cerisier] It should be recalled that many people whose names have been cited in the drug issue in Jean-Rabel have already fled in order not to answer the public prosecutor's summons.
BBC Monitoring
Posted at 3:01 p.m., Monday, September 8, 2003
U.S. gives Haiti 'Weeks' to show good will
WASHINGTON, Sept. 8 (Reuters) - The United States on Monday gave the government of Haiti "weeks not months" to show whether it has the will to restore confidence in the security situation and the electoral process, a senior official said on Monday.
But the United States will not impose political sanctions on the Haitian government without support from Haiti's neighbors in the Caribbean, Assistant Secretary of State Roger Noriega told an event at a Washington think tank.
The United States helped bring Haitian President Jean-Bertrand Aristide back to power in 1994 but it has grown increasingly disillusioned with the way he has run the country, especially after the disputed election of May 2000.
The United States has worked with the Organization of American States in an attempt to persuade the Aristide government to meet the organization's demands on democracy.
The latest step was a decision to send former U.S. diplomat Terence Todman as OAS envoy to promote dialogue between the government and the opposition in Haiti.
Noriega, speaking at the Center for Strategic and International Studies, said: "We are going the extra mile now trying to hold the government accountable to make small steps toward restoring confidence in the security situation in Haiti so that people will feel free and comfortable and safe in re-engaging in some sort of an electoral process.
"We will measure whether or not the Haitian government has the political will to make those small meaningful steps in a matter of weeks not months."
"We cannot move forward ... to sanction the Haitian government ... under the Inter-American Democratic Charter unless countries in the region, particularly in the Caribbean, are prepared to join us. We want to make our decisions on this issue in concert with our friends. We do not want to take unilateral measures," he added.
He said that any sanctions would be political rather than economic but did not suggest what they might be.
The democratic charter, signed in Lima in 2001, would enable the organization to suspend the membership of a country in which the democratic order is seriously impaired.
Noriega complained that even since Todman began his mission in Haiti last month, the United States had noticed cases of the Haitian police suppressing political expression.
"That's not a very auspicious sign," he said.
Copyright © 2003 Reuters Limited
Posted at 3:06 a.m., Friday, September 5, 2003
By Yves A. Isidor, wehaitians.com executive editor
Posted at 5:21 p.m., Tuesday, September 2, 2003
A joyous West Indian parade ends with violence
By Andrea Elliot and Jonathan P. Hicks
A man was fatally shot while trying to climb aboard a float yesterday at the West Indian American Day Carnival Parade in Brooklyn, while a second person was stabbed just over an hour later on the same block, the police said.
The violence occurred toward the end of a day of festivities, marring what had been an otherwise celebratory event that filled central Brooklyn with food, music and thousands of people in colorful costumes.
The first victim, whom the police were still trying to identify yesterday evening, was trying to climb on the float near 729 Eastern Parkway about 4:40 p.m. when he was shot by a man wearing a mask. The suspect, whom the police had not identified by last night, was on the float when he shot the victim and then fled the scene, the police said.
The shooting victim was taken to Kings County Hospital Center, where he later died, the police said. They said they would try to identify him through his fingerprints.
The second victim was stabbed in the neck just before 6 p.m. within the same block, on Eastern Parkway near Kingston Avenue. The man, whom the police did not identify, was also taken to Kings County Hospital Center, where he was in stable condition early today, the police said.
The police said the incident occurred after a shoving match between the victim and Fransco Sejour, 30, whom they arrested and charged with assault and weapons possession. Mr. Sejour lives in Elizabeth, N.J., the police said.
The violence cast a pall over what has traditionally been a joyous festival that draws millions of people and the city's leading politicians. Indeed, yesterday's attacks happened just hours after Mayor Michael R. Bloomberg and Senator Hillary Rodham Clinton marched down Eastern Parkway with other politicians.
The attacks also came four years after three people, including two children, were killed in accidents during the 1999 West Indian Day parade. Two 11-year-olds died when a supply van lurched out of control and pinned them against a sound truck, and four other people were hurt. Hours later, an 18-year-old man was killed when a piece of his clothing got caught in the wheel of a truck and he was dragged underneath.
The next year, organizers and city officials agreed to a number of safety-related changes. Floats were to be modified to give drivers better visibility, and police officers were to be assigned to cars and sound trucks to control spacing between the floats.
The steady drizzle yesterday kept many people away from the parade, which traditionally draws millions to what has become the city's largest such event, outdrawing even the St. Patrick's Day Parade. City officials had no estimate yesterday of how many people attended the festivities.
The violence came at a parade that was dedicated to the memory of James E. Davis, the councilman who was fatally shot in City Hall in July by a onetime political rival.
Mr. Davis, a former police officer, had made a name for himself with his annual "Stop the Violence" rallies.
At a breakfast before the parade, the councilman's mother, Thelma, and his brother, Geoffrey, were given a plaque in his honor.
While that created something of a somber tone, the battle to succeed the slain councilman was readily apparent at the parade.
Mr. Davis, who is on the Democratic line to succeed his brother, marched with about a dozen supporters appealing for votes in the Nov. 4 general election. Some of the supporters carried posters with the late councilman's photo and the words "Re-elect James E. Davis." Other posters stated, "Elect Geoffrey Davis."
Mr. Davis said the two signs reflected his feeling that he and the late councilman were essentially running together.
"In fact, we're running for City Council," he said. "For the first time he's not here physically, but spiritually he is here."
Mr. Davis was not the only candidate at the parade hoping to succeed the slain councilman. Marching with an even larger contingent of supporters was Letitia James, an aide to Assemblyman Roger L. Green. Ms. James is running on the Working Families Party line in the Nov. 4 election. Anthony Herbert, who is running in the race on the Republican line, was also marching with supporters.
Copyright 2003 The New York Times Company
Haitian police break up opposition rally
PORT-AU-PRINCE, Haiti, Aug. 30 - Police fired tear gas to break up an opposition rally against President Jean-Bertrand Aristide on Saturday during in a clash that left at least four injured.
Thousands of government opponents and civil society groups had gathered in Haiti's second largest city of Cap-Haitien when police started firing tear gas at the crowd. Witnesses said police also fired live rounds. At least one demonstrator was shot in the side, private Radio Maxima reported. Three police officers were injured in the northcoast city.
"The meeting was illegal. Those who attended persisted and resisted the attempt of the police to disperse the assembly," said Charles Shely, Cap-Haitien police chief. Organizers of rallies have to inform the police but the police do not authorize the demonstrations.
The rally was organized by an ad hoc committee called the North District Front, which comprises the opposition People's Struggle Organization Party and Citizen's Initiative, a civil society association.
Last month, Aristide partisans broke up a peaceful meeting of civil society groups in Cite Soleil, a seaside shantytown bordering the capital. At least 40 people were injured.
"We invited the partisan and non-partisan opposition to try to find unity in the face of Aristide's dictatorial regime," said North District Front coordinator Jean-Robert Lalane, who was slightly injured by a rock.
Citizen's Initiative leader Frandley Denis Julien said police had notified him they were unable to ensure security of the demonstration.
Haiti has been deadlocked in political stalemate since Aristide's Lavalas Family party swept May 2000 elections that observers said were flawed and the opposition said were rigged.
Since then, the Caribbean nation has plunged deeper into poverty and unrest as international lenders suspended more than $500 million in loans and grants, with some needing payments on arrears but others demanding democratic reforms and greater stability.
Plans for new elections have been stalled as the opposition and civil society leaders demand the government reform the police, disarm Aristide partisans, and prosecute perpetrators of political violence.
"If the police cannot ensure the security of opposition partisans, how can it ensure the security of elections," asked opposition politician Andre Michel, spokesman for the Convention of Democratic Unity party.
Posted at 8:49 p.m., Monday, September 1, 2003
Haitian police capture fugitive American child molester
By Michael Norton, Associated Press Writer
Saint-Marc, Haiti, Aug. 31 - Haitian police captured an American convicted of child molestation who violated parole and entered the Caribbean nation with fraudulent documents, the U.S. Embassy said Sunday.
Mario "Tony" Leyva, 57, was captured Saturday afternoon outside St. Marc and was incarcerated in the national penitentiary in the capital, U.S. Embassy spokeswoman Judith Trunzo said.
A group of Haitians recognized Leyva from a photograph the U.S. Embassy published in the local papers and showed on television. Residents tied him up and then called the Haitian police.
He was expected to be flown back to the United States on Tuesday.
Leyva, a self-ordained evangelist minister, traveled the eastern United States and Haiti in the l980s, conducting tent revivals.
He convinced parents to allow their young sons to travel with him on tours, during which he sexually assaulted the boys and sold some of them off as prostitutes, according to court documents. It is not known whether Leyva is suspected of abusing children in Haiti.
Leyva, a Cuban-American, was arrested in 1988 in Roanoke, Va., and pleaded guilty to molesting more than 100 boys in North Carolina, Virginia, Georgia, Florida, Mississippi, Louisiana, Arkansas, Ohio and Indiana.
He also pleaded guilty to conspiracy and interstate transportation of minors for prostitution.
After serving 11 years of a 20-year prison term, he was released from Virginia state prison on parole in April 2002, but last month he fled the Roanoke area, where he was required to live under supervision until 2008. · Printer-friendly version
Facing reality, embrace Haiti
Barbados, Sept. 1 - WHAT A SHAME it is that the Barbadian media and other civil society organisations paid so little attention to the third Assembly of Caribbean people, which was held in the island of Haiti between August 19 and 24!
It was left to the Clement Payne Movement, with a team composed of Bobby Clarke, Edison Crawford, and David Comissiong; along with Iannique Jean-Louis and Carl Lee Best, to hold aloft the banner of Barbados at this important Caribbean convention.
The Assembly of Caribbean People (ACP) is a Pan-Caribbean gathering of social movements, farmers, trade unionists, working people, students, feminists, youth, artistes, intellectuals, NGO's and representatives of community organisations.
To their credit, the hard working regional executive committee of the ACP, and our very generous and industrious Haitian hosts, were able to put together an Assembly of some 700 delegates.
If I were forced to identify some specific issue which dominated the assembly, I would single out the matter of the Free Trade Area of the Americas (FTAA), and the need to mount hemisphere-wide resistance campaign to this latest yankee "trojan house" of neo-imperialism.
All over the Caribbean, social and political activists are expressing deep concern about the FTAA and its potential to deal a permanently crippling blow to our long-standing efforts to build sovereign states and national economies in our own geo-political space.
We all therefore made a collective resolve to redouble our efforts to educate the masses of the Caribbean people about the true intent and purpose of the FTAA, and to challenge our governments not to sign on to the FTAA.
Aside from this critical issue of the FTAA however, the members of the Clement Payne Movement were most moved and touched by the Haitian people themselves - their current condition, history and culture.
We were well and truly shocked by the level of poverty and human suffering that unfolded before our eyes – the lack of proper sanitation, sewage, housing, health care and other social amenities that so many of our Haitian brothers and sisters are subjected to!
Indeed, we could not help but wonder how our Caribbean political leaders could travel to Haiti, witness this level of human suffering and degradation with their own eyes, and come back home and not speak about it, or seek to make it a priority issue.
As far as we are concerned, it is shameful that in the heart of our "Caribbean Community", literally millions of our kith and kin could be existing in conditions of such misery, and our governments and civil society organisations make so little effort to come to their assistance.
The Clement Payne Movement has therefore resolved to establish a local organisation to reach out in brotherly care and assistance to the people of Haiti. We will also be lobbying the governments of Barbados and CARICOM to bestir themselves and to embrace the people of Haiti in a more meaningful way.
Our organisation also played a critical role in piloting a resolution at the ACP, calling upon the government of France and other guilty parties to pay "Reparations" to the people of Haiti, for the tremendous damage that they inflicted on Haiti during centuries of slavery, colonisation and neo-colonialism. This is a matter that the Barbadian people will be hearing a lot about in the months ahead.
But as saddened as we were by the poverty, we were "blown away" by the power and vitality of the culture and history of Haiti.
Indeed, the high point of our entire sojourn in Haiti was our visit to the massive mountain-top fortress of SansSouci', which was constructed by King HenriChristophe, about 200 years ago, in the early phaseof Haiti's independence.
The 3 000 foot high Sans Souci must rank as one of the wonders of the world, and is clearly the most impressive man made structure in the entire Caribbean. As one approaches "Sans Souci" on horseback, one is left with a palpable sense of the majesty of Haiti's past – of the revolutionary heroics of such legendary figures as Macandal, Boukman, Toussaint, Oge', Dessalines, Christophe, Biassou and Petion.
Wehaitians.com, the scholarly journal of democracy and human rights