Want to send this page or a link to a friend? Click on mail at the top of this window.
Katherine Dunham's Legacy, Visible in Youth and Age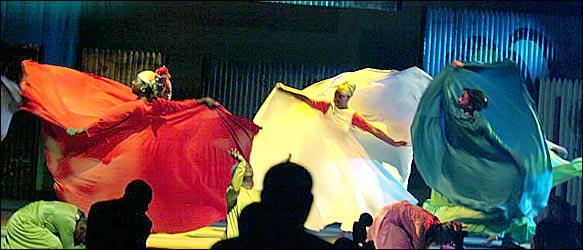 Nan Melville for The New York Times
The Marie Brooks Pan Caribbean Dance Company performs "Hope," part of a tribute to Katherine Dunham.
AT 94 Katherine Dunham has seen her life and achievement as a pioneering anthropologist, dancer and choreographer chronicled and honored many times. Yet a brilliantly presented weekend tribute at Peter Norton Symphony Space offered a fresh reminder of her living legacy.
In a Friday night program that began a three-day series devoted to Ms. Dunham and Haitian culture, the Haitian-American novelist Edwidge Danticat and two former Dunham dancers, Glory Van Scott and Julie Robinson Belafonte, spoke of Ms. Dunham's humanitarianism and social activism. Carmen de Lavallade, collaborating with Wynton Marsalis, danced a stunning solo, stopping the show. So did the veteran Haitian dancer Jean-Léon Destiné. The actors Ossie Davis and Ruby Dee were the hosts.
Ms. Dunham supplied some equally memorable moments. Mayor Michael Bloomberg and Representative Charles B. Rangel sent citations. After they were read, Ms. Dunham, seated onstage, had a friendly riposte.
"There is one thing I would like to say to Mayor Bloomberg," she said. "I am so tired of being considered a leader of black dance. I am just a person who happens to be what in this country is called black. I will insist on being called, one, a person and, two, a human being."
Noting that she was married for 49 years to "a white husband," John Pratt, who died in 1986 and designed the dazzling costumes and sets in her dance company in the 1940's and 50's, Ms. Dunham continued, "If you're an athlete, would you say, `I'm a great black basketball player?' "
Warming to her main point she told the audience, an interracial mix of both young and old: "Stop dividing people. Don't think of me as a great black dancer. I was never a great dancer. I just did. This is going to cause me a lot of trouble in the so-called black world. But I don't mind."
With the field studies she did since the 1930's in Caribbean culture, especially in Haiti, Ms. Dunham nonetheless became one of the first American choreographers to focus on the black heritage in the United States and in the Western Hemisphere. Anyone fortunate enough to have seen her fabulous dance company through the early 1960's would remember that her barroom blues numbers were as striking as the pageantry of her theatricalized vodou rituals.
In a wider context she is not just a pioneer of black dance but of American modern dance. Above all she is a creative artist, fully aware that she danced and choreographed for the stage. On Friday a cluster of young dancers and musicians, many of Caribbean descent, performed the kind of dances and drumming that would not be seen today on stage without Ms. Dunham's pathfinding research and stagings.
A model to be emulated was Mr. Destiné, a former Dunham dancer. His own distinguished career has always shown how art and ethnology come together. Now 78, he looked agile and nuanced, mesmerizing in a bent-legged solo to the familiar "Shango" sung by Fanfan.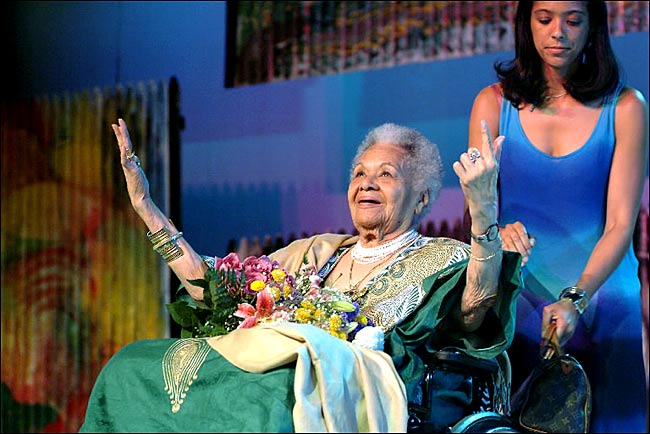 Nan Melville for The New York Times
Katherine Dunham at Symphony Space, where a three-day program honored her and her choreography focusing on the Caribbean heritage.
Ms. de Lavallade is not a former Dunham dancer, but categories fell away as she marched in, a statuesque figure in red with a gold and red fan. Before introducing his original score, Mr. Marsalis, the trumpeter, said he and his musicians (Eric Lewis, piano; Ali Jackson, drums; Carlos Henriquez, bass) were going to play "real soft and nice." And so they did.
Entering with one hand on hip and the other manipulating the fan, Ms. de Lavallade expanded her dance into an image of proud beauty: a flaming bird of paradise.
A nod to Ms. Dunham's visits to Japan came with a refined performance on Japanese instruments: Marco Leinhard, flute, and Masayo Ishigure, koto.
The young groups, professionals or students, provided the vital link in the living legacy. Percussion and dance came from Angel Rodriguez with the Women of the Calabash and Palo Monte's drummers with the dancers Alma Cruz and Mikerline Pierre. Ya-Ya, a female troupe of singers and drummers of Puerto Rican descent, were especially refreshing, and Paulette Saint-Lot and the Ibo Dancers of Haiti were vibrant. Marie Brooks Pan Caribbean Dance Company performed "Hope," a piece Ms. Brooks created after its original choreographer, Jackie Semela, was killed in a carjacking in his native South Africa. Miss Brooks's young students in this company are remarkable: They dance from within.
The three-day tribute was conceived by Steven A. Watkins, artistic director of the Pangea Theater Company, and presented by himself and Dr. Henry Frank, executive director of the Haitian Centers Council. In addition to Friday's performance, the schedule of events on Saturday and Sunday included films, discussions and a demonstration of Dunham dance technique. Get home delivery of The Times from $2.90/week
Copyright 2003 The New York Times Company. Reprinted from The New York Times, The Arts, of September 16, 2003.
Wehaitians.com, the scholarly journal of democracy and human rights