Correspond with us, including our executive editor, professor Yves A. Isidor, via electronic mail:
wehaitians@gis.net
Want to send this page or a link to a friend? Click on mail at the top of this window.

Must read, too; in part, of intellectual rigor
Posted at 4:17 p.m., Sunday, August 31, 2003
Ex-New Orleans mayor gears up for voyage of Haitian history
By Jacqueline Charles, Miami Herald Writer
When organizers of an upcoming sea voyage celebrating Haiti's 200th anniversary asked Marc Morial to chair the project, they didn't know how much personal significance it would have for one of America's best known urban politicians.
For Morial, former New Orleans mayor and newly appointed president of the National Urban League, becoming honorary chairman of Cruising into History means more than being part of a milestone celebration.
''We are old Haitian refugees,'' said Morial, 45, whose family traces its ancestry back to Haiti when it was the French colony of Saint Domingue. That was before the successful slave revolt led to a new name and a new distinction in 1804: the first free black republic in the western hemisphere.
He and his brothers and sisters ''have embraced our Haitian roots with a lot of enthusiasm and pride,'' Morial said.
New Orleans experienced its own Haitian immigration wave more than 200 years ago, long before Haitians began arriving in South Florida.
Looking to escape the civil war between Haiti's white planter and mulatto classes and the ensuing revolution, many Haitians left Port-au-Prince by boat. Some went to Paris, while others went to Louisiana.
The Morial family was among those who chose to settle in Louisiana, a territory owned by Spain and France before being sold to the United States in 1803 for $15 million.
''Those folks were white, mixed and all different skin color,'' Morial said about the group that came on the boat voyage with his ancestors. He doesn't know whether his ancestors were free or slaves.
One of Morial's uncles once possessed the family's original transfer documents from Saint Domingue to New Orleans.
''I've seen it once or twice,'' Morial said in a recent telephone interview from his New York office, where he's trying to raise the profile of the 93-year-old civil rights organization. ``The community in New Orleans -- the old free black community -- I would say there is a renewed sense among many of us that our roots go back to Haiti.''
That awakening comes in part because because 2003 marks another milestone: the 200th anniversary of the Louisiana Purchase.
That purchase, said both Morial and historian Jon Kukla, author of A Wilderness So Immense: The Louisiana Purchase and the Destiny of America, would not have occurred if not for the success of the Haitian Revolution.
''Once [Napoleon] was unable to subdue Saint Domingue, there was no point in having Louisiana,''
Kukla said in a phone interview from Virginia. ``He decided it wold be better off to sell it.'' Kukla said while New Orleans experienced one of its largest migrations of Haitians -- between 10,000 and 12,000 -- in 1809 after they were kicked out of Cuba by the Spaniards, the city had already had an established Haitian community dating to the early 1790s.
''If you come to New Orleans and you look at the names, all of the old African-American families have French names and they all live in the area called the Seventh Ward,'' said Morial. The community remained intact for more than 100 years, with its members speaking Haitian Creole and observing Haitian customs, Morial said.
Morial said his grandparents spoke Creole as their first language.
Ron Daniels, the political activist who is organizing the Haitian bicentennial cruise for Aug. 14-21, 2004, said he knew nothing of Morial's Haitian heritage when he asked the two-term mayor to spearhead the project.
''It was the icing on the cake,'' said Daniels, who hopes to take about 2,000 people on the seven-day cruise. Morial, the son of New Orleans' first black mayor Ernest ''Dutch'' Morial, said he hopes his own history shows that black America is not always what it seems.
''Black America is not only Americans of African descent but West Indians and people from Africa,'' he said. ``We as traditional civil rights organizations will have to work to embrace new people and issues and their concerns.''
For more information on Cruising into History, go to www.CruisingIntoHistory.org or call 1-877-HAITI-04.
Posted at 3:19 a.m., Sunday, August 31, 2003
Torrential rain kills at least 8 in Haiti
By Michael Norton, Associated Press Writer
ST. MARC, Haiti, Aug. 30 - Torrential rains burst river banks, sweeping away at least eight people and destroying dozens of flimsy riverside shacks in Haiti's west-coast city of St. Marc, officials said Saturday.
About 200 people of the city's 60,000 residents fled their homes and took refuge in government offices and a high school, said Gerald Joseph with Haiti's civil defense.
Seven people were missing and more than 200 homes were destroyed or damaged before the storm passed over the city, independent radio station KISKEYA reported.
Junie Louis-Pierre, 33, said she watched as her husband, 35-year-old Norius Dezimar, was sucked away by strong currents after he was able to get her and their three children to safety on the roof of their home. He was missing but presumed dead, Louis-Pierre said (photos).
Most damage occurred along a 1.25-mile stretch of the Grande Riviere, which flows through the city, when the river burst its banks during a five-hour storm Friday afternoon. The raging waters tore away flimsy tin-roofed shacks and in some places, the water level rose 2-3 feet.
"We watched the water rise and when it entered the house we ran," said 76-year-old Delise Toussaint, who spent the night sleeping in the woods with his family of 10.
His three-room house just outside St. Marc was swept away (a deep crisis, shallow roots).
Rain pelted the Artibonite district in west-central Haiti on Friday, swelling streams and rivers that descended on seaside St. Marc.
As waters from the storm subsided, the bodies of eight victims, apparently drowned, were found Saturday morning in the city 40 miles west of Port-au-Prince.
The local government representative, Daniel Jean-Charles, told The Associated Press it would take a week to determine the death toll because bodies may have been washed out to sea. He did not estimate how many people were missing.
Saturday was bright and sunny, and residents began shoveling mud from their cinderblock homes, and hoisting sopping, mud-stained mattresses and clothing outside to dry. They also were scrubbing mud out of pillowcases and sheets.
Currents carried away a 60-foot tractor trailer which lodged under the downtown Estime Bridge, blocking the flow of water, which sheared off on each side of the trailer.
Several government bulldozers began clearing debris, but some residents complained of a delay in government assistance.
"The government does nothing for us," said 32-year-old Pierre Ronald, his face and clothing spattered with mud. "We can't count on them."
His house was destroyed and he said he found a body washed upon the muddy banks behind the crumpled remains.
"What hurts us the most is that we feel abandoned," said 60-year-old Sultane Derilus, whose cabinetmaker son lost all of his tools in the flood.
Jean-Charles promised food, clothing and water would be distributed to flood victims later in the day.
Copyright © 2003 The Associated Press
Posted at 1:59 p.m., Friday, August 29, 2003
Drug trafficker is ready to talk
One of Haiti's most flamboyant drug traffickers pleaded guilty Thursday in Miami and is offering information he says could implicate high-ranking military, police and political leaders on the island.
Jacques Beaudoin Ketant (drug kingpin's ultra-luxury mansion), 42, confessed to helping smuggle at least 30 tons of Colombian cocaine into the United States between 1986 and 1997. He agreed to start debriefings with the U.S. Drug Enforcement Administration in the hope of reducing a maximum sentence of 40 years in prison.
Without naming names or offering any details, Miami defense attorney Ruben Oliva said Ketant can implicate plenty of Haitian leaders who allowed the island to become a major stopover point on the cocaine pipeline between Colombia and the United States since 1986.
''He has plenty to offer them,'' Oliva said. ``He can be a huge, huge help to the DEA.''
While federal prosecutors and DEA officials would not comment on specific individuals who might be targeted with Ketant's assistance, no one doubts that Ketant was a major player in Haiti with nefarious friends throughout the hemisphere.
''We're definitely looking forward to talking to Mr. Ketant,'' said Thomas Raffanello, head of the DEA Miami field office, whose jurisdiction includes the Caribbean.
Raffanello said Ketant could be an important asset to investigators hoping to build cases against major Colombian traffickers and middlemen in Curacao and Panama.
Before his capture, Ketant had last been seen in the United States in May 1996. DEA agents confronted him on the streets of New York, but he dropped nearly 20 pounds of cocaine and fled on foot.
Assistant U.S. Attorney John Kastranakes said Ketant apparently dressed up as a woman to slip past security on a flight to Port-au-Prince.
Ketant openly walked the streets of Port-au-Prince without any fear of being sent back to South Florida, where he was indicted in 1997.
Ketant, who described himself in court as an entrepreneur, sank his drug profits into discotheques, gas stations and rental properties across Haiti. The former Miami-Dade Community College student lived in an elaborate mansion with wrought-iron balconies in the upscale Petion-Ville neighborhood on the outskirts of Port-au-Prince.
''He was a powerful man in his own right,'' Raffanello said.
But earlier this summer, Ketant's bodyguards intervened in a schoolyard fight at the Union School, an American academy where one of Ketant's sons rubbed shoulders with the children of U.S. Embassy officials.
Outraged American officials reportedly pressured Haitian President Jean-Bertrand Aristide to have the national police arrest Ketant. Police turned him over to the DEA agents attached to the embassy. He was flown to Miami that same afternoon.
Miami attorney Ira Kurzban, who represents the Aristide government, said at the time that Ketant was ``expelled.''
Ketant was the primary contact in Haiti for the Medellín, Cali and Northern Valley cartels for years, operating several airstrips where large quantities of cocaine were dropped.
DEA agents say Ketant had a large crew of smugglers and ''swallowers'' who would move the drugs to Miami, Chicago and New York in suitcases, boats and their stomachs.
He also controlled a vast network of military, police and customs officials in Haiti and the United States who provided security information and were well paid to purposely turn their heads when drugs were passing through their borders.
Ketant clearly had friends in high places. One of Ketant's codefendants, former Haitian Police Chief Michel ''Sweet Mickey'' Francois, is a fugitive hiding in Honduras, outside the reach of U.S. agents.
Raffanello has plenty of experience working with high-profile witnesses willing to testify against higher-profile defendants.
As an agent, he helped convince Medellín cartel figurehead Carlos Lehder to testify against Panamanian strongman Gen. Manuel Noriega. In return, Lehder had his sentence reduced from 180 to 100 years.
''We're willing to talk to anybody,'' Raffanello said. ``And I mean anybody.''
Reprinted from The Miami Herald of August 29, 2003. Read, too, article below: "Aristide is said to be indicted"
Posted at 2:48 a.m., Friday, August 29, 2003
In Haiti and Haitian Diaspora communities, millions deeply believe avowed Marxist-Stalinist Roman Catholic priest ordered thugs to brutally murder journalist
By Yves A. Isidor, wehaitians.com executive editor
Totalitarianism or primitive banditism of the sort of Jean-Bertrand Aristide isn't supposed to exist in church.
A church is a place where the believers - including the huddled masses who often dream of having a new destination of life, and for the better - go to worship.
But when it comes to religious services being officiated by Roman Catholic priest, Fritz Sauveget, in his Saint Rose de Lima church, in the city of Leogane, about 21 miles west of Haiti's capital city of Port-au-Prince, totalitarian dictatorship reigns supreme, and sadly most of the scheduled affairs of God are consigned to the archives of history.
What exactly does this mean? Journalists like Peterson Millord who broadcasts reports that Sauveget charges high prices for burials and other services, including misappropriating church funds, are not welcomed; they can savagely lose their lives if they make the mistake of venturing inside - even for a few seconds.
Perched on a velvet throne that somehow resembles that of the Apostle Peter, with one deadly explosion of words, on August 23, 2003, so-called priest Sauveget quickly transformed his church from a symbol of house of God into a reminder of tyrant Aristide's extreme brutality, infernal chambers.
The result: a journalist, Peterson Milord, who was reporting, and professionally so, on uncommonly vicious dictator Aristide's visit there as well for his employer, Haiti's Radio Vision 2000 (many said he was only in church to inquiry if the faithful were asking God to punish him, and severely so, for having the blood of thousands of Haitians on his hands), was removed from the edifice said to be of religious nature and then allegedly tortured by dictator Aristide's thugs on the order of Sauveget.
The menacingly words of Sauveget a few days later, to be precise August 28, certainly on Haiti's Television Nationale or National Television, may further help explain why millions of Haitians have since believed, and deeply so, Milord, who has yet to return home to be with his wife and young children, is being murdered - a scene reminiscent to the brutal end of Haiti's most prominent radio journalist Jean Leopold Dominique on April 3, 2000, provincial radio journalist Brignol Lindor on December 3, 2001, and thousands more such as perceived freedom fighters.
"Peterson was extremely lucky I only had my microphone with me. If I had my gun with me I would certainly have shot him to death," Sauveget, an avowed Marxist-Stalinist, who like his brain dead colleague, Edner Devalsin, often attempts to trash capitalism, proudly said.
As is often the case, in troubled Haiti having a few or a multitude of extremely unpleasant words for your assumed political enemies are not enough.
Devalsin who this week accused prominent and longtime radio journalist Lilianne Pierre-Paul of being in the pay of the Central Intelligence Agency (CIA) and many other intelligence agencies of sort to destabilize the narco-de facto government of Aristide clearly vowed to write her obituary, but that was weeks after two of radical leftist Aristide's two most notorious senior criminals, Paul Raymond (he cannot read) and Rene Civil, promised to turn Haiti into a bloodbath in the the days to come if Aristide is indicted by the U.S. for trafficking in narcotics and money laundering.
A major bust netted $3.5 million worth of cocaine on board a Haitian cargo ship on the Miami River Wednesday
Immigration and Customs Enforcement agents and U.S. Customs and Border Protection inspectors announced the seizure of 486 pounds of cocaine (photos) that was concealed in two hidden compartments between the ship's fuel tanks in the engine room on the MS Lyly 1.
The Lyly 1, a 184-foot cargo ship, arrived on the Miami River Aug. 16 from Port au Paix, Haiti, and had been searched previously.
The previous searches by inspectors and information developed by ICE agents led last night's team to the machinery areas of the ship including the engine room.
At about 8 p.m., inspectors searching the engine room drilled a hole into the deck. When they removed the drill bit, it was covered with a white powdery substance that tested positive for cocaine.
The ship's crew members (one Peruvian, one Cuban, two Haitians and two Hondurans) were interviewed throughout the night. No arrests have been made at this time.
ICE agents will begin an investigation into who shipped the cocaine and where it was to be delivered.
Copyright © 2003 WPLG Click10.com
US banned diplomats from flying Haiti airline just days before fatal crash
WASHINGTON, Aug. 28 (AFP) - The United States banned its diplomats and official visitors from flying a Haitian airline earlier this month just nine days before one of its planes crashed, killing 21 people, the State Department said.
In addition, the department advised US citizens in Haiti to avoid travelling on Tropical Airways and suggested that those who had booked flights with the carrier consider deferring their plans due to safety concerns.
The security officer at the embassy in Port-au-Prince "determined that it just wasn't safe," one department official said.
"Apparently their maintenance is pretty spotty," the official said, pointing to the advice the department offered in an August 15 update to its Consular Information Sheet (CIS) for Haiti.
"Because of serious concerns about the operation of the Haitian air carrier Tropical Airways, particularly regarding its maintenance oversight, US embassy staff and official visitors to Haiti are instructed to avoid flying aboard either the domestic or the international flights of Tropical Airways," it said.
"Americans considering travel on Tropical Airways may wish to defer their travel or pursue other means of transportation," the updated CIS said.
Although the department noted that the CIS was being released "to update the section on Aviation Safety Oversight," it did not otherwise publicize the information.
The CIS was posted to the State Department website just nine days before a Tropical Airlines twin-engine turboprop plane crashed into a sugar-cane field in the northern Haitian city of Cap-Haitien on August 24, killing all 19 passengers and two pilots.
All 19 passengers and one of the pilots were Haitians. The other pilot was from neighboring Dominican Republic, police said.
Company officials insist their aircraft are all regularly maintenanced and according to local radio reports, the cause of the crash was a door on the Czech-made Let 410 UVP-E aircraft that had not been shut properly and opened after takeoff.
The State Department official said there was also information suggesting that one of the passengers may have tried to open one of the plane's doors in mid-flight but stressed that the information could not be confirmed.
Copyright © 2003 Agence France Presse
US arrests, sets to deport colonel convicted in Haiti's 1994 massacre
WASHINGTON, Aug. 28 (AFP) - A former Haitian colonel convicted of involvement in the Caribbean country's 1994 Raboteau massacre was awaiting deportation after being arrested in Miami, US officials said.
Frantz Douby, 55, was arrested by Bureau of Immigration and Customs Enforcement agents Wednesday after US authorities confirmed he had been convicted at home for his role in the killings.
"This is part of a no safe-haven initiative which targets human rights violators," said Barbara Gonzalez, a BICE spokeswoman in Miami.
Douby was convicted in absentia of involvement in the 1994 massacre in the small Haitian coastal town of Raboteau.
At least two dozen people were shot and killed in the Raboteau massacre, and dozens of homes were destroyed, according to the Center for Justice and Accountability, a human rights group.
Many were shot in boats and fell into the water, or were later thrown in the water, where their mutilated bodies were later found.
Some 16 military officers were found guilty of involvement in the attack, including Douby who was a colonel in charge of logistics.
Raboteau was at the time a stronghold of Jean Bertrand Aristide, who was toppled in a bloody 1991 coup in which Douby participated.
Aristide was reinstated as president in 1994 after 20,000 US troops were deployed on the island in the wake of the massacre.
Gonzalez said three Haitians linked to the massacre, Carl Dorelien, Herbert Valmond and Luc Asmath, had been arrested earlier this year in the United States and deported to Haiti.
The ICE has arrested some 48 human rights violators since it launched its "no safe haven" initiative three years ago, Gonzalez said.
Copyright © 2003 Agence France Presse
Death of taxi driver sturns family; Slaying leaves girl fatherless
By Trenton Daniel and Charles Rabin
Julie Perez wasn't sure how to handle the phone call. The 9-year-old on the other end of the line wanted to know why her father hadn't picked her up from school.
''I didn't tell her the truth,'' Perez said.
The truth is that only 90 minutes before she received the call Tuesday, Perez and her fellow employees at Super Yellow Taxi learned that Diana's father, Alfred Gilles, 42, had been shot and killed as he drove his cab just north of Miami.
Family and friends gathered Wednesday at the Gilles' Northeast Miami-Dade home, a sparsely furnished third-floor apartment he shared with his mother, Amelie Gilles, 83, and Diana. A son, Alberto, 17, lives in Haiti. Alfred Gilles, born in Haiti, was divorced.
The apartment's only decorations: a pink and red heart made out of construction paper and an award with a happy face on it, both on Gilles' bedroom door. Diana won the prize for her proficiency at Spanish in school. She gave it to her dad as a gift.
Family and friends struggled with the news of Gilles' death. He didn't have an enemy in the world, they said.
''He was a nice person. He was really a good person,'' said Serge Lambert, 39, a co-worker and stepbrother of Gilles from Haiti. The two often played dominoes together. ``He was never in trouble.''
DEVOTED TO FAMILY
Relatives recalled Gilles' devotion to his family and his reserved demeanor. ''He was a model, a very lovely fellow, he was a very quiet man,'' said cousin Jean Jean Pierre, pastor of the Christian Missionary Church of Miami.
Diana went to school Wednesday. Amelie Gilles was being comforted by a cousin as she sat on a chair in the living room. She said little about her only son, occasionally weeping.
Workers at Super Yellow Taxi took the news hard, calling Gilles a nice person and a gentleman, and saying the 12-year cabbie was ``someone you could rely on.''
''This is a tragedy for all of us here,'' said Tony Amador, secretary of the company's board of directors.
Amador said he believes Gilles was the third driver for Yellow Taxi who has been killed in the past 15 years. In February, 2002, a Checker Taxi cabdriver was shot and murdered in Hollywood; two Yellow Cab drivers lost their lives the same way, one in Lauderhill, the other in Sunrise, in 2000. The company is one of the largest taxi companies in South Florida.
Meanwhile, police released little information on the murder. Yellow Taxi records indicate the last call Gilles received before he was murdered was at 2:02 p.m. Tuesday. He was called to a home in the 3200 block of Northwest 91st Ter.
The murder happened just before 2:30 p.m. No one knows if Gilles picked up another passenger between those two times.
''When they get a job, they usually call in,'' said Amador. ``Maybe he got another pickup.''
TAXI RAN INTO WALL
Police believe that Gilles was shot several blocks from where his taxi ended up. It careened through several yards, rammed a tree, and knocked an SUV several feet before smashing into the wall of an apartment at 8402 NW 15th Ave.
None of the children or the adult inside that apartment were injured. A woman in the apartment who called police before going out to see what happened said blood covered the cab's front windshield, and it appeared Gilles was shot in the back of the head.
Police would not confirm that.
Said Amador: ``We're just going to have to wait for the police investigation to see what happened. This is a tragedy.''
Funeral arrangements for Gilles were pending Wednesday.
Posted at 10:29 p.m., Saturday, August 23, 2003
Posted at 1:18 a.m., Saturday, August 23, 2003
Haitian asylum seeker won't face charges
By Catherine Wilson, Associated Press Writer
MIAMI, Aug. 22 - Criminal charges have been dropped against a Haitian man who had been indicted for traveling to the United States on false papers even though immigration officers decided he had a strong fear of persecution back home.
Yvon Bleus was one of dozens of immigrants affected by a recent federal policy of prosecuting people with legitimate asylum claims for arriving in Miami with altered passports or other false papers. His trial was set to begin Monday.
The judge dropped charges against Bleus on Friday at the request of prosecutors, said his attorney, Hector Dopico.
Bleus' prosecutors were "trying as much as possible to do the right thing and give him his shot at asylum," Dopico said.
Many indicted asylum seekers have ended their criminal cases with guilty pleas and sentences of time served, but immigration officials can use the convictions to reject asylum claims and expel them.
Bleus flew to Miami on Feb. 27 on a New Yorker's passport and told the first Creole-speaking immigration officer he met that he wanted asylum. Interviewed in depth, he described his activities with a student-led, anti-government movement in Haiti.
Bleus said a senator who hired him was slain in 1999, a friend was shot to death in January and he moved underground after finding an arrest warrant when he got home one day this year.
Marcos Jimenez, the U.S. attorney for South Florida, has said his office is targeting people who seek asylum after they are caught with fake travel papers. Jimenez's spokesman, Matthew Dates, said Jimenez would have no comment.
The U.N. High Commission for Refugees has issued an advisory opinion saying prosecution should wait until asylum appeals are exhausted.
Copyright © 2003 The Associated Press
Posted at 3:47 p.m., Friday, August 22, 2003
Haitian fined, ordered deported
By Melville Harris, Observer Correspondent
CLIFF Josephs, a 17 year-old Haitian national who illegally entered the island more that a year ago, pleaded guilty to the charge when he appeared in the Black River Resident Magistrates Court Wednesday.
He was fined $7,500 or 30 days and ordered deported by Resident Magistrates Marlene Malahoo.
Josephs told the court that he was among a group of 25 people who left Haiti in a boat bound for the United States more than a year ago.
"During the journey I became sick. When the boat spotted land, I landed, while the other 24 continued the journey," Josephs said.
"I met someone and became friend and I have been staying at the Accompong Maroon Village since with the friend" he added.
Josephs was picked up by the police at the Maroon Village on August 12.
When presiding Resident Magistrates Marlene Malahoo told Josephs that the way he had entered the country was illegal, he replied that he wanted to go home.
He was then sentenced and ordered deported.
Immigration officer at the Black River Police Station Corporal Veron Molison told the Observer that contacts have been made with the Haitian Embassy in order for plans to be made for Josephs' return home.
However, Corporal Molison pointed out that it takes weeks for Haitians to leave the island after they have been ordered deported because neither the Haitian or the Jamaican Governments are willing to provide airline tickets.
Sources also told the Observer that the last time Haitians were picked up in St Elizabeth and ordered deported, more than six weeks passed before they were provided with airline tickets to leave the island.
Reprinted from The Jamaican Observer of August 22, 2003.
Posted at 2:19 a.m., Friday, August 22, 2003
NYC lawyer was human rights activist who defended refugees
PORT-AU-PRINCE, Haiti, Aug. 21 (AP) _ Arthur Helton, who actively defended the rights of Haitians fleeing by boat to the United States, died Tuesday in the terrorist attack on U.N. headquarters in Baghdad. He was 54.
Helton, who lived in New York City, was believed to have been meeting with U.N. envoy Sergio Vieira de Mello when the bomb exploded Tuesday, killing more than 20 people including de Mello, officials said Wednesday.
A lawyer, human rights activist, teacher and author, Helton was program director of peace and conflict studies and senior fellow for refugee studies and preventive action at the Council on Foreign Relations, a Washington-based think tank where he had worked since 1999.
Helton was in Baghdad to assess humanitarian conditions in Iraq for a series of articles he was planning to write for openDemocracy, an online news agency, according the council.
He often testified as an international expert in U.S. courts and in Congress on migrants' rights and the protection of refugees. He was an adjunct professor at Columbia University's law school and, from 1982 to 1994, directed the refugee project of the New York-based Lawyers Committee for Human Rights.
He dedicated many years to defending the right of Haitians seeking refuge in the United States from poverty (healthcare for Haiti) and political repression during the dictatorship of Jean-Claude Duvalier and after Duvalier's ouster in 1986.
Helton wrote more than 80 scholarly articles and several books on refugees.
Copyright © 2003, The Associated Press
APROSIFA calls for a safe working environment
Reuters Foundation AIDfund, 20 Aug 2003 12:45:00 - Christian Aid - UK Website: http://www.christianaid.org.uk/news Christian Aid partner the Association for the Promotion of Integral Family Healthcare (APROSIFA) in Haiti has criticised the local police and judiciary for failing to act following the killing of its security guard.
The shooting, which happened on 11 August, was the third serious attack on the organisation in two years.
In an open letter to officials, APROSIFA founder Rose-Anne Auguste writes: 'Which side will the police and legal authorities take: that of those who protect the lives of an impoverished population by providing health care, or those who have destroyed numerous lives with impunity?'
Dumay Carrier was shot dead while on duty. The attack took place just before the start of a paediatric clinic, where many young children were waiting to be seen.
APROSIFA has worked in the slum district of Carrefour Feuilles, in Haiti's capital Port-au-Prince, for the last ten years. It provides low cost health care, advice and HIV/AIDS prevention services to local people.
But staff say they are frequently harassed and threatened with violence.
Guerda Alexis, a social worker with the organisation, says, 'I am often attacked for the work that I do with HIV positive women. I encounter abuse. Sometimes the aggression we encounter is linked to the political situation: it's tense.'
In October 2001, APROSIFA reported how three armed men stormed its main office, attacking the night watchman and raping his young daughter.
A formal investigation was launched by the Haitian government, but has never been concluded.
In July of the same year APROSIFA's director, Dr Blondel Auguste, was arrested, accused of possessing illegal fire arms and plotting against the State. He was eventually released after an international campaign and has since gone into exile.
APROSIFA denies all charges against him, which, it says, are politically motivated. A number of irregularities have been highlighted in the legal procedures used to deal with his case, it adds.
Christian Aid has condemned the attack and has urged the authorities to ensure that all acts of intimidation cease. 'We are calling for a serious investigation and for adequate security to enable APROSIFA to continue its work.,' says Andrew Croggan, head of the Latin America and Caribbean team for Christian Aid.
Posted at 12:01 a.m., Thursday, August 21, 2003
Rights group accuses Haitian authorities
By Michael Norton, Associated Press Writer
PORT-AU-PRINCE, Haiti, Aug. 20 - A human rights group on Wednesday accused Haitian authorities of using police auxiliaries to intimidate the public and discourage opposition to the government of President Jean-Bertrand Aristide.
The special brigades of auxiliaries commit robberies, rapes and murder and create a climate of fear that is reminiscent of past dictatorships in the impoverished Caribbean nation, according to an 11-page report by the National Coalition for Haitian Rights.
"If something is not done, Haiti risks being turned into a bandit state," said a spokeswoman for the group, Marie-Yolene Gilles.
The report follows months of allegations by government opponents, human rights groups and the U.S. State Department that police have aided armed supporters of Aristide in disrupting opposition protests and meetings.
The government denied the report's findings, calling it a "partisan" account.
"There are no police auxiliaries," government spokesman Mario Dupuy said, adding that rights group the National Coalition for Haitian Rights was "attempting to destabilize the government by undermining the morale of the police."
The auxiliaries sometimes wear uniform, use weapons and vehicles provided by authorities or carry official identification, the report said.
The report called the agents a "revised, corrected, and augmented" form of the dreaded Tonton Macoute militia used during the 29-year Duvalier family dictatorship that ended with the 1986 ouster of Jean-Claude Duvalier.
In 1994, U.S. troops restored Aristide to office, and dismantled the army that had ousted him three years earlier. Aristide deployed a civilian police force in 1995, but many members have since been accused of brutality and drug trafficking.
The government and opposition had been in a stalemate since Aristide's Lavalas Family party swept 2000 elections that observers said were flawed.
Copyright © 2003 The Associated Press
Posted at 11:39 p.m., Tuesday, August 19, 2003
U.S. unveils details of new electronic visa lottery
WASHINGTON, Aug. 19, (AFP) - The United States unveiled details of its new rules for foreigners hoping to win US immigrant status through the State Department's annual "Diversity Visa" lottery.
A day after announcing that it would only accept electronic entries and reject those on paper, the department said would-be immigrants to the United States needed to register for this year's lottery online at a new website (www.dvlottery.state.gov).
The website, which will be accessible between November 1 and December 30, is now the only way to enter the lottery, which awards up to 55,000 immigrant visas annually, the department said in a statement.
The new rules have been implemented to improve efficiency in the lottery and reduce the potential for fraud by applicants who may pose a security risk, it said.
The website will have a standard form for all applicants to fill out, it said. Entries must be accompanied by color digital photographs of the entrant, and only one entry per person is allowed.
About six million people a year apply to enter the lottery.
Citizens of countries which have sent more than 50,000 immigrants to the United States over the past five years are ineligible for the lottery, the department said.
This year the ineligible countries are: Britain, including dependent territories but excluding Northern Ireland; Canada; China, excluding Hong Kong and Macau; Colombia; the Dominican Republic; El Salvador; Haiti; India; Jamaica; Mexico; Pakistan; the Philippines; Russia; South Korea and Vietnam, it said.
Copyright © 2003 Agence France Presse
By Robinson, Columbian staff writer
Tuesday, August 19, 2003 - Vancouver native Chris Rolling is preparing to return to his adopted home in Haiti, by turns a tropical paradise and chaotic mess.
As executive director of British Columbia-based Clean Water for Haiti, the 28-year-old Rolling will coordinate the Christian missionary organization's primary purpose: Improving drinking water.
Three missionaries, along with a dozen Haitian employees, teach hygiene and test water quality.
The group trains residents of one of the Western Hemisphere's poorest and most-polluted countries to become technicians and entrepreneurs. Technicians use local materials, mainly concrete and sand, to build and sell the water filters for $25 apiece. Those technicians then train others to do the same.
Ultimately, Rolling said, the benefits of clean water will multiply across the Caribbean nation's entire population of 8 million.
"The idea is to empower Haitians to do this on their own," he said.
Rolling, a 1998 graduate of Western Washington University, signed on with the organization at the end of January. He's scheduled to return to the country next month, after a month-long visit to Vancouver to see family and friends.
Despite rampant poverty under the struggling government of President Jean-Bertrand Aristide, Rolling is looking forward to going back.
"Every day I see something new," he said. "When you drive anywhere, it's dangerous. You take your life in your own hands. It's exciting."
He got all the excitement he could handle early this year, when an assailant came onto the mission's grounds in the town of Pierre Payen and shot one of the workers through the neck. The man survived, but it took considerable effort for Rolling and his comrades to drive the man to a hospital capable of treating the wound.
Emergency response wasn't exactly first-rate.
"We could not get a police department to come," Rolling said.
A relaxed approach to law enforcement is but one of the hardships faced by Haitians. The World Health Organization figures more than one of 10 Haitian children will die before reaching the age of 5, easily the highest mortality rate in the Western Hemisphere.
Wastewater treatment and water distribution systems have fallen into disrepair, leaving most residents without a clean supply of water.
With only a small fraction of the country's forests remaining, the badly denuded landscape has been robbed of its natural ability to capture or filter rainwater. Persistent poverty is at the root of the situation, Rolling said.
"Too many people in too small a place," he said. "They don't have anything left to cook with, except wood."
Despite the problems, Rolling said the country's literacy rate is at 50 percent and rising. Most of the children attend school, providing hope for the future.
As for the missionaries themselves, Rolling said they've established headquarters in a vacation home on the beach.
"We actually live pretty well," said Rolling, who is single.
Although Rolling wouldn't describe the town of Pierre Payen as exactly wealthy, he said it's "less poor than other parts of Haiti." He figures he'll stay in Haiti for at least two years, and possibly much longer.
"I love Haiti," he said.
YOU CAN HELP *
Donations to Clean Water for Haiti can be made through the Shade Tree Foundation, care of Lacy Nathan, 1722 Jasmine St. N.W., Olympia, WA 98502-4143. A benefit concert, with admission of $5, will be held on Saturday at the Big Building at 3600 E. Marginal Way in Seattle. * On the Web: www.cleanwaterforhaiti.org Subscribe to The Columbian Contact The Columbian E-mail comments about the site The Columbian archives
Copyright © 2003 by The Columbian Publishing Co. P.O. Box 180, Vancouver, WA 98666.
Posted at 1:49 a.m., Tuesday, August 19, 2003
Posted at 8:59 p.m., Monday, August 18, 2003
Bahamas says no to Voodoo and sadistic, uncommonly primitive tyrant Aristide
NASSAU, Bahamas, Aug. 14 - Prayer warriors on alert! It's time to pray!An urgent call is going out from Trinity 'City of Praise and the Commonwealth and Global Prayer Grott to all intercessors in the Body of Christ. It's time to pray! God's army of prayer warriors must unite together to pray for the nation of Haiti and for our nation.
In April of this year, President Jean-Bertrand Aristide sanctioned Voodoo as an official religion in Haiti. This means that the Voodoo Priests' in that country can legally perform ceremonies from baptisms to marriages. They can also establish their own churches, schools and hospitals. Voodooism is the idol worship of other gods and spirits and involves black magic and witchcraft. This religion is practiced by approximately 90 per cent of the Haitian population. There is a common saying that Haiti is 70 per cent Catholics, 30 per cent Protestants and 100 per cent Voodoo (photos). The religion evolved from West African beliefs and was further developed by Caribbean slaves who incorporated elements of Catholicism. In fact it is common for voodooism and Catholicism to be practiced side by side in Haiti.
This bold stand taken by the Haitian President calls for action by the believers in the Body of Christ. It calls for us to fight against what is obviously a plan of the enemy to control the inhabitants of that nation and to take it as its own. We must therefore engage in militant intercession against the principalities of darkness ruling over that country.
Haitian Christian leaders, along with their congregations have joined forces to take a stand against this frontal attack of the enemy. They have voiced their opposition via radio and television broadcasts and have sent a petition to the government officials. Because of their boldness and courage, they have been targeted for attacks. There have been reports of christians in Haiti being the victims of brutal beatings and gunshots because of their beliefs and the stand they have taken against voodooism. Many of them are being persecuted for the sake of the Kingdom of God (major U.S. public relations firm adds Wyclef Jean to its roster).
The Bahamian and the Haitian believers must unite, for there is strength in unity. The Body of Christ in The Bahamas must therefore show support for our Haitian brothers and sisters in Christ, not only in prayer but also in our words, actions and attitudes. There is also a shared concern that the Haitians in Nassau and Miami will establish their churches, now practicing Voodooism more openly and to a larger degree. This cannot be allowed to happen! As warriors and watchmen of the city, we must protect our borders through spiritual warfare. We must unite our efforts with the christian Haitians whose earnest prayers are that their homeland will become a true christian nation.
An urgent call therefore has gone out to all intercessors. It is indeed time to pray! We must stand in the gap for the nation of Haiti. A time of fasting and prayer has been called that has begun today, August 14 and will continue through Saturday, August 16 2003. Corporate prayer times will be held twice a day, at 6:00 am and 7:00 pm at Trinity 'City of Praise' located tip top of the hill on Chapel Drive, off Harrold Road.
We must come against the ruling governmental order and structure within that nation, that is, President Aristide and the forces behind his government. We must pray against the renewal of Haiti's commitment to the practices and beliefs of voodooism as an official religion. We must decree and declare salvation, deliverance, restoration and a new Godly governmental order within the nation. We must pray that Haiti will be a Christian nation.
We are also praying for the resolution of the case of the missing boys in Freeport, Grand Bahama. We are praying that there will be no more abduction of our boys and girls. The final prayer focus are for the injured and the families of those involved in the boating accident as well as for the protection of our seas. For the remaining of the year, let us remain diligent in prayer for our nation and the nation of Haiti until we see the transformation. We can not just sit back and let the enemy have his way. We must fight!
For we wrestle not against flesh and blood, but against principalities, against powers, against the rulers of the darkness of this world, against spiritual wickedness in high places. (Eph. 6:12) And we know that "the weapons of our warfare are not carnal, but mighty through God to the pulling down of strong holds." (2 Chron. 10:4) My fellow prayer warriors, "Let us war a good warfare !"
Caption: The Commonwealth and Global Prayer Grotto. The Bahamas' first 24-hour prayer center. A prayer ministry of Trinity city of Praise', located on the top of the Hill on Chapel Drive off Harrold Road. Posted Thursday 14 August, 2003
© 2003 The Nassau Guardian
Posted at 10:48 p.m., Saturday, August 16, 2003
Haiti No. 2 on danger list for media
By Jane Regan, Special to The Herald
PORT-AU-PRINCE, Aug. 16 -- The Committee to Protect Journalists Friday put Haiti on a par with Cuba by saying the two are tied as the hemisphere's second-most dangerous nations for the media.
''We know there's a lot of violence here,'' said Ann K. Cooper, executive director of New York-based CPJ. She led a five-person delegation to Haiti to investigate reports of continued threats and violence against journalists.
Haiti celebrated the end of its 29-year-long Duvalier dictatorship in 1986 with shouts of ''The muzzle is off!'' On Friday, Cooper and other members of the CPJ delegation said it appears that the muzzle is back in place.
''The record is clear,'' said Chicago Tribune syndicated columnist Clarence Page, a member of the CPJ board. ``At this point in the year 2003, Haiti ranks with Cuba and Colombia as one of the most dangerous in which to work.''
COLOMBIA NO. 1
The organization has called Colombia the hemisphere's most dangerous nation for journalists, with Cuba and Haiti tied for second place.
In less than three years, two journalists -- Jean Dominique and Brignol Lindor -- have been murdered and nearly 30 others have fled into exile, the delegation noted.
Mario Dupuy, Haiti's secretary of state for communication and director of the state-owned L'Union newspaper, said the CPJ accusation was ''unfair'' and exaggerated, and blamed journalists for a lack of professionalism.
''We are in a democratic transition. All sectors are learning what that means, including the media,'' he said.
One of the journalists who was covering the news conference offered himself as an example of the organization's concerns.
Radio Peredo Inter owner Johnson Joseph showed a scar on his forehead, which he said came from the butt of a policeman's shotgun.
Joseph, 30, said he was arrested with two of his reporters in Jacmel by Haitian National Police Inspector Jacques Pierre.
When he tried to defend his co-workers, Joseph said, ``suddenly I was hit with a shotgun. Blood was streaming down my face.''
The three men were released without being charged. Police on Friday said they are investigating the case.
MET WITH ARISTIDE
The delegation met with journalists, media owners and President Jean-Bertrand Aristide and other officials. Cooper said she was encouraged that Prime Minister Yvon Neptune promised he would review a list of cases that have been documented and ``respond within 30 days.''
''This is not a fast process,'' Cooper admitted, but she expressed hope that a dialogue could be initiated.
However, Cooper also noted that last year Aristide made a similar promise and that she was ``disappointed in the lack of progress.''
Reprinted from The Miami Herald of August 16, 2003.
Posted at 9:20 p.m., Friday, August 15, 2003
Left photo, a Miami International Airport employee, left, attemps to address concerns of Marie Doyen, of Haiti, middle, and Nelson Mondesir, of the Domincan Republic, right, after their flight to LaGuardia and Newark Airports were cancelled due to a power failure in the Northeast, Thursday, Aug, 14, 2003, in Miami. (AP Photo/Richard Patterson). A young Haitian boy uses his luggage as a bed while spending the night at RDU. Up to the minute: More photos and related news.
Haitian village gets rare gift of regular electricity
Friday, August 15 - For the first time in years, the Haitians of Petit-Goave are seeing the light -- regularly.
Children in the small coastal town no longer have to squint under dim kerosene lamps, vendors can serve frosty drinks, and people feel safer.
The arrival of electricity also has a political dimension -- fewer anti-government protests.
"The immediate payoff is undeniable. Light is bringing social stability," said Jean-Marie Vorbe, president of Sogener, the private energy company that brought electricity to Petit-Goave (toute la nation est appelée / a big financial push from the U.S. Justice Dept.)
"By the end of 2004, every major city except the capital will have 24-hour electricity," he said.
Since April 15, Sogener's two diesel-powered generators have provided the town of 15,000 and neighboring areas with their first constant flow of power in a decade.
In this town of brightly painted cottages, where front porches are battered by salt-laden winds, there's a new sense of well-being. Petit-Goave is an anti-government stronghold, but people here have stopped mounting the often violent protests that used to erupt every few days over questionable elections, President Jean-Bertrand Aristide's government and its failure to deliver basic services.
Homes aren't electrified, and if they were, most Haitians couldn't afford electricity even at the government-subsidized price.
But in a town that faded into the shadows each night, children can now study under bright streetlights.
``People aren't afraid to go out at night any more,'' said Jesula Israel, 45.
Until three months ago, she provided for her two children by selling cigarettes and candy. Now she can run her refrigerator, and people gather on her porch to buy cold drinks and ice cream.
Private companies sell electricity to the state utility, Haiti Electricity, which resells it at subsidized prices. Five towns have gotten power in the past year, and the government has projects, for example one with the Canadian government, that light another half dozen towns.
Haiti's second city, Cap-Haitien, has had round-the-clock power for a year, and Les Cayes since February. Soon Sogener plans to light up western Gonaives and St. Marc, joint population about 150,000.
"We want to light the way to 2004," the 200th anniversary of independence from France, said Lionel Carre, Haiti Electricity director in Petit-Goave.
But there's a long way to go.
Haiti still lacks the money to upgrade its decrepit web of wires, transformers and electricity poles. Last month a frayed high voltage line snapped and fell onto fans watching a basketball game in Petit-Goave, electrocuting 15 spectators.
Fewer than 6 percent of Haitians have electricity full-time, and blackouts still plague greater Port-au-Prince, the capital and home to about one-third of Haiti's 7.9 million people.
In 1999, Haiti consumed 40 kilowatt hours per capita, compared with 646 in neighboring and black-out prone Dominican Republic, according to the latest UN Human Development Report.
Aristide has pleaded with Haitians to be patient, saying progress takes time in a country whose history is a timeline of political unrest.
"When the price of food goes down, the current of hope rises. Even if there isn't electricity, the current of joy can rise," he said in his 2001 inauguration speech.
Instead, poverty has taken a crueler grip as Aristide's government and the opposition have deadlocked over holding parliamentary elections.
While the improvements have satisfied many in Petit-Goave, there's still dissatisfaction over soaring prices and battered infrastructure. In January fuel prices doubled after the government removed a subsidy. This story has been viewed 141 times. Advertising
Copyright © 1999-2003 The Taipei Times
U.S. refuses to recognize elections in Haiti
By Marika Lynch, Knight Ridder Newspapers
MIAMI, Aug. 14 - (KRT) - If Haiti carries out its intention to hold elections this fall, the vote wouldn't get the recognition of the United States, according to a U.S. statement (statement, in French) issued Thursday.
Holding elections that don't comply with an Organization of American States-brokered agreement is "unacceptable," a statement put out by the U.S. Embassy in Port-au-Prince said. It was signed by the embassy's current director, Luis Moreno, who is standing in before a new ambassador takes the helm.
The OAS did not make a formal statement.
On Wednesday, the head of Haiti's electoral council, Alix Lamarque, announced the country was preparing for a first round of legislative elections in November - ignoring concerns by the country's opposition and international diplomats.
The elections are meant to end Haiti's three-year-old political crisis and also fill a political vacuum. With two-thirds of legislators' terms expiring in January, the Haitian Parliament couldn't legally function without a vote.
But the opposition has refused to participate in elections, and under an agreement brokered by the OAS last summer, the Haitian government must make the country safe for campaigning and voting before elections can be called.
Critics say that hasn't been done. Among other examples, they point to an incident last month, where a civic group that opposes President Jean-Bertrand Aristide was attacked by government supporters as they entered one of the capital's poorest neighborhoods.
Haitian government spokesman Mario Dupuy said Thursday that instead of criticizing the plan, the United States should put pressure on opposition parties to participate in elections.
"Haiti is the only country in the world where the people in power are the ones calling for elections," Dupuy said. --- © 2003, The Miami Herald.
Visit The Miami Herald Web edition on the World Wide Web at http://www.herald.com Distributed by Knight Ridder/Tribune Information Services.
Haiti: Ruling party deserter makes revelations about Aristide government
By The BBC Morning Service
Aug. 13 - Defections are multiplying within the Lavalas regime. It is now the turn of Jean Michard Mercier to leave the Lavalas boat.
Mercier was the deputy mayor of Port-au-Prince from 1995 to 2000. He is now making revelations about the regime's practices, notably the various meetings led by Jean-Bertrand Aristide at Tabarre [Aristide's residence] prior to the 2000 elections.
He recalls Aristide's words regarding the elections. Aristide said : We do not want the majority of votes but the totality. He also reveals the role played by Police Inspector-General Jean-Robert Estere in the electoral fraud on the eve of the May 2000 elections.
Estere made more than a million voter registration cards disappear. He also says that criminal acts have been planned at the home of Annette Auguste [known as So Anne - Sister Anne ; Aristide's voodoo priestess].
According to Mercier, Sister Anne was apparently involved in the disappearance and murder of Nanoune Myrtile's baby from the General Hospital.
He also mentions the names of other personalities, such as Interior Minister Jocelerme Privert, Angelot Bell, police officers, such as Jean-Robert Faveur and other state bank officials who are apparently involved in criminal acts.
Wendy Richard reports as follows :
[Richard - recording] Former Port-au-Prince Lavalas Mayor Jean Michard Mercier wants people to believe him when he says that Haiti is being led by murderers and power-obsessed individuals.
The new Lavalas dissident, who is now in exile [in France], says it is unthinkable and unbelievable that Jean Dominique was killed by the people he was defending.
While not wanting to accuse anybody, Mercier tends to draw attention to the presence of Harold Severe, who was at the murder scene on 3 April 2000.
Mercier says "he personally saw Severe with three other men in a white pickup at the crime scene".
Just like those men, people like Estere, of the Haitian National Police [PNH], should be questioned by the court because they are all reputed professional killers of the Lavalas regime.
Mercier underscores that most of the reprehensible acts were planned in conjunction with government officials at the house of Lavalas supporter Annette Auguste who, according to him, is a US citizen.
Government personalities such as Interior Minister Privert ; Bell, who is director-general of the Interior Ministry ; Lavalas Senator [Louis] Gerald Gilles ; Jean-Robert Faveur who was then police superintendent ; and others, such as Leveque Valbrun, of the National Bank of Credit [BNC], and Reginald Mondesir, of the Bank of the Republic of Haiti [BRH].
With regard to the meetings that took place at Tabarre prior to the May 2000 elections, Mercier affirms having heard Aristide say on several occasions : "We do not want to have the majority of votes but the totality."
He adds that Estere was fully involved in the election fraud. The current central director of the administrative police apparently made more than a million voter registration cards disappear on the eve of the 21 May elections.
Mercier also talks about the disappearance of Nanoune Myrtile's baby from the General Hospital. He says the abduction was planned at the home of Sister Anne for mystical ends and sorcery.
With this, Mercier confirms what Johnny Occilius said about that issue. He says that he got that information from current Lavalas Deputy Andre Jeune Joseph, who apparently took part in that meeting. He adds that the baby's remains were buried by Felix Bien-Aime, a powerful OP [People's Organization] leader who was then the director of the Port-au-Prince cemetery and who was executed a few months later by a commando from the Port-au-Prince police station, led by Police Superintendent Ralph Dominique.
Bien-Aime was killed because he threatened to reveal everything.
Mercier also talks about the generosity of the Lavalas regime towards two powerful Lavalas activists. The National Pension Office [ONA] has apparently bought two houses in the Belvil area for 800,000 US dollars for Paul Raymond and Rene Civil.
These were the accusations, revelations, and denunciations by the former mayor, who has come to broaden the list of the Lavalas dissidents.
Nobody knows who the next dissident will be. Source : Radio Vision 2000, Port-au-Prince, in French 1130 gmt 13 Aug 03
BBC Monitoring Service Source Radio Metrpole.
By The BBC Monitoring Service
PORT-AU-PRINCE, Aug. 13 - Policeman Jean Panel Charles has confirmed having deserted his post because of the presence of armed civilians at the Delmas 33 police station to which he had been posted. Agent-2 Charles, who contacted us by telephone, did not want to say where he is now. He revealed that armed civilians at that police station are responsible for a good number of summary executions and flagrant violations of human rights. He maintains that those armed men have the support of the head of that police station and of Lavalas [ruling party] au[ruling party] officials.
Charles said that he did not make those revelations in exchange for money or any other favours from any national or international sectors that may be seeking to tarnish the image of the Lavalas regime. Charles had the following to say about the functioning of the Delmas 33 police station which, according to him, is under the control of some armed civilians known as attaches.
[Charles - recording, in Creole] The policemen are not able to exercise their authority, because of the armed civilians who have full control in that police station. As I said before, those attaches are responsible for the bad acts that were perpetrated there. They arrest people, steal people's money, steal vehicles, put people in secret cells and kill them later on. Those people are so powerful that the policemen are not able to do their job as policemen.
[Journalist Rotchild Francois, Jr] Can you give us an idea of what you have witnessed in that place ?
[Charles] Those men carry out summary executions. When they arrest people, they search them and steal things such as jewels and money. And if they consider it necessary for that person to be eliminated, then they just kill him or her.
[Francois] What is the reaction of the policemen assigned to the Delmas 33 police station to those armed civilians ? Who authorized them to work in that place ?
[Charles] All the policemen there are unhappy with the situation. They are all against it. The attaches are well supported. They have an authorization card from the Interior Ministry and they also have a police card issued by Police Superintendent Emmanuel Mompremier. There is a place not far from the police station that is called Place Adoquin, there is another field in the Petit-Place Cazeau area and also Morne Silo. Those places are used for summary executions. Those men maintain that the zero tolerance method is still in force.
There is a team that works from 1900 to 0500 [local times throughout]. They wear black jackets with blue jeans. If you go to the Delmas 33 police station at about 1900, you will find those armed men right there at the gate.
BBC Monitoring Service. Source Radio Metropole.
Posted at 4:05 a.m., Wednesday, August 13, 2003
Prison wedding hearing delayed
By James Finlaw, Herald News Staff Reporter
TAUNTON, MA, Agu. 13 -- A Bristol County House of Correction inmate who is facing deportation to Haiti will have to wait at least another week to find out if he'll be allowed to marry his fiancée at the Dartmouth jail.
Taunton Superior Court Judge Robert Kane has postponed a hearing that will determine if Garry Jacquet, a 28-year-old Haitian national being held at the House of Correction as a Bureau of Immigration and Customs Enforcement detainee, can marry his fiancée at the jail.
Jacquet's fiancée, Guilaine Lorzeille of Malden, attended Tuesday's hearing and defended the planned marriage. The 24-year-old American citizen is a native of Haiti, and is currently pursuing a degree in human services at the University of Massachusetts Boston.
"My fiancé came to search for a better life, to have a normal life. Now they are taking his freedoms away ... he didn't do any crime and they are treating him like he did something terrible," she said.
"I love him and I believe in him and I'm willing to do all I can to help him get through this," said Lorzeille.
Lorzeille said she met Jacquet about two years ago at a Pentecostal Church in Somerville. She said the two cultivated a loving, lasting relationship that was destined to end in marriage when Jacquet was jailed. She dismissed the belief of Bruce E. Chadbourne, the interim director of the New England Field Office of Homeland Security that the marriage was a sham, and nothing more than an effort to circumvent the law to keep Jacquet in America.
"If I wanted to marry him so he could get a green card, I would have married him the first time I saw him," she said. "I love him."
Bristol County Sheriff Thomas M. Hodgson and Chadbourne have both denied Jacquet's request.
But Kane delayed making a final decision on the matter after learning Jacquet's attorney, Jeffrey Rubin of Boston, had failed to serve Chadbourne with a summons. Rubin and Sheriff's Department attorney Bruce Assad were the only attorneys present Tuesday when the hearing was supposed to take place. Kane opted to push the hearing back to Aug. 21 so Chadbourne could be present for the proceeding.
Rubin filed the injunction on July 23 to get the court to force Hodgson and Customs to allow the marriage to go forward. The filing came the same day Chadbourne sent Rubin a letter informing him that Customs would not grant Jacquet's marriage request. In the letter, Chadbourne characterized the request as a last-minute attempt to "stave off" deportation.
Hodgson denied Jacquet's request on July 16, one day after he received a letter from Rubin asking him to host the wedding at the jail. Hodgson said a wedding would create unnecessary security risks.
Rubin said he was informed of Tuesday's court date on Friday, and did not have enough time to notify Chadbourne of the hearing. He also said he didn't understand why the Sheriff's Department was claiming Customs was the only authority that could authorize or deny the wedding.
"The sheriff had decided not to accommodate the marriage, he held himself as the sole (authority) opposed to marriage," said Rubin.
"The sheriff is saying now he has no say over it," he said.
Assad disputed Rubin's claims, saying Hodgson had made it clear that Customs had the final say on Jacquet's request from the beginning.
"The sheriff has never said that. Right from Day One, the sheriff has said the ultimate decision is with (Customs) and not with him. (Rubin's) just plain wrong," said Assad.
Rubin characterized Jacquet as a respectable, hard-working man who came to the United States in 1999 seeking political asylum after fleeing political violence in Haiti.
He said Jacquet's request for asylum was turned down in 2001 by Immigration Judge Thomas Ragno. Jacquet appealed the decision, but the appeal was denied on Dec. 27, 2002. Jacquet, a Somerville resident who worked as a carpenter, was detained in June and incarcerated in Dartmouth in mid-July.
Rubin said Jacquet was involved in politics while he lived in Haiti, working for a democratic mayor. Rubin described the nation's unstable political climate, saying one of Jacquet's former political colleagues had been shot to death, and another shot at, after his departure from the island nation.
Because the case will involve the Sheriff's Department and Customs, a federal agency, Assad said he believed the hearing should be held in federal court. He said Rubin should have also filed the injunction against Customs, not the sheriff.
"The fact is that it's the immigration department that has the final say on whether he (Jacquet) can get married. It's not with us," said Assad.
"Basically what we're saying is the argument to this stage has been with the sheriff and that is the wrong party. He should be discussing this with (Customs)," he said.
Assad said he was not sure whether Kane would opt out of the hearing in favor of sending it to federal court. Rubin said he thought the hearing would be held in Bristol County Superior Court.
"I don't think Judge Kane would ask us to return to Bristol County if he had questions about jurisdiction. I may be wrong about that, but we'll come back next week," he said.
James Finlaw may be reached at jfinlaw@heraldnews.com.
©The Herald News 2003
Copyright © 1995 - 2003 PowerOne Media, Inc.
Posted at 10:12 p.m., Tuesday, August 12, 2003
Extremely dangerous convicted child molester fled to Haiti is wanted by the U.S. for also violating VA prison parole
PORT-AU-PRINCE, Haiti, Aug. 12 - U.S. and Haitian police are hunting an American convicted of child molestation after he violated parole and entered this Caribbean country on fraudulent travel documents, the U.S. Embassy said Tuesday.
Mario "Tony" Leyva, 57, was a self-ordained evangelist who traveled the eastern United States and Haiti in the l980s, conducting revivals in tents.
He convinced parents to allow their young sons to travel with him on tours, during which he sexually assaulted the boys and sold some of them off as prostitutes, according to court documents.
Leyva, a Cuban-American, was arrested in 1988 in Roanoke, Va., and pleaded guilty to molesting more than 100 teenage boys in North Carolina, Virginia, Georgia, Florida, Mississippi, Louisiana, Arkansas, Ohio and Indiana.
He also pleaded guilty to conspiracy and interstate transportation of minors for prostitution.
After serving 11 years of a 20-year prison term, he was released from Virginia state prison on parole in April 2002, but last month fled the Roanoke area where he was required to live under supervision until 2008.
The U.S. Embassy's regional security office and Haitian national police, working together, discovered Leyva had entered Haiti on July 16 using fraudulent documents.
He was last seen Aug. 6, the embassy said, but did not elaborate. It also was unknown if Leyva is suspected of abusing children in Haiti.
"We consider him to be dangerous," the embassy said in a statement issued along with photographs of the suspect.
The U.S. federal marshal service is offering a reward of $1,000 for information leading to Leyva's capture.
Posted at 3:20 a.m., Tuesday, August 12, 2003
Miami man from Haiti claims half of $80.1 million Lotto jackpot
TALLAHASSEE, Fla., Aug. 11 - A Miami man from Haiti claimed his half of a $80.9 million Lotto jackpot on Monday, saying he bought the winning ticket the first time he ever played the Florida Lottery.
Jacquelin Ferdinand, 55, decided to take a lump sum of $21,601,782.48. He could have chosen 30 annual payments of about $1,349,000 a year.
"This was the first time I ever played Lotto, and the numbers I chose were at random," Ferdinand said at Florida Lottery headquarters.
Ferdinand said he didn't check his numbers until two weeks after the July 26 drawing. He went to the suburban Miami gas station, where he bought the tickets to jot down the winning numbers.
"I then drove down I-95 checking my numbers when I realized I had all six numbers,"
Ferdinand said. "I had to pull over because I was stunned, and had to wait 15 minutes before heading off." Ferdinand said he will meet with his family to decide what to do with his winnings. He said he plans to keep working, but told Lottery officials that he didn't want to disclose his occupation to help protect his privacy.
The Lotto jackpot was advertised as $75 million, but higher than expected ticket sales pushed it to $80.9 million. It was the 10th largest jackpot in Lotto history.
A Hollywood couple had previously claimed the first half of the jackpot with a Lotto ticket they bought in Fort Myers.
Amy and William Wildstein bought their ticket with quick pick numbers at a service station in Fort Myers, which will split a $10,000 reward with the Miami area station.
The winning numbers picked July 26 were: 12-13-21-31-37-47. ___ On the Net: Florida Lottery: www.flalottery.com
Copyright Associated Press
Posted at 6:25 p.m., Monday, August 11, 2003
Former Haitian army soldier accused of torture arrested in Florida
FORT PIERCE, Fla., Aug. 11 (AP) -- A former Haitian army soldier accused of torture has been arrested by immigration agents in Florida and faces deportation.
Olichard Sauveur was being held at the Krome detention center in Miami-Dade County after his arrest Friday, said Ana Santiago, a spokeswoman for the Bureau of Immigration and Customs Enforcement. Santiago said Sauveur is accused of "physically abusing people who were resisting arrest."
Santiago said Sauveur committed the human rights abuses during the early 1990s, but she did not know if they were perpetrated under Haitian President Jean-Bertrand Aristide, who first took power in 1991. Aristide was ousted in a coup that same year by Gen. Raul Cedras, whose regime was accused of widespread killings and human rights violations. Aristide returned to power with the help of U.S. troops in 1994.
Sauveur came to the United States from Haiti shortly after the abuses and had been living in Fort Pierce, Santiago said. U.S. officials were processing Sauveur for deportation to Haiti.
"It could happen any time," she said Monday.
The arrest was latest in a continuing effort by immigration authorities to crack down on foreign nationals living in the United States who are suspected of human-rights abuses overseas.
About 50 human rights suspects have been arrested nationally since 2000, including several people suspected of being members of a death squad that operated in Honduras in the 1980s.
Posted at 10:20 p.m., Saturday, August 9, 2003
Advocates challenge prosecution of asylum seekers caught entering U.S. with fake passports
By Catherine Wilson, Associated Press Writer
MIAMI, Aug. 8 (AP) -- Immigration officers at Miami International Airport decided Yvon Bleus had strong grounds for pursuing asylum.
A senator he worked for in his native Haiti was shot and killed, as was a friend who was also involved in the volatile world of Haitian politics. Bleus arrived home one day and found a warrant for his arrest.
But after fleeing to Miami and completing the first step toward freedom from political persecution, Bleus was arrested. He had used a doctored passport to enter the country. Now, he could be deported.
Bleus, a 26-year-old involved in the student movement against Haitian President Jean-Claude Aristide, is one of dozens of recent arrivals with legitimate asylum claims who have used fake documents -- often the only way to get out of their country -- and found themselves charged with impersonating a U.S. citizen, part of a recent crackdown on illegal immigrants since the Sept. 11 terrorist attacks.
"It violates the spirit of the asylum law," said Stephen Yale-Loehr, an immigration law professor at Cornell Law School. "It's part of the general restrictionist trend since Sept. 11."
The way Bleus got into the country is typical of many asylum seekers. He replaced the photo in a U.S. passport obtained by his brother-in-law with his own, and flew to Miami on Feb. 27.
Haitians represent the largest number of indicted asylum seekers, but Latin Americans also are being prosecuted. Many end their criminal cases with guilty pleas and sentences of time served, but immigration officials can use the convictions to reject asylum claims and expel them.
A coalition of 58 refugee, human rights and religious groups wrote Attorney General John Ashcroft and Homeland Security Secretary Thomas Ridge in late July arguing the practice of indicting asylum seekers who enter the country using doctored documents contradicts federal law.
Marcos Jimenez, the U.S. attorney for South Florida, defended his office's decision to target asylum seekers caught with fake travel papers.
"We're not going to tolerate people who are sneaking into our country," said Jimenez, whose district stretches 220 miles from Key West to Fort Pierce. "At other airports, the problem has been solved. We've got a sieve at our airport."
Paul Rosenzweig, a senior fellow at the Heritage Foundation, a conservative think tank, said entry on false papers is illegal and special provisions for asylum seekers in a 1951 international treaty on refugees are not binding on the United States.
"People who come in and use false documents and enter through other illegal means start off by evidencing a kind of disrespect for the law," he said. "There's a good case to be made for changing the law if you want to make it, but you don't have a right to violate the law just because you disagree with it."
Immigration officers decide initially whether a refugee demonstrates a credible fear of persecution in their homeland based on their race, religion, nationality, membership in a particular group or political opinion. An immigration judge makes a final decision on asylum claims, often years later.
Neither the U.S. attorney's office nor the U.S. public defender's office, which handles most of the cases, had specific figures on the number of prosecutions.
Bill Strassberger, spokesman for Homeland Security, said he had no comment on the letter sent to Ridge.
Bleus has been in jail since his arrival and is awaiting a Sept. 8 trial.
Cheryl Little, head of the Florida Immigrant Advocacy Center, said expulsion is unusually risky for Haitians. Criminal deportees are jailed on their return to Port-au-Prince, and international observers report deaths from malnutrition and abuse are commonplace in Haitian jails.
On the Net: U.N. High Commission on Refugees: www.unhcr.ch/cgi-bin/texis/vtx/protect Heritage Foundation: www.heritage.org/ Department of Homeland Security: www.dhs.gov/dhspublic/ Florida Immigrant Advocacy Center: www.fiacfla.org/
Haitian released after 19 months; Gwinnett drops murder case for lack of evidence
By Beth Warren, The Atlanta Journal-Constitution
Atlanta, Goergia, Aug. 8 - After sitting in jail for 19 months awaiting trial, Chester Cerosse is a free man.
Murder charges were dropped Friday against the Norcross man, just a week after Gwinnett District Attorney Danny Porter vowed to take the case to trial.
Porter's office asked a judge to dismiss the murder charges, citing a lack of evidence.
"It's sad that it took this long, but overall I think the process worked for Chester," his Lawrenceville attorney, Marc Pilgrim said.
Cerosse said he missed his own bed and spending time with his family, particularly his 2-year-old daughter. He has been jailed since December 2001 in the death of Anthony Woron, 22, who was shot outside a rowdy, beer-fueled high school graduation party.
Cerosse acknowledged he was at the party May 26, 2001, but told police he wasn't involved in the shooting. The party had drawn a crowd of about 200, ranging from college-bound teens to older gang rivals.
No one reported seeing Cerosse pull the trigger. The gun used has never been found. There was no DNA or physical evidence linking Cerosse to the crime.
A friend of the victim named a Hispanic gang member -- not Cerosse, who is a native of Haiti -- as the shooter. Police dismissed that witness's account, saying he was drunk.
Cerosse was arrested after a man, who was not at the party, told police Cerosse had confessed to the shooting.
The man, who was in jail at the time on an unrelated felony charge, was seeking leniency for sharing the information, according to a transcript of the interview. Some of the details the man provided did not match the evidence of the shooting, said Gwinnett police investigator Marcus Head
Posted at 3:19 a.m., Saturday, August 9, 2003
Hollywood man charged with helping immigrants use fraud to get work visas
By Ann W. O'Neil, Sun-Sentinel Staff Writer
An investigation dubbed Operation Open Door culminated Thursday with the surrender of a Hollywood man accused of running a document mill that enabled more than 100 illegal immigrants to fraudulently obtain U.S. work visas, federal authorities say.
Handcuffed and dressed in a suit, Rejean LeDuc, 48, appeared before U.S. Magistrate Judge Barry S. Seltzer in Fort Lauderdale federal court as a 25-count grand jury indictment was unsealed. It alleges conspiracy and filing false visa applications.
The indictment charges that between January 1999 and March 5, LeDuc's Hallandale company, U.S.A. Direct Inc., charged illegal immigrants between $1,200 and $5,000 apiece to supply work visa applications supported by phony work histories, tax returns, diplomas and corporate reference letters.
Although the indictment cites more than 100 instances of fraud, charges were filed in connection with 24 workers who entered the United States from Canada, France, Belgium, Poland and Haiti.
The conspiracy charge carries a maximum sentence of five years in prison and a $250,000 fine. Each of the other 24 counts carries a maximum sentence of 10 years in prison and a $250,000 fine, federal prosecutors said.
According to the indictment, LeDuc's company exploited visa provisions allowing foreigners to work in the United States if they are highly educated, possess expertise or specialized knowledge in their professions or are executives or management trainees. The immigrants have not been charged.
LeDuc surrendered Thursday morning, pleaded not guilty and was freed on $300,000 bail. Seltzer told the defendant that as a condition of bail, he could not be involved with the company, which was shut down in March by federal authorities.
LeDuc told the judge he had been prevented from entering the United States in 1992, after agents questioned him about his criminal record in Canada. The defendant acknowledged he had been convicted of insurance fraud, for which he received a prison sentence, and writing a bad check, resulting in probation.
To carry out the phony work visa scheme, the grand jury alleged, LeDuc set up more than 200 corporations in Florida.
Assistant U.S. Attorney Jeffrey Kay is prosecuting the case.
Ann W. O'Neill can be reached at awoneill@sun-sentinel.com. or 954-356-4531.
Copyright 2003, Sun-Sentinel Co. & South Florida Interactive, Inc.
Reprinted from Sun-Sentinel on August 8, 2003.
Posted at 2:29 a.m., Thursday, August 7, 2003
Aristide is said to be indicted
By Yves A. Isidor, wehaitians.com executive editor
The idea that a sitting foreign legitimate president, albeit a de facto one, cannot be charged, say by the United States, with trafficking in narcotics, for example, changed with the capture of former Panamanian dictator Manuel Antonio Noriega by the U.S. military, in 1989, one year after he was secretly indicted by a Miami Federal Grand Jury of racketeering and drug charges.
| | | | |
| --- | --- | --- | --- |
| Manuel Antonio Noriega: Indicted, captured, convicted and sentence to 40 years in prison by the U.S. | Michel François: Former Haitian police/military strongman indicted on drug trafficking by the U.S. but still at large in Honduras. | A copy of François' indictment | Jean-Bertrand Aristide: ? |
Noriega, who was convicted on eight counts of racketeering, drug trafficking and money laundering, in 1992, was sentenced that same year to 40 years in prison.
Has Jean-Bertrand Aristide, Haiti's brutal dictator, former priest of the shantytowns and long said drug lord, been indicted of late?
"Though Mr. Aristide (his business partner drug kingpin Jacques Ketant, his daughter's godfather) thinks he is untouchable but what comes next after his presidency will be extremely painful for him and many of his close associates," a credible source told wehaitians.com Wednesday by telephone on the condition that he not be identified in this story.
Pressed for more information of the sort, the source declined to be specific but said "You don't commit crimes of international significance and then expect to join the convent while keeping the proceeds generated from them."
Drug cartels getting help from Russians; much money laundering is also done in Haiti
By Susana Hayward, Knight Rider Newspapers
MEXICO CITY, Aug. 6 — The Russian mafia, including former KGB agents, has infiltrated Mexico's weakened drug cartels and is helping them smuggle illegal narcotics to the United States, according to U.S. and Mexican officials and independent drug experts.
Russian mobsters have been most effective in penetrating drug gangs in the Tijuana/Baja California/San Diego region, said Luis Santiago Vasconcelos, the head of the Mexican Attorney General's Special Unit for Organized Crime. He described the Russians as highly skilled and "extremely dangerous."
Some of them are advising Mexico's drug cartels and laundering their money in exchange for being allowed to operate, Steven Casteel, assistant administrator for intelligence at the U.S. Drug Enforcement Administration, told a Senate Judiciary Committee hearing in Washington in May. The fee for laundering drug proceeds typically is 30 percent or more.
Casteel said the Russian mafia's Mexican infiltration was consistent with the globalization of organized crime in recent years.
Russians showed up in Colombian cocaine cartels a decade ago. They've been spotted in Mexico since the late 1990s.
Their extensive penetration in the Tijuana-San Diego area follows the 2002 arrests of Benjamin Arellano-Felix, the alleged patriarch of the region's drug cartel, and a dozen of its other alleged leaders. Russians took up some of the slack when the weakened cartel broke into "cartelitos," said Bruce Bagley, a University of Miami professor of international studies who has written extensively about drugs, organized crime and the Russian mafia.
Another leading Mexican trafficker, the late Amado Carrillo Fuentes, the head of the Juarez cartel, pioneered the use of surplus Soviet military aircraft as smuggling planes. He's said to have visited Moscow in the late 1990s to confer with leaders of Russian drug gangs.
Carrillo Fuentes, known as "Lord of the Skies," died in 1997 while undergoing surgery. His cartel has also decentralized, according to drug analysts, giving Russians new opportunities in Mexico.
"Russian drug thugs are leaner and meaner," Bagley said. "They operate on a low profile, don't wear gold chains and don't cut people up with power saws or dump them in rivers."
The decapitation of Mexico's biggest drug cartels, for which U.S. authorities credit President Vicente Fox, is giving the Russians what Bagley called "a golden opportunity in Mexico."
The cartels have fractured into smaller gangs operating at city and state levels, where they're harder to detect and officials are easier to bribe. The smaller groups are more open to the Russians, Bagley said, because they need help with protection, transportation and money laundering.
Much Russian money laundering is done offshore, he said, in Haiti, the Dominican Republic, Puerto Rico and Cuba as well as in Russia.
Copyright © 2003 The Seattle Times Company
Posted at 7:38 p.m., Wednesday, August 6, 2003
Two Haitians guilty in Boston's park rape sentenced to 30 years
By Szabolcs Toth, Globe Correspondent, 8/6/2003
Two Dorchester men who pleaded guilty to forcing a New Hampshire woman from her car and raping her at gunpoint in Franklin Park three years ago were sentenced to 30 years in prison yesterday in Suffolk Superior Court in Boston. Max Celestin, 23, and Eddy Privat, 24, pleaded guilty in June to raping the woman and assaulting both her and her male companion. Superior Court Judge Barbara Rouse said in a sentencing memorandum that she considered the impact on the victims in imposing the sentences.
''The horrors of that night will be with each of the victims -- always,'' Rouse said, noting in the memorandum that the defendants took turns raping the victim and trading off the gun, at one point demanding her wallet.
Celestin and Privat admitted to three counts of aggravated rape and two counts of armed robbery, assault with a dangerous weapon, and assault and battery. Police said the attack occurred shortly after 1 a.m. on Aug. 28, 2000, when the men forced the woman and her friend at gunpoint from their car that was parked on a secluded road in Franklin Park in Mattapan.
A third man, Maxene Pierre, 39, of Dorchester, is awaiting trial on the rape, robbery, and assault charges, as well as an additional charge of conspiring to murder the rape victim's companion that night, a key witness in the rape case.
This story ran on page B2 of the Boston Globe on 8/6/2003.
© Copyright 2003 Globe Newspaper Company
© Copyright 2003 New York Times Company
Food crisis worsening in Haiti, warns FAO
PORT-AU-PRINCE, Haiti, Aug. 6 - More than 3.8 million people in Haiti are hungry, reported the United Nations Food and Agriculture Organisation last week.
The FAO warns of a worsening 'silent' food crisis, a result of deteriorating living conditions, as people's survival mechanisms are weakened and their vulnerability increases. The country's social and political tensions continue to exacerbate the situation.
Hunger in Haiti is nothing new. The nation remains the poorest in the western hemisphere, and was designated the world's third hungriest nation by the UN in 2000, after Somalia and Afghanistan.
This depth of hunger rank highlights the difference in daily kilocalories that the undernourished consume, compared to what is needed to maintain body weight and undertake light activity. While 3.8 million hungry people in Haiti may not be dying of starvation, they are often thin, and the damaging effects of under-nutrition are evident over the long term. A hungry body compensates for an inadequate diet by slowing down physical activity, and growth in children. As well as being more vulnerable to disease, chronic hunger makes it harder for children to concentrate in school, mothers may give birth to underweight babies, who have a lower chance of survival, and adults may lack the energy to lead an active and productive life.
Increasing food security is one of World Vision Haiti's key priorities. In the last quarter, with funding from USAID, World Vision Haiti has delivered approximately 1,400 metric tones (MT) of food to: 17,346 beneficiaries of its Mother and Child Health activities, including infants and pregnant and lactating women 4,167 schoolchildren 5,614 vulnerable farmers and their families, as part of an emergency seeds and harvest protection programme
Food distributions are coupled with a strong agricultural programme to enable farming families and communities to increase their food production, and reduce their vulnerability to food shortages. Programme activities this quarter included improving crop genetics and production technologies, developing farming practices that replenish soil fertility while protecting the natural resource base, promoting bio-intensive market gardening and alternative cash crops, reducing soil losses on hillside farms through appropriate soil conservation barriers and planting of grafted fruit and forest trees on contour. This quarter also included focused efforts to establish on-farm trials and the training of field staff and contact farmers.
As the educational programme activities funded by DAP school feeding phased out, World Vision Haiti continues to use private funds to improve educational infrastructure, teaching performance and material access and student attendance in World Vision programme areas.
World Vision Haiti is currently submitting a $13.4 million proposal to USDA, to provide daily school meals for 140,000 primary school students during the next two years, in Central Plateau, La Gonave and the north, and to improve school infrastructures and teacher training for 700 targeted schools.
Posted at 8:30 p.m., Monday, August 4, 2003
Hundreds mourn gang leader detained by police
PORT-AU-PRINCE, Haiti, Aug. 4 (AP) -- Hundreds gathered to mourn a pro-government gang leader slain under mysterious circumstances after being taken into police custody last month.
Roland Francois, a strong supporter of President Jean-Bertrand Aristide, was last seen July 20 when he was detained by police and taken to a suburban station in Delma. He called and spoke to his wife, but he was never seen alive again.
The next day, his bullet-riddled body was found in the city morgue. Police have given no information about why they picked him up or if they had released him before his death.
"Whenever Aristide called on him, he said 'yes' to whatever he was asked to do," said Francois's wife, Sonya Derosier. She did not elaborate on what he had been asked to do.
During a private meeting she had with the president, "Aristide expressed his indignation" at Francois' murder, Derosier said Saturday in an interview with private Radio Kiskeya.
Nevertheless, several of those at the funeral Saturday blamed Aristide for Francois' death.
"Down with Aristide," shouted the mourners as they followed Francois' coffin from St. Joseph's Catholic Church to the downtown cemetery in the capital, Port-au-Prince. "Look what you've done to us. We'll never vote for you again."
Francois headed the Fon Touron gang that for years has been fighting with another gang led by Franco Camille for control of La Saline, a slum in the capital where they both are based.
Merchants have complained the gangs extort money under the pretext of collecting municipal taxes, but the gangs are also known for civic activities including emergency relief and neighborhood cleaning.
On Friday night, an unidentified gunman opened fire in La Saline, where members of Francois' gang were sweeping streets. Sixteen-year-old Gerline Napolean was killed, while four others were injured. Police have no suspects.
Francois "did a lot of jobs for the government," said Bernard Casseus, grass-roots leader of the nearby shantytown of Cite-Soleil. But after using him "the government programmed his death," Casseus said during an interview Saturday with Radio Kiskeya.
A former city employee in Cite-Soleil, Johnny Occilius, told the radio station Tuesday the government used the gangs as death squads and to break up opposition demonstrations and meetings.
He accused gang leader Camille of killing Francois under orders from Interior Minister Jocelerme Privert.
Camille has since denied the accusation, and Privert said he would respond to the charge after consulting with his lawyers.
Occilius has since fled this impoverished Caribbean country for an unknown destination in the United States.
Copyright 2003 The Associated Press
By Georgett Roberts, Tatiana Deligiannakis and Cynthia R. Fagan, New York Post Writers
August 3, 2003 -- A man in a blood-soaked shirt waited for cops at his Valley Stream, L.I., house yesterday while his wife lay stabbed to death inside.
Neighbors in the quiet, tree-lined neighborhood where the couple lived said they saw husband Jean Elie, 59, covered in blood sitting on the curb outside the house on Charles Street at around 8 a.m. - about the same time cops showed up.
His wife, Adeline Joseph, 45, was found butchered inside the house. One cop at the scene described the killing as a "domestic incident."
Last night, Elie was hospitalized with cuts and chemical burns, and apparently too sick to talk to police about what happened. He has not been charged, although police said the death appeared to be criminal.
"A woman is dead inside. It appears to be under criminal circumstances and her husband is being treated at the hospital," said Detective Kenneth Farrell. Police also could not say how Elie may have been burned or if his wife suffered from any chemical exposure.
Neighbor Barbara Brown-Lax, 52, said that, before cops arrived, she saw Elie holding his hand over a cut on his head. "He sat on the curb. I saw the [EMS] workers cutting his bloody shirt. He was bleeding from his neck and head when they took him to the ambulance."
Another neighbor said Joseph confided in her about her stormy relationship with Elie, who was twice divorced. "She did tell me about a year ago that it was over between them. He was going to be out, the relationship was over. But he was still there. She never mentioned it after that."
A former business associate of Elie, a car salesman, said: "He had a loud temper. He always looked well dressed and was always hunting for women."
The associate, who did not want to be identified, added: "But he never said anything bad about his wife." Joseph's grieving family gathered at a relative's home last night and spoke about how happy she was about her recent trip to her native Haiti.
The victim's brother said he was supposed to meet his sister, an accountant at a nonprofit organization, yesterday, but could not reach her via phone. "Then I found out what happened," he said tearfully.
NEW YORK POST is a registered trademark of NYP Holdings, Inc. NYPOST.COM, NYPOSTONLINE.COM, and NEWYORKPOST.COM are trademarks of NYP Holdings, Inc. Copyright 2003 NYP Holdings, Inc.
Homesick hubby in murder suicide
By Dan Mangan, Larry Celona and Todd Venezia
July 31, 2003 -- A husband and wife were found dead yesterday inside their Brooklyn apartment in a apparent murder suicide, police said.
Edward Alexis apparently stabbed his wife Marie sometime after 7 a.m. yesterday morning and then stabbed himself in the chest fatally, cops said.
"It's so shocking," said Marie's cousin Marie Delille. "That's something that you cannot believe that's happening."
Delille said Edward Alexis, 42, came to the United States about four or five years ago with Marie, 40, from their home in Port-au-Prince, Haiti. The college-educated couple and their two sons, aged 11 and 15, lived a good life in Haiti, the cousin said, but Marie insisted they move to the United State after visiting here.
Delille said Edward never felt comfortable in the United States. Both Delille and police sources said that Edward called one of his wife's male cousins at about 7 a.m. on the morning of the couple's death.
"He said 'My wife has a problem here,' "
Delille said. After that, the cousin went to the family's apartment at 248 E. 28th St. in Flatbush and went inside.
He found the couple's kids unharmed and apparently unaware of what had happened. After a short time, he forced his way into a room, where he saw the couple's bloody bodies.
Police sources said an initial probe indicated Edward killed his wife with a kitchen knife by stabbing her in the face, before committing suicide.
Delille told The Post that she believed that her cousin may have killed herself with bleach and then Edward Alexis stabbed himself out of grief. "He killed himself with a knife," she said.
"I think she drank Clorox." Police confirmed that bleach was found at the scene but have no evidence that Marie Alexis drank it. Also, police found stab wounds on the woman's body. Autopsy results are pending. "She is my girl, she is my girl," said the distraught cousin.
"They almost had everything in Haiti. They had a better life in Haiti. "He didn't want to stay from the beginning."
NEW YORK POST is a registered trademark of NYP Holdings, Inc. NYPOST.COM, NYPOSTONLINE.COM, and NEWYORKPOST.COM are trademarks of NYP Holdings, Inc. Copyright 2003 NYP Holdings, Inc.
Men ransack Haitian house under FBI guise
HAINES CITY, Aug. 4 -- Asleep in his bed Saturday night, Flobert Telot heard a loud noise from the front of his home.
Telot, 22, passed it off as one of the inevitable noises that come with living in a house with nine other people.
But then he felt a punch to his rib cage and opened his eyes to find a gun aimed at his head.
Five men who identified themselves as FBI agents had kicked down the door of the home on 21st Street. They were armed with a shotgun and four handguns.
But the men were actually home invaders, and when the break-in ended 30 minutes later, the five intruders had stolen at least $700 for Telot's cousin's trip to Haiti, 12 watches, numerous rings and other jewelry that belonged to Telot and his nine relatives.
No one was seriously injured.
The five men face armed burglary and home invasion charges, Haines City police said.
Clad in what seemed to be black "drug squad" FBI shirts, ski masks and gloves, the men entered the home and threatened to kill Telot and his nine relatives if they didn't turn over drugs.
"They kept saying `where's the dope, where's the dope,' " Telot said. "They said they were going to blow my brains out."
Telot repeatedly told the men there were no drugs in the house.
The men grabbed Telot's three younger cousins, aunt and uncle, shoved them into a bathroom and closed the door, Telot said. They put a towel over Telot's head, took him into the living room and forced him onto the floor next to his parents.
As one man stood over him, the others searched the kitchen for valuables.
The men seemed like the real thing when they first broke in. But it became clear it was a ruse. One of the "agents" threatened to blow Telot's head off. The men smelled of marijuana, Telot said, and on the back of one man's shirt the words, "Female Body Inspector," were emblazoned.
The men repeatedly addressed each other as captain, talked in whispers and used cell phones to communicate with someone outside the home, Telot said.
A mention of Telot's sister and brother might have saved Telot and his family. As the men ransacked the home, Telot told the men his siblings were expected home in five minutes.
The men became nervous and soon slipped out the door one at a time.
Before the last man left, he told Telot he was going to the car to get a drug dog so he could search the home, Telot said.
Telot then heard a car arrive and speed away, he said.
He said he felt lucky.
"I thought I was dead when he put the towel over my head," Telot said.
The men were black and muscular, Telot said. He said one of the men was overweight.
Anyone with information about the five men can call authorities at 421-3737 or Crimestoppers at 800-226-TIPS(8477).
John Chambliss can be reached at john.chambliss@theledger.com or 863-802-7539.
Last modified: August 04. 2003 12:00AM
Copyright 2003 The Ledger
Posted at 2:19 a.m., Saturday, August 2, 2003
Ex-Haiti police spokesman goes into exile
PORT-AU-PRINCE, Haiti, Aug. 1 - Saying he feared for his life, the former spokesman of Haiti's much-criticized police said Friday he had gone into exile in Canada.
Jean-Dady Simeon, the third high-ranking member of the force to flee the country this year, had been spokesman for the 4,000-member force until he was appointed head of public relations in May.
"I was threatened by police officers," he said in a telephone interview with the private Haitian broadcaster Radio Caraibes on Friday. He declined to elaborate.
Haitian officials declined to comment on Simeon's claims.
"Simeon wanted to leave Haiti to settle his personal affairs, and he needed a pretext," Minister of Culture and Communication Lilas Desquirono said.
The government and opposition have been at loggerheads since Aristide's party swept 2000 legislative elections the opposition says were rigged.
The Organization of American States has urged Aristide's government to establish a secure environment and disarm partisans before it calls new legislative elections to end the stalemate.
The police force, accused of human rights abuses, also should be reformed and purged of corruption, the OAS has said.
Copyright © 2003 The Associated Press
Posted at 4:25 p.m., Friday, August 1, 2003
U.S. accuses de facto Haitian officials of attempted murder
By Michael Norton, Associated Press Writer
PORT-AU-PRINCE, Haiti, Aug. 1 -- In a fresh blow to President Jean-Bertrand Aristide's government, the U.S. ambassador said Thursday there is evidence Haitian government officials paid thugs to attack a recent meeting of civic leaders. More than 40 were injured.
Ambassador Brian Dean Curran said the findings of an investigation by the embassy were sent to the U.S. State Department.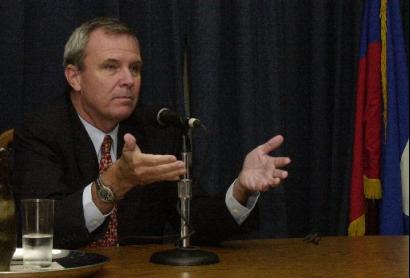 US Ambassador to Haiti Brian Dean Curran during his farewell press conference in Port-au-Prince, Haiti, on Thursday, July 31, 2003, before his departure for a new post in Naples, Italy, tells reporters he is leaving the country full of 'deception' because the three-year political impasse remains unresolved. (AP Photo/Daniel Morel)
''We've developed quite a dossier on what actually happened,'' Curran told The Associated Press on Thursday.
Hundreds of business, community and civic leaders were gathering for a July 12 meeting to talk about restoring law and order in Haiti when about 50 Aristide partisans began hurling rocks. The injured included more than 30 members of civic groups, six Haitian journalists and three police officers.
Observers from the Organization of American States, France, the Bahamas and the United States were on hand for the meeting. Two OAS vehicles were stoned, and at least two representatives sustained minor injuries. A U.S. Embassy vehicle's tire was punctured.
''They were lucky to have gotten out alive,'' said Johnny Occilius, a former municipal employee in Cite Soleil, the seaside shantytown and Aristide stronghold where the meeting was to be held.
Occilius, in an interview with the independent Radio Kiskeya, said Mayor Fritz Pierre gave 500,000 gourdes [about $12,500] to two gang leaders to pay followers to break up the meeting.
Police were ordered not to use tear gas, said Occilius, who according to Curran, has since fled Haiti for the United States.
The governing party mayor, who could not be reached for comment Thursday, has denied the allegations, saying Occilius was fired in November for falsifying documents and that he made the claim to get a U.S. visa.
Curran, however, said Occilius' story matches other reports. ``We talked to a lot of people afterwards. We took it very seriously that our diplomats were attacked. Occilius has pretty much the same story.''
Copyright 2003 The Associated Press
Wehaitians.com, the scholarly journal of democracy and human rights