Correspond with us, including our executive editor, professor Yves A. Isidor, via electronic mail:
letters@wehaitians.com
Want to send this page or a link to a friend? Click on mail at the top of this window.

Must learnedly read, too; in part, of intellectual rigor; in part, the repository of ultimate knowledge
Posted Friday, December 1, 2006
Posted Thursday, November 30, 2006
Posted Wednesday, November 29, 2006
Posted Tuesday, November 28, 2006
Kidnappings, violent crime surge in Haiti's Preval as de facto Premier, Alexis, chastises United States, apparently urges it to negotiate with bin Laden
By Joseph Guyler Delva, Reuters Writer
PORT-AU-PRINCE, Haiti, Nov. 27, 2006 (Reuters) - Kidnappings and other violent crimes have increased in Haiti in recent weeks, and Prime Minister Jacques Edouard Alexis on Monday blamed the surge partly on criminals deported by the United States.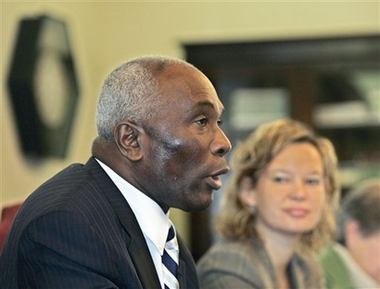 The Prime Minister of Haiti, Jacques Edouard Alexis, left, who this week apparently urged United States to negotiate with bin Laden, speaks alongside the Spanish State Secretary for Cooperation, Leire Pajin during a press conference at the Foreign Ministry in Madrid, Spain, Wednesday, Nov. 29, 2006. An international donors meeting for Haiti will take place in Madrid Nov. 30. (AP Photo/Paul White)
As many as 100 people have been kidnapped for ransom in November, according to the Coalition of Victims and Friends of Victims of Kidnappings, a group that assists relatives.
"The situation is very serious," Reginald Delva, the group's leader, said.
According to police statistics, 40 kidnappings were reported in October and 30 in September. There seems to be no pattern to the abductions and they are not confined to any particular social class or group.
"We have noted a considerable increase in kidnappings," said Stanley Ralph Brice, police director for the West department (province), which includes the teeming capital, Port-au-Prince. "We have also noted several killings over the past few days."
Brice declined to comment on possible reasons for the surge.
Even with the presence of an 8,300-member United Nations peacekeeping force, Haiti, the poorest country in the Americas, has struggled to contain gang and political violence since a bloody rebellion ousted then-President Jean-Bertrand Aristide in February 2004.
At least two recent kidnapping victims, a 20-year-old woman and a 6-year-old boy, were killed even after ransoms were paid.
The woman, Fara Natacha Dessources, was found dead last week after being kidnapped and tortured by gunmen outside the capital. She was shot several times and one of her arms was broken.
The body of the boy, Carl Rubens Francillion, was found near Cap-Haitien on Haiti's north coast, police said. He was kidnapped in Port-au-Prince.
At a news conference on Monday, Alexis said criminals sent to Haiti by the United States were partly at fault for the surge in crime and at least two deportees were sought in the woman's death.
"We are not going stand idly by. We are doing everything we can to arrest these criminals and bring them to justice," said Alexis.
Haitian officials have long complained that the United States sends dozens of Haitian criminals to the Caribbean island each month after they have finished serving their U.S. prison time. With its feeble judicial system and police force, the impoverished nation is ill-equipped to deal with them.
Human rights activist Renan Hedouville, who heads the Lawyers Committee for Human Rights, blamed the surge in violence in part on the police and judiciary.
"The police should be vetted and the judicial system reformed for the struggle against criminality to be effective," Hedouville said.

Wehaitians.com: De facto and grossly imcompetent Prime Minister Jacques Edouard Alexis once again this week said "he is inclined to negotiate with the terrorists in an effort to find a solution to the kidnapping problem."
The message Alexis's largely irrisponsible words apparently conveys to United States' President George W. Bush is "if you want to consign terrorism to the archives of history all you have to do is negotiating with Osama bin Laden."
UPDATED: Wednesday, November 29, 2006
Posted Monday, November 27, 2006
Study: Money-Happiness link is complex
By Malcolm Ritter, Associated Press Science Writer
Study: Money-happiness link is complex
NEW YORK, Nov. 26, 2006 - Does money buy happiness? It's sometimes said that scientists have found no relationship between money and happiness, but that's a myth, says University of Illinois psychologist Ed Diener.
The connection is complex, he says. But in fact, very rich people rate substantially higher in satisfaction with life than very poor people do, even within wealthy nations, he says.
"There is overwhelming evidence that money buys happiness," said economist Andrew Oswald of the University of Warwick in England. The main debate, he said, is how strong the effect is.
Oswald recently reported a study of Britons who won between $2,000 and $250,000 in a lottery. As a group, they showed a boost in happiness averaging a bit more than 1 point on a 36-point scale when surveyed two years after their win, compared to their levels two years before they won.
Daniel Kahneman, a Nobel-Prize winner and Princeton economist, and colleagues recently declared that the notion that making a lot of money will produce good overall mood is "mostly illusory."
They noted that in one study, people with household incomes of $90,000 or more were only slightly more likely to call themselves "very happy" overall than were people from households making $50,000 to $89,999. The rates were 43 percent versus 42 percent, respectively. (Members of the high-income group were almost twice as likely to call themselves "very happy" as people from households with incomes below $20,000.)
But other studies, rather than asking for a summary estimate of happiness, follow people through the day and repeatedly record their feelings. These studies show less effect of income on happiness, Kahneman and colleagues said.
There is still another twist to the money-happiness story. Even though people who make $150,000 are considerably happier than those who make $40,000, it's not clear why, says psychologist Richard E. Lucas of Michigan State University.
Does money make you happier? Or does being happier in the first place allow you to earn more money later, maybe by way of greater creativity or energy? Or does some other factor produce both money and happiness? There's evidence for all three interpretations, Lucas says.
In any case, researchers say any effect of money on happiness is smaller than most daydreamers assume.
"People exaggerate how much happiness is bought by an extra few thousand," Oswald said. "The quality of relationships has a far bigger effect than quite large rises in salary.... It's much better advice, if you're looking for happiness in life, to try to find the right husband or wife rather than trying to double your salary."
Posted Saturday, November 25, 2006
Posted Monday, November 20, 2006
Posted Sunday, November 19, 2006
Shots fired at anti-U.N. rally in Haiti
By Stevenson Jacobs, Associated Press Writer
PORT-AU-PRINCE, Haiti, Nov. 18, 2006 - Gunfire rang out Saturday during a street protest by university students demanding the withdrawal of United Nations peacekeepers from Haiti, and witnesses said two demonstrators were wounded.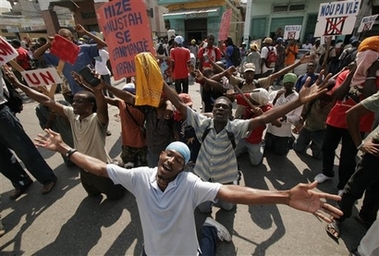 University students chant slogans against the United Nations mission in Haiti during a protest by university students demanding the withdrawal of peacekeeping forces in Port-au-Prince,Saturday, Nov. 18, 2006. About 100 student protesters were marching through Port-au-Prince's downtown when gunfire erupted, scattering demonstrators. Witnesses said a security guard at a nearby bank fired the shots and was later arrested by police. It's not clear what prompted the shooting. (AP Photo/Ariana Cubillos)
About 100 protesters were marching through Port-au-Prince's downtown when gunfire erupted, scattering demonstrators. Witnesses said a security guard at a nearby bank fired the shots and was later arrested by police after protesters threatened to lynch him. It was not clear what prompted the shooting.
Two students were wounded by bullets, one in the leg and the other in the back, witnesses said.
Shortly after the shooting, protesters regrouped and came upon three U.N. civilian police officers. Associated Press journalists saw protesters chase after the Filipino officers and throw rocks. U.N. police spokesman Fred Blaze said one Filipino police officer was slightly injured but could not give details.
Earlier in the day, the students from the Human Sciences Faculty of the state-run University of Haiti marched on a main road, chanting "U.N. get out!" and "Haiti is not your home!"
Demonstrators, some with their faces covered, smashed the windshield of a passing U.N. vehicle and threw rocks at other cars, witnesses said. They later cornered a white SUV and spray painted the words "Down with the U.N." on the side. No injuries were reported.
It followed a series of other demonstrations calling for the exit of U.N. troops, who arrived in June 2004 to quell unrest after rebels forced out former president Jean-Bertrand Aristide.
Protesters accuse the blue-helmeted troops of failing to curb violence and of firing indiscriminately during slum raids, wounding and killing civilians. The U.N. says it only fires when attacked.
The 8,800-strong U.N. mission has beefed up patrols in the capital since two Jordanian peacekeepers were shot to death on Nov. 10. The soldiers were returning to base when they were surprised by unknown gunmen.
Posted Monday, August 15, 2005
2 U.N. peacekeepers mourned in Haiti
By Stevenson Jacobs, Associated Press Writer
PORT-AU-PRINCE, Haiti, Nov. 16, 2006 - U.N. peacekeepers remembered two slain comrades in a solemn memorial Thursday as the United Nations envoy in Haiti vowed to find their killers and redouble efforts to stabilize the divided and impoverished nation.
Dozens of mourners watched as a Muslim imam prayed before the flag-draped coffins of the Jordanian soldiers, both shot to death Nov. 10 while returning to base near a gang-controlled slum in the capital, Port-au-Prince. They were the 13th and 14th peacekeepers to die in Haiti since the U.N. mission began in June 2004.
"We will spare no effort to apprehend the perpetrators of this despicable crime and ensure they are brought to justice," said Edmond Mulet, U.N. special representative, who laid a wreath before the caskets.
The killings, by unidentified gunmen on a main road, dealt a blow to the 8,800-strong Brazil-led U.N. peacekeeping force, sent to restore order after a bloody February 2004 revolt toppled former president Jean-Bertrand Aristide.
After a lull in violence, peacekeepers and Haitian police have been struggling to contain killings and kidnappings blamed on street gangs, some loyal to Aristide, currently in exile in South Africa.
More than 200 people, including 11 police officers, were killed in and around the capital between June and September, according to the Episcopal National Commission for Justice and Peace.
The violence comes less than three weeks before Haitians cast ballots in local and municipal elections that are billed as the final step in the country's return to democratic rule.
Mulet said Jordan's government promised to keep its troops in Haiti despite having lost six soldiers since the mission began — more than any other nation that sent troops.
The latest victims, 1st Lt. Ahmad Mohammed Hassan Ba'irat and Cpl. Rami Wasif Taha Al Mohammed, had finished a day of patrols when gunmen opened fire on their vehicle near Cite Soleil, a vast slum controlled by gangsters. Hassan Ba'irat had arrived in Haiti only five days before his death. Al Mohammed had been deployed since May and was due to return home Thursday.
"Tragic incidents such as this one lead us to redouble our concerted efforts with the government of Haiti to continue to bring about stability in this country," Mulet said.
Meanwhile, anti-U.N. demonstrators were planning major street protests this weekend calling for peacekeepers to leave Haiti. Poor slum dwellers accuse the blue-helmeted troops of indiscriminately shooting during raids, killing and wounding civilians. The U.N. says peacekeepers only fire when attacked.
The U.N. Security Council in August renewed the force's mandate for at least another six months.
Wehaitians.com, the scholarly journal of democracy and human rights