Correspond with us, including our executive editor, professor Yves A. Isidor, via electronic mail:
letters@wehaitians.com
Want to send this page or a link to a friend? Click on mail at the top of this window.

Must learnedly read, too; in part, of intellectual rigor; in part, the repository of ultimate knowledge
Posted Monday, November 13, 2006
Citizenship test to focus on democracy
BOSTON, Nov. 13, 2006 - In an effort to make the citizenship exam more meaningful, the federal government said Monday it will test an exam that relies less on trivia — such as asking the name of the president's house — and more on applicants' grasp of American democracy.
The new exam will be given to volunteers beginning this winter in Albany, N.Y.; Boston; Charleston, S.C.; Denver; El Paso, Texas; Kansas City, Mo.; Miami; San Antonio; Tucson, Ariz.; and Yakima, Wash.
The current test is heavy on historical facts, and includes questions about the colors of the U.S. flag and the name of the form used to apply for citizenship. The new exam will ask about the Bill of Rights and the meaning of democracy.
"The idea is not to toss up roadblocks, it's to make sure people who apply for citizenship and want to become citizens understand and adhere to the values we have as a society, the values that are part of the U.S. Constitution and the Bill of Rights," said Shawn Saucier, spokesman for the Office of Citizenship and Immigration Services.
The current exam doesn't guarantee knowledge of those values, Saucier said. A person may know which state was the 49th to be added to the union, for example, but not understand voting rights, he said.
The portion of the citizenship exam used to test basic English reading and writing skills also will be changed to include civic vocabulary words, Saucier said.
"We want them to study and look at this information not toward the eye of memorizing it for a trivia exam," he said.
During the pilot, officials hope to work out any problems with the test and refine the exam. The revised test will be given to all applicants for naturalization beginning in 2008.
Officials will test 125 new questions on 5,000 people and eventually narrow the group of questions to 100, the same number that can be asked on the current exam. To pass, immigrants must correctly answer six of 10 questions given. If they fail, they will be given the option of taking the old test.
The changes could make the exam more difficult for some people, said America Calderon, the program manager at the Central Resource Center, a Washington, D.C., organization that offers citizenship and other programs to Latino immigrants. She guessed it also could push more people into formal classes, instead of trying to learn the information on their own.
"It's more difficult because the typical immigrant is trying to struggle with English and trying to learn the 100 questions right now," Calderon said.
But she supports the idea, because it could push new citizens to participate in their government, a goal of her organization.
"In a way, it's good they have a path to civic participation," she said.
All U.S. citizens — not just new ones — could brush up on their civic knowledge, said Roger Clegg, president of the Center for Equal Opportunity, a conservative think tank that supports the assimilation of immigrants.
"It's also good for the people who are already here, because there will be fewer problems and fewer friction if we all understand what America is all about," he said.
___ On the Net: http://www.uscis.gov/portal/site/uscis
Posted Sunday, November 12, 2006
Gunmen kill 2 Jordanian U.N. peacekepers in Haiti
PORT-AU-PRINCE, HAITI, Nov. 12, 2006 — Unidentified gunmen attacked U.N. peacekeepers near a restive slum in Haiti's capital, killing two Jordanian members of the force, officials said Saturday.
The attack came late Friday as peacekeepers headed back to base near the Cite Soleil neighborhood, where well-armed gangs blamed for kidnappings are based, a U.N. police spokesman said. One soldier died en route to a hospital, the other while being treated.
U.N. officials said the slayings appeared premeditated.
The U.N. peacekeeping force of 8,800 troops has been stepping up patrols to quell violence in the Caribbean nation's dense slums.
But there is growing opposition among slum dwellers to the Brazil-led U.N. force, sent to restore order after a bloody February 2004 revolt ousted then-President Jean-Bertrand Aristide.
The residents of the poor neighborhoods have accused U.N. troops of firing indiscriminately during gun battles with gangsters, killing and wounding civilians.
The U.N. denies the charge and says the troops shoot only when attacked. No overall civilian casualty figures were available.
Students and slum dwellers recently have staged street protests calling for withdrawal of the U.N. force.
Nine peacekeepers have died in clashes since the force arrived in June 2004.
Posted Friday, November 10, 2006
Haitian-American woman driver: Didn't know I killed boy
By Tamer El-Ghobashy, Nance L. Katz
Dave Goldiner, Daily News Staff Writers
The Brooklyn driver who mowed down a 5-year-old boy and his family insisted yesterday she had no idea she killed the boy - and didn't mean to flee the accident.
An SUV driven by Bertilde Gabriel, 52, jumped the sidewalk and slammed into the family, killing Jehovah Fombrun, 5, cops said.
Jehovah's mother, Rachel Dorce, 24, was in extremely critical condition at Kings County Hospital. Her two other children also were hospitalized, with nonlife-threatening injuries. "She's still fighting," said Eric Coleman, Dorce's brother.
Dorce was walking her three kids down Flatbush Ave. Wednesday morning when Gabriel's SUV ran into them.
Moments before that crash, Gabriel had been involved in a fender bender. After hitting the family, she drove off again - only to be stopped by bystanders a couple of blocks away, cops said. Gabriel's lawyer insisted her client never meant to flee the scene - and might have hit the accelerator instead of the brakes.
"It's an accident, it's a tragedy," said Marie Pereira, her lawyer. "She was not even aware someone had died until this morning."
On Wednesday, Gabriel's husband said she had blacked out. A Brooklyn judge ordered Gabriel, a naturalized U.S. citizen from Haiti who speaks little English, held on $250,000 bond. She faces a string of charges, including criminally negligent homicide, assault and leaving the scene of an accident.
Meanwhile, Dorce's other children, Joshua, 8, and Adeline, 6, played in their hospital room as they recovered from their injuries. Relatives hadn't told them their little brother was dead. "It's not time yet," said Coleman. "They don't need to be traumatized any more."
Originally published on November 10, 2006
All contents © 2006 Daily News, L.P.
Posted Thursday, November 9, 2006
Extremely retrograde and always blood-thirsty longtime African dictator, son believed to be one of Africa's "Grand Thieves" buys $35 million U.S. home
NOVEMBER 8, 2006 - The antigraft watchdog Global Witness called on United States officials to investigate the purchase of a $35 million Malibu beach house by the son of Equatorial Guinea's president, Teodoro Obiang Nguema Mbasogo, left, who has ruled his tiny oil-producing country since 1979.
His son and heir apparent, Teodoro Nguema Obiang, officially earns about $5,000 a month as agriculture and forestry minister, the group said.
Despite $3 billion a year in oil revenues, most people in Equatorial Guinea live below the poverty line.
Sarah Wykes, an investigator at Global Witness, said, "We would like U.S. authorities to investigate where is this money coming from."
Haiti denies repatriation of convict
By Alfonso Chardy, Miami Herald Writer
The fate of a Haitian-born U.S. citizen convicted of a felony and ordered deported is in limbo, now that Haiti says it won't take him back.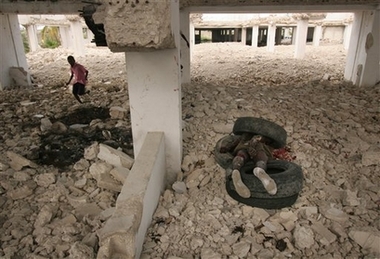 A boy passes the body of an unidentified man that was decapitated on a destroyed construction site in the volatile slum of Cite-Soleil in Port-au-Prince, Haiti, Wednesday, Nov. 8, 2006. (AP Photo/Ariana Cubillos)
Haiti has formally advised the United States it will not take back a Haitian-born man stripped of his U.S. citizenship after a Miami federal jury convicted him of drug-trafficking.
Ralph Latortue, the Haitian consul general in Miami, told The Miami Herald Wednesday that he had notified U.S. Immigration and Customs Enforcement last week, advising the agency his government will not allow Lionel Jean-Baptiste to return because the Haitian constitution prohibits it.
''Once he renounced his Haitian citizenship, he no longer was a Haitian citizen and we cannot give him travel papers,'' said Latortue. ``According to our constitution, he is not entitled to have a Haitian document. As soon as he opted for another nationality, he automatically lost the Haitian nationality.''
The decision marks yet another chapter in the convoluted Jean-Baptiste saga. He fled Haiti in 1980 aboard a refugee boat that sank near South Florida.
Locked up at Krome, Jean-Baptiste eventually was released, became a resident and then a U.S. citizen -- but was convicted of drug-trafficking and stripped of citizenship after the U.S. Supreme Court refused to hear his case last year.
He is the first denaturalized American ordered deported after a drug conviction since an Italian also was ordered deported after his U.S. citizenship was revoked in 1962 following a drug conviction. That case, known in legal circles as Matter of Rossi, was cited in Jean-Baptiste's immigration court proceedings as the basis for ordering his deportation.
The U.S. government can try to change Haiti's stance by appealing to higher authorities in Port-au-Prince, or try to find a third country willing to take Jean-Baptiste.
If that fails, U.S. immigration authorities will have to release Jean-Baptiste -- unless officials classify him a danger to the community. A 2001 U.S. Supreme Court ruling bars indefinite detention for noncitizens who cannot be deported, though it exempts cases of ``special circumstance.''
Barbara Gonzalez, a Miami spokeswoman for U.S. Immigration and Customs Enforcement, said: ``The case is still under review. Our obligation as a law enforcement agency is to carry out orders of removal as issued by immigration judges.''
The Jean-Baptiste case departs from the norm in which immigration officials revoke naturalized Americans' citizenship if they are found to have lied about a criminal record or some other material fact.
Jean-Baptiste, 58, did not lie when he applied for citizenship in October 1994. He swore allegiance to the United States in April 1996.
About six months later, Jean-Baptiste was charged with trafficking in crack cocaine. He went to trial and was found guilty in January 1997 and served seven years in prison.
In 2002, immigration authorities moved to revoke Jean-Baptiste's citizenship.
In June, after Jean-Baptiste had been out of prison almost two years, U.S. immigration agents detained him and sent him to Krome for deportation proceedings. U.S. immigration Judge Kenneth S. Hurewitz on Sept. 12 ordered Jean-Baptiste deported to Haiti.
Three weeks ago, Latortue first told U.S. Immigration and Customs Enforcement that his government would not issue travel papers.
Latortue said the government based its refusal on the 19-year-old Haitian constitution.
The immigration agency asked Latortue to reconsider. He contacted the Haitian foreign minister, who then asked the ministry's legal department to research the issue. The answer remained the same.
Once again, fire eviscerates always dirt-poor Haitians livelihood in Port-au-Prince suburb of Petion-Ville
| | | |
| --- | --- | --- |
| Volunteers firefighters help extinguish a fire at a market in Petionville, neighborhood in Port-au-Prince, Haiti, Monday, Nov. 6, 2006. (AP Photo/Ariana Cubillos) | | An unidentified market vendor is helped after she lost all her merchandise during a fire at a market in Petionville, a neighborhood in Port-au-Prince, Haiti, Monday, Nov. 6, 2006. The cause of the fire is still unknown. (AP Photo/Ariana Cubillos) |
| | | |
Posted Monday, November 6, 2006
Posted Friday, Nov. 3, 2006
Judge orders top Haitian police officer arrested
By Joseph Guyler Delva, Reuters Writer
PORT-AU-PRINCE, Haiti, Nov 3 (Reuters) - A judge on Friday said he has ordered a top Haitian police chief arrested on suspicion of conspiring with kidnappers after the chief ignored a summons to appear before his court.
Judge Napela Saintil said a warrant for the arrest of police Inspector General Michael Lucius was now in the hands of prosecutor Claudy Gassant.
"I issued a summons commanding him (Lucius) to appear before the court. He has categorically refused," Saintil told Reuters. "The law says that in such circumstances I have to issue an arrest warrant, and that's what I did."
Lucius, barred from leaving the troubled and impoverished Caribbean country, has denied accusations of having ties to kidnappers and accuses Saintil of bias.
"I am ready to appear before a judge, but not Napela Saintil because he is biased against me," he said.
Lucius has not gone into hiding and travels around Port-au-Prince surrounded by heavily armed policemen who guard him.
He is in charge of units fighting serious organized crime and is the lead officer in the fight against kidnapping, drugs and gangs.
Haiti's police force is riddled with corruption and poorly equipped.
The international community tried to reform the force when U.S. Marines restored former President Jean-Bertrand Aristide to power in 1994 after his first term in office had been cut short by a military coup.
But it disintegrated again when armed rebels drove Aristide out of the country for a second bout of exile in 2004.
Several suspected kidnappers have said they worked with Lucius and shared ransom payments with him. Lucius also has been accused of providing weapons to criminals in an alleged scheme to use gangsters to dismantle criminal gangs.
Lucius's lawyer, Samuel Madistin, said the allegations were unfounded.
"Judge Saintil no longer has the credibility to hear my client because he has shown so much partiality," Madistin said.
Gassant, the prosecutor, said he could not permit anyone to disregard the judge's authority and that he has decided to reject all new criminal cases from Lucius' office until the case is resolved.
"Lucius does not have a right to arrest people while he is himself the subject of a warrant for alleged criminal activities," Gassant said. AlertNet news is provided by
Posted Wednesday, November 1, 2006
Wehaitians.com, the scholarly journal of democracy and human rights