Want to send this page or a link to a friend? Click on mail at the top of this window.
For Readers, a New Forum for Black Literature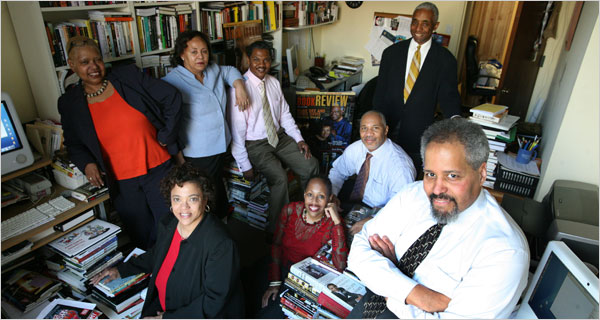 Ruth Fremson/The New York Times
The staff of Black Issues Book Review and the new Blacks & Books.
Joy Bramble remembers when black writers struggled to attain their dreams and the attention needed to sustain them.
"Now I can't believe how many books are being published by black writers," she said. "It's almost as if we're recognizing suddenly that people want to read them, and we have so many stories to tell."
Getting the word out to potential readers, though, has not been easy.
Publishers and authors still worry that African-American titles receive sparse coverage in the mainstream media — where the space allotted to books has been dwindling — while historically black newspapers like The Baltimore Times, where Ms. Bramble is publisher, often have scant resources to cover the arts.
But next week The Baltimore Times will join The New York Amsterdam News, The Philadelphia Tribune and several others in introducing Blacks & Books, a monthly insert focusing on books by or of interest to readers of African descent. The project was conceived by Ken Smikle, president of the Chicago-based market research and media consulting company Target Market News, which in March acquired the respected bimonthly magazine Black Issues Book Review.
________________________
A new monthly book review aims to tell the stories not being told.
________________________
"We're trying to bring an otherwise unheard black perspective about things happening in book publishing across the board," said Mr. Smikle, who is publishing Blacks & Books from Black Issues' small, book-stuffed suite of offices on the 15th floor of the Empire State Building. "I have long thought that black newspapers were underutilized in that area."
The first cover story: Senator Barack Obama and his current best seller, "The Audacity of Hope."
Contributors will include Black Issues regulars, as well as freelancers, established authors and newspaper journalists. In addition to reviews and features, there will be a best-seller list, author interviews, a literary calendar and a children's and young-adult section.
Mr. Smikle has placed day-to-day supervision in the hands of Susan McHenry, a founding editor of Black Issues who returned as editorial director after Mr. Smikle's acquisition. "The writers will be a combination of familiar names and young people," Ms. McHenry said, "because it's an opportunity to help another generation find a voice."
The publishing industry is greeting the enterprise and its initial 100,000-copy print run with enthusiasm, and caution. Delivering a national publication to a local, selected readership does make economic sense, publishers said, especially with advertising rates topping out at $8,000 for a full-page color ad and the potential for additional presence in retail outlets, at book festivals and among book clubs.
Still, said Sara Nelson, editor in chief of Publishers Weekly: "In this day and age, with newspapers cutting back on book coverage, I think it's a brave move." Even her publication, the book industry's chief trade journal, addresses the flourishing black market primarily "with several features a year and during Black History Month," she said, so she would welcome someone compiling an African-American best-seller list.
With so little marketing money to spread around, and so much of it going to a handful of high-profile titles, publishers depend on the attention of book reviews. But mainstream reviews often suffer from "a complete absence of African-American titles," said Patrik Henry Bass, the books editor of Essence magazine. "To read them, you'd think that in a month only one or two are released."
Sam Tanenhaus, editor of The New York Times Book Review, said, "Nothing is sufficiently covered."
"We get so many books, and space is so limited," he said, "and we tend to concentrate on serious fiction and nonfiction. So we're more likely to do a big takeout on Edward P. Jones, as we did, and we published Skip Gates's introduction to 'Uncle Tom's Cabin,' " he said, referring to Henry Louis Gates Jr. "Our books tend to be a small, select group, but that's across the board," he added.
Instead, African-American authors have come to rely on radio, word of mouth, church group appearances, book signings and the occasional "Oprah effect." The best-selling novelist Terry McMillan, who helped kick-start the upsurge in black books, first introduced herself to a wider public by "putting her books in the back of her car and driving to churches and conventions and wherever else she could talk to black folks," Mr. Smikle said. Blacks & Books, he suggested, is his declaration that writers shouldn't have to do that.
This is especially true now that the larger publishing world has taken notice, adding new imprints and more African-American editors in recent years. The flood of new titles range from literary to populist, chick lit to street lit to spirit lit, Edward P. Jones to Tyler Perry to Tavis Smiley's surprise hit "The Covenant With Black America." Seven-figure deals are being made.
Nonetheless, the frustration remains. "Black authors don't succeed because of the system, but in spite of it," Mr. Smikle said.
When fresh out of Queens College in the early 1970s, Mr. Smikle started with his brother, the photographer Dawoud Bey, a black arts journal called Easy. It was short-lived.
"I wanted to be the black Jann Wenner," he said, laughing. His short Afro is graying now, and his wardrobe runs to crisp white shirts and conservative ties. Blacks & Books is a means of joining the system with a twist.
For the first issue, the cover story by the Chicago journalist Sabrina Miller fits that bill, Ms. McHenry said. Senator Obama's book, following on the success of his memoir "Dreams From My Father" (1995), explores this Illinois Democrat's political vision. And, unlike other books by political figures, he actually wrote it, Ms. McHenry said.
"His memoir was one of my absolute favorites," she said. "He's like the 21st-century Frederick Douglass. He gives us an interesting way to launch. As an icon in America and in our community, lots of different hopes are pinned on him."
Valerie Boyd, an assistant professor of journalism at the University of Georgia and author of "Wrapped in Rainbows: The Life of Zora Neale Hurston," believes Blacks & Books is an important step. "For me, as a black writer," she said, "it indicates that there's at least a perception of black people as active and engaged readers who are willing to read new books, which is the opposite of the way the book industry seems to think of them."
It also means that African-American newspapers can begin to regain the role they once played in the literary marketplace, Mr. Bass said.
"It's gratifying to know that the black press can once again have the continuing presence of books," he said.
Mr. Smikle knows he and his staff have their work cut out. He doesn't have as many ad pages in the first issue as he would like, and some newspaper markets he has been courting are not yet on board.
"I have this theory, though," he said. "When you get an idea, you launch first, and the rest will come."
No splashy party is planned, either, Ms. McHenry said. "We'll have an anniversary party, a celebration of its longevity instead," she said.
Copyright 2006 The New York Times Company. Reprinted from The New York Times, TheArts, of Saturday, November 11, 2006.
Wehaitians.com, the scholarly journal of democracy and human rights