Correspond with us, including our executive editor, professor Yves A. Isidor, via electronic mail:
letters@wehaitians.com
Want to send this page or a link to a friend? Click on mail at the top of this window.

Must learnedly read, too; in part, of intellectual rigor; in part, the repository of ultimate knowledge
Posted Tuesday, October 31, 2006
Posted Monday, October 30, 2006
Posted Friday, October 27, 2006
Rift with China puts U.N. aid to Haiti at risk
By Jacqueline Charles, Miami Herald Writer
PORT-AU-PRINCE - Foreign diplomats say they are feverishly working behind the scenes to mend a Haitian flap with China that could jeopardize the U.N. peacekeeping force deployed here.
The diplomats said China, which has veto power in the U.N. Security Council, is threatening to veto the renewal of the U.N. peacekeeping operations in Haiti when it comes up for a vote in February. China also has 130 police officers serving in Haiti as part of the U.N. mission.
The Haitian government sparked the threat when it unsuccessfully attempted in September to put a pro-Taiwan proposal on the U.N. General Assembly's agenda.
Haiti has long favored Taiwan in its struggle for recognition against Beijing, and Taiwan has provided massive financial aid for development and anti-poverty programs.
''It's a serious threat,'' said a foreign diplomat familiar with the incident. The diplomat asked for anonymity because of the sensitivity of the dispute.
The Chinese delegations at the United Nations and in Port-au-Prince declined comment on the issue.
U.S. Secretary of State Condoleezza Rice showed concern, calling Haitian President René Préval to ask why his government would risk angering Beijing.
Préval, who confirmed the phone call in an interview with The Miami Herald, said he plans to discuss the issue with China in hopes of mending fences. He added that Haiti believes that all problems between nations, including those between China and Taiwan, should be discussed at the United Nations.
''We told China, we will always have the same position we've always had. That position is . . . -- we are not saying we are going to take sides between Taiwan and China -- but let's discuss the problem,'' he said. ``If they are upset with us all the way up to preventing [the U.N. peacekeepersfrom renewing their mandate, then it is unfortunate.''
Préval added that the United States, France and Canada -- key players in efforts to restore Haiti's stability following the 2004 ouster of President Jean-Bertrand Aristide -- should also work to ease the tensions between Haiti and China.
While some diplomats say they don't believe China will use its veto, others are not willing to wait until February to find out. They plan to talk to both sides, telling the Chinese that no harm was done since the Haitian proposal on Taiwan was rejected and telling Préval that regardless of Haiti's long running ties with Taiwan, he cannot afford such diplomatic blunders.
Reprinted from The Miami Herald of Friday, October 27, 2006.
Posted Wednesday, October 25, 2006
NYC Judge: Haiti leader, Constant, owes $19.5M to rape victims
NEW YORK, Wed. 25, 2006 - A judge has ordered an elusive former Haitian strongman to pay $19.5 million in damages to three women who claimed they were systematically gang-raped by paramilitary soldiers under his command.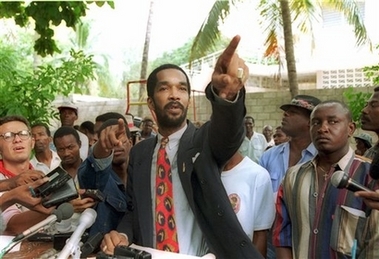 Emmanuel 'Toto' Constant, a former strongman who once boasted that voodoo and the CIA shielded him from trouble, gestures during a press conference in Port-au-Prince, Haiti, in this file photo of Sept. 22, 1994. A judge has ordered Constant, who now lives in the Queens borough of New York, to pay $19 million in damages to three women who said they were gang-raped by paramilitary soldiers under his command. (AP Photo/John McConnico, File)
A written decision by U.S. District Judge Sidney Stein found that Emmanuel "Toto" Constant, once the feared leader of a right-wing paramilitary group, was "liable for torture, attempted extra-judicial killing and crimes against humanity."
The women had sued Constant last year in federal court in Manhattan. They accused him of sanctioning rapes in the early 1990s to silence slum-dwellers still devoted to the ousted former Haitian president, Jean-Bertrand Aristide.
Constant's militia had helped block the return of the exiled Aristide in 1994. After Aristide's U.S.-backed return to power late that year, Constant fled to New York, where he has fought deportation ever since.
The ruling issued Tuesday said each of the plaintiffs was entitled to $1.5 million in compensatory damages and $5 million in punitive damages.
"Constant's conduct was clearly malicious," the judge wrote. The defendant, he added, "founded and oversaw an organization that was dedicated principally towards terrorizing and torturing political opponents of the military regime."
An attorney praised for the plaintiffs on Wednesday for going public with their accusations against Constant, the 6-foot-4 son of a military officer who once boasted that voodoo and the CIA shielded him from trouble.
"The courageous women who brought this case have sent a message that torturers cannot live freely in the United States and will be held accountable," said Jennie Green, a senior attorney at the Center for Constitutional Rights who represented the women along with the San Francisco-based Center for Justice and Accountability.
It is unclear whether Constant, who never responded to the lawsuit, has the means to pay the damages.
He remains in jail on Long Island after being charged in July with mortgage fraud in an unrelated case. His attorney in that case has declined to comment.
The decision this week followed a hearing in August where the judge heard emotional testimony from two of the plaintiffs. They were granted anonymity based on fears they could still be targeted for retribution.
One testified that her ordeal began when her husband, a taxi driver and fierce Aristide supporter, vanished in 1992. She described taking to the streets and voicing her despair.
Even after being jailed and beaten, she remained vocal until five men arrived at her door in April 1994. They beat up her 8-year-old son and took turns raping her, she said. Two months later, the nightmare was repeated.
The five small children "were, with their own eyes, looking at everything that was being done to me," she testified through an interpreter.
Three months later, she saw a doctor who delivered some shocking news: She was pregnant by one her attackers. A son was born on Feb. 12, 1995.
Posted Sunday, October 22, 2006
Posted Saturday, October 21, 2006
Haitian hospital worker found, returned $12K
By Andrew Strickler and Bill Mason, Newsday Staff Writer
What could have been a windfall for some was just another day in the upright life of a Manhattan hospital worker who found an envelope stuffed with thousands of dollars -- and turned it in.
Marie Toussaint, a housekeeper who earns about $15 per hour at St. Luke's hospital on the Upper West Side, said: "When something doesn't belong to you, you can't keep it."
Toussaint said she was cleaning a patient's room on Oct. 4 when an envelope fell from underneath the pillow and discovered a stack of $100 and $50 bills inside.
Toussaint turned the envelope into the nurses station, where it was found to contain a whopping $12,450. The money, hospital officials said, was left by a forgetful patient who had checked out of the room earlier that day.
Director of housekeeping Helen Stack described Toussaint, who has worked at St. Luke's for 10 years, as a religious woman and near-perfect employee.
"She's hardworking, she's always on time, she's honest, and she works overtime," Stack said. "I can't say enough good things about her."
Toussaint, 50, said she emigrated from Haiti to the United States in 1974 and lives in East Flatbush, Brooklyn. Married for more than 30 years, she is the mother of two grown daughters. Her husband is retired.
Stack said Toussaint did not even bother to inform her about the find.
"I heard through the grapevine that one of my housekeepers had done something good," she said. "I said to her, 'This is a big deal.' Someone else would have said, 'Hey, it's Christmas.'"
Toussaint's husband said Marie was surprised by all the attention her act has generated.
"This is her nature and this is the way we operate," said Guy Toussaint, 58. "I will venture to say that this is not the first time she has turned things in she found."
Stack said the patient who left the money was apparently unaware until this week that she had left the money at the hospital, where it was kept in a hospital safe while a family member of the owner was contacted.
"She was quite elderly, maybe one of those types who don't like banks," Stack said. The hospital plans to formally thank Toussaint at a Thanksgiving party.
Guy Toussaint said, "We've worked hard to build our own nest."
His wife added, "That's what you have to do."
Copyright Newsday, Inc. Reprinted from Newsday of Saturday, October, 2006.
Posted Thursday, October 19, 2006
At least three said killed in clash in Haiti hell-like slum
By Joseph Guyler Delva, Reuters Writer
PORT-AU-PRINCE, Haiti, Oct 19 (Reuters) - At least three people were killed in Haiti's largest and most dangerous slum on Thursday when a protest over the alleged destruction of homes by U.N. peacekeepers turned violent, witnesses said.
Residents of Cite Soleil -- a teeming warren of shantytowns on the southern tip of Port-au-Prince -- said the victims were shot dead by Brazilian peacekeepers.
The shootings came after angry protesters confronted the U.N. troops and accused them of razing homes to make way for a road, according to the witnesses, who asked not to be identified for fear of reprisals.
A spokeswoman for the U.N. peacekeeping mission in Haiti, Sophie Boutaud de la Combe, said she was unable to say whether anyone was killed or wounded during the clash.
But she said U.N. peacekeepers had only been trying to break down a number of low-lying walls, to open up access to a paved road, when they returned fire after coming under attack from one of Cite Soleil's notorious armed gangs.
A Reuters' reporter saw the body of a middle-aged man killed during the clash, but was unable to confirm other deaths or witness claims that at least three children were injured.
Marc Evans Jean, one eyewitness, said someone had tried to hurl a Molotov cocktail at the peacekeepers but insisted no gunshots were fired at them.
Several armed groups in the impoverished Caribbean nation are believed to be loyal to former President Jean-Bertrand Aristide, who was forced from power in February 2004 by an armed rebellion and pressure from the United States and France. U.N. peacekeepers were deployed four months later to stabilize the country.
Wehaitians.com, the scholarly journal of democracy and human rights