Correspond with us, including our executive editor, professor Yves A. Isidor, via electronic mail:
letters@wehaitians.com
Want to send this page or a link to a friend? Click on mail at the top of this window.

Must learnedly read, too; in part, of intellectual rigor; in part, the repository of ultimate knowledge
Posted Thursday, May 18, 2006
Plea gets Haitian 12 years for rapes
TRENTON, May 18, 2006 -- An illegal alien from Haiti allegedly tried to hire a hitman to kill a Princeton family, including the 11-year-old girl he raped, officials said yesterday.
Jacques Moise, 40, was jailed in a Florida federal prison in 2004 for trying to illegally obtain a passport when he sought out advice from inmates on how to hire a hitman to kill the family back in Princeton, said Mercer County Assistant Prosecutor Robin Scheiner.
Unclear what was going through the Princeton Township man's mind when he split for Florida, Scheiner said it was the state's theory he was ducking the law and was looking at a way to get out of the country once the girl reported the rapes.
On the eve of his trial in Mercer County Superior Court yesterday, Moise struck a deal with the prosecutor's office where he'd receive 12 years in jail in exchange for a guilty plea.
Moise will also be deported back to Haiti and has to serve 85-percent of the sentence before he's eligible for parole, the prosecutor noted during a hearing before Judge Darlene Pereksta.
"It's a very difficult and traumatic experience for everyone to go through -- especially the victim," said Scheiner, noting the pre-trial guilty plea is in the "best for the interest of justice and the interests of the victim."
Moise pleaded guilty to first-degree aggravated sexual assault and second-degree sexual assault while admitting to raping the girl inside his Redding Terrace bedroom in September 1997 when the victim was 11.
When the victim was 16, he admitted to sexually assaulting her in the parking lot of Hamilton Lanes, between Dec. 15, 2001 and March 31, 2002.
In 2004, when he was indicted by a Mercer County grand jury, Moise was in prison in Florida for using fake information in an attempt to get a passport.
Prosecutors felt he was trying to get out of the country before Jersey officials could arrest him.
By then the victim, whose identity was withheld yesterday, had gone to police to report the assaults, Scheiner said.
Then, after his arrest, Florida authorities learned Moise was wanted in New Jersey after entering his name in the NCIC -- a national crime computer database, Scheiner said.
Inside prison, and before he was extradited back to Trenton to face assault charges, Scheiner alleges Moise tried to hire a hitman to murder his accusers.
The prosecutor said Moise also talked about the rapes and murder plot with inmates who were set to testify for the prosecution in this week's trial.
One of the inmates had already been deported to Panama, but still wanted to testify at the trial and was on his way to Trenton.
Moise will be sentenced July 7.
He could have faced up to 20 years in prison if he was found guilty by a jury, Scheiner said.
"I'm happy it's over with," the victim said after the hearing. "I can move on with my life."
©The Trentonian 2006
Posted Tuesday, May 16, 2006
It's extreme violence-issued de facto President Preval's time: Oh, yes, we got him for daring to protest maltreatment of those said to be unjustly incarcerated; right bottom, Hurricane Denis kills 10 in Cuba, 22 in Haiti
| | |
| --- | --- |
| A Haitian man is detained outside of the national prison by employees for creating a public disturbance in Port-au-Prince, Haiti, Tuesday, May 16, 2006. Demonstrators gathered to voice concerns for the treatment of prisoners in the Haitian penal system. (AP Photo/Ariana Cubillos) | Reuters |
| | |
Posted Monday, May 15, 2006
Posted Sunday, May 14, 2006
Posted Friday, May 12, 2006
Extreme violence-issued Preval's de facto presidency: Five more years of abject poverty, terrorism, drug trafficking - overall, anti-United States
More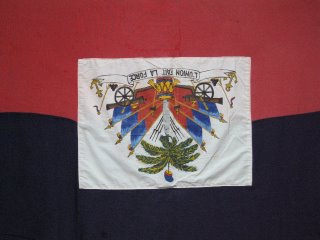 Man accused of killing wife, tossing child arrested by Miami-Dade police officers in nationalist Haiti
Miami-Dade police officers in Haiti say that they have arrested the man accused of killing his wife, and then tossing his 3-year-old daughter out a car window.
Police said that Benave Jean-Louis is being held in Haiti. Family members of Renose Jean Baptiste, his dead wife, said that Jean-Louis is being extradited to the United States to face murder charges.
Janelia Jean-Louis, 3, told family members that she saw Jean-Louis kill her mother on March 31. A witness said she saw Jean-Louis toss the child out of a car window and abandon her on the streets of Miami on that same day.
The body of Renose Jean Baptiste was found in a canal nearly a month later.
A cousin in Haiti allegedly told police that Benave Jean-Louis had committed a murder in the United States, leading investigators to him.
Posted Wednesday, May 10, 2006
France honors slave trade victims
PARIS, France, May 10, 2006 (AP) -- France is honoring for the first time the victims of its slave trade, 158 years after it stopped the practice of taking people from their African homelands and enslaving them in Caribbean colonies.
Wednesday's commemoration was timed to coincide with the anniversary of the May 10, 2001 passage of a law recognizing slavery as a crime against humanity. The law requires schools to include lessons about slavery in the curriculum.
President Jacques Chirac was to give an address, and a plaque commemorating the victims was to go up in Luxembourg Gardens, location of the Senate, in Paris.
The Louvre Museum and National Library in the capital were offering special tours showcasing artwork and manuscripts dealing with the slave trade. Cities throughout France scheduled ceremonies, readings, concerts and activities.
France abolished slavery in 1794, after a successful revolt by slaves in the island colony of Saint Domingue, which later became Haiti. But that initial abolition -- Europe's first -- was short-lived: Napoleon re-established slavery in 1802, and it was not until 1848 that France put a definitive end to slavery.
France was Europe's fourth-largest slave trader after Portugal, England and Spain. French ships transported an estimated 1.25 million slaves, according to experts. Captured in Africa, most slaves were shipped across the Atlantic to toil on plantations in France's Caribbean colonies.
Haiti legislators sworn in, hold session
By Stevenson Jacobs, Associated Press Writer
PORT-AU-PRINCE, Haiti, May 9, 2006 - Haiti's first parliament in two years was formally installed Tuesday as President-elect Rene Preval prepared to take office and steer this impoverished nation toward stability.
Amid boisterous cheers from supporters, legislators in the Senate took the oath of office, following deputies in the lower house by a day.
Preval, who served as Haiti's president from 1996 to 2001, takes power Sunday in front of the parliament, which hasn't convened since former President Jean-Bertrand Aristide was ousted in a February 2004 uprising.
Stephen Benoit, a deputy from Preval's Lespwa party, said the body's biggest challenge will be finishing its four-year term '€" something that's never occurred in Haiti's chaotic 202-year history.
"That's the first challenge, to last the four years without a coup d'etat, without the president saying you're not going to finish your term," Benoit said after deputies held their first legislative session. "The population is counting on us. We need to deliver and we need to deliver quickly."
But getting work done won't be easy.
Preval has had to reach out to rival parties for legislative support since Lespwa, which means "hope" in Creole, lacks a majority in parliament.
Preval told reporters Tuesday that he would work to form "cohesion" among Haiti's fractured society, including the former ruling Lavalas party of Aristide.
Rudy Heriveaux, a Lavalas senator, said the party was ready to work for "national reconciliation" but will call on Preval to release dozens of Aristide allies jailed without charge under the U.S.-backed interim government. Among those jailed is Aristide's former prime minister, Yvon Neptune, who is accused of orchestrating killings of political opponents but has yet to be tried.
He added that Lavalas would also seek Aristide's return from exile in South Africa.
Preval, a former Aristide ally, has said that Haitian law allows Aristide to return, but hasn't said if he would welcome back his one-time political mentor.
Posted Monday, May 8, 2006
Posted Friday, May 5, 2006
Posted Monday, May 1, 2006
EDITOR'S NOTE: We Haitians United We Stand For Democracy and wehaitians.com have on many occasions, and until recently, submitted a long list of Haitian terrorists, gross human rights violators, to name only these two, to many industrialized and democratic nations around the world, urging them all to prevent those figured on the list referred to as a terrorist one from entering their territories. The news (please see article below) today that some of the individuals associated with terrorism and gross human rights violations are barred from Canadian territory certainly proves that the combined effort of We Haitians United We Stand For Democracy and wehaitians.com has not given the very image of futility. We will continue to lobby other nations so their behavior vis-a-vis the notorious terrorists and those with no respect at all for citizens' human rights may reflect that of Canada. Congratulations Canada! Prof. Yves A. Isidor
Notorious Haitian State terrorists are barred from Canada
By Joseph Guyler Delva, Reuters Writer
PORT-AU-PRINCE, Haiti, May 1, 2006 (Reuters) - Several former Haitian officials, including President-elect Rene Preval's right-hand man, said on Monday Canada barred them from entering its territory because of what they said were false claims that they committed crimes against humanity.
Officials at the Canadian Embassy in Port-au-Prince were not immediately available for comment.
"The Canadian government has put my name on a blacklist of perpetrators of crimes against humanity," former Prime Minister Jacques Edouard Alexis told Reuters.
"This is outrageous. It is an insult to all honest Haitians and we demand a public apology from the Canadian government," said Alexis, who served during Preval's first presidency and has been appointed to coordinate his transition team.
Canada is one of Haiti's most important aid donors and has pledged to boost its aid program to the impoverished Caribbean country.
Several other former Cabinet ministers and other officials who served under deposed President Jean-Bertrand Aristide or Preval were reported to be on the list, including former Health Minister Rudolph Malebranche and Philippe Rouzier, a former adviser to Preval who is now a senior official of the United Nations Development Program in Haiti.
Preval, who was elected in February and is to be inaugurated on May 14, expressed outrage about the measure, according to his entourage.
Preval arrived in Canada on Sunday for a three-day visit and was expected to raise the issue with his hosts, including Canadian Prime Minister Stephen Harper and Governor General Michaelle Jean, who was born in Haiti.
Those said to be on the blacklist have never been charged or publicly accused of such crimes in Haiti. Some of them accused political opponents of forging the list and providing it to Canadian authorities.
Alexis said he learned of the blacklist as he prepared to travel with Preval and was told he could not enter Canada. He said Canadian authorities decided finally to grant him a visa for the trip but that he then refused it because he wanted the matter completely cleared before he traveled to Canada.
Wehaitians.com, the scholarly journal of democracy and human rights