Want to send this page or a link to a friend? Click on mail at the top of this window.
A Summer Idyll (Never Mind the Tonton Macoutes)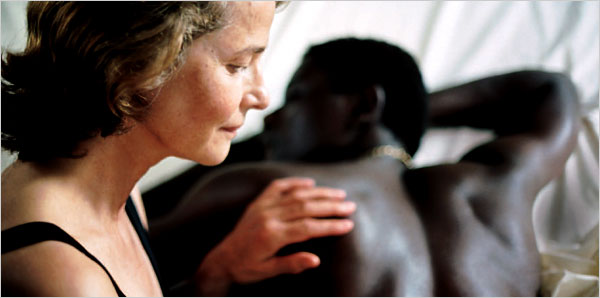 Shadow Distribution
Charlotte Rampling and Ménothy César in "Healing South."
IMAGINE Charlotte Rampling as the queen bee in a coterie of middle-aged, single white women enjoying the favors of beautiful Haitian beach boys at a secluded resort outside of Port-au-Prince in the late 1970's. Just beyond its doors, Tonton Macoutes, the Duvalier-era militia, are terrorizing the population. But Ms. Rampling's Ellen and her friends idle away the summer, dreaming of love and paying for it in dollars. On its surface, "Heading South," the latest film by the French writer and director Laurent Cantet, might be mistaken for a tale of sordid sexual exploitation of the poor by the rich. But Mr. Cantet's sympathies are more complex.
"The film doesn't side with the Haitians," he said, over a hotel breakfast in Manhattan when "Heading South" was being shown in Lincoln Center's Rendez-Vous With French Cinema series this spring. (It opens in New York on July 7.) "I try instead to show the complicity of needs at work in these amorous relationships. Take Legba" — Ellen's 18-year-old favorite, played by Ménothy César — "outside of the resort, he's treated like a dog. He arrives there, and suddenly these women are tender with him, listen to him, look at him as a man and desire him. For him it's proof that he exists as a human being. And that's much more important than the $10 bills they slip into his pocket from time to time."
Mr. Cantet prefers to let his images speak for themselves. "For me, the political side of the film is always present, even in the juxtaposition of bodies," he explained. "Ellen with Legba is such a highly charged image — all the world's divisions are right there. But you have to figure it out for yourself."
"Heading South," which Mr. Cantet and his co-writer, Robin Campillo, adapted from three stories by the Haitian-born Canadian novelist Dany Laferrière, marks something of a departure for Mr. Cantet. Now 44, he earned a reputation as among the most socially aware of young French filmmakers with psychologically astute investigations of the largely masculine worlds of unionized labor and the modern corporate workplace.
"Human Resources" (1999), his first feature, probed the tender spot where class dynamics meet the family romance, as a young business school graduate (Jalil Lespert) becomes a manager in the provincial factory where his father has worked on the assembly line for 30 years, and receives an order to begin laying off employees. "Time Out" (2001) followed a recently fired business executive (Aurélien Recoing) who constructs an elaborate tissue of lies to hide his unemployment from his family.
"From the very beginning, Laurent has pursued the same obsession, which is that his characters are looking for their place in society and unable to find it," said Caroline Benjo, the co-producer on all of Mr. Cantet's features, speaking by telephone from Paris. "At the same time, he's always questioning the horror of an economic system in which, if you don't perform, whether it's financially, sexually or affectively, you're seen as subhuman."
And if Mr. Cantet's earlier films lifted the veil on the world of work, "Heading South" charts a similarly under-represented cinematic territory — the intimate domain of midlife feminine sexual desperation. Karen Young (better known here for her role as Agent Robyn Sanseverino in "The Sopranos") plays Brenda, an American who arrives in Haiti freighted with the emotional weight of an affair she had with Legba three years earlier, and stumbles into the surrounding violence.
"In an American film," Ms. Young said over coffee in New York, "Brenda would be an object of ridicule or punished for her desires. Instead, she undergoes this incredible transformation."
Mr. Cantet first traveled to Haiti in 2001 to visit his parents, retired teachers who were temporarily stationed there as volunteers in a nongovernmental organization. "I remember feeling that I was the only foreigner, and especially the only white person, who had nothing to do there," he recalled. "And I immediately thought there was a film to be made about the position of the tourist.
"There's a scene toward the end of 'Heading South' when a policeman says to Ellen, 'Tourists never die.' It's his way of refusing her any role in the story which has just come to pass. That's what made such a deep impression upon me during that first trip — that I risked nothing in being there, and that that impunity made it impossible for me to play any role whatsoever in what was happening around me."
On the plane back to Paris, he read Mr. Laferrière's 1997 book of stories, "La Chair du Maître" ("The Master's Flesh"), where he found the kaleidoscopic quality of Port-au-Prince reflected. "It's a place where anything can happen at any moment," said Mr. Cantet, who returned to the Haitian capital half-a-dozen times for casting and location scouting. "You leave your hotel one morning and have the most amazing encounter, and the next day people are spitting on you, and the day after, you turn right and people are shooting at each other. And then, there are these magnificent neighborhoods, filled with a languorous atmosphere, and right next door people are living in sordid shacks and dying of hunger. And all of this coexists, without relationship. I wanted the film to have that feeling of a very arbitrary reality."
It's a reality that erupted brutally during 10 days of filming in 2004, when Mr. Cantet and his small crew found themselves caught in a crossfire between the police and private militias in downtown Port-au-Prince. (The film's resort scenes were done in the nearby Dominican Republic.) And it's a reality his white characters work hard, albeit unsuccessfully, to ignore.
"They're trying to protect themselves from that sense of impotence you have as a tourist," Mr. Cantet explained. "The resort is their little dream world. Of course they're lying to themselves. But I like to risk following characters in all their errors and paradoxes, and little by little, watching those paradoxes crumble."
Mr. Cantet's new project is likely to spawn more controversy — a fiction film starring nonprofessional actors and based on interviews with the survivors of Hurricane Katrina. He recognizes the difficulties for a director of working in foreign territory, but that's part of what appeals to him.
"I'm attracted to what is elsewhere," he acknowledged. "I find it difficult to shoot landscapes — human landscapes — or places that feel too familiar to me. I'm always drawn toward what I don't understand."
The New York Times Company. Reprinted from The New York Times, TheArts, of Monday, May 7, 2006.
Wehaitians.com, the scholarly journal of democracy and human rights