Correspond with us, including our executive editor, professor Yves A. Isidor, via electronic mail:
letters@wehaitians.com
Want to send this page or a link to a friend? Click on mail at the top of this window.

Must learnedly read, too; in part, of intellectual rigor; in part, the repository of ultimate knowledge
Posted Tuesday, March 14, 2006
Good morning, you're listening to prostitutes news today
SAO PAULO, Brazil, Mar. 13, 2006 (Reuters) - Prostitutes in the Brazilian city of Salvador are starting up their own radio station.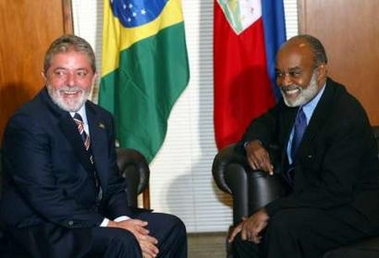 Brazil President Luiz Inacio Lula da Silva (L) meets Haitian President-elect Rene Preval in Brazilia March 11, 2006. REUTERS/Samil Bitta
The Association of Prostitutes of Bahia state has won government permission for the project, enabling FM station Radio Zona to start broadcasting in the second half of the year, project coordinator Sandro Correia said on Thursday.
"We are not going to apologize for prostitution but we are going to struggle for the dignity of the profession," Correia told Reuters.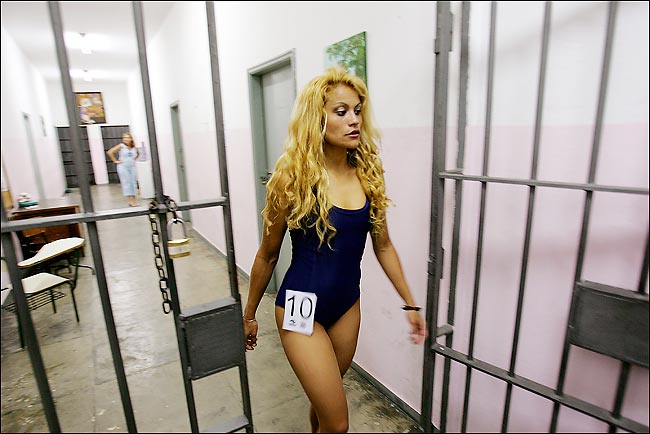 Did drunkard and womanizer Preval voyage to Brazil mainly for her? Did he achieve his maximizing expected utility? Aha, not a vain trip at all, just in case he had so much of a good thing - that is sex, to put it in the vernacular. Photo The New York Times / Text related to photo: Felons all, but free to try being beauty queen for a day
The aim was not to attract women to the business. The station will feature programs about the trade but will also discuss issues such as human rights, social questions, and sexual abuse, Correia said.
"The idea is that we have diverse programs that look at health issues,AIDS prevention, and racism, for example," he said.
Working girls and media professionals such as Correia will staff the station and will give prostitutes training in an alternative job. Funding will come from association funds, advertising and sponsorship.
Prostitution is widespread in Brazil, especially in Bahia state and other parts of the impoverished northeast.
International rights organizations have criticized the country as a destination for sex tourism and child prostitution.
Posted Sunday, March 12, 2006
Haiti cahnges date again for runoff election
By Joseph Guyler Delva, Reuters Writer
PORT-AU-PRINCE, Haiti, Mar. 11, 2006 (Reuters) - Haiti's electoral authorities on Saturday brought forward slightly the date for runoff elections to pick senators and legislators.
Originally due to take place on March 19 and then rescheduled for April 23, the second-round vote will now take place on April 21, a Friday, ostensibly to allow officials the weekend to prepare for classes on Monday the schools that will be used as voting centers.
"We finally decided to organize the second round on April 21, which is a Friday, for practical reasons," Max Mathurin, president of the Provisional Electoral Council, told Reuters.
Elections are usually held on Sundays in Haiti, the poorest and most unstable country in the Americas.
An exception was the presidential election on February 7, the first national ballot since former President Jean-Bertrand Aristide was ousted in February 2004 by an armed revolt and under international pressure to quit.
Mathurin said the council decided to hold the runoff on a Friday to give election workers the whole weekend to put desks, chairs and other equipment back in place in time for schools to open on Monday.
"When we have the election on Friday, at least they will have Saturday and Sunday to starting cleaning and reorganizing," he said.
None of the contenders in the races held alongside the presidential election on February 7 for 30 Senate seats and 99 seats in the lower house appear to have won the majority -- 50 percent plus one vote -- needed for a first-round victory.
President-elect Rene Preval, a onetime Aristide ally and like him a champion of the Caribbean nation's poor masses, was himself originally awarded just under 50 percent of the votes after a week of ballot counting.
But, fearing angry protests by his supporters and mindful of growing allegations of vote fraud seemingly aimed at denying Preval a first-round win, the electoral authorities decided to change the way they counted ballots with no votes cast on them and thereby handed him a victory.
Preval was originally supposed to take office on April 29, but his inauguration is expected to be delayed because of the inability to hold the second round of the legislative election on time. He could take office in the first week of May.
The party that holds a majority in parliament will pick a prime minister and form a government.
No party seems likely to obtain an outright majority but Preval has been meeting other parties in hopes of building a governing coalition that can bridge the deep divides in the country of 8.5 million, in particular the deep distrust between the poor and the small, wealthy elite.
Haiti's president-elect meets with Rice, Mbeki
Haiti's president-elect meets with Rice, Mbeki Sat Mar 11, 9:18 PM ET
VALPARAISO, Chile, Mar. 11, 2006 (AFP) - Haitian president-elect Rene Preval held talks here with US Secretary of State Condoleezza Rice on economic and security issues in his country, officials say.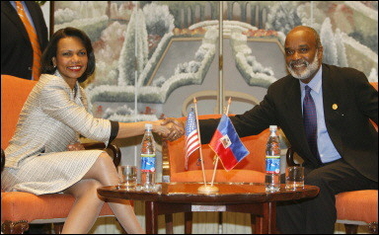 US Secretary of State Condoleezza Rice, seen here on the left, shakes hands with Haiti's President-elect Rene Preval. The two held talks in Santiago mainly focused on security and job creation in Haiti, the Western hemisphere's poorest nation(AFP/Luis Sergio)
Preval met with Rice, and separately with South African President Tabo Mbeki, on the sidelines of the inauguration of Chile's first female president, Michelle Bachelet.
The meeting with the chief US diplomat lasted about an hour and was mainly focused on security and job creation in Haiti, the Western hemisphere's poorest nation, officials said.
"I told Ms Rice that I want to see public works projects replace the tanks of MINUSTAH ( United Nations Stabilization Mission in Haiti) in the areas of sanitation, infrastructure and health," said Preval, who is due to be sworn in on March 29.
State Department spokesman Sean McCormack said that Rice had assured Preval that the United States would help Haiti.
However, no details emerged about Preval's encounter with the South African president.
Mbeki is the host of former Haitian president Jean Bertrand Aristide, who lives in exile in South Africa after quitting office and fleeing his country amid an uprising in February 2004.
MINUSTAH was sent to Haiti several months later to reestablish order.
After Preval's victory in January elections, Aristide expressed his desire to return to Haiti to dedicate himself to education.
US officials view dimly a return by Aristide to Haiti, and see the ex-president as a man of Haiti's troubled past.
A meeting of the so-called Core Group of Haiti's friends -- Brazil, Canada, Chile, France and the United States -- with Mbeki was to be held in the Chilean capital Santiago to discuss Aristide's possible return to his country.
Posted Friday, March 10, 2006
Patriotism, last refuge of scoundrel Preval
By Yves A. Isidor, wehaitians.com executive editor
CAMBRIDGE, MA, Mar. 10, 2006 - Patriotism, said Samuel Johnson, is the last refuge of a scoundrel, wrote The Economist Magazine of March 4th-10th, 2006.
That may be unfair to the proper sort of patriots, Toussaint Louverture (the precursor of Haiti's independence) and a few others.
But it would be an entirely valid comment, to borrow the phrase of the Economist Magazine, about Rene Preval, Haiti's violence issued-president-elect who always claims to be a nationalist, but today urged (he certainly resembled a baby crying for milk) foreign forces to remain in Haiti, perhaps to baby-sit his anticipated narco-, brutal, corrupt and grossly incompetent de facto regime - see news article below.
Haiti's scoundrel and fake nationalist Preval calls on Brazil-led forces to stay
BRAZILIA, Brasil, March 10, 2005 - (Bloomberg) -- Haitian President-elect Rene Preval called on Brazil-led peacekeeping forces to remain in the country to help provide security as it restores democracy and order.
Preval, speaking at a news conference in Brasilia, said Brazilian troops have also helped provide education and health to Haiti's poor population. He said the Caribbean country will need time to reinforce its own police and justice system.
``Our justice system and police are extremely frail,'' Preval, a former ally of ousted leader Jean-Bertrand Aristide, said. ``The presence of the forces should continue and be renewed.''
Haiti, the Western Hemisphere's poorest county, is trying to reorganize a government two years after a rebellion drove Aristide from power and the country into chaos, calling for the United Nations to send forces to help restore security.
Brazilian Foreign Minister Celso Amorim on Feb. 16 said Brazil will maintain support for Haiti, though he declined to say how long Brazil plans to keep its 1,222 soldiers there, where the UN has about 9,000 troops.
Haiti's daily average income is about $1.
Outlook
Ambassador Jose Martins Felicio, the Brazilian foreign ministry's secretary for the Western Hemisphere, said in an interview on Jan. 26 before the elections that Haiti will probably need the help of Brazilian troops to ensure security for at least another year.
Felicio said that even as security is restored, the troops could remain longer to continue rebuilding schools, roads and hospitals.
Preval also said Haiti has no need for an army of its own.
``An army at this point would be useless,'' Preval said. ``We are more concerned about education and infrastructure.''
Haiti's president-elect was declared winner of the country's Feb. 7 presidential elections after taking more than half the valid votes.
The announcement of Preval's victory followed five days of protests by his supporters. He had more than 60 percent of the vote in early tallies, slipping below 50 percent as the counting progressed.
To contact the reporter on this story: Carlos Caminada in Brasilia at at ccaminada1@bloomberg.net
©2006 Bloomberg L.P.
Haiti to hold legislative run-off next month
By Joseph Guyler Delva, Reuters Writer
PORT-AU-PRINCE, Haiti, Mar. 10, 2006 (Reuters) - A run-off to choose a new legislative assembly in Haiti will take place next month, paving the way for President-elect Rene Preval to be sworn in, authorities said on Friday.
The president of the troubled Caribbean country's electoral council, Max Mathurin, told Reuters the run-off would be held on April 23 and promised to correct technical problems encountered during the first round in February.
The run-off for Senate and lower chamber seats had initially been planned for March 19 but was delayed for unexplained reasons. That postponed the installation of Haiti's first elected government since former President Jean-Bertrand Aristide was ousted in 2004.
"The April 23 date has been communicated to the government but it will be official only after publication by the executive branch," said Mathurin.
Francois Benoit, a member of the electoral council, said the government could announce the date as early as this weekend.
The party that holds a majority in parliament will pick a prime minister and form a government. No party seems likely to obtain an outright majority but Preval, a one-time protege of Aristide, has been meeting candidates and politicians from other parties in hopes of building a governing coalition.
Preval was declared president following the first round of last month's general election, after fears of violence and widespread suspicions of vote fraud prompted electoral authorities to change the way they counted blank ballots. The change gave him just over 50 percent of the votes.
Preval's inauguration was initially set for March 29 but was postponed because of the need to elect the legislative assembly that administers the oath of office. Sources close to the interim government said on Friday that Preval could be sworn in during the first week of May.
Spain to withdraw from U.N. peacekeeping mission in Haiti
MARCH 10, 2006 - Spain will pull out of the United Nations peacekeeping mission despite a request that its forces stay until Haiti finishes its stalled electoral process, David Wimhurst, a spokesman for the mission, said, calling the move "an internal political decision" by the Spanish government.
He said Spain's 200 troops in northeast Haiti would be replaced by Uruguayan soldiers already in the country. Spain said last year that it would reconsider its participation in the 9,000-member peacekeeping force unless international donors complied with pledges to finance reconstruction.
Haiti so far has received only slightly more than half of the $1 billion pledged.
U.S. report slams Cuba, Venezuela and Haiti
The State Department's annual human rights report Wednesday skewered Cuba and Venezuela for cracking down on dissidents, and it admonished Colombia and Haiti's interim government for allowing abusers to go free.
Documenting in exhaustive detail human rights issues in 196 countries, not including the United States, the report's introduction focused largely on the Middle East, Eastern Europe, East Asia and Africa.
But Cuba, the increasingly autocratic rule of President Hugo Chávez in Venezuela and impunity of military and illegal paramilitary fighters in Colombia made the list of some of the world's worst examples of human rights abuses.
CUBA'S REGIME
''In Cuba, the regime continued to control all aspects of life through the Communist Party and state-controlled mass organizations,'' the report said. ``The regime suppressed calls for democratic reform, such as the Varela Project, which proposed a national referendum.``
Authorities arrested, detained, fined and threatened Varela activists and the government held at least 333 political prisoners and detainees.
''Venezuela came under attack for politicizing the judicial branch and cracking down on press freedom, including ''legal harassment and physical intimidation'' of journalists.`
`The government use the judicial system selectively against the political opposition, and implementation of a 2004 media law threatened to limit press freedom.''
The State Department also pointed out the difficulties that many countries in the Americas are having sustaining democracy, including Ecuador, where the legislature last year removed democratically elected President Lucio Gutierrez.
Haiti's U.S.-backed interim government, which took over when President Jean-Bertrand Aristide fled the country during an armed revolt, was criticized for its inability to reform the police and judicial systems.
The State Department noted that police raided a soccer match in Port-au-Prince in August looking for gang members and shot and killed six young men. Other groups said more people were killed, hacked to death by gang members working with the officers. Fifteen officers have been arrested for involvement in the massacre.
TWO SET FREE
U.S. officials also criticized the Haitian justice system for releasing two alleged human rights abusers of years past -- former Port-au-Prince police chief Jackson Joanis, held in the killing of The Rev. Jean-Marie Vincent; and Louis-Jodel Chamblain, who was convicted in absentia for a massacre in the northern port city of Gonaives in 1994.`
`The release of Chamblain and Joanis . . . called into question the [interim government's] commitment to respect rule of law and to strengthen democratic institutions in the country.'
'The State Department report does not look at the United States' own practices, which have come under increasing criticism in the past two years for alleged abuses against terrorism suspects abroad and a legal moves seen as aiming to stifle the press, including the jailing last year of then New York Times reporter Judith Miller
Posted Wednesday, March 8, 2006
Oh, yes, dangerous place: Keep yourself and money out of Haiti
Criminals open fire on Kansas missionaries during trip to Haiti
MARCH 8, 2006 - Six men are back in Wichita after a mission trip to Haiti during which one of them was shot and another suffered a cut in an attack by gunmen.
The members of Cornerstone Fellowship Missionary Church were greeted last night by more than 100 well-wishers at Mid-Continent Airport.
James Richards is a machinist who made the trip primarily to work on a malfunctioning diesel engine.
He has a nasty cut on his forehead, but Richards said he has no regrets about going to the impoverished nation to help fellow church members Summer and David Schoenhals feed and care for Haitian children.
Witnesses said David Schoenhals was shot three times during the attack but did not suffer life-threatening injuries. Richards was pistol-whipped before the attackers were driven off with rocks and stones.
Richards said the biggest lesson he learned involved forgiveness, and that he was praying for the salvation of the men who attacked him.
Man charged in execution-style slayings
By Thomas Caywood, Boston Herald Writer
MARCH 8, 2006 - A Cambridge man wanted for the January execution-style murders of a New Hamsphire teen and a Haitian immigrant was nabbed yesterday, but cops are still searching for others involved.
Craig Smith, 37, was ordered held without bail on murder and firearms charges at his arraignment yesterday afternoon in Boston Municipal Court.
"Evidence suggests more than one person was involved in this crime, and we are actively looking for other potential suspects," said David Procopio, spokesman for Suffolk District Attorney Daniel Conley.
Julio Ceus, 33, opened the door of his Kelton Street apartment in Allston around 9 p.m. on Jan. 8 after taking a few calls and telling the caller "hold on," prosecutors said.
Smith and another assailant allegedly burst in and forced Ceus and 18-year-old Natalie Sumner, who was visiting from Franklin, N.H., to the floor at gunpoint.
The assailants demanded money and cell phones before opening fire killing Ceus and Sumner and wounding another man, prosecutors said.
Smith was fingered by witness statements, phone records and video surveillance footage from a security camera near the scene, prosecutors said.
Undercover Boston cops watching him stopped his car in Cambridge yesterday morning to take him into custody.
"I think that's fabulous. It's wonderful," said Andrea Bjelf of New Hampshire, whose niece Ashley Bjelf was visiting along with Sumner and was in the apartment at the time of the killings.
A high-ranking city official told the Herald at the time that the shootings were drug-related.
© Copyright by the Boston Herald and Herald Media. Reprinted from The Boston Herald of Wednesday, March 8, 2006.
Posted Tuesday, March 7, 2006
Ex-Haitian soldiers threaten violence over back pay
PORT-AU-PRINCE, Haiti, Mar. 6, 2006 (Reuters) - A group of former soldiers threatened on Monday to stage violent protests to force Haiti's government to come up with years of back pay they say they are owed.
The threat was emblematic of some of the many challenges facing President-elect Rene Preval, who was declared winner of a chaotic election in Haiti last month and will soon lead an impoverished nation awash in firearms where the rich and poor are divided by hatred.
The claim that ex-soldiers are still owed several years of back pay has never been disputed by the government. Former President Jean-Bertrand Aristide disbanded the military in 1995.
"We are going to take action if we don't find the right answers to our demands," Jean Fito Moise, a spokesman for the group of former soldiers, told a news conference.
"We have to get paid without any further delay," he said. "Otherwise, the government will be responsible for any violence which may result from this situation of frustration."
Moise was one of about 100 ex-soldiers who gathered outside a government office that deals with matters involving demobilized troops. "We are not looking for trouble. But we also have a family to feed," said Joseph Noel, a former corporal.
"We are not violent, but hunger and frustration can trigger violence."
Haiti's ramshackle capital has been plagued by armed gangs and kidnappings since long before Preval's election. The 63-year-old agronomist faces staggering security problems in the Caribbean nation, where 80 percent are unemployed and incomes average just $400 per year.
Following Aristide's ouster in an armed revolt in February 2004, Haiti's former military leaders said 10 years of salary was owed to several thousand soldiers.
The government eventually agreed to disburse more than $24 million in arrears payments, according to former Col. Jean-Claude Jeudy, the commissioner in charge of the government office on demobilized troops. But only about one third of the money has been paid so far.
"We wish we could come here one day and tell everybody 'come and pick up your check.' But the government does not have all the money available now. We have to pay gradually as the government has the money available," he said.
"I don't think the problem can be solved with violence. I urge the ex-soldiers to give up all desire to engage in violence, it can only spoil everything.
Haiti election chief returns after fleeing
PORT-AU-PRINCE, Haiti, Mar. 6, 2006 (AP) — A top election official who fled the country under threat has returned to help organize a legislative runoff needed to form a new government, Haiti's electoral council said Monday.
Jacques Bernard, director-general of the embattled electoral council, arrived in the capital of Port-au-Prince on Sunday to resume his duties, two weeks after he left for the United States, the council's secretary-general, Rosemand Pradel, told reporters. Bernard fled after opponents ransacked his farm and diplomats warned that gang members planned to ambush his car as he left the vote tabulation center.
The threats came amid complaints about the tabulation of results from the Feb. 7 elections won by President-elect Rene Preval, a former president.
Bernard will help prepare for a legislative runoff that had been scheduled for March 19 until officials said it would be delayed because of street protests that have slowed planning. Officials will announce a new election date shortly, Pradel said.
The delay means Preval's scheduled March 29 inauguration will also be postponed since he cannot take power without a sitting parliament.
Posted Monday, March 6, 2006
Posted Thursday, March 2, 2006
Two U.S. Embassy guards killed in Haiti
MORE PORT-AU-PRINCE, Haiti, March 2 (Reuters) - Two Haitian men who worked as security guards for the U.S. Embassy in Port-au-Prince were shot to death as they went home from work, the embassy said on Thursday.
Gary Michel Joseph and Ernst Polo were killed late on Wednesday and their bodies were found in a residential area of the capital on Thursday, the embassy said in a statement.
The killings came as Haitian police reported a drop in crime since the Feb. 7 presidential and legislative elections, particularly in dangerous slums such as Cite Soleil.
Haiti had been plagued by political and gang violence and a spate of kidnappings for ransom in the months leading up to the vote.
Police said slum gangs opposed to the interim government that has run Haiti since ex-president Jean-Bertrand Aristide was deposed two years ago called a halt to the violence, allowing the elections to be held in relative safety.
"Measures taken at the political level have contributed to easing the security situation," said Jean St.-Fleur, director of Haiti's administrative police. "In places such as Cite Soleil, Bel-Air and other places reputed as dangerous, the number of kidnappings is practically zero."
The U.S. Embassy called the slain guards "devoted professionals" and said it was working with Haitian and U.N. police to find the killers.
Haiti parliamentary polls delayed
MARCH 2, 2006 - Haiti's electoral council says that the second round of parliamentary elections will be delayed.
Council head Rosemond Pradel said it was impossible to keep to the 19 March date because complaints from the first round were still being dealt with.
This means that in the absence of a parliament, the inauguration of President-elect Rene Preval, set for 29 March, must also be delayed.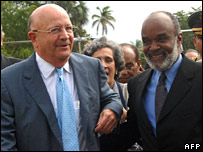 Mr. Preval is currently on his first foreign visit as Haiti's leader.
Mr Preval won Haiti's long-awaited general elections on 7 February.
He is currently visiting neighbouring Dominican Republic in his first foreign visit as Haiti's leader.
'Quite impossible'
The second round of the legislative polls will pit the two leading candidates from the first round in each of 30 Senate seats and 99 Lower House seats against one another.
But the Electoral Council has not yet set a date for the polls to take place, blaming the delay partly on demonstrations which took place while first-round vote-counting was underway.
Allegations of fraud led to daily street rallies by Mr Preval's supporters, who accused the electoral council of manipulating the vote.
Ms Pradel, the electoral council secretary-general, said at least a week was needed to process complaints from the first round, which were still coming in.
"I could say that we have just begun to receive claims," she said. "So it is quite impossible to respect the 19 March date."
She said a further 24 days were needed to complete preparations such as producing the ballots, so a date in early April looked possible.
Posted Wednesday, March 1, 2006
U.S./Eastern Airline's Haiti security boss admits cocaine deals
Stephanie Ambroise was director of security at Haiti's main airport
(CBS4/MIAMI HERALD) MIAMI, March 1, 2006 American Airlines' former director of security at Haiti's main airport pleaded guilty on Tuesday to smuggling millions of dollars' worth of cocaine to the United States aboard the airline's planes, according to our news partners at The Miami Herald.
Stephanie Ambroise, who once worked at Port-au-Prince airport, was arrested in fall 2004 by Drug Enforcement Administration agents at Miami International Airport.
She later was indicted along with her husband on charges of conspiring to smuggle more than five kilos of cocaine into the United States from 1999 to 2004.
Ambroise, who pleaded guilty on the eve of trial, faces up to five years in prison. Her husband, Yonel Joassaint, also pleaded guilty Tuesday before U.S. District Judge Paul Huck.
Joassaint, a former security employee for American Airlines at Port-au-Prince airport, faces up to 12 years in prison. Both defendants are scheduled for sentencing on May 11.
The couple was charged in a federal investigation into a narcotics-trafficking conspiracy allegedly linked to some former officials in the government of ousted Haitian President Jean-Bertrand Aristide. So far, more than 20 defendants have been convicted in Miami federal court.
According to court records, Ambroise would ''coordinate and receive suitcases and other merchandise containing cocaine to pass through airport security.'' In return, she first received $1,000 per kilogram and eventually raised her price to $2,000 per kilogram, records show.
Confidential sources told investigators that Ambroise worked with a Haitian drug trafficker named Serge Edouard, who was convicted at trial last year. They made two to three shipments monthly to Miami and New York, according to court records.
The suitcases and other containers would be taken to Ambroise's husband the night before the shipment and she would put numbered shipping tags on them, records show. She would then call an airport worker, give him the tag numbers and he would put the bags onboard U.S.-bound flights.
American Airlines flies from Haiti to Miami, New York and Boston. (© MMVI, CBS Broadcasting Inc. All Rights Reserved.) SPONSORED LINKS
At least 3 killed, more than 50 injured during annual Haitian carnival festivities
By Joseph Guyler Delva, Reuters Writer
PORT-AU-PRINCE, Haiti, Feb. 28, 2006 (Reuters) - At least three people died and more than 50 have been injured during carnival festivities in Haiti, which has been plagued by political and gang violence, doctors and witnesses said on Tuesday.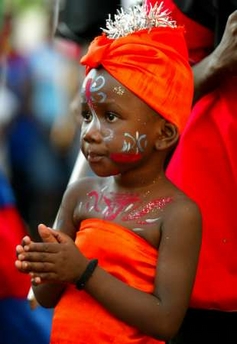 A Haitian child looks at the parade during the third day of parades as part of the annual Haiti Carnival in Port-au-Prince, Haiti, February 28, 2006. REUTERS/Eduardo Munoz
Doctors at the general hospital in the capital said a man and two women died on Monday along the parade route in Port-au-Prince.
A 19-year-old man was killed when a float carrying a musical group ran him over. A woman died when she fell from a float and was crushed, and another woman died after being hit with a piece of a broken bottle, according to witnesses.
At least 50 people have been injured since the annual festival began on Sunday.
Hundreds of people have died in political and gang violence in Haiti in the last two years.
In the months leading up to the February 7 election, gunfire in the slums and kidnappings for ransom were a daily occurrence in the capital. But the country avoided a feared explosion of violence in connection with the vote, its first since former president Jean-Bertrand Aristide was deposed by an armed revolt in February 2004.
Haiti's interim government disbursed nearly $2 million to finance the popular annual pre-Lenten carnival.
Haiti election woes may delay legislative runoff
PORT-AU-PRINCE, Haiti, Feb. 28, 2006 (AP) -- The top electoral official flees the country in fear. A presidential vote count is disputed by the winner's two main rivals. Now, a legislative runoff needed to form a new government could be postponed for weeks.
The aftermath of Haiti's elections, which returned former President Rene Preval to office, has been chaotic. But Haitian officials and international observers are reasonably upbeat. After all, Haiti has only had four elections in its bloody, 200-year history.
"I don't think it's as bad as it sounds," said U.N. spokesman David Wimhurst. "The election of Mr. Preval has been universally welcomed except for one or two quarters. It's a result that has generally been accepted by the entire international community."
The February 7 election got off a few hours late -- some polling stations did not open on schedule. There were long lines and a few scuffles. That was followed by an agonizingly slow vote count and allegations of voter fraud.
After a week had passed without a declared winner, angry supporters of Preval poured into the streets of the capital, clamoring for their candidate to be named the victor and accusing election officials of trying to steal the vote.
Fearing violence, diplomats pressured election officials to find a compromise. The problem? With 90 percent of the votes counted, Preval had 48.76 percent -- just shy of the 50 percent plus one vote he needed to avoid a runoff.
When his two closest rivals refused to concede, election officials met throughout the night until they agreed to divide the unusually large number of blank ballots among the 33 candidates according to the percentage of votes they received.
That gave Preval 44,478 of 91,219 blank ballots, said Gerard Le Chevallier, the U.N. elections chief in Haiti. Preval gained 58,346 more votes after an additional 5 percent of the valid ballots were tallied, giving him 51.21 percent of the vote with 95.78 percent counted.
The remaining results were either lost, stolen or destroyed before they could be processed, Le Chevallier said.
Preval's two closest opponents trailed far behind. Former President Leslie Manigat had 12 percent, and Charles Henri Baker, a wealthy businessman, had 8 percent.
Still, both men accused officials of bowing to pressure and undermining the electoral process, with Baker saying the decision "presaged a dark period for Haiti's future."
Robert Maguire, a Haiti expert and professor at Trinity College in Washington, said officials worked within the country's "ambiguous electoral laws" to correct what appeared to be a glaring irregularity with the blank ballots.
"Nobody is going to walk four to six hours to vote just to put a blank ballot inside the box," he said.
Though the solution appeased Preval supporters, tension mounted within the divided nine-member electoral council, which was charged with organizing the first election since President Jean-Bertrand Aristide was ousted in a violent rebellion two years ago.
Two council members denounced the body's director-general, Jacques Bernard, accusing him of "megalomania" and of excluding them from important decisions. Preval supporters accused Bernard of trying to manipulate the vote count to deny Preval a first-round victory -- an allegation Bernard denied.
Bernard fled the country February 19 after opponents ransacked his farm and diplomats warned him that gang members planned to ambush his car.
"That's when I decided it was time to leave," Bernard said in a telephone interview from Washington. "I'm not used to bodyguards and armored cars; I can't live with it. My life had become in danger."
Bernard and other election officials said the street protests prevented poll workers from finishing their duties, meaning a legislative runoff scheduled for March 19 likely will be postponed.
"The pressure of the street made us lose one week of work and put us behind in our plans to hold the runoff on March 19," electoral council Secretary-General Rosemond Pradel told local Radio Metropole, declining to say when the runoff might be held.
The delay could force postponement of Preval's March 29 inauguration since technically he can't take power without a sitting parliament.
During a visit to Haiti this week, Thomas Shannon, assistant U.S. secretary of state for Western Hemisphere affairs, urged all sides to work together.
"What's important is that this electoral process keep moving forward. The Haitian people have waited too long already, and it's our hope that this process will meet its timetable and that a new government will be inaugurated soon," he said.
St. Fleur case tests Haitians
By Maria Cramer, Globe Staff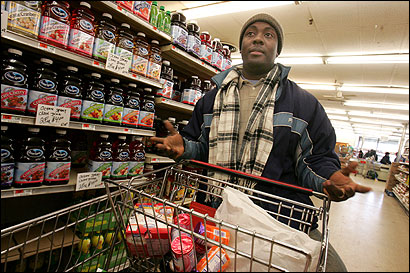 'I would like her to apologize. I think if she clears this up, I think everybody would support her -- Marcelin Gabriel, 30 of Hyde Park (Matthew J. Lee/Globe Staff)
St. Fleur case tests Haitians. Many adore her, others skeptical of her finances after revelations
For many Haitians, the financial problems of state Representative Marie St. Fleur are irrelevant. She is still their fellow countrywoman.
''She's Haitian like us," Jude Remy, 39, of Mattapan said as he shopped at Mars Farmers Market on a recent Saturday. ''We're supposed to give support to her. . . . She's a good person for us."
But those younger Haitians who have lived most of their lives in the United States and are more skeptical of political leaders find such undisputed loyalty troubling.
''I think the older community, I hate to say it, they're going to support anyone who is Haitian," said Jemina Simon, 23, of Dorchester. ''Anybody who is Haitian is good in their book. They just look at it at face value. They don't do any digging. 'Oh they're Haitian; they're great.' "
Last month, the Globe reported that St. Fleur, a popular Dorchester legislator, had been delinquent in her federal taxes and was not paying off $40,000 in student loans. The report came less than 24 hours after Attorney General Thomas F. Reilly, gubernatorial candidate, announced St. Fleur as his running mate. The St. Fleur story set off intense discussions in the Haitian community around Boston, which is increasingly exercising political muscle.
As St. Fleur launches a reelection campaign to keep her seat in the House of Representatives, many in the Haitian community are grappling with the financial revelations that forced her to drop out of the lieutenant governor race and humiliated the Democratic Party.
Haitians the Globe interviewed expressed almost the same sentiments: St. Fleur should have known better than to avoid paying her taxes. Many said she embarrassed the community and set a poor example. But they also said St. Fleur, who emigrated from Haiti as a girl and worked her way through college to achieve political office, deserves the full support of Haitians.
''She's a very good woman and a very good leader," said Luckson Alphonse, 36, of Revere, on a recent Sunday as he waited for services to begin at the Haitian Church of the Nazarene Friends of the Humble in Dorchester. ''She supports Haitians in the city . . . . We need more Haitians coming forward to do that."
As St. Fleur's political profile has risen over the past several years, the Haitian community here has been gaining a voice. She was the first Haitian elected to the Massachusetts Legislature in 1999 and was later made chairwoman of the Joint Committee on Education. Last year, she became vice chairwoman of the House Ways and Means Committee. That same year, another Haitian, Linda Dorcena Forry, also from Dorchester, won election to the House.
The Haitian community saw itself reflected in St. Fleur's success, said the Rev. Pierre-Louis Zephir, senior pastor at the Haitian Church of the Nazarene.
''When you're looking at the city, at the world, we're not in a very good position," he said. ''People are always looking for . . . somebody they can call on as a leader. The Haitian community most likely sees Marie St. Fleur as a person they can follow."
St. Fleur did not return repeated calls for comment.
Haiti is often described as the poorest country in the Western Hemisphere, filled with political strife and unstable. The image hurts many Haitians who desperately seek inspirational figures in their community, said Daphne Germain, a youth worker at the Missionary Association of Haitian Christians in Jamaica Plain.
''For the older generation I understand when they say, 'She's one of us; she understands our cause,' " said Germain, 26. ''For the older generation, Marie St. Fleur . . . shows that Haitians are capable, capable of holding office, capable of doing well. She is the dream that they want every one of their children to have achieved."
Haitians, in general, want to forgive her, said Marcelin Gabriel, 30, who lives in Hyde Park and is studying to become a nurse at Roxbury Community College.
''I would like her to apologize," he said. ''I think if she clears this up, I think everybody would support her. We are few [in politics], so everybody would . . . want to help her in any way they can."
But Simon said that by overlooking St. Fleur's transgressions, some are ignoring an obvious reality: St. Fleur was unprepared for higher office, given her financial woes.
In addition, Simon said, the fallout may have hurt the chances of future Haitians who could face more scrutiny if they seek a career in politics.
''Now it's going to be extra hard for a young Haitian to run," said Simon, who was also shopping at Mars Farmers Market in Mattapan on a recent Saturday.
Her cousin, Paul E. Simon, 33, stood nearby, nodding.
''It was a slap in the face," he said. ''This was someone who was representing the Haitian people, giving hopes to young people."
No one has announced plans to run against St. Fleur, 43, who is seeking her fourth full term in the House. But her troubles may actually draw politically ambitious Haitians to take her on, said Eddy Desir, 43, a bank account executive who lives in Boston.
''She's very popular, so some people didn't want to run against her," Desir said. ''Now they feel better, like if they run against her, they have a better chance to win."
Maria Cramer can be reached at mcramer@globe.com.
© Copyright 2006 Globe Newspaper Company. © 20 The New York Times Company
Wehaitians.com, the scholarly journal of democracy and human rights