Posted Wednesday, February 15, 2006
Bank to foreclose on St. Fleur hubby property; money woes mount on failed gov. hopeful
By Casey Ross, Boston Herald Writer
State Rep. Marie St. Fleur, whose brief stint as Tom Reilly's gobernatorial running mate was derailed by troubled finances, is battling more money woes as a bank prepares to foreclose on a Brockton apartment house purchased by her husband.
Wells Fargo Bank will seize the family property at 40 Falmouth Ave. and sell it during an auction planned for Feb. 24 unless an agreement is reached within days, according to a published legal notice.
The apartment house, purchased by St. Fleur's husband, Jean B. Lauture for $410,000, is the second piece of property for which the family has faced foreclosure. The former First National Bank of Boston foreclosed in 1992 on a home St. Fleur and her husband purchased on Old Morton Street in Mattapan.
St. Fleur, who dropped out as Reilly's running mate Feb. 1 after a flood of embarrassing financial disclosures, did not return phone calls yesterday seeking comment. Her spokesman declined to answer questions about the foreclosure notice on the record.
In comments explaining her decision to back out of the race two weeks ago, St. Fleur said she was planning to take a few weeks to address financial problems with her family.
However, her troubles have continued to mount in recent days as reports have uncovered additional problems such as unpaid excise taxes and a felony larceny charge against her husband in 1992.
Lawyers for the bank did not return phone calls yesterday.
The foreclosure on the house in Brockton comes less than two years after Lauture purchased the property in April 2004. At the time, the family was already facing a debt of $12,700 owed to the IRS because of unpaid taxes.
Less than a year after the purchase, the city of Brockton filed tax liens on the property for unpaid water bills amounting to more than $3,700. Those bills were later paid.
St. Fleur's money woes and subsequent retreat from the lieutenant governor's race delivered a punishing blow to Reilly' s candidacy after he admitted he had not thoroughly scrutinized her record and then blamed the lapse on his own political ineptitude.
© Copyright by the Boston Herald and Herald Media. Reprinted from The Boston Herald of Wednesday, February 15, 2006.
Posted Monday, February 13, 2006
Haitian grandVoodoo priestess caught with human skull faces up to 15 years in prison, if convicted
FORT LAUDERDALE, Fla. - A human skull found in a woman's luggage at Fort Lauderdale-Hollywood International Airport is likely an object used in a voodoo ritual, the Broward County medical examiner said Friday.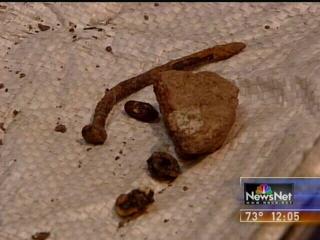 The skull
The skull was found Thursday night during a bag check in U.S. Customs at the Fort Lauderdale airport. The woman, identified as 30-year-old Myrlene Severe, was on Lynx Air International Flight 203 from Haiti to Fort Lauderdale.
Customs and Border Protection officials "found a human head with organic matter inside of her checked baggage," ICE Special Agent Erick Hernandez wrote in an affidavit in support of a criminal complaint. Severe told authorities "she had obtained the package, which contained the human head, from a male in Haiti for ... use as a part of her voodoo beliefs. Severe also stated that the purpose of the package was to ward off evil spirits," Hernandez wrote.
"It still had teeth, hair and bits of skin and lots of dirt," said Barbara Gonzalez, a spokeswoman for U.S. Immigration and Customs Enforcement in Miami.
The medical examiner said the skull was a man's who probably died within the last year or so. It appears the skull was dug up from a grave.
Officials found it in a bag with various fruit and vegetable leaves, a nail and some stones.
"It appears to be something that you use for a voodoo ritual," said Dr. Joshua Perper, Broward County medical examiner. "The other possibility is Santeria but we spoke with some experts in the field who believe this is indeed a ritual object for voodoo. Most likely the person who carried it in the luggage brought it for ritualistic voodoo purposes."
The criminal complaint filed Friday charges Severe with smuggling a human head into the U.S. without proper documentation, failure to declare the head and transporting hazardous material in air commerce.
She faces a maximum of 15 years in prison if convicted on all charges, according to the U.S. Attorney's Office for the Southern District of Florida.
Severe remained held Friday on a $100,000 bond. She is due back in federal court March 2.
Reprinted from NBC6.NET, WTVJ nbc6.net of Monday, February 13, 2006.
Violent protests mar Haiti vote count
Violent protests mar Haiti vote count 31 minutes ago
PORT-AU-PRINCE, Feb. 13, 2006 (AFP) - An eruption of gunfire left several people wounded amid violent protests over the result of Haiti's presidential election, officials said.
Haitian demonstrators in the pool of the luxury Hotel Montana (AP Photo) More Images
Demonstrators took over the streets of the Haitian capital and UN peacekeepers deployed across the city.
Followers of Rene Preval, the election frontrunner, used car wrecks, rocks and burning tires to block major avenues, protesting partial results that showed Preval narrowly missed the 50 percent he needs to be elected president without going to a second round.
UN officials said they had reports that several people were wounded by shots fired in one clash near Port-au-Prince airport. Police said one man had apparently died.
A spokesman for the 9,500 UN Stabilization Force in Haiti (MINUSTAH) denied a claim by another UN official that peacekeepers had opened fire on a crowd of demonstrators.
"We shot in the air, absolutely not on the protesters," said the spokesman David Wimhurst.
Amid appeals for calm, Brazil, which leads the UN force, asked the United States to organize a UN Security Council meeting on the new tensions in Haiti. The United States is president of the security council for February.
US helicopters hovered above the capital and UN forces and Haitian police were deployed in key areas in armed personnel carriers and other vehicles.
Crowds gathered outside the offices of the Provisional Electoral Offices (CEP) demanding that Preval be declared president immediately and claiming the vote count was fraudulent.
They also stormed the gates of the Montana hotel, where the CEP had announced partial results in past days. Demonstrators jumped into the pool of the luxury hotel, and danced on the tennis court, chanting "Preval president." UN helicopters landed reinforcements on the roof.
Former South African Anglican Archbishop Desmond Tutu joined officials in appealing for calm, urging the crowd gathered on the hotel grounds to return home peacefully. "You must show the world that you abhor fighting," the Nobel peace laureate told the protesters.
Haiti's interim prime minister Gerard Latortue also called for an end to violent protests. "A little calm, a little patience. The will of the people will be respected," Latortue said in a televised speech. "The victory will not be stolen."
"The situation is very unstable," a senior UN official said. "There are troubles almost everywhere."
Businesses in the Haitian capital shuttered their doors and some people sought refuge in police stations.
Demonstrations were also reported in Cap-Haitien, the second largest city, and other parts of the impoverished Caribbean country.
Similar protests two years ago turned into a popular uprising that forced Jean Bertrand Aristide, Haiti's last elected president, to flee. Haiti has been rocked by turmoil since, but the violence eased shortly before the February 7 elections.
The demonstrations started as soon as authorities announced the latest partial results, showing Preval had 48.76 percent of the vote with 90 percent of the ballots tallied.
Preval, 63, a former president and a champion of the poor had a huge lead over his 31 rivals, several of whom have said they would support him in a second round.
At least one of the candidates claimed irregularities in the vote count.
"I am ready to accept Mr Preval's victory if it is proved that the vote was manipulated," said Jean Chavannes Jeune, who placed fourth with five percent of the vote.
There was no immediate announcement from Preval, but UN officials said he was heading to the capital, from his hometown of Marmelade on Monday.
Any runoff would be held on March 19, with Preval competing against Leslie Manigat, 75, also a former president, who had 11.8 percent in the partial results.
Preval was president from 1996 to 2001. A former ally of Aristide, he served as prime minister in his government in 1991, but his aides say the two men are no longer in contact.
Like Aristide, Preval enjoys strong support from impoverished Haitians who make up 77 percent of the 8.5 million population.
Posted Sunday, February 12, 2006
Crowds demand Preval be named Haiti totalitarian dictator
EDITOR's note: To paraphrase, in part, The Economist Magazine of February 4, 2006, democracy does not guarantee that citizens, especially illiterate ones, will make wise choices, or that democracy will be good neighbor. The lessons of the 20th century is that no people is immune from falling under the spell of some hypnotic voice or pernicious doctrine. In 1933, Germans freely elected the Nasi Party, which went on to reduce Europe to rubble. Today, 2006, if democracy will again most likely deliver dangerous results, especially with terrorist Rene Preval as Haiti's president, a most urgent correction must be made...
PORT-AU-PRINCE, Haiti, Feb. 12, 2006 (Reuters) - Shouting "Preval is president," thousands of protesters marched in the Haitian capital on Sunday demanding election results five days after the troubled Caribbean nation's first vote since Jean-Bertrand Aristide was ousted two years ago.
The large demonstrations came as concerns grew that the election results, which showed former president Preval romping ahead of his rivals in the first round but just short of a majority needed to avoid a runoff, were being manipulated.
Preval, a former Aristide ally opposed by the wealthy elite in the poor Caribbean nation, complained there was a "problem" with the counting, and two members of a nine-member council that oversees elections decried "manipulation" of the count.
The electoral council had said final results would be made public on Sunday but they had not been released by early evening, as thousands rallied outside the hilltop hotel where the tally was to be announced.
Preval supporters filled a 10-block stretch of one of the teeming capital's main streets from sidewalk to sidewalk, singing and waving tree branches and chanting, "We voted already, Preval is president, We're not going to vote again!"
"I am begging the government, the election council, to make peace," Joanne Malebranche, 27, shouted as she knelt in the street and flung her arms in the air. "Let's make peace. Give us Preval."
Preval, who was president from 1996 to 2001 between Aristide's two terms, had 49.1 percent of the votes, according to the latest incomplete results on the Provisional Electoral Council's (CEP) Web site.
He needs more than 50 percent to avoid a March 19 run-off against the second-place candidate, currently ex-president Leslie Manigat, who had 11.7 percent.
The controversy over the results centred on a discrepancy between a graphic on the council's Web site and the results issued by the council's director-general, Jacques Bernard.
Bernard said that Preval had about 49 percent but the graphic generated by computer had him at 52 percent. The graphic was later changed to match the 49 percent figure.
"I went to school and the CEP has given two figures, 52 percent and 49 percent. Now there is a problem," Preval told reporters while sitting on a bench in the village square in his mountain hometown of Marmelade. "Forty-nine percent, I don't pass. Fifty percent, I pass."
Aristide was ousted by an armed revolt in February 2004 and Washington has urged Preval, if elected, not to allow the former Roman Catholic priest to return from exile.
Observers have said a second-round of voting could change the dynamic of the election because some of the candidates who oppose Preval, seen as the champion of Haiti's poor masses, have agreed to rally behind the second-place candidate.
Pierre Richard Duchemin and Patrick Fequiere, two of the nine members of the elections council, said the vote tabulation was being manipulated and blamed Bernard.
"The percent which is given by the graphic is done by the computer according to figures entered by a data operator and the computer can't lie," said Duchemin, who was in charge of the voting tabulation centre. He said he had been excluded from viewing data.
"There is an unwholesome manipulation of the data."
Bernard denied the result was being manipulated. He said someone forgot to update the graphic. "They accuse me of manipulation," he said.
"They say I received several million dollars to manipulate the election. None of it is true." Adding to the controversy was the issue of 72,000 blank ballots, on which no vote was cast.
They were being added to totals used to calculate each candidate's percentage and that helped drop Preval under 50 percent.
South African Archbishop Desmond Tutu, the 1984 Nobel Peace Laureate, said Sunday Mass at St. Trinity Cathedral in downtown Port-au-Prince and praised Haitians for a peaceful election.
Spain urged to reconsider withdrawing Haiti troops
MADRID, Feb. 12, 2006 (Reuters) - The United Nations is urging Spain to reconsider its plans to withdraw its 200 peacekeeping troops from Haiti next month, Spanish media reported on Sunday.
No one at Spain's Defense Ministry was available to comment.
Haiti held presidential elections earlier this month, the results of which are still being counted. The UN has deployed 9,000 troops and police to support the interim government and help ensure a return to democratic rule after former president Jean-Bertrand Aristide was ousted from power in 2004.
El Pais newspaper said the Spanish troops were due to come home around March 15. Agency Europa Press quoted a UN spokesman as saying he hoped Spain would reconsider. An official response from the UN on the Spanish decision to bring troops home was expected this week, reports said.
Posted Saturday, February 11, 2006
Haiti Hamas-type presidential candidate Preval lead considerably narrows
PORT-AU-PRINCE, Haiti, Feb. 10, 2006 (AP) -- Presidential candidate Rene Preval's lead narrowed Friday as more ballots were counted, raising the possibility he would have to face a runoff against the second-place finisher to determine who will lead this fractured and impoverished nation.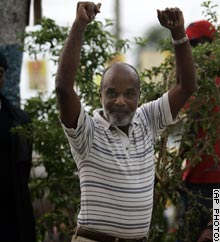 Haitian presidential candidate Rene Preval has about 50.2 percent of the votes counted so far.
If Preval wins outright or in a second round and moves into the cream-colored presidential palace, he will face a weighty agenda to pull Haiti from the brink of collapse. Election workers were still tallying votes late Friday, three days after a huge voter turnout almost overwhelmed poll workers.
Preval, a former president and agronomist who is highly popular among the poor, had 50.26 percent of 1.1 million valid votes counted so far, the electoral council said. More than 1.75 million voters cast ballots, U.N. officials said. If no candidate wins a majority, a runoff between the top two vote-getters will be held March 19.
A candidate running a distant third said he wanted the electoral council to investigate reports of fraud, claiming some people voted several times. International observers have widely praised Tuesday's elections as free and fair.
If Preval wins, he will have to immediately begin negotiating with opposition parties in parliament, where his Lespwa Party is expected to be weak, to select a prime minister. And he must stem gang violence that is driving out manufacturers and eliminating thousands of jobs.
"Everything in Haiti is broken and everything needs fixing," said Robert Maguire, director of the international affairs program at Trinity University in Washington. "One of the most immediate tasks is reconciliation and dialogue among Haitians."
This desperately poor Caribbean nation has been without an elected leadership and has been descending into anarchy since President Jean-Bertrand Aristide was ousted in a bloody rebellion two years ago. The huge voter turnout Tuesday showed Haitians long for stability.
Unconventional style
Preval has refrained from declaring victory, but indicated he would have an unconventional style.
"Don't ask me to wear a tie," he told reporters Friday in his home village of Marmelade. He also recalled his youthful days as an anarchist.
"I still am," he quipped, adding that he is a nonviolent one who believes power should flow from government to the people.
Preval must help bring together Haiti's polarized society that is split between the few rich and the majority poor, experts say.
Preval already has strong support from Cite Soleil, the huge shantytown where U.N. peacekeepers regularly traded fire with well-armed gang members before the election.
"I think Preval is going to come in and help with health care, put more schools in the slum, bring treated water to drink and teams who can come in and clean the sewers," a gang leader who goes by the name Toutou said in an interview with The Associated Press in Cite Soleil.
Toutou, who describes himself as a social activist rather than a gang leader, said the armed factions in Cite Soleil are willing to "put down our guns" if their opponents do the same.
Preval's honeymoon period is apt to be short among those who live in the sprawling slums, where a lack of opportunity has steered young men into gangs that have battled with U.N. peacekeepers and kidnapped hundreds of people for ransom.
"The window will probably not be open too long," Maguire said. "He will have to show some improvement in their lives. And he will need partnerships of Haitians with resources to do this."
Since wealthier Haitians have been among the kidnap victims, "It's in their interest ultimately to become proactive in trying to address the problems of Haiti's poor," Maguire said in a telephone interview.
Election returns indicated Preval might have enough votes to win outright and avoid a March runoff between the top two finishers. The early returns had Leslie Manigat, a former president, with 11.41 percent of the vote and businessman Charles Henri Baker with 8.3 percent.
Baker claimed there was fraud.
"We're starting to hear that people voted five times, 10 times, 20 times," Baker said. "This is a worry to us because we don't know if it happened at one center, 10 centers ... or all over the country."
Officials at Haiti's electoral office weren't immediately available for comment.
If Preval wins, it will be people like Baker -- a wealthy garment factory owner -- he must try to win over so Haiti charts a new course.
"Preval is going to have to be bringing people to the table and finding common ground to move forward," Maguire said. "It is going to be quite a challenge."
Husband of Haitian-American State Representative, a former candidate for Lieutenant Governor, faced larceny charge
Admitted to facts in '92 felony case
By Stephanie Ebbert, Globe Staff
A week ago, Attorney General Thomas F. Reilly was embarrassed by disclosures that his newly chosen running mate, state Representative Marie St. Fleur, had a long and easily available public record of tax and fee delinquencies.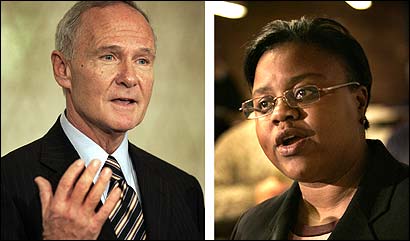 Marie St. Fleur (right) withdrew from the campaign for lieutenant governor amid questions about her past financial problems, leaving her running mate, Thomas Reilly (left), red-faced. Barry Chin/Globe Staff Photo/File 2006
Now, public records also reveal that St. Fleur's husband faced a felony larceny charge in 1992 in the alleged theft of $20,000 from his employer by altering expense accounts and receipts.
Reilly, a Democratic candidate for governor, was the Middlesex district attorney at the time of the charge, which was handled by a prosecutor in his office. Though the charge did not result in a conviction, St. Fleur's husband, Jean B. Lauture, admitted there were sufficient facts to prosecute and agreed to repay a portion of the money.
Last night, Reilly declined to answer questions about whether he knew of the charge when he chose St. Fleur as his running mate.
Reilly's campaign spokesman, Corey Welford, issued a statement saying: ''Representative St. Fleur decided last week to end her campaign for lieutenant governor. It was the right decision for her and her family. Our campaign is moving on and moving forward."
Elected in 1999, St. Fleur is vice chairwoman of the House Ways and Means Committee; Lauture, 46, is an accountant.
Though both declined interviews, St. Fleur issued a statement last night acknowledging her financial problems and her husband's larceny charge.
''More than 14 years ago, my husband made a terrible mistake during a very difficult period in our lives, for which he made restitution," she said in a written statement. ''The case was adjudicated and disposed of. Over the past 17 years, we have worked very hard to overcome our financial difficulties. We have always recognized our financial obligations, and while we have paid some bills late, we have paid them. Our obligation to the IRS has been paid. Furthermore, I am current on my negotiated student loan payments. As a family, we have worked very hard to work through difficult times and we will continue to do so."
"More than 14 year ago, my husband made a terrible mistake during a very difficult period period in our lives, for which he made restitution." Rep. Marie St. Fleur
The Globe reported last week that St. Fleur and her husband had a 2005 federal tax lien for failure to pay more than $12,000 in taxes. She also acknowledged to the Globe that she owed $40,000 in delinquent student loans, and that her first home had been seized in foreclosure.
That foreclosure process nearly overlapped with the dates that Lexington police alleged that Lauture was involved with larceny -- between December 1989 and May 1992. A bank filed its intention to foreclose on the couple's house in 1990, took a formal step in April 1992, and seized the house in 1993. The couple later purchased another house in Dorchester. Public records on file at the Concord District Court show that Lexington police issued a criminal complaint against Lauture in 1992, alleging that over a 2 1/2-year period he stole up to $20,000 from the civil engineering firm of Fay, Spofford and Thorndike.
Lexington police Captain Mark Corr said police records show that the company, which had fired Lauture, accused him of stealing money by altering expense accounts and receipts. The case was continued without a finding.
Because it is not a conviction, that outcome would not appear on a criminal record. However, it would appear on a Board of Probation record, which would list any contact with law enforcement or the courts, regardless of the outcome, said Hank Brennan, a former prosecutor now working as a criminal defense lawyer.
A Concord District Court docket shows that Lauture failed to show up for his initial court appearance in August 1992. A warrant was issued for his arrest, but he did not appear in court for three years and entered a plea of not guilty.
In May 1996, he changed his plea to admit a sufficient finding of facts, a plea that typically means the defendant is not admitting guilt but acknowledging the prosecution has enough evidence to win a conviction. Lauture was ordered to pay restitution of $3,857 and a $45 monthly fee for his two-year probation.
But by the fall of 1996, he had failed to make payments, and another warrant was issued for his arrest, court records show. He was picked up on that warrant when he appeared in another court in July 1998 for another case, and he pleaded no contest to violating terms of his probation.
At the time, he still owed $2,708 in restitution and another $1,140 in fees, according to a court document. Three months later, his case was discharged after he paid off the remaining debt.
Lauture also has a lengthy history of traffic violations and nonpayment of penalties, according to the Registry of Motor Vehicles. Last week, both he and St. Fleur had driver's licenses in a ''nonrenew" status for failure to pay excise taxes to the City of Boston.
© Copyright 2006 Globe Newspaper © 20 The New York Times Company. Reprinted from The Boston Globe, City & Region, of Friday, February 10, 2006.
Posted Friday, February 10, 2006
Preval opponent in Haiti alleges fraud
By Michael Norton, Associated Press Writer
PORT-AU-PRINCE, Haiti, Feb. 10, 2006 - Rene Preval held a commanding early lead in Haiti's presidential elections Friday, with a majority of the first votes counted going to the former protege of deposed President Jean-Bertrand Aristide.
Preval, a former president seen as a champion of the poor, had 61.5 percent of 282,327 valid votes counted. Former President Leslie Manigat had 13.4 percent and businessman Charles Henri Baker 6.1 percent, according to figures released Thursday by election officials.
The electoral council did not say what percentage of the total votes cast in Tuesday's election the figures represented. According to the United Nations, a majority of Haiti's 3.5 million eligible voters cast ballots.
Baker said he was asking the electoral council to investigate reports of fraud.
"We're starting to hear that people voted five times, 10 times, 20 times," Baker told The Associated Press. "This is a worry to us because we don't know if it happened at one center, 10 centers ... or all over the country."
Baker said he didn't know whether the alleged fraud affected the overall outcome, but he said he was "flabbergasted" that international observers have widely praised Tuesday's elections as free and fair.
Officials at Haiti's electoral office weren't immediately available for comment.
Election authorities said it might be Saturday before enough ballots are counted to draw conclusions about the race.
Manigat, however, said early returns tallied by his party members showed Preval could win a majority of votes, avoiding the need for a runoff.
Preval faces monumental tasks if he wins the presidency of this impoverished nation.
Most Haitians can't read or write, and subsist on about a dollar a day. A wave of kidnappings by heavily armed gangs has swept the capital. Amid the insecurity, assembly plants are closing, causing the losses of thousands of jobs. Donor nations are hesitant to contribute money because of a legacy of government corruption.
Preval's own tenure as president from 1996-2001 was less than stellar. His efforts at agrarian reform failed because landless peasants who received land couldn't live on the small amount they were given. He clashed with parliament over the legitimacy of the legislators who won contested elections. Human rights advocates accused him of interfering in the judicial system and of politicizing the police force.
But poor Haitians remember that Preval tried to help them. Even the smaller efforts are remembered by those whose plight was ignored by a series of governments and dictatorships.
"He built the big marketplace downtown. He fixed it so that the vendors could get out of the mud," said Yves Valea, a 70-year-old street sweeper.
When he stepped down after serving out his five-year term — the only Haitian president to complete his term in office — Preval went to live in his grandmother's house in Marmelade, where he devoted himself to local development projects.
Preval stood for years in the shadow of Aristide, his dominating predecessor. Aristide, who referred to Preval as his "twin," was ousted amid accusations he ordered gangsters to attack opponents and pocketed millions of dollars.
Preval made a point of saying in a recent interview that he has split with Aristide, who is in exile in South Africa.
"If I'm his 'twin,' we do not have the same mother," Preval told the AP. Preval pointed out that nothing can legally prevent Aristide from returning to Haiti, but added that he may have to face a trial.
Preval would have a fresh start in relations with Washington, said Robert Fatton, a political science professor at the University of Virginia.
"When (Preval) was president, the U.S. did not necessarily think he was a bad man, but they considered he had his hands tied up by Aristide," Fatton said. "The U.S. now believes Preval is his own man."
___ Associated Press writers Stevenson Jacobs in Port-au-Prince and Joseph B. Frazier in Marmelade contributed to this report.
A second presidency of Preval: Again, a bridge of sorts to desperation, boat people for the U.S. and totalitarian dictatorship
Posted Wednesday, February 8, 2006
Haiti counts votes in presidential election
By Jim Loney and Joseph Guyler Delva
Haiti counts votes in presidential election By Jim Loney and Joseph Guyler Delva 2 hours, 42 minutes ago
PORT-AU-PRINCE, Haiti, Feb. 8, 2006 (Reuters) - Early results trickled in on Wednesday from Haiti's first election since Jean-Bertrand Aristide was deposed two years ago, and international observers said the vote was relatively clean and nonviolent.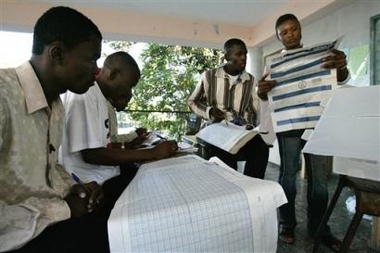 Haitian electoral workers count ballots for the Senate in the morning after election day at a polling station in the Petionville suburb of Port-au-Prince, Haiti, Wednesday, Feb. 8, 2006. An arduous vote-counting process picked up steam and Haitians nervously awaited results of long-delayed presidential and legislative elections. (AP Photo/Andres Leighton)
At least four people died during a day of sometimes-chaotic balloting in which some polling stations opened -- and closed -- hours later than scheduled. One of the dead was a policeman killed by a mob after he shot someone, but there was no widespread bloodshed.
Counting began shortly after polls closed on Tuesday, but officials have said the winner might not be known for days. Poll workers pored over ballots by candlelight in places where there was no electricity and some ballot boxes traveled from mountainous, remote areas by mule.
By morning, they had completed the count in one center, a large, trash-strewn warehouse near the Cite Soleil slum.
A tally of 20 polling stations in that center produced the expected result -- 75 percent for Rene Preval, a former president and Aristide protege.
Among his top rivals, former President Leslie Manigat took 10 percent and industrialist Charles Baker 3 percent. The sample of about 3,700 votes was likely not representative because it was so close to a Preval stronghold.
The election could prove troublesome for U.S. policymakers, who pressured Aristide to leave after an armed revolt in 2004 only to find his one-time ally, Preval, favored to win.
Preval, one of 33 candidates, must capture more than 50 percent of votes cast to avoid a runoff on March 19.
CRYING FRAUD
Haitian election authorities said the repeatedly delayed vote appeared to have been a success, but others cried fraud.
Baker, who ran a distant second Preval in pre-ballot opinion polls, disagreed. He said the election had "a lot of problems."
"We have some problems with the process," Baker told Reuters television, citing the late opening of many polling stations and what he said were indications some voters had cast more than one ballot.
The turnout was among the best for any election in the short democratic history of the poorest country in the Americas, officials said. Baker called the turnout "massive" but said the electoral process was unable to cope.
"People were voting three, four, five times," he said. "Was it widespread? We don't know yet."
The election, delayed several times since November by problems registering 3.5 million voters and hiring thousands of poll workers, brought hordes from the slums where Aristide, now exiled in South Africa, was adored. They appeared to vote heavily for Preval.
Some voters said the turnout proved the people of Haiti -- beset by poverty, violence and political turmoil -- desperately wanted democracy despite their nation's struggles since the brutal Duvalier family dictatorship ended in 1986.
"Finally the elections took place and they are good elections of which all Haitians can be proud," said Jose Miguel Insulza, secretary-general of the Organization of American States.
Critics accused Aristide of running a corrupt administration during his second term but he remains popular in the slums. Preval has gained the support of many Aristide loyalists and is feared by the wealthy elite who helped drive Aristide from power.
Posted Tuesday, February 7, 2006
Chaos, fraud claims mar Haiti election
PORT-AU-PRINCE, Haiti, Feb. 7, 2006 (Reuters) - Throngs of voters jammed chaotic polling centres across Haiti on Tuesday, forced to wait for hours to vote in the first election since Jean-Bertrand Aristide was toppled two years ago.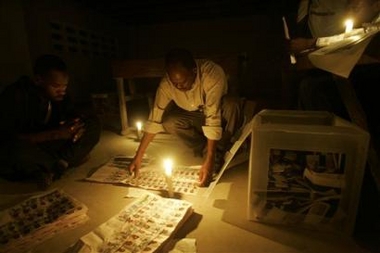 Electoral workers count ballots under candellight at a polling station in the town of Gonaives, Haiti during the primary elections, Tuesday Feb. 7, 2006. (AP Photo/Dario Lopez-Mills)
Balloting began more than three hours late at many stations, infuriating poor supporters of ex-president Rene Preval, a one-time Aristide ally favoured to win.
Some accused the government of planning the long delays to minimise the vote in poor areas and so hurt Preval's chances.
"It's a fraud. If we can't vote, Preval won't be elected," said Ysail Joseph, a 75-year-old man who got up at 4 a.m. (9:00 a.m. Britsh time) to walk from the Cite Soleil slum to his polling station but was still there waiting to vote several hours later.
Official results may not be known for days and the rocky start marred an election that could prove troublesome for U.S. policy in the impoverished nation of 8.5 million people.
Critics accused Aristide of despotism and Washington pressed him to leave during a bloody rebellion in 2004 only to find his one-time ally now favoured to retake the presidency.
U.N. peacekeeping troops stood watch to stave off election day violence, and a Chilean soldier was stabbed in the arm in a melee at one station.
Voting was suspended at three centres, the U.N. said. An old man died in a crush as he waited to cast his ballot in the capital, and about 20 people suffered minor injuries when voters charged through the gates of another station.
U.N. officials and Haiti's interim government acknowledged problems but said anyone in line when polling stations close at 4 p.m. (9:00 p.m. British time) would be able to vote, no matter how late.
There was disappointment for thousands who rose before dawn and marched past rooting pigs, smoking garbage and U.N. armoured personnel carriers to a voting station near Cite Soleil.
Unable to vote, they charged up and down the street, waving tree branches and chanting Preval slogans. Voting was slow and chaotic even when the centre opened almost 3 1/2 hours late.
Suspecting foul play, some said wealthy Haitians were already casting ballots for Preval's top rival, businessman Charles Baker, while slum dwellers waited.
"We know their fraud. They are trying to give us Baker," said Lucas Charles. "If they give us Baker, we will spend the next five years firing weapons."
HOPE AFTER "BABY DOC"
Exactly 20 years after the dictatorial rule of Jean-Claude "Baby Doc" Duvalier crumbled, Tuesday's vote offered hope for an end to the instability that has crippled Haiti since then.
A new round of fighting, however, could plunge the poorest country in the Americas into even deeper chaos.
The election had been postponed several times because of violence that has killed hundreds since Aristide was deposed, and some observers were not surprised by the voting delays.
"It's like putting on a major performance without a rehearsal," said U.N. spokesman David Wimhurst. Preval draws support from the miserable slums where Aristide was strongest. He was president from 1996 to 2001, an era of relative calm between Aristide's two terms, and he is Haiti's only elected leader to complete his term and hand over power peacefully. But he is opposed by the same wealthy elite that helped drive Aristide from power.
Preval, who held a comfortable lead in opinion polls, needs more than 50 percent of the votes to avoid a run-off.
His main rivals are Baker, an industrialist, and Leslie Manigat, who was president for a few months in 1988 before being deposed in a military coup. There are 33 presidential candidates, but most stand no chance.
Pro-Aristide gang leaders blamed for a wave of kidnappings recently changed tack by backing the poll. With that, the level of violence and crime dropped dramatically.
Still, experts say Haiti is awash with weapons and Preval's supporters could turn violent if he loses or they suspect fraud. On the other side, anti-Aristide armed groups could try to disrupt the election to keep Preval out of power.
Posted Monday, February 6, 2006
Candidate rails against Hati's leaders
By Andrew Selsky, Associated Press Writer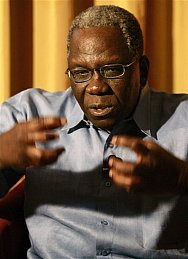 Dumarsais Simeus gestures during an interview with The Associated Press in Port-au-Prince, Haiti, Saturday, February 4, 2006. Simeus, a presidential canditate whose name was dropped from the ballot despite two Haitian Supreme Court rulings said the interim president, the interim prime minister and the electoral council should be jailed. The interim government created a nationality commision that excluded Simeus from the list of 35 candidates allowed to run for president. (AP Photo/Andres Leighton)
PORT-AU-PRINCE, Haiti Feb 4, 2006 (AP)— A presidential candidate whose name was dropped from the ballot despite two Haitian Supreme Court rulings said Saturday the interim president, the prime minister and the electoral council should be jailed.
Haiti's Supreme Court twice ruled that Dumarsais Simeus, who was born in Haiti and moved to the United States at age 21, could run for president in his native country. But the interim government created a commission that excluded Simeus from the list of candidates allowed to run in Tuesday's election.
Simeus said the interim leaders and the electoral council should face punishment.
"The recourse is to go and arrest the prime minister, arrest the president and arrest the people in the electoral council who have refused to abide by the Supreme Court decision," Simeus, a multimillionaire, told The Associated Press and AP Television News.
Michel Brunache, the spokesman of interim President Boniface Alexandre, dismissed Simeus' argument.
"Simeus is speaking in anger," Brunache said. "It's the constitution, not the government, that says he cannot run for president. He is a U.S. citizen. He thinks that with his fortune he can do whatever he wants."
The question of whether Simeus can run for president has rocked Haiti, which has been led by a weak interim government since elected President Jean-Bertrand Aristide was ousted in a rebellion two years ago.
Though the constitution does not allow dual citizenship, the Supreme Court ruled in October that authorities had not proven Simeus was a U.S. citizen and said he could run.
The interim government created a nationality commission that excluded Simeus from the list of 35 candidates allowed to run for president, but the Supreme Court on Dec. 8 upheld its earlier ruling.
The next day the interim government announced it removed five of the 10 judges from the Supreme Court, calling it "a purely administrative measure." Two of the five ousted judges were part of the five-judge panel that had unanimously ruled in favor of Simeus.
Simeus, 65, the son of illiterate Haitian rice farmers, left Haiti at the age of 21 for the United States, where he became the multimillionaire owner of Simeus Foods in Texas. He said he is still legally a candidate.
The first electoral poll in Haiti, published Dec. 9, found he was the Haitians' second favorite choice for president, behind front-runner Rene Preval, an agronomist and former president. The two polled far ahead of the other candidates.
Simeus said no matter who wins, he stands ready to assist as a "freelancer" and not a government employee to help the new administration lift this Caribbean country out of its cycle of poverty, violence and despair, by attracting foreign investors.
Simeus said the last word had not been spoken over the decision to keep him off the ballot.
"Those guys have violated the law. And I may decide to pursue them in the future and bring them to justice and put them in jail," he said. "You should not circumvent the highest court's decision in any country and get away with it." Associated Press writer Michael Norton contributed to this report.
Haiti election stirs fear, confusion, some hope
By Jim Loney and Joseph Guyler Delva, Reuters Writers
Haiti election stirs fear, confusion, some hope By Jim Loney and Joseph Guyler Delva 2 hours, 17 minutes ago
PORT-AU-PRINCE, Haiti, Feb. 5, 2006 (Reuters) - Rife with fear of an explosion of violence, Haiti will vote on a new president on Tuesday to replace its last elected leader, Jean-Bertrand Aristide, ousted two years ago in a bloody rebellion.
Haiti's latest attempt to put its floundering democracy back on track faces high hurdles: gang violence in the slums, kidnappings, intractable poverty, potential chaos at polling places, and distrust across its confused political spectrum.
While the threat of bloodshed on election day hangs over the troubled Caribbean nation -- people remember a disastrous 1987 poll canceled when thugs with guns and machetes massacred voters at a school -- some Haitians say they will cast their ballots no matter the risk.
"Even though they tell me I'm going to die, I'll go to vote anyway because if everybody says they fear to go to vote, the country will have no chance to move forward," said Port-au-Prince resident Jacquelin Macillon, 32.
Founded by liberated slaves in 1804, the world's first black republic has been run by an appointed government since Aristide, a former Catholic priest and champion of the poor, was run out of office on February 29, 2004, by a revolt of ex-soldiers and gangs and under pressure from Washington.
The election, which foreign nations have spent $75 million to hold, promises a test of U.S. policy in Haiti. The front-runner, Rene Preval, is an Aristide protege who was president from 1996 to 2001, between his mentor's two terms in office.
Preval's pitch to Haitians has been decidedly low-profile. He woos voters by promising his administration "will not steal," a reference to a string of corrupt governments, and says he will work on issues like universal primary education, a better police force and a lower price for fertilizer.
"The people want to have hope for a better life," he said.
His comfortable lead in the polls has angered the wealthy elite who worked hard to push Aristide out two years ago, accusing him of despotism and corruption.
Preval tried to reassure the elite on Sunday, promising to work with business leaders and "put their minds at ease" as well as end the scourge of kidnapping. Almost 2,000 people were kidnapped for ransom in the last year.
"We condemn violence and once we are in power we'll put an end to the kidnappings," he said in a radio interview. "If the kidnappings continue, there will be no private investment."
His chief rival, businessman Charles Baker, said U.N. peacekeepers need to use force to end kidnapping and crime in Cite Soleil, a Port-au-Prince slum that has emerged as a Preval stronghold.
"We have 300 bandits holding hostage the whole population in Cite Soleil. The use of overwhelming force is the solution ... Why can't the U.N. troops do that?" he said. "Preval is saying the solution should not be a military one because the gangs are his allies."
CONTROVERSIAL CANDIDATES
Among the 33 candidates for president are Guy Philippe, the youthful former police chief who led the anti-Aristide rebellion, Franck Romain, an army officer accused of human rights abuses during the Duvalier family dictatorship, and Himler Rebu, former leader of the dreaded and now disbanded army.
The tenuous security situation -- 6,000 local police and 9,000 U.N. peacekeepers have been unable to halt the gang violence, killings and kidnappings -- has the country on edge.
Interim leaders have urged voters to master their fears and go to the polls, even if it means walking for miles. But some are hesitant, saying they may wait to see if it is safe. "Many people are saying they will not go.
Many people fear they will be attacked because of the big distances they must walk to the polls," said Yolette Etienne, an official with a humanitarian agency Oxfam in Port-au-Prince.
The election is likely to leave the impoverished nation in the same pro- and anti-Aristide mire it faced two years ago, and abandoned once again, said Robert Fatton, a Haiti analyst at the University of Virginia.
"The rhetoric is that the international community is behind Haiti, but I don't see any real financial commitment to that," he said. "The indication is that all the major international players are looking for an exit strategy."
Posted Saturday, February 4, 2006
U.S. concern drug money in Haiti elections
PORT-AU-PRINCE, Haiti, Feb. 4 -- The United States is "very concerned" that drug traffickers could be financing candidates in Tuesday's elections, Tim Carney, the top U.S. diplomat in the country, said Friday.
Carney said he has received reports that some legislative candidates have been offered large sums of money in exchange for political favors. He did not mention names.
Thirty-three candidates are running for president, including an alleged arms dealer and a former rebel commander who led a revolt against former President Jean-Bertrand Aristide in February 2004. Hundreds of others are seeking 129 legislative seats.
Carney said the biggest concern for the United States is that "no candidate who is a drug trafficker or a person who espouses or uses violence should win these elections.
"Former Haitian President Rene Preval, once an Aristide ally, leads the polls, followed by Charles Henri Baker, a wealthy businessman.
Posted Friday, February 3, 2006
Security fears grow as Haiti election nears
By Jim Loney, Reuters Writer
PORT-AU-PRINCE, Haiti, Feb 3 (Reuters) - Haiti closed its schools on Friday and the presidential front-runner canceled a campaign rally amid heightened security concerns ahead of the chaotic nation's election on Tuesday.
A campaign official for former President Rene Preval, who leads opinion polls, said threats forced Preval to call off a campaign-ending event in the capital on Saturday as the poorest country in the Americas edges uneasily toward its first election since Jean-Bertrand Aristide was ousted by a bloody rebellion two years ago.
"We have decided to cancel the rally to close the campaign because we have credible information that there are people who plan to attack our supporters and make bloodshed," said the official, Rene Momplaisir.
A 9,000-strong U.N. peacekeeping force sent after Aristide's ouster patrols Haiti's streets to provide security. But the foreign troops come under fire almost daily in Cite Soleil, a teeming slum in the capital Port-au-Prince where election officials decided not to set up voting centers because of the danger.
In recent days U.N. officials have told 3.5 million voters they will be protected at polling stations. President Boniface Alexandre was to urge a violence-free election in a nationally televised address later on Friday.
The humanitarian group Oxfam warned on Friday that many Haitians were afraid to vote because of the political and gang violence that has gripped the nation of 8.5 million people. Hundreds have been killed since Aristide fled on Feb. 29, 2004, and nearly 2,000 people have been kidnapped for ransom in the last year.
"People feel completely abandoned. They don't have confidence that someone is there to protect them when they vote," said Yolette Etienne, an Oxfam official in Port-au-Prince.
SCHOOLS CLOSED
Schools were set to remain closed for a week and public administration buildings will be locked from Monday to Wednesday. Campaigning was to end on Sunday.
Preval, an agronomist who served as president from 1996 to 2001, has done little public campaigning. A one-time protege of Aristide, he has distanced himself from the exiled former priest who was accused of despotism and corruption during his second term in office.
But Preval, who held a comfortable poll lead over industrialist Charles Baker, appears to have won support from many of Aristide's Lavalas Family loyalists from the slums, and is opposed by Haiti's business elite who pressed for Aristide's ouster two years ago.
"They want to start violence to prevent Preval from being elected but we are not going to play their game," Momplaisir said.
Oxfam said an estimated 210,000 guns now in circulation in Haiti and the long distances many voters will have to travel to the 800 voting centers across the country were likely to discourage people from casting ballots.
"Many residents of Port-au-Prince have told us they are too scared to make the journey to vote on Tuesday," Etienne said. "Most of the professionals I talk to say they will not go to vote."
Despite the concerns, the crowded capital, awash in colorful campaign signs and graffiti, has been relatively quiet in recent days, with no high-profile kidnappings.
Rights group Amnesty International called on Friday for "all parties" in Haiti's electoral process to respect and promote the rule of law.
"The upcoming presidential elections can result in a new era for Haiti or sink the country into further poverty and violence," Amnesty official Susan Lee said. (Additional reporting by Joseph Guyler Delva)
U.N. commander: Haiti voters will be safe
By United Press International
PORT-AU-PRINCE, Haiti, Feb. 3 -- U.N. peacekeepers ensuring security during Haitian elections Tuesday are equipped with a rapid-response force ready to quell outbreaks of violence at the polls.
Ongoing street violence, mismanagement and logistical problems have already delayed the ballot four times, but United Nations and Haitian police officials are confident all elements will be in place Feb. 7 to replace an interim government that has led the western hemisphere's poorest country since former President Jean-Bertrand Aristide was deposed in an armed revolt two years ago.
"All measures have been set up to ensure security before the elections, during the elections and after the elections," said Brazilian Lt. Gen. Jose Elito Carvalho Siquiera, in his first press conference since assuming command of the 9,000-man multi-national force.
His predecessor, Lt. Gen. Urano Bacellar, reportedly committed suicide a month ago.
Elito said that although troops will not be present at each of the more than 800 voting stations spread across the country, he pledged "the best security" available.
"We have rapid-deployment forces that can reach in five or 10 minutes any voting center where there might be a problem," Elito said.
He maintained that 11 helicopters available to the U.N. would be sufficient after the United States. denied a recent request for extra helicopters to help transport ballots and boost security capacity during the elections.
Human rights groups say more than 2,000 people have been killed in the last two years, despite the presence of 9,000 U.N. peacekeepers and 6,000 Haitian police officers -- the largest security force the troubled nation of 8.5 million has ever had.
Political and gang violence and kidnappings have escalated sharply in the capital, Port-au-Prince, in recent months. More than 1,900 people have been kidnapped for ransom in the past ten months and many are said to be stashed in lawless slums that peacekeepers have failed to secure.
The potential for gang intimidation prompted elections officials last week not to set up voting stations in Cite Soleil, the capital's largest and most volatile slum, where at least 200,000 residents dwell.
Community leaders there counter that political and business elites who are against front-runner Rene Preval, an Aristide protégé and favorite among the poor, are more likely to disrupt the vote.
"A lot of people are against elections," said Jacques Bernard, director-general of Haiti's provisional electoral commission. "Even some of the people we removed from the race are calling on people to disrupt the vote."
A delegation of 34 election observers from the European Union and approximately 130 U.N. monitors arrived in Port-au-Prince Thursday to oversee the balloting from start to finish.
Elections officials said that 3.1 million of 3.5 million registered voters have been issued with the identification cards necessary to vote and insist that voters will have reasonable access to polls no matter where they live.
"Never in the democratic history of this country will there have been elections so transparent, so technically correct to avoid fraud, than these elections," said U.N. spokesman Damian Onses-Cardenas.
Copyright © 2006 News World Communications Inc.
Posted Wednesday, February 1, 2006
Haitian-American State Representative St. Fleur abruptly withdraws from Lieutenant governor race