Correspond with us, including our executive editor, professor Yves A. Isidor, via electronic mail:
letters@wehaitians.com
Want to send this page or a link to a friend? Click on mail at the top of this window.

Must learnedly read, too; in part, of intellectual rigor; in part, the repository of ultimate knowledge
Posted Friday, January 13, 2006
Angelica Jolie and Brad Pitt visit Haiti to support humanitarian efforts
By Ben Fox, Associated Press Writer
PORT-AU-PRINCE, Haiti, Jan. 13, 2006 - Angelina Jolie and Brad Pitt brought a rare dose of Hollywood glamour to this beleaguered Caribbean nation during a visit Friday.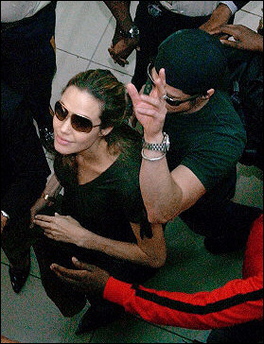 US actors Angelina Jolie(L) and Brad Pitt arrive in Toussaint Louverture Airport in Port-au-Prince, Haiti, after flying from the neighboring Dominican Republic where Jolie is filming a movie. Jolie, who is reportedly pregnant with Pitt's child, came to Haiti to help with humanitarian efforts in the impoverished nation(AFP/Walter Astrada) More Images
Jolie and Pitt flew to Haiti from the neighboring Dominican Republic, where she is filming the movie "The Good Shepherd," directed by Robert De Niro.
The couple, who recently announced that they are expecting a baby this summer, were to get a firsthand look at projects run by Yele Haiti, the charity of Haitian-born hip-hop musician Wyclef Jean.
They were expected to distribute food and toys to boys at a juvenile prison and to visit a school where Yele Haiti gives children the opportunity to play sports.
Pitt, 42, and Jolie, 30, also intended to meet with workers from Yele Haiti's Project Clean Streets, which helps clear litter from the capital of Port-au-Prince.
Jolie, a goodwill ambassador for the U.N., has helped raise money in the past for the charity, which distributes scholarships and food in the Western Hemisphere's poorest country.
The visit comes at a tumultuous time for Haiti, with the country struggling to organize its first elections since former President Jean-Bertrand Aristide was forced from power in a violent rebellion nearly two years ago. ___ On the Net: http://www.yele.org
Posted Thursday, January 12, 2006
Protesters in Haiti denounce violence
By Ben Fox, Associated Press Writer
PORT-AU-PRINCE, Haiti, Jan. 12, 2006 -- Chanting protesters filled the narrow streets of a notorious slum on Thursday to denounce violence and political chaos after clashes between gangs and U.N. peacekeepers reportedly killed one person and wounded at least 17.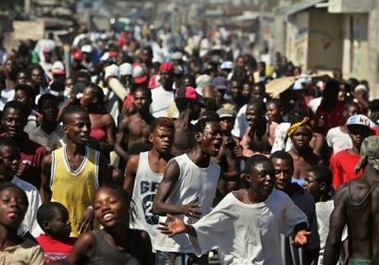 Haitians dance and sing a political song during a protest march in Citi Soleil, Port au Prince, Haiti, Thursday, Jan. 12, 2006. People filled the narrow streets of Haiti's most dangerous slum to denounce the country's political chaos violence. (AP Photo/Brennan Linsley)
Hundreds of people, including political activists, gang members and children, shuffle-danced to the blaring of horns and banging of drums toward two U.N. armored personnel carriers at the edge of Cite Soleil, then veered off toward the sea without confronting the peacekeepers who patrol the slum's perimeter.
Organizers said they feared that U.N. peacekeeping troops would soon attack Cite Soleil, a warren of bullet-riddled shanties with raw sewage flowing in trash-clogged canals.
The peacekeepers are under pressure to take more aggressive measures against slum gangs that authorities have blamed for a wave of kidnappings in the Haitian capital.
"The population is standing up to say 'No' to U.N. persecution in Cite Soleil," said John Joel Joseph, an activist for Lavalas, the political party of ousted Haitian President Jean-Bertrand Aristide. "Every day, we are counting dead bodies."
On Wednesday, shooting broke out between the two sides after nightfall, according to aid workers and residents.
One of the wounded was a 12-year-old girl who was shot in the thigh. On Thursday, she was sprawled on a dingy mat in the shade of a concrete wall, shielding her eyes from the blazing sun.
Sushil Kujur, who works at a Missionaries of Charity clinic at the edge of the slum, said workers treated seven people with gunshot wounds, including a man who was shot in the abdomen and died on the way to a hospital. Another 10 people were treated by the Belgian and French sections of the aid group Medecins Sans Frontieres, officials said.
The aid groups said they couldn't be certain where the gunfire came from.
Kujur said his clinic has treated about 70 people for gunshot wounds in the last four months, including 10 who later died, and that some were not involved in clashes with U.N. troops.
"They are hitting innocent people," he said.
U.N. spokesman Damian Onses-Cardona said he did not have any information on the violence.
Cite Soleil, home to some 300,000 people, is a stronghold for supporters of Aristide, who was forced to flee the country following a rebellion nearly two years ago, and of Rene Preval, a one-time ally of the ousted president who is considered the front-runner in the Feb. 7 presidential election.
Meanhwhile, Onses-Cardona said a preliminary investigation has confirmed that the Brazilian commander of U.N. peacekeepers in Haiti, who was found shot to death on Saturday, had committed suicide.
Death of UN force commander in troubled Haiti ruled suicide
FRIDAY, Jan. 13 2006 - Suicide is the official cause of the death over the weekend of Lt. Gen. Urano Teixeira Da Matta Bacellar, then the Force Commander for United Nations peacekeepers in Haiti, the UN Mission in the country (MINUSTAH) said today.
That was also the conclusion of the Brazilian investigation, the mission added.
Lieutenant-General Bacellar served in Brazil's armed forces for 39 years and had occupied a succession of senior posts before his appointment as MINUSTAH's Force Commander last September.
The head of the UN Department of Peacekeeping Operations (DPKO), Jean-Marie Guéhenno, on Monday paid tribute to the 58-year-old general's long and successful career.
Speaking to reporters, Mr. Guéhenno praised Brazil's strong commitment to Haiti and said another Brazilian Force Commander would be welcomed.
Brazil looks for way out of troubled Haiti mission
By Andrew Hay, Reuters Writer
BRASILIA, Brazil, Jan, 12 (Reuters) - From army barracks to government ministries and Congress, Brazilians are beginning to look for a way out of a messy U.N. peacekeeping mission in Haiti.
The apparent weekend suicide of Gen. Urano Bacellar, the Brazilian heading the force, has highlighted intractable conditions for peacekeepers and raised questions about Brazil's diplomatic ambitions.
"We cannot see a real international effort in Haiti and the U.N. structure is confused," said one high-ranking army officer in Brasilia, who served under Bacellar and asked not to be named. "It's becoming more and more difficult for me to understand why we are deploying troops abroad when we have so many problems with violence and drug traffickers at home."
Brazil jumped at the chance to lead the U.N. force 18 months ago to show it was a regional power worthy of a seat on a revamped U.N. Security Council.
President Luiz Inacio Lula da Silva conditioned leadership of the force on international aid to rebuild Haiti after an armed revolt toppled Haitian President Jean Bertrand Aristide in February 2004.
Some $1 billion in promised funds have largely failed to materialize and crime and kidnappings are on the rise before Haiti's planned Feb. 7 election, the first since the revolt.
Brazilian officers who hoped to mediate solutions with Haitians as fellow Latin Americans face pressure from other U.N. member forces to go into combat against armed gangs.
Peacekeepers say they are seen as foreign occupiers or proxies of the United States, which helped engineer Aristide's flight.
Brazil's opposition asks why Lula is trying to restore law and order abroad when Brazilian cities have murder rates higher than countries with armed conflicts and the country as a whole has some of the widest wealth divisions in the world.
"It's a complete disaster, you've got troops not able to do anything for the people of Haiti and they're costing Brazil millions of dollars," said Luiz Carlos Hauly, a congressman for the opposition Social Democrats and former president of the lower house foreign relations commission.
"Out of Haiti" read the lead editorial in Brazil's daily Folha de Sao Paulo newspaper on Thursday, which called for the country's 1,200 troops to leave after the election.
"Brazil has to solve its own very basic problems before launching missions to help govern the world," it said.
Defense Minister Jose Alencar said on Wednesday he hoped Brazil could withdraw its forces by the end of 2006.
Foreign Minister Celso Amorim said Alencar's hopes for a 2006 withdrawal were an "optimistic evaluation in relation to what's happening in Haiti."
Chilean Defense Minister Jaime Ravinet told reporters in Santiago the same day that U.N. troops would have to support the new government for one or two years.
For Brazilian analyst Reginaldo Nasser, Lula's "obsession" to win a Security Council seat naively led him into a flawed U.N. peackekeeping mission.
Nasser said the U.N. deployed troops to Haiti when the country required police forces, financial aid and humanitarian workers to rebuild infrastructure and institutions destroyed by decades of coups and revolts.
Bacellar's death has given U.N. members a chance to reconsider their financial commitment and speed reconstruction of Haiti after the Feb. 7 election.
"Brazil needs support, from the U.S. and France in particular. Without this it has to withdraw," said Nasser, professor of foreign relations at the Catholic University of Sao Paulo.
Doctors confirm alleged terrorist priest kept under secured locks has leukemia
By Joseph Guyler Delva, Reuters Writer
PORT-AU-PRINCE, Haiti, Jan. 12, 2006 (Reuters) - An outspoken Haitian priest jailed on murder allegations but considered a prisoner of conscience by a human rights group is suffering from leukemia, a Haitian medical examination has found.
A 2000 file photo showing former Haitian President Jean-Bertrand Aristide voting in Tabarre near Port-au-Prince, together with Father Gerard Jean-Juste (L). The confirmation that popular Roman Catholic priest Jean-Juste is seriously ill is likely to increase pressure on Haiti's interim government to release him from prison, where he has been for more than six months. REUTERS/Crarole Devillers
The confirmation that popular Roman Catholic priest Gerard Jean-Juste is seriously ill is likely to increase pressure on Haiti's interim government to release him from prison, where he has been held for more than six months.
Jean-Juste is widely viewed as the natural successor to former President Jean-Bertrand Aristide, who was ousted by an armed revolt in February 2004.
His supporters believe Jean-Juste was jailed to prevent him from running -- and likely winning -- a presidential election originally scheduled for November but now due to take place on February 7 after repeated delays caused by incompetence, violence and logistical problems.
U.S. doctors reported after visiting the parish priest over Christmas that he had leukemia. But the interim government resisted calls for him to be given a formal medical examination until Tuesday, when he was suddenly taken by authorities to a hospital.
A report sent to the interim authorities by Dr. Jacques Boncy, who conducted Tuesday's medical examination, confirmed he has leukemia, medical sources said on Thursday.
Jean-Juste's lawyer, Mario Joseph, said he had also seen Boncy's report.
"We have received the report and it is a serious and urgent matter," Joseph told Reuters.
"We have attached a copy of the doctor's report to a correspondence we sent to the investigative judge to request bail so that our client may receive the medical treatment he urgently needs."
Jean-Juste was arrested on July 21 last year on allegations he was involved in the kidnapping and the killing one week earlier of a well-known Haitian journalist, Jacques Roche.
Authorities have since brought additional accusations of weapons violations.
The Roman Catholic priest has denied the charges and said he was in Miami at the time of the murder. Amnesty International calls him a prisoner of conscience jailed for expressing views that the interim authorities do not like. Members of the U.S. Congress have also called for his release.
Posted Tuesday, January 10, 2006
First class medical treatment for an alleged terrorist priest kept under secured locks
By Ben Fox, Associated Press Writer
PORT-AU-PRINCE, Haiti, Jan. 10, 2006 - A jailed Roman Catholic priest, whose supporters say is suffering from cancer and should be released for treatment in the United States, was taken from his jail cell Tuesday to a medical testing laboratory in the capital.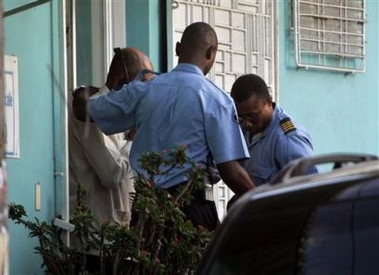 Haitian police escort jailed priest the Rev. Gerard Jean-Juste, left, from a medical laboratory after medical testing, in Port au Prince, Haiti, Tuesday, Jan. 10, 2006. The popular Roman Catholic priest, whose supporters say is suffering from cancer and should be released for treatment in the U.S., was jailed in July for what police describe as suspicion of involvement in a murder. (AP Photo/Brennan Linsley)
Authorities took the Rev. Gerard Jean-Juste to the laboratory, and U.N. peacekeeping troops stood guard outside the clinic.
Haitian police officials accompanying the priest declined comment.
Jean-Juste was jailed in July on suspicion of involvement in the abduction and slaying of a well-known local journalist, Jacques Roche in July 2005. Authorities have since expanded the investigation to include alleged weapons violations.
The priest, who was in Miami when Roche was kidnapped, has denied the allegations.
Mario Joseph, the lawyer for Jean-Juste, said he was told they were taking Jean-Juste to confirm a leukemia diagnosis. The lawyer said he doesn't believe there are any plans to immediately release him for medical treatment outside of Haiti.
"If he is sick they need to release him," Joseph said.
Jean-Juste was in the laboratory for 30 minutes before he was escorted out and driven away in a convoy that included U.N. peacekeepers and police. He was then taken to another lab for more tests before he was returned to his cell in an annex of the national penitentiary.
Jean-Juste has emerged as a prominent figure in ousted President Jean-Bertrand Aristide's Lavalas Family Party, which remains a potent political force in Haiti.
The priest's supporters have attempted to register him as a candidate in upcoming elections, but authorities barred him from registering because he was in prison.
Haiti's interim president on Tuesday confirmed that the country's repeatedly postponed elections will be on Feb. 7.
Boniface Alexandre issued a decree urging people to vote on that date. A runoff will be held on March 19 if needed.
HAITIAN IMMIGRANT AND FEMALE FRIEND
Details of murders emerge: Victim's brother says killer thugs were looking for money
By Brian Ballou, Boston Herald Writer
The execution-style murders of a New Hampshire teen and a Haitian immigrant Sunday night in Allston were drug-related, according to sources.
| | | |
| --- | --- | --- |
| Julio Ceus, 33 (The Boston Globe) | | |
| | | Natalie Summer, 18 (The Boston Herald) |
A high-ranking city official said it appears crack cocaine was being smoked in Julio Ceus' apartment at 244 Kelton St., and drugs appeared to be a motive for the slayings. Two men were seen fleeing the residence.
Bermane Ceus, 23, brother of victim Julio Ceus, 33, and boyfriend of victim Natalie Sumner, 18, of Franklin, N.H., said, "The bad guys asked my brother, 'Where's the money?' before they shot him and Natalie."
Bermane Ceus said he learned what happened at his brother's first-floor apartment from an 18-year-old New Hampshire woman who is a friend of Sumner's and who witnessed the attack.
Ceus said he drove to New Hampshire on Friday and picked up Sumner and Ashley Bjelf of Laconia for a weekend stay in Allston. Ceus said he met the two women three years ago and would occasionally bring them down for visits.
Late Sunday evening, Ceus had to report to work. But before leaving, he ordered Chinese food for the women and walked them up to his brother's apartment, where he asked him to look after them. Bermane Ceus lives in a small basement apartment directly below his brother's.
About a half-hour later, just as Bermane Ceus, 23, was about to leave for his security job in Allston, Bjelf returned. She was shaking and bloody.
The young woman told Ceus that his brother received a call on his cell phone and, after he hung up, there was a knock on the door. Julio Ceus asked Sumner to walk with him to the door, she said.
The unidentified gunmen burst in and ordered the two women to the floor and argued briefly with Julio in the hallway. Soon after, the gunmen began firing.
Ceus said he tried not to delve into his brother's activities. "I didn't want to know what he was doing and I tried to stay away from that," he said. "I was just trying to make my life better." Ceus said he got his brother a job at McGraw Security, but his brother was fired before Christmas.
Deputy Superintendent Dan Coleman, commander of the BPD homicide unit, said detectives executed a search warrant at the murder scene.
"Interviews are being conducted as we speak," Coleman said yesterday. "At this time, the motive cannot be known or determined.
When asked about the people in the Allston apartment who survived, Coleman said: "We're talking about a double-murder investigation. We are talking about witnesses who have real and legitimate concerns."
Mayor Thomas M. Menino said he is "disturbed" by the homicides.
"That's part of the problem out there, how brazen these individuals are. No type of responsibility," Menino said. "As mayor, I share the burden of making this a safer city."
© Copyright by the Boston Herald and Herald Media. Reprinted from The Boston Herald, Local/Region News, of Tuesday, January 10, 2006.
UN admits civilians may have died in Haiti peacekeeping raid
By Andrew Bucombe, The Independent/Americas Writer
WASHINGTON, Jan. 9, 2006 - The UN has for the first time admitted that a number of innocent civilians may have become "collateral victims" and killed during a controversial raid by peacekeeping forces in Haiti. The admission will likely add to the tension inside the capital city, Port-au-Prince, already wracked by violence and chaos – and the recent suicide of the UN military commander - as it prepares for a crucial election.

General Bacellar was 58.2006 CCOMSEX
The summary of an internal inquiry, passed to The Independent, says a number of people may been caught in crossfire between UN peacekeepers and armed gang members, headed by a well-known leader, Emanuel "Dread" Wilme. The report claims that UN troops fired only in self-defence.
The raid involving 400 peacekeepers took place last July in the Cite Soleil slum with the stated intention of cracking-down on gangs responsible for ongoing violence and kidnappings in the capital. Many of the gangs are supporters of former president, Jean-Bertrand Aristide. Mr Aristide, democratically elected and with overwhelming support among the poor, was ousted two years ago following an uprising organised mainly by members of the business elite who had received support from the US.
Video footage taken after the raid showed the bodies of numerous apparently unarmed victims. Independent witnesses said up to 23 people were killed – among them the wife and two young sons of Fredi Romelus, a Cite Soleil resident who told reporters that UN troops opened fire on his home. " They surrounded our house... and I ran thinking my wife and the children were behind me. They couldn't get out and the [UN] fired into the house," he said.
he admission by the UN mission (MINUSTAH) that civilians may have been killed "given the length of the operation and the violence of the clashes" will do nothing to ease the fraught situation in Haiti, where a presidential election has been repeatedly delayed. The delays have been blamed on the violence and problems with distributing voter identification cards.
The business community has called on the UN to do more to stop the violence and yesterday a national strike was held in protest. But supporters of Mr Aristide say this is nothing more than excuse to clamp down further on members of his Lavalas party. Human rights campaigners have detailed widespread suppression of Lavalas members by the interim government and the Haitian National Police.
Among the cases highlighted by Amnesty International is that of Father Gerard Jean-Juste, a Catholic priest and friend of Mr Aristide, who has been held without charge since last summer. Officials say Mr Jean-Juste, 59, recently diagnosed with leukemia, is being held on suspicion of involvement in a murder but AI said "he is a prisoner of conscience detained solely for the peaceful exercise of his right to freedom of expression".
Despite its admission that civilians may have been shot, the UN claims the majority of those died last July were actually killed by other gang members in reprisal for collaborating with the UN or else celebrating the death of Mr Wilme. It described the video footage a "manifest example" of disinformation.
Kevin Pina, the Haitian-based journalist who heads a team that shot the footage, dismissed the UN's claims. "I personally handed a copy of that video to [the UN special envoy, Juan] Valdes at JFK airport. He described it as propaganda and lies without even looking at it. They are predisposed to saying this. They do not want to look at the evidence."
He said he met recently with Mr Romelus, whose family was killed. "His life has been destroyed. If I can find him, why can't the UN find him and interview him?"
Mr Pina said the UN had now established a system of embedding journalists with peacekeeping forces. He also said the US and Canada were funding programmes to train Haitian journalists. "They are the ones trying to control the media and yet they accuse us of disinformation."
Meanwhile, officials are investigating the apparent suicide of MINUSTAH's military commander, General Urano Teixeira da Matta Bacella, whose body was discovered in his hotel room on Saturday. Mr Bacella, a Brazilian, took charge of the UN force in September and was not involved in July's raid.
© 2006 Independent News and Media Limited
EDITOR's note: The photograph of the late General Bacella was inserted into this news article by wehaitians.com
Posted Monday, January 9, 2006
Strike in Haiti brings commerce to a halt
PORT-AU-PRINCE, Haiti, Jan. 9, 2006 (AP) — Businesses ground to a halt Monday in a general strike called to protest a wave of kidnappings that has terrified people and cast a shadow over already troubled efforts to restore democracy in Haiti.
The Haitian Chamber of Commerce and Industry called the strike to pressure U.N. peacekeepers to move against gangs — allegedly loyal to ousted President Jean-Bertrand Aristide — who have carried out many of the kidnappings.
But leaders of the peacekeeping force were preoccupied with their own tragedy — the weekend death of their most senior commander, Brazilian Lt. Gen. Urano Teixeira da Matta Bacellar, in an apparent suicide.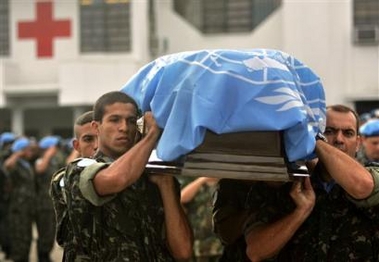 At a memorial service, U.N. soldiers from the peacekeeping mission in Haiti carry the coffin of Lt. Gen. Urano Teixeira da Matta Bacellar, the Brazilian commander of U.N. peacekeeping troops in Haiti, who died over the weekend, in Port au Prince, Haiti, Monday, Jan. 9, 2006. Bacellar's death adds to the U.N. mission's difficulties as a wave of kidnappings threatens to destabilize elections that authorities want to hold next month. (AP Photo/Brennan Linsley)
Several hundred Brazilian peacekeepers stood in formation Monday outside a military hospital and saluted Bacellar's coffin, draped in Brazilian and U.N. flags. Diplomats and military officials praised Bacellar as a compassionate soldier deeply committed to restoring order to Haiti after the rebellion that toppled Aristide nearly two years ago.
Chilean Gen. Eduardo Aldunate Herman, interim commander of the 7,400 peacekeeping troops in the country, said Bacellar's death would not undermine efforts to stabilize Haiti for a presidential election scheduled to take place Feb. 7, after four postponements.
"Be certain, Gen. Bacellar, that we continue to accomplish the mission and our best proof of loyalty to you will be to ensure that peace and security reach every corner of this country," Aldunate said.
Bacellar was found dead of a gunshot wound Saturday, slumped against the balcony of his room in the upscale Hotel Montana. A senior U.N. official has confirmed to The Associated Press that the general shot himself in the head. Authorities have not yet officially disclosed the cause of death, citing the ongoing investigation.
Brazilian Ambassador Paulo Cordeiro de Andrade Pinto told the AP on Monday that he saw a gun next to the general's body but that Brazilian investigators want to probe other possibilities before confirming it was a suicide. He declined to specify what those possibilities were.
Pinto said the general was a longtime friend and he did not detect any change in Bacellar's normally "serious" personality in a conversation they had Friday night.
"I never imagined that a man of his caliber could do what most people think he did," Pinto said.
Difficulties in distributing voter registration cards and setting up polling stations contributed to postponements in elections, in which 35 candidates are running for president and hundreds more for 129 legislative seats.
But kidnappings for ransom have added to the uncertainty. International election workers and journalists were among those taken hostage by gangs and stashed in the sprawling slums while ransom payments were negotiated. Ordinary Haitians also have been targeted.
The one-day strike left people sitting idly on street corners or waiting hopelessly for a bus, an economic blow in a country where most people are unemployed. Gas stations, supermarkets and banks all closed.
On the trash-strewn streets of downtown Port-au-Prince, Rodrig Paul was angry after he closed his stall where he sells batteries. "This is a rich person's strike," he said.
But others noted the kidnappings have targeted people from all walks of life.
"The violence has threatened everyone, poor or rich, Haitian or non-Haitian," the pricey Hotel Villa Creole said in a letter to guests after it cut back on services for the day.
In Boston, Haitian man and female American friend shot dead; another suffered a gunshot
By Jessica Fargen, Boston Herald Staff Writer
A woman and a man were shot dead last night in an Allston apartment, and another person was injured in the city's first two homicides of 2006.
Police last night were looking for two men — one black, wearing a green and red plaid jacket, the other white — who walked into a Kelton Street apartment at 9:23 p.m. and shot three people.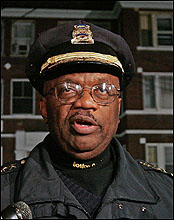 Polic Superintendent Bobbie Johnson speaks to the medis outside 244 Kelton Street, in Allston. (Staff photo by Stuart Cahill)
The city's first two homicides of 2006 come on the heels of the worst year for homicides in Boston in the past 10 years. Seventy-five people were killed last year, including four men murdered in a Dorchester basement, and one shot dead while his two brothers were wounded on a Roxbury stoop last month.
Police Superintendent Bobbie Johnson said it appeared last night's victims let in their killers.
"There was no forced entry," he said. Police said a woman and a man were killed and another man was shot in the right arm. He was expected to survive.
About an hour after the shootings an officer walked an elderly woman, who used a cane, out of the building. Johnson said the woman witnessed the murders, but did not speak English and could not immediately tell police what happened. He said the woman lived in the apartment with her Haitian family, but it was unclear if she was related to any of the victims.
A man who visited the apartment with three people after the shooting and later went to the police station said his brother, Julio Ceus, 34, was one of the men shot.
"He was a good guy," Prophet Ceus said last night. "He never (said) he had any problems with anybody."
Neighbors said the building stood out only because fire alarms often went off and people commonly hung out on the stoop. One woman said the shooting shook her so much she was going to a friend's house last night.
"It scares me," said Rebecca Reger, 26. "I thought this was a pretty good area, and now I don't know if it is."
© Copyright by the Boston Herald and Herald Media. Reprinted from The Boston Herald of Monday, January 9, 2006.
Posted Sunday, January 8, 2006
Chief of U.N. troops in Haiti is found dead in hotel room
MEXICO CITY, Jan. 7 - The commander of the United Nations peacekeeping force in Haiti was found shot to death in his hotel room early Saturday, casting more doubt on the beleaguered mission's capacity to restore order in crime-plagued Haiti as authorities struggle to organize presidential elections.
Initial reports indicated that the commander, Gen. Urano Teixeira Da Matta Bacellar, had committed suicide. He was found wearing shorts and a T-shirt, and his gun was in his hand, the authorities said. The body was found in the general's hotel room at the Hotel Montana in Port-au-Prince, the capital.
Chief Mario Andresol of the Haitian National Police said he could not confirm the death was a suicide until after an investigation. "The general died a violent death," he said. "At this time I can't go into more detail." An unidentified official at the United Nations mission in Haiti later confirmed that the general had died from a self-inflicted gunshot wound, The Associated Press reported.
The shooting came at the end of a week of intense public criticism of the Brazilian-led United Nations Mission in Haiti, commissioned nearly two years ago after an armed rebellion, months of violent political clashes and heavy pressure by the United States that forced President Jean-Bertrand Aristide from office. Since that time, critics of the mission have complained that the violence and political fighting have gotten worse.
Kidnappings peaked over the Christmas holiday to as many as 12 a day, authorities reported, including attacks against journalists and aid workers. Some 10 United Nations soldiers and police officers have died in the line of duty. Haitian business leaders have blamed the United Nations for failing to use the force necessary to stop the street gangs and drug-trafficking organizations responsible for much of the violence.
The security problems have had a devastating impact on Haiti's ability to overcome its latest political crisis. The first round of the presidential elections, already postponed three times and then set for Sunday, were put off again. United Nations authorities have cited persistent fighting within Haiti's electoral council for the delays.
Meanwhile, leaders of Haiti's interim government, which was installed by the United States, have blamed the postponements on failures by international agencies to meet deadlines to distribute voter identification cards and to establish polling places.
____________
A Brazilian general is believed to have shot himself.
_____________
Preparations for the elections have already cost an estimated $60 million, most of it from the European Union, Canada and the United States. The authorities estimate they will need at least $14 million more.
On Friday, the United Nations Security Council urged Haiti to set Feb. 7 as the date for the first round of elections. It was unclear Saturday whether the general's death would force the United Nations to withdraw that demand.
David Wimhurst, a United Nations spokesman in Haiti, refused to answer questions by telephone on Saturday. A statement by the agency praised General Bacellar's 39 years of service to the Brazilian Armed Forces and to the United Nations mission in Haiti, known in official shorthand as Minustah.
"His untimely death and sacrifice in the cause of peace," the statement read, "will not weaken the resolve of Minustah and the international community to ensure the will of the Haitian people prevails and Haiti joins the democratic community of nations."
Copyright 2005 The New York Times Company. Reprinted from The New York Times, International, of Sunday, January 8, 2006.
Haiti sets new election for February 7
By Joseph Guyler Delva, Reuters Writer
PORT-AU-PRINCE, Haiti, Jan. 8, 2006 (Reuters) - Haiti's electoral authorities set a new date for an oft-delayed presidential election on Sunday, saying that the first round of the chaos-bedeviled ballot will take place February 7, as the United Nations has demanded.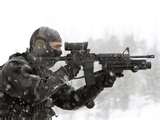 AFP/File Photo: Confiscated machine guns burn in a pyre. Existing small arms trade controls have failed ...
The announcement came a day after the commander of U.N. forces in the strife-torn country put a bullet through his brain. There was no immediate word on why he might have taken his life.
The election was supposed to take place on Sunday after having been repeatedly delayed since November. But the council canceled the vote a week ago without announcing a new date, earning the impoverished Caribbean country a rebuke from the United Nations and the Organization of American States.
"For us this schedule is official and final. We discussed it with the government, which has no objection," Rosemond Pradel, secretary general of the Provisional Electoral Council, told Reuters in a telephone interview on Sunday.
It will be the first election since President Jean-Bertrand Aristide was chased from office by an armed revolt and civic pressure in February 2004, accused of corruption and increasing despotism.
Attempts to hold the ballot have been plagued by incompetence, logistical problems and continuing violence despite the presence of 9,000 Brazilian-led U.N. peacekeepers and police.
A run-off vote, if none of the 34 candidates registered for the presidential election win an outright majority, will occur on March 19 and a vote for local government officials will take place on April 30, Pradel said.
The decision on an new election date came a day after Haiti and its attempts to return to democratic rule were rocked by the death of the U.N. military commander, Brazilian Lt. Gen. Urano Teixeira Da Matta Bacellar.
Bacellar was found dead in his hotel suite on Saturday, dressed in shorts and T-shirt, his pistol by his side.
A U.N. police investigator and a Haitian police officer said it was pretty clear that Bacellar had taken his own life.
"According to the elements we've found, I'm 95 percent sure Gen. Bacellar committed suicide," said the U.N. expert, who spoke on condition he not be identified.
"We found his gun, a 9mm pistol, by his side. The gun was loaded and when we compared the remaining bullets with the hole left in his head and the spent shell we found there is no doubt."
An investigator with the Haitian National Police, also speaking on condition he not be named, said Bacellar had shot himself under the chin and the bullet went through his head.
"The way it happened showed us clearly that it was a suicide," the police officer said, adding that the general's body was discovered by his security guards.
U.N. mission chief Juan Gabriel Valdes declined at a news conference to confirm it was suicide.
But he did reiterate a U.N. Security Council call, issued on Friday, for the interim government to ensure the first round of the election was held by February 7.
"The schedule officially published by the Haitian authorities will not be allowed to be changed," Valdes told reporters at a news conference.
"It will be final and the U.N. mission is ready to accomplish every task in its competence to make sure the new schedule is met," the U.N. diplomat said.
Posted Friday, January 6, 2006
Haiti blames kidnappings on Columbians
By Joseph Guyler Delva, Reuters Writer
PORT-AU-PRINCE, Haiti, Jan. 6, 2006 (Reuters) - Haiti's police chief blames Colombian drug dealers and political groups for a wave of pre-election kidnappings that has turned the Haitian capital into one of the region's most lawless cities.
Police chief Mario Andresol said the violence was aimed at destabilizing the government as the troubled Caribbean country struggles to hold its first election since former President Jean-Bertrand Aristide was ousted in an armed revolt in February 2004.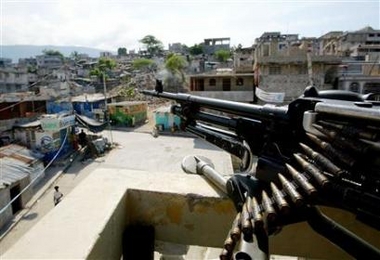 A machine gun is installed on the roof of a house in the volatile neighborhood of Bel-Air in Port-au-Prince, Haiti, January 5, 2006. Haiti's police chief blames Columbian drug dealers and political groups for a wave of pre-election kidnappings. (REUTERS)
Haiti's presidential election, originally scheduled for November, has been postponed several times because of disorganization, logistical problems and general instability. It is now likely to take place in February.
"It is clear that the increase in violence and kidnappings is in part politically motivated," Andresol told Reuters in an interview on Thursday. He promised to arrest the masterminds but did not identify any suspects.
At the same time, he said Colombian drug traffickers had taken refuge in Cite Soleil, Haiti's largest and most dangerous slum and the place where most kidnapping victims appear to be taken and held until their relatives pay out money.
Police sources and business leaders estimate at least 1,900 people were held for ransom between March and December -- snatched from the streets and held in Port-au-Prince slums under the nose of a 9,000-member U.N. peacekeeping force.
"Since it has become more difficult to conduct their drug activities, Colombian traffickers have turned to the kidnapping activity in Cite Soleil where they took refuge," Andresol said, accusing the Colombians of running the shacks where kidnapping victims are held.
The Haitian police do not give out any official statistics on the number of kidnappings. But a police inspector-general said on condition he not be identified that around 1,900 people had been held for ransom in the last 10 months.
The police official said dozens of officers from Haiti's notoriously corrupt police force were involved.
The president of Haiti's Chamber of Commerce, Reginald Boulos, said about 400 people, including several businessmen, were kidnapped in December alone.
The business community planned a general strike on Monday to protest the lack of public security and to denounce what it views as inaction by the Brazilian-led U.N. force and the U.N. mission head, Juan Gabriel Valdes.
"Mr. Valdes and the U.N. force delight in doing nothing to solve the problem," Boulos said.
A U.N. spokesman in Port-au-Prince, David Wimhurst, rejected the charges and said U.N. troops were increasing the number of checkpoints in the city to try to restore security.
"These accusations are not justified," Wimhurst said.
Officials of the interim government that was appointed after Aristide fled into exile have long urged the U.N. force to be more muscular in going after street gangs and gunmen.
Police chief Andresol said his force, which now numbers 6,000 police, did not have the weapons, training or expertise needed to go after gangs in no-go zones like Cite Soleil.
"You cannot ask the police to intervene in situations which require military action," he said. "They could be massacred."
UN Security Council urges prompt Haitian election
UNITED NATIONS, Jan. 6, 2006 (AFP) - The UN Security Council called on Haiti's interim government to expedite a new election schedule and hold a first round of voting no later than February 7.
The Security Council urged Haiti's transitional government and the provisional electoral council to "expeditiously announce new and definitive dates for the elections, the first round to be held within weeks, but no later than February 7, 2006."
A general view of the United Nations Security Council. The UN Security Council called on Haiti's interim government to expedite a new election schedule and hold a first round of voting no later than February 7.(AFP/File/Henny Ray Abrams)
The council met in emergency session on Haiti Friday, after the Caribbean country's next round of elections -- most recently slated for January 8 -- were pushed back for the fourth time.
The vote would be the country's first since former president Jean Bertrand Aristide was forced from office in early 2004.
In a statement read by its president for January, Tanzania's UN envoy Augustine Mahiga, the 15-member council stressed that the elections should take place in accordance "with international democratic standards, and other conditions conducive to the widest possible participation."
It also reaffirmed that providing adequate security remained the key to holding "free and equitable elections" and urged Haitian police and the UN mission in Haiti to step up their cooperation to improve the security situation in Port-au-Prince and restore the rule of law.
Tensions have been flaring in the country, with some nine people killed since the beginning of the year.
"National reconciliation and political dialogue should continue to be promoted as a means to ensure long-term stability and good governance," the statement said.
Voting preparations have been mired in disarray. Many of the 3.5 million registered voters have not received their electoral identification cards, while officials have yet to determine the location of the 800 voting offices and the make-up of electoral observer teams.
In addition, violence and kidnapping for ransom have continued to rock Haiti since Aristide fled the impoverished Caribbean nation on February 29, 2004 as rebels closed in on the capital.
When the elections are finally held, voters will be asked to choose from among 35 presidential hopefuls, including two ex-presidents and a former rebel leader who played a key role in ousting Aristide.
Posted Thursday, January 5, 2005
Haiti business leader calls protest strike
By Ben Fox, Associated Press Writer
Haiti Business Leader Calls Protest Strike By BEN FOX, Associated Press Writer 2 hours, 46 minutes ago
PORT-AU-PRINCE, Haiti, Jan. 5, 2006 - The leader of Haiti's largest business association on Thursday called for a general strike next week to protest the wave of kidnappings that has sparked fear in the capital and contributed to the chaos that prompted authorities to postpone elections.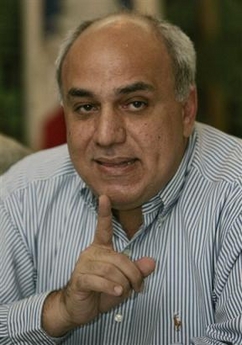 Reginald Boulos, the president of Haiti's Chamber of Commerce and Industry,speaks during a news conference in Port-au-Prince, Haiti, Thursday, Jan.5, 2006. Boulos on Thursday called for a general strike next week to protest the wave of kidnappings that have sparked fear throughout the capital and helped contribute to the chaos that prompted authorities to postpone national elections. (AP Photo/Ariana Cubillos) More Images
Reginald Boulos, the president of Haiti's Chamber of Commerce and Industry, urged businesses to stay closed and parents to keep their children out of school Monday to pressure the United Nations peacekeeping mission to take more aggressive measures against the gangs allegedly behind the kidnappings.
"We believe the political management of the U.N. has not decided yet to provide the security environment that they were meant to provide," Boulos said at a news conference.
"The general population is tired, very tired of this insecurity," he said. "Elections cannot take place in this kind of environment."
Most Haitian businesses are small, independent shops and it was unclear what, if any, effect the chamber president's call for a general strike would have on the economy of the poorest nation in the Western Hemisphere.
Boulos, a leading member of a coalition that supported the rebels in the February 2004 overthrow of President Jean Bertrand Aristide, has personal experience with kidnapping: His wife, Mouna, was abducted and held for nine days in November 2003.
Haitian police and an 9,000-strong U.N. peacekeeping force have pledged to restore security, which has deteriorated sharply with the approach of elections to replace the interim government imposed after Aristide's ouster.
Haitian interim Prime Minister Gerard Latortue said Thursday that he plans to step down as planned next month even though the repeated delays in national elections have made it unlikely that the country's new leader will be in place before his final day.
Haiti has an interim president, Boniface Alexandre. After general elections, a new president will be chosen.
Fire wipes out Boston's area Haitian popular radio personality Serge Claude Valme's shop, others', apartments
By Cristina Silva, Globe Staff
MILTON, Jan. 5, 2006 - When Karl Valcin went to pick up his daughter from school yesterday afternoon, everything was in order in the small antiques shop he had opened with his wife five years ago on the first floor of an apartment building at the corner of Blue Hill Avenue and Brush Hill Road.
When he returned less than an hour later about 4 p.m., the three-story building was engulfed in thick smoke, and firefighters were trying to tame large flames shooting from the property.
The Valcins watched as the fire raged in the building, causing hundreds of thousands of dollars in damage to the property and destroying their livelihood, as well as the homes of the four families who had occupied the rental units.
Deputy Fire Chief Kevin Mahony said the fire started in the basement and quickly climbed through the walls. The fire caused at least $300,000 in damage and left the structure uninhabitable, he said. Firefighters needed more than 2 1/2 hours to douse the flames. There were no injuries.
''By the time we got there, it was pretty charred," he said. ''It was everywhere. It was coming out of the ceilings" of each story.
Residents and occupants of the building, which also housed an electronics store and a beauty shop, said they were unsure what they would do about their losses.
''I'm not OK; she's not OK," Valcin said, pointing to his wife, Jocelyn Jean, as he stood outside the building.
The couple had opened Milton Antiques after moving to Milton from Haiti. They did not have insurance.
Stephanie Venloan, whose sister-in-law and her pregnant daughter lived in the building, stood across the road last night. She said her relatives were at work when the fire erupted and were unable to save their pet ferret, snake, or cat from the building. ''Everyone is really upset," she said.
Haiti elections may be in February
By United Press International
PORT-AU-PRINCE, Haiti, Jan. 5 (UPI) -- Haitian elections could be rescheduled for early February following the fourth delay in the voting, Haitian radio reported Thursday. The election was rescheduled for Jan. 8, but postponed due to what officials said was a lack of preparation.
The U.N. Security Council is preparing for emergency talks on the elections and the reasons for their delay.
Haiti has been ruled by an interim government since former President Jean-Bertrand Aristide left the country amid an armed rebellion in February 2004.
Latortue says he will step down as Haiti's prime minister on Feb. 7
PORT-AU-PRINCE, Jan. 5, 2005 -- Haitian Prime Minister Gerard Latortue told AFP Thursday he will step down on Feb. 7, despite the country's elections being postponed.
"I stand by my decision and my pledge to step down on Feb. 7, along with the government," said Latortue, a former exile from Boca Raton.
He said he would attend to the country's minor day-to-day affairs until a newly elected government takes over.
But he stressed that, "from Feb. 7, I will not undertake any new initiatives or make any decisions that involve the state, and I will not approve any laws."
"No matter when elections are held, I will step down on February 7, 2006. I hope the transition period will be as short as possible," he added.
A coalition of political parties had clamored for Latortue's resignation, charging that he had failed to organize elections in a timely fashion.
According to Haiti's constitution, the new president should take office on Feb. 7. But, as Haiti has struggled to keep a date for its first elections since former president Jean Bertrand Aristide was forced from office in early 2004, that will not be possible.
A new date for the vote has not been set since elections slated for January 8 were postponed. However, sources close to the government and the electoral council have speculated that a first round could be held on Feb. 7.
UN to debate Haiti election delay
Haitian officials are reportedly considering a February election The UN Security Council has called an urgent session to debate the continuing postponements of Haiti's elections.
When the fourth delay was confirmed last week, Haitian officials accused the UN and the OAS of failing to play their part in preparing the election.
Both the UN and the Organization of American States deny any failings.
The poll was due to have been held on Sunday. It would have been the first since President Jean-Bertrand Aristide was ousted in February 2004.
Haiti - one of the poorest countries in the world - has been plagued by political and criminal violence.
'No cards'
Haitian officials have not yet set a new date for the election, but they are reported to be considering 7 February.
Tanzania's UN envoy Augustine Mahiga said the Security Council would meet on Friday.
"It is the wish of the Council members that we get a briefing... on what is exactly happening on the ground and in particular on the circumstances that have led to the postponement of the elections," he said.
"We were told it could be for technical reasons but there might be other reasons, and that's why we have, on an urgent basis, requested a briefing on Haiti."
Haitian officials say a postponement is needed because many of the country's 3.5 million registered voters have not received their electoral identification cards.
But the head of the OAS mission in Haiti, Denneth Modeste, said the cards had been ready in September, but had asked the OAS to hold off distribution because polling stations had not yet been chosen.
The Electoral Council's Secretary-General, Rosemond Pradel, said last week he was sick of watching foreigners sit around spending money without achieving results.
Posted Wednesday, January 4, 2006
Haiti, Mexico perilous for media
By Joe Mozingo, Miami Herald Writer
Reporters Without Borders released their annual report showing countries that have jailed or killed numerous journalists.
Seven journalists were killed in Latin America and the Caribbean last year, with Haiti and Mexico being the most dangerous countries for reporters, said an annual report released today by the Paris-based Reporters Without Borders.
Cuba meanwhile, has become the ''world's second biggest prison for journalists'' with 24 in jail, the group wrote. Only China, with 115 times the population of Cuba, imprisons more, with 32.
The war in Iraq accounted for 24 of the 63 journalists killed around the world during the year, the report said. That brought the total of journalists killed in that nearly three-year-old conflict to 76, more than the number killed during two decades of fighting in Vietnam.
In Latin America, the seven killings were down from 2004, as were physical attacks in general, but violence was still a major problem in drug trafficking areas.
In Mexico, drug cartels continued to pose a serious threat to the media. Almost all the 16 Mexican journalists killed since 2000 ''were writing about highly sensitive issues such as drug-trafficking and police corruption,'' the report said.
In Haiti, where journalists hoped the ousting of President Jean-Bertrand Aristide in Feb. 2004 would bring more freedom, violence continued to engulf society. Radio reporter Laraque Robenson, 24, was killed during a gunfight in March, when U.N. peacekeepers moved to dislodge a gang of former soldiers from a police station in Petit Goave.
''The fatal shots were alleged to have been fired by peacekeepers,'' the report said. The U.N. Mission in Haiti ``carried out an internal investigation but never released its findings.
''Jacques Roche, a columnist and editor at Le Matin, was kidnapped on July 10 and found dead four days later.
Posted Monday, January 2, 2006
Accused corrosive murderer and druglord Haitian presidential candidate Toussaint taken out of the circulation on gun charge
By Alfred de Montesquiou, Associated Press Writer
PORT-AU-PRINCE, Haiti -- A Haitian presidential candidate who was a suspect in the 2000 slaying of a prominent journalist was arrested Monday for allegedly carrying unregistered weapons in his car, authorities said.
Dany Toussaint, a former army major and senator running for president on a pledge to restore order to chaotic Haiti, was arrested at a checkpoint by United Nations peacekeepers as he drove in a northern town in the impoverished country, U.N. officials and the country's police chief said.
Toussaint, 48, was detained after peacekeepers found the unregistered weapons in his car, Police Chief Mario Andresol told The Associated Press.
"This is purely a police operation, there is no political undertone," Andresol said.
Toussaint was riding in a car with three other men and the peacekeepers found two unregistered weapons in the vehicle, said David Wimhurst, the spokesman for the U.N. mission that was called to Haiti after a rebellion forced the ouster of President Jean-Bertrand Aristide.
Toussaint, one of 35 candidates for president in elections that have been postponed four times, was detained in the northern city of Cap Haitien and was expected to appear before a judge within the next two days, Andresol said.
The detained candidate was a former ally and bodyguard of the ousted president. Toussaint now runs a private security company in a country plagued by kidnapping.
Toussaint received a summons to appear before a judge to be questioned as a suspect in the 2000 slaying of prominent radio journalist and Aristide opponent Jean Dominique. He refused, however, to respond to the summons and the Senate refused to lift his parliamentary immunity.
Wehaitians.com, the scholarly journal of democracy and human rights