Want to send this page or a link to a friend? Click on mail at the top of this window.
São Paulo Journal
Felons All, but Free to Try Being Beauty Queen for a Day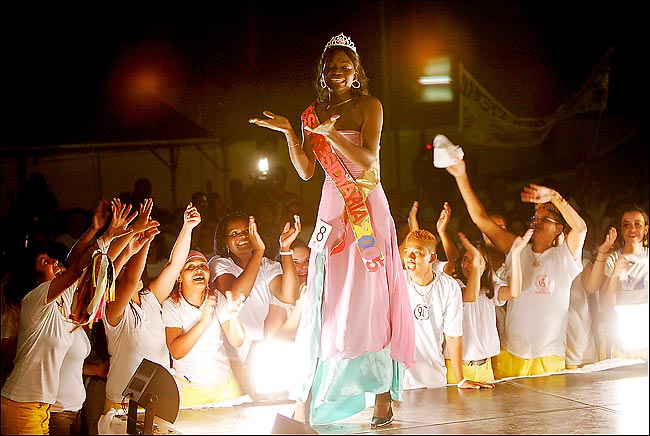 Lalo de Almeida for The New York Times
Angélica Mazua, a cocaine smuggler from Angola, after winning the Miss Penitenciária title in Sao Pãulo. More Images
SÃO PAULO, Brazil, Nov. 25 - It was a retrial Brazilian style.
Forty convicted felons - drug traffickers and armed robbers mostly, but the odd kidnapper and murderer too - appeared again on Thursday before a state-appointed jury here in São Paulo, the capital of Brazil's most populous state.
Rather than shackles and prison yellow, though, the convicts donned evening gowns and high heels, bathing suits and costume jewelry. Charged to ignore the women's crimes, the jury instead was instructed to judge them on their beauty and congeniality, and on their talents in writing essays and poetry.
The second annual Miss Penitenciária pageant was the culmination of a competition lasting months in which 603 inmates from 10 prisons vied for titles in what is quickly becoming one of the best-known pageants in beauty-obsessed Brazil. By allowing the 4,000 women in the state's prisons the chance to parade the catwalk, the authorities hope to brighten morale and in the process lighten the image of a penal system better known for cramped and crime-ridden penitentiaries for men, where mutinies and murders are what normally make global headlines.
The finale, for instance, took place in the courtyard of a prison for women beside the remains of the Carandiru complex, once a vast prison block where police officers killed 111 prisoners during a riot in 1992. The old prison was razed to make way for a public park - workers were still clearing away what was left of Carandiru's concrete gateway - but the memory of such events remains lodged in the Brazilian conscience.
"The pageant is a message for prisoners and for those on the outside, too," said Nagashi Furukawa, the state secretary in charge of the penal system, which is now considering a musical talent contest for men next year. "These are people with something to offer who need opportunities to be able to show it."
Show it the contestants did.
After morning classes with a choreographer who trains contestants for Miss Brazil, the inmates strutted out on the stage, a T-shaped platform draped in red and white bunting. In addition to the 700 fellow inmates who made up the prison audience - their cheers and jeers at times drowning out the voices of the emcees and contestants - scores of photographers and television crews recorded every step and pose.
__________________________
Trying on the swimsuit, then offer a smile, then go back to your cell.
__________________________
The inmates competed in categories that, aside from the headlining "beauty" classification, included a simpatia, or congeniality competition, plus an essay and poetry contest on the theme of "rewriting the future." Though the prizes were modest - the winner in each category won 350 reals, or just over $150 - the inmates were motivated by the colorful change to their drab routine and the chance to take part in an event unlikely for them on the outside.
"I was part of another world before I came here," said Márcia Santana Santos, a 30-year-old serving a sentence for armed robbery who was named Miss Congeniality. "I never could have done something like this."
Private sponsors covered the pageant's budget of about $20,000. A bank and a group of criminal defense lawyers helped pay for the lighting and sound systems, and local beauty schools and charities provided makeup and wax and hair treatments. Alexander Pires, a sweet-voiced Brazilian pop star, appeared free.
The 15-member jury included a plastic surgeon, a public defender, a television presenter and Rita Cadillac, a former stripper known for charity performances in prisons for men. Grafite, a heartthrob soccer star who sat on the jury, spent more time embracing inmate fans from the audience than focusing on those on the stage.
"They look happy," he said, pointing to a throng of women lined up in prison-issue yellow pants with white T-shirts to request his autograph. "I'm proud if I can somehow make them feel better about themselves."
Though each contestant received a package with shampoos, lotions and makeup, better self-esteem, they said, was the biggest part of the payoff.
Angélica Mazua, a tall, wiry, 23-year-old Angolan who was arrested at the São Paulo airport earlier this year with 2.2 pounds of cocaine tucked into a pair of sneakers, said she was taking part "to represent my prison and make us all feel better about our situation." The eventual winner of the beauty category, Ms. Mazua is jailed at the prison that held the final, and thus was buoyed by the chants and screams of the home crowd.
A similar esprit de corps was evident a day earlier at a minimum security prison for women in São José dos Campos, a small city 55 miles east of São Paulo. As the prison's four contestants tried on their gowns and high heels for a walk around an interior courtyard, companions gave tips on posture and eye contact. Priscila Maria Pereira Ferreira, a blond, blue-eyed 22-year-old convicted of marijuana possession, said cellmates even joined in when she did nightly situps in efforts to tone her stomach.
"It became a challenge for all of us," she said. "We all want the prison to win."
Some law-and-order advocates were offended by the contest.
"What's next?" asked Jorge Damus, founder of the Movement for the Resistance of Crime, in São Paulo. "Are they going to pay them to pose nude? This is state-sponsored glorification of people who are supposed to be getting punished."
Participants say such attitudes do little to help them recover.
"We're not animals that you put in a cage and just forget about," said Ms. Santos, Miss Congeniality, glitter shining from the barbs of her recently spiked hair. "Society should seek to help us take advantage of our talents and our potential."
Copyright 2005 The New York Times Company. Reprinted from The New York Times, International, of Thursday, December 1, 2005.
Wehaitians.com, the scholarly journal of democracy and human rights