Correspond with us, including our executive editor, professor Yves A. Isidor, via electronic mail:
letters@wehaitians.com
Want to send this page or a link to a friend? Click on mail at the top of this window.

Must learnedly read, too; in part, of intellectual rigor; in part, the repository of ultimate knowledge
Posted Monday, February 27, 2006
Vatican audience: Pope meets with Haiti native Canadian governor-general Jean
Canada 's governor-general, Michaelle Jean, met Monday with Pope Benedict XVI during a Vatican audience that also included her 6-year-old daughter. The Haitian-born Jean, who holds the largely ceremonial post of Canada 's head of state, spoke French as well as Italian to the pope during their 25-minute private meeting in Benedict's private library. Jean studied Italian in Montreal and in Italy .
As they sat down, Jean told the pope she had heard he spoke 10 languages. "Maybe three," he replied. Jean's husband, the French-born Quebec filmmaker Jean-Daniel Lafond, escorted their daughter, Marie-Eden, into the room and she shook hands with the pope. They later posed for a photo together, with the pope resting his hands on the little girl's shoulders.
Jean, who is Queen Elizabeth II's representative in Canada , presented Benedict with an Inuit carving of a bear, "testimony of Inuit culture," she said. The pope gave her a papal medal.
Jean, a refugee from Haiti , was sworn in as governor-general in September, the first black person and third woman to hold the title. Her job is to defend Canada 's sovereignty and promote its national identity, reports the AP. N.U.
© 1999-2006. «PRAVDA.Ru». Reprinted from Pavda of Monday, February 27, 2006.
Posted Friday, February 24, 2006
Aristide and Preval druglord financier apprehended in Brazil by Interpol
By Yves A. Isidor, wehaitians.com executive editor
CAMBRIDGE, MA, Feb. 24, 2006 - Drug money and Haitian presidential candidate Rene Preval's largely troubled proclamation of president-elect in the aftermath of the February 7, 2006 election certainly cannot be separated.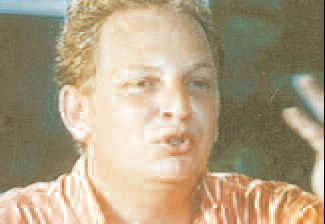 Frederic Marzouka, an Aristide and Preval's druglord financier, was apprehended this week in Brazil by the Interpol, (Haiti-Observateur archive photo)
Federic Marzouka, who according to a credible source close to Preval had financed (U.S.$1.million) his so-called campaign for president, was apprehended this week in Brazil by the Interpol.
This is not to say that there was no room for U.S.$800,000.00 from Bonivert Claude, a largely believed grand thief former Haiti central bank president, despite he was a risible presidential candidate.
Mr. Marzouka, who is also said to have given an immeasurably sum of money to former tyrant Jean-Bertrand Aristide, in exchange for protection, will soon be flown to the United United, where he has long been indicted for trafficking in illegal substance, that is narcotics, to face the bar of justice.
U.S. peace mission to Haiti would cost twice that of U.N.
By Mark Turner, Financial Times Writer
UNITED NATIONS, Feb. 24 2006 - A US peacekeeping operation in Haiti would cost twice as much as the current United Nations mission there, the US's Government Accountability Office has found, in a study that is likely to bolster the UN's case before critical congressional paymasters.
"The UN budgeted $428m for the first 14 months of this mission. A US operation in Haiti of the same size and duration would cost an estimated $876m, far exceeding the US contribution for Minustah [the UN mission] of $116m," the GAO said in a report this week.
Its findings underline the relative cost-effectiveness of multinational peace operations as opposed to unilateral intervention, even at a time when the UN is under fire for alleged fraud and mismanagement in its procurement procedures. The US pays for 27 per cent of UN peacekeeping missions.
On Wednesday John Bolton, US ambassador, convened a Security Council meeting to discuss audit findings of possible wastage in UN peacekeeping procurement, and the organisation faces a mid-year budget freeze if it does not undertake sufficient reforms.
Mark Malloch Brown, UN chief of staff, cited the GAO study, requested by congressmen Dana Rohrabacher and William Delahunt, as part of the UN's defence. While condemning any instances of fraud, he also insisted the potential losses had been exaggerated.
More generally, he said after the meeting that "we do peacekeeping operations on the cheap", although he also suggested that insufficient training and the low take-up for civilian posts in field stations meant that "maybe we've been a little too cut-price".
The UN will present a package of management reforms next week to address shortfalls identified in the wake of the oil-for-food scandal and the debate over procurement. But it also warns that meaningful change will come with a hefty price tag.
The GAO report places those figures in context, although its authors also note several qualitative distinctions between US and UN-led missions.
"While a US peacekeeping operation in Haiti would be more expensive . . . it would be subject to higher operational standards and supported by an extensive military infrastructure," the report said.
"Strong, well-trained and quickly deployed US forces have proved militarily effective in short-term operations in Haiti in the past."
On the other hand, "the UN's strengths includemultinational participation, extensive peacekeepingexperience and an existing structure for co-ordinating nation-building activities. Complex political considerations are likely to influence decisions about the role of the US and the UN in peacekeeping."
© Copyright The Financial Times Ltd 2006. Reprinted from The Financial Times of Friday, February 24, 2006.
Posted Wednesday, February 22, 2006
Haiti's fiery leftist Preval says partner in crime Aristide can return
By Stevenson Jacobs, Associated Press Writer
PORT-AU-PRINCE Feb 22, 2006 (AP)— Haitian President-elect Rene Preval said Wednesday that the constitution permits the return of ousted President Jean-Bertrand Aristide, who was forced to flee into exile following a violent rebellion two years ago.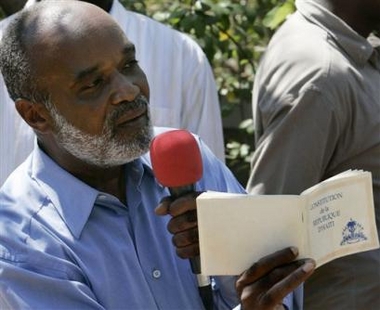 Haitian President-elect Rene Preval, holds a copy of the Haitian Constitution during a news conference at his sister's house in Peguyville, the upscale suburb of Port au Prince, Haiti, Wednesday, Feb. 22, 2006. Preval said the constitution permits the return of ousted President Jean-Bertrand Aristide, who was forced to flee into exile following a violent rebellion two years ago. (AP Photo/Ariana Cubillos)
Preval, a former protege of Aristide's who shares the ousted leader's strong support among the poor, said the former president could not be barred from returning to the volatile Caribbean nation.
"My position is simple on President Aristide and any other citizen who wants to come to Haiti," Preval, also a former president, said in his first news conference since he was declared the winner of the Feb. 7 election. "Article 41 of the Haitian Constitution says that no Haitian needs a visa to enter or leave the country."
Aristide said Tuesday that he wants to return from exile in South Africa, but said the timing of his arrival in Haiti would be up to "my president" and other leaders.
The United States and others have warned that the return of Aristide could further destabilize Haiti.
Preval, when asked by to clarify his position, declined to discuss Aristide's potential return in detail.
"Remember, you're talking to a president," he said at the modern, gated home of his sister in the hills east of the capital, Port-au-Prince. "Do you respect the constitution? The response isn't with me. It's with the constitution."
Aristide spokeswoman Maryse Narcisse declined to say whether the ousted leader and Preval had spoken since the election.
"President Aristide will be going back to Haiti soon, consultations are taking place to settle for a date," Narcisse said by phone from New York.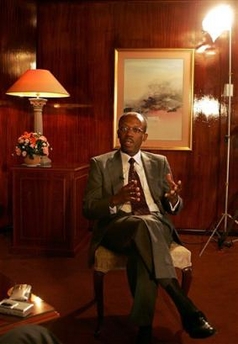 Ousted Haitian leader Jean-Bertrand Aristide, speaks during an interview in Pretoria, South Africa, Wednesday, Feb. 22, 2006. Aristide is ready to return to Haiti after what he calls an unconstitutional exile, but said when was up to his country's president-elect and other leaders. He has been a 'guest' of the South African government since he was ousted in February 2004. On Wednesday he sent congratulations to the Haitian people and to President elect Rene Preval on the Feb. 7 election. (AP Photo/Themba Hadebe)
Preval, an agronomist by training who served as president from 1996 to 2001, was declared the winner of the election after electoral authorities divided 85,000 blank votes among the candidates to avoid a runoff.
The move gave Preval 51 percent of the vote needed for an outright victory, drawing complaints from his two closest rivals, neither of whom polled close to Preval's numbers in the Feb. 7 vote.
Posted Tuesday, February 21, 2006
Ousted notorious ferocious dictator Aristide expresses interest in returning to Haiti
PRETORIA, South Africa Feb 21, 2006 (AP)— Ousted Haitian President Jean-Bertrand Aristide said Tuesday he was willing to return home after two years in exile.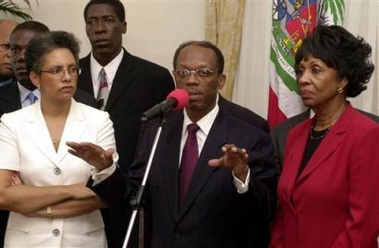 In this Saturday Feb 21, 2004 file picture, then-Haitian President Jean-Bertrand Aristide, his wife Mildred, left and U.S. Rep. Maxine Waters D-Calif., give a news conference in the National Palace of Government in Port- au-Prince, Haiti. He left the country later that month. The ousted Haitian president said Tuesday, Feb. 21, 2006 he was willing to return home after two years in exile, but stopped short of setting a date. (AP Photo/Pablo Aneli)
In an interview with South African television, Aristide stopped short of setting a date, saying he would decide on his return after consulting with Haitian President-elect Rene Preval, the South African government, the United Nations and other countries.
Aristide has been a "guest" of the South African government since he was ousted amid an armed uprising in February 2004.
The interview was the first time Aristide has spoken in public since Preval won Feb. 7 elections in Haiti.
The United States, which Aristide accuses of orchestrating a coup to force his departure, says an Aristide return would be potentially destabilizing.
Aristide nurtured Preval's career but the two men have subsequently fallen out. Aristide indicated in the interview he would take a role outside politics, concentrating on promoting education in Haiti.
Aristide, a Roman Catholic slum priest whose fiery rhetoric urged Haitians to liberate themselves from decades of oppression, became Haiti's first democratically elected president in 1990.
He was ousted within months by a military coup and returned by a U.S. invasion in 1994. He stepped down to honor a constitution that does not allow two consecutive presidential terms.
Preval, an agronomist, was elected in 1994 but seen as warming the presidential seat until Aristide returned to power after 1999 elections.
Aristide fled Haiti in February 2004 amid rising protests and armed opponents threatening to kill him as they approached the capital.
Posted Monday, February 20, 2006
Notorious tyrant Preval's democracy: Haiti election chief flees country
By Stevenson Jacobs, Associated Press Writer
PORT-AU-PRINCE, Haiti - The head of Haiti's electoral council fled the country after opponents threatened his life and burned down his farmhouse nearly two weeks after disputed elections, an official said Monday.
Jacques Bernard, appointed three months ago to bring order to a council that was plagued by organizational problems and infighting, left Sunday and may have traveled to Miami, said Michel Brunache, chief of staff for interim President Boniface Alexandre.
On Friday, Bernard had reported receiving threats and requested more security amid complaints about the vote count from the Feb. 7 elections, which returned former President Rene Preval to the office, Brunache said.
"He said he was afraid for himself and his family and said he wanted more security," Brunache told The Associated Press. "I was shocked when I heard he had left."
The U.N. peacekeeping mission in Haiti said it didn't know Bernard's whereabouts.
Bernard had kept a low profile since the nine-member council declared Preval the president on Thursday, eight days after the long-awaited vote.
Preval, who received four times as many votes as his nearest rival, was declared the victor after the electoral council agreed to divide 85,000 blank ballots among the 33 candidates proportionally according to the votes they had received. That gave Preval the 51 percent he needed to avoid a runoff.
Throngs of Preval supporters flooded the streets after the polls, denouncing the delay in releasing the results and accusing Bernard of manipulating the vote count to deny Preval a first-round victory — a charge Bernard has denied.
Wimhurst confirmed that Bernard's ranch in a town just northeast of the capital of Port-au-Prince was burned and looted over the weekend.
After the incident, Bernard went on local radio to denounce some council members who have accused him of withholding information and excluding them from important decisions.
Bernard's absence could throw the vote-counting for legislative elections into disarray. Logistical delays have already slowed the result tabulation, and electoral officials will likely have to postpone the scheduled March 19 runoff, officials say.
"If Mr. Bernard leaves Haiti, it will be catastrophic because he is the only man on the council who was professional," said Micha Gaillard, spokesman for the Fusion party. "Without him we fear we could be in a situation where the legislative results will not be published."
Council member Patrick Fequiere criticized Bernard as a "megalomaniac" who abused the power of the council. "I believe that he had a political agenda," Fequiere said on Radio Vision 2000.
Posted Saturday, February 18, 2006
S. Africa's Mbeki hails Haiti contentious poll, mum on former tyrant Aristide
JOHANNESBURG, Feb. 18, 2006 (Reuters) - South African President Thabo Mbeki on Saturday hailed Haiti's election outcome, which local officials have said could lead to the return of ousted former President Jean-Bertrand Aristide.
Aristide has been living in exile in South Africa since 2004 after he fled an uprising over charges of despotism and corruption.
South Africa's foreign minister said this month Pretoria would monitor conditions after the February 7 poll -- in which Aristide's long time ally Rene Preval triumphed -- to see whether it would be safe for Aristide to go back.
In a statement on Saturday Mbeki congratulated Preval but did not give any clues about Aristide's future.
"South Africa is of the firm view that the outcome of the elections is indeed an expression of the democratic will of the people of Haiti," Mbeki said.
"We commend efforts made by the United Nations ... in helping to create a climate conducive for the people of Haiti to exercise their democratic rights without fear or favor, despite difficult challenges and obstacles."
South Africa's warm reception of Aristide -- housing him and his family in a luxury guesthouse and flying them here in Mbeki's private jet -- goes against the United States and France, which openly backed the rebellion against him.
Aristide, who remains popular in Haiti's poor slums, has kept a low profile for most of his stay in South Africa and not commented on his possible return after the elections.
South African Foreign Minister Nkosazana Dlamini-Zuma said last week that Aristide's stay in South Africa was never meant to be permanent.
Posted Friday, February 17, 2006
Wehaitians.com, the scholarly journal of democracy and human rights