Correspond with us, including our executive editor, professor Yves A. Isidor, via electronic mail:
letters@wehaitians.com
Want to send this page or a link to a friend? Click on mail at the top of this window.

Must learnedly read, too; in part, of intellectual rigor; in part, the repository of ultimate knowledge
Posted Tuesday, August 15, 2006
Amid rampant and blatant terrorism in dirt-poor Haiti, four notorious terrorists regain liberty
By Yves A. Isidor, wehaitians.com executive editor
CAMBRIDGE, MA, Aug. 15, 2006 - The violent verbal attack, physical attack - bin Laden's style - against democracy advocates, in 2003, and a multitude of others before them suggested that terrorism was falling, at a fast pace so, on Haiti.
The notorious terrorists, Annette Auguste, 65, known as So Anne; Georges Honore; Yvon Antoine, known as Yvon Zap Zap, and Paul Raymond, who were all taken out of the circulation a year or so later and put under secured locks since, Monday night were ordered release after a so-called magistrate adjudged that no formal charges were brought against the offenders, proving that they had the legal capacity to form a criminal intent, though famously known to have publicly repeatedly committed public wrongs.
So Anne, who has been where she belongs to, that is jail, and will count to have spent a total of 836 days there is anticipated to ultimately regain her liberty Wednesday since Tuesday is a holiday in Haiti. So will her partners in crime are too anticipated to be released on the same exact day.
And it is not hard to read the terrorists liberation without suggesting that extreme violence-issued and de facto, President Rene Preval, including Prime Minister Jacques Eduoard Alexis, is determined to permit terrorism to continue to fall on dirt-poor Haiti, further destroying its never-healthy economy, as the recently reported GDP's reduction of 4.7 attests - overall, a retort to United States' war on terrorism, said many.
Posted Monday, August 14, 2006
In terrorist land Haiti, wife of de facto Prime Minister Chief of Diplomatic Protocol kidnaps for ransom
By Yves A. Isidor, wehaitians.com executive editor
CAMBRIDGE, MA, Aug. 14, 2006 - In troubled Haiti, the economics of kidnapping, to be precise of terrorism, is changing fast, now to include government officials and family members, also as kidnappees who will regain their liberty only after paying a large sum of money as ransom.
The wife, Yolande Douge, born Batroni, of Haiti's de facto Prime Minister Jacques Alexis's Chief of Diplomatic Protocol, Mr. Fritz Douge, was kidnapped early Friday evening, only two days after extreme violence-issued President Rene Preval ordered terrorists to disarm or be captured dead.
In the immediate aftermath of Mrs. Douge's brutal kidnapping terrorists demanded a large sum of money, U.S.$250,000, as a condition for her release from captivity.
Posted Friday, August 11, 2006
Kidnapped Italian woman regained liberty
PORT-AU-PRINCE, Haiti, Aug. 11, 2006 - An Italian woman kidnapped in Haiti by gunmen who killed her husband was freed after three days in captivity, her family and U.N. officials said Friday.
The U.N. gave no details on how Gigliola Martino was freed. Investigators believe she was kidnapped for ransom.
Martino, 65, was released Thursday, U.N. police spokesman Fred Blaze said.
Paollo Vitiello, Martino's nephew, said he had seen her and added she was in good health.
Armed men entered the couple's villa Monday in the capital Port-au-Prince, shooting Martino's husband, 67-year-old businessman Guido Vitiello, before abducting her. Vitiello later died of his wounds in a hospital.
Martino, who has lived in Haiti for about 30 years, was also briefly kidnapped last year.
Haiti experienced relative calm after President Rene Preval's February election. Since May, however, dozens of foreigners and Haitians have been kidnapped, and gang fighting has forced hundreds to flee their homes in the capital.
Posted Thursday, August 10, 2006
Finally, Haiti orders terrorists to disarm or be captured dead
By Joseph Guyler Delva, Reuters Writer
PORT-AU-PRINCE, Haiti, Aug. 10, 2006 (Reuters) - Haiti's government threw down the gauntlet to the impoverished and violent Caribbean nation's armed gangs on Thursday, telling them to lay down their weapons or be killed.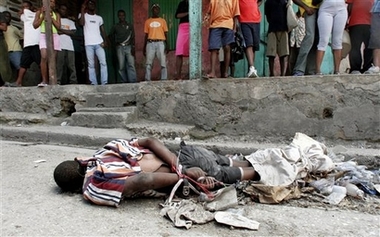 The body of an unidentified man tied up lies on a street in the slum of Bel-Air in Port-au-Prince, Haiti, Thursday, Aug. 10,2006. Residents said three bodies were there on the street early in the morning. (AP Photo/Ariana Cubillos)
"It's clear. You surrender your weapons and enter the DDR program," said Prime Minister Jacques Edouard Alexis. "If you refuse, you'll be killed."
Alexis was referring to a Demobilization, Disarmament and Reinsertion program run by U.N. peacekeepers aimed at stabilizing Haiti and curbing kidnappings and endemic political bloodletting.
His comments, before a legislative assembly, marked the first ultimatum to gang leaders from the newly installed government of President Rene Preval.
After Preval won election in February, the level of violence in Haiti dropped sharply. But its resurgence has prompted U.N. Secretary-General Kofi Annan, who visited Port-au-Prince last week, to advise the Security Council against curtailing the U.N. peacekeeping force.
At least 100 people have been shot dead in the capital Port-au-Prince over the last two months and about 400 others have been injured by gunshots, according to hospital records cited on Thursday by Ronald Lareche, who heads the Public Safety Committee of the lower house of parliament.
He said the death toll, from what were mostly believed to be gang-related shootings, included 85 victims in July alone.
Government officials have said drug lords were now seeking to bankroll armed gangs, to win de facto control over them and block any disarmament plans.
The violent status quo in Haiti provides good cover for trafficking in narcotics, the officials say.
"They (drug kingpins) want to make sure the chaotic situation endures so that they may continue to carry out their dirty work," Alexis said.
Gang leaders have made tentative offers to disarm in the past, including one last week from the young toughs who control Haiti's largest slum, but none of them have come to fruition so far.
Young Haitian man drown Wednesday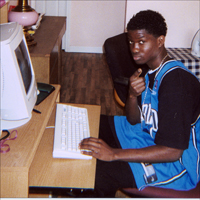 Drowing victim Jean F. Charles, 18, of South Dennis (Cape Cod, Massachusetts), shown playing on the compluter, one of his favorite activities. (Cap Cod Times)
Police seek family of girl, 15, caught with kilos of cocaine at airport
By Macollvie Jean-Francois, Sun-Sentinel Writer
Girl, 15, caught at airport with cocaine `just telling stories'
Investigators are trying to find family or friends of a teenage girl arrested on drug trafficking charges after arriving from Haiti, a Broward sheriff's spokesman said Wednesday.
The 15-year-old U.S. citizen, who is not being identified by the South Florida Sun-Sentinel because she is a juvenile, was caught at Fort Lauderdale-Hollywood International Airport with 61/2 pounds of pure cocaine sewn into three pairs of shoes in her luggage, sheriff's spokesman Neil Birenbaum said. The girl arrived on an American Airlines flight from Haiti on Tuesday night.
"Nothing she has told us so far appears to be truthful," Birenbaum said. "She's just telling stories. ... None of them have panned out."
At first, detectives said they believed her parents were using her to carry drugs, but they have not been able to confirm that. Birenbaum said she might have been acting on her own, although authorities are investigating whether others were involved.
"She's facing a tremendous amount of trouble," Birenbaum said.
The girl, who lists a Broward address in court papers, is charged as a juvenile with first-degree felony trafficking in cocaine over 400 grams, said Ron Ishoy, a spokesman for the Broward State Attorney's Office.
No parent or guardian attended the detention hearing Wednesday for the girl, who has no prior arrests, Ishoy said. She is being held at the county Juvenile Assessment Center on $250,000 bond, Birenbaum said.
At a news conference, Birenbaum displayed three pair of shoes. Their soles had been unstitched, stuffed with the narcotics and then re-sewn, he said. "Smugglers can be quite creative," Birenbaum said.
Macollvie Jean-François may be reached at mjfrancois@sun-sentinel.com or 954-356-4694.
Posted Tuesday, August 8, 2006
Girl, 15, charged with smmugling cocaine in shoes from growing troubled Haiti
By Sofia Santana, Sun-Sentinel Writer
A 15-year-old girl from Haiti tried to smuggle six and a half pounds of cocaine through customs at Ft. Lauderdale-Hollywood International Airport Tuesday afternoon, according to the Broward Sheriff's Office.
The girl, who flew in on American Airlines flight 1988 from Port-au-Prince, has been charged with trafficking cocaine.
Detectives, who think the girl's parents used her to smuggle the drugs, found the cocaine inside three pairs of shoes, said sheriff's spokesman Hugh Graf.
The amount investigators found is equal to about three "kilos."
The girl's identity was not disclosed.
Type in your comments to post to the forum You are currently logged in as . Not ? Name RegistrationWelcome to Topix.net Forums! Please fill out the form below to set up an account and post your comment. If you are a returning user, click here to log in. Name Email Address Your email will never be shown to other users Password Confirm Password
Login Sign in with your existing Topix.net account and write your comments below. Don't have an account? Email Address Password Forgot your password?
Comments Type the numbers you see in the image on the right:
Please note by clicking on "Post Comment" you acknowledge that you have read the Terms of Service and the comment you are posting is in compliance with such terms. Be polite. Inappropriate posts will be removed by the moderator.
Copyright © 2006, South Florida Sun-Sentinel Partners
Posted Monday, August 7, 2006
Posted, Saturday, August 5, 2006
Posted, Thursday, August 3, 2006
U.N. leader makes first trip to Haiti
By Myrna Domit, Associated Press Writer
PORT-AU-PRINCE, Haiti - U.N. Secretary-General Kofi Annan, making his first trip to Haiti, called Thursday for strengthening the national police force to stem an upsurge in kidnapping and lawlessness.
In this photo provided by the Unoted Nations, U.N. Secretary-General Kofi Annan, left, greets a U.N. Turkish civil police officer at the Haitian police academy in Port-au-Prince, Haiti, Thursday, Aug. 3, 2006. Annan is visiting Haiti on a one day trip to observe the operation of the two year old peacekeeping mission in Haiti. (AP Photo/Logan Abassi/UN/MINUSTAH, HO).
Annan, who was embraced by President Rene Preval at the airport, said the challenges facing the troubled Caribbean country remained vast, but "great strides" had been made in recent months.
"We have achieved a lot but much, much more needs to be done," Annan said in a speech at the National Palace.
Annan said the U.N Security Council should extend the current security operation, led by a U.N.-led Brazilian peacekeeping force, for another 12 months instead of the standard six months.
"I am challenging the member states to accept this longer-term proposition," he said.
Haiti experienced relative calm after Preval's February election victory but since May, dozens of foreigners and Haitians have been kidnapped and gang fighting has forced hundreds of people to flee their homes in the capital, Port-au-Prince.
"These criminals should be ashamed to call themselves Haitians when the nation is at a critical stage of rebuilding itself," Annan said.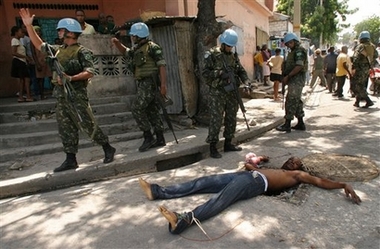 U.N. Brazilian peacekeepers look at the body of an unidentified man in Port-au-Prince, Haiti, Wednesday, Aug. 2, 2006. U.N. Secretary-General Kofi Annan was supposed to arrive in Haiti today for a visit of the two year old peacekeeping mission in Haiti. Annan's trip to Haiti was postponed due to technical problems with the plane, a U.N. spokesman said. (AP Photo/Ariana Cubillos)
Annan toured a Haitian police academy and met with two Brazilian peacekeepers who were wounded by gang gunfire in July.
An 8,800-strong force of U.N. troops and international police provides the only real security in a country plagued with well-armed gangs and a local police force that Annan has said is "inadequately trained" and "infiltrated by criminal elements."
The peacekeepers were dispatched to Haiti to help restore order following the 2004 revolt that toppled President Jean-Bertrand Aristide, who is in exile in South Africa.
Annan has called for elite police tactical teams and advisers to bolster the U.N. force to help counter a renewed surge in kidnappings and gang violence.
Annan is in Haiti for a two-day official visit that will also take him to the neighboring Dominican Republic, where he will hold talks with that countrys President Leonel Fernandez on Friday.
Posted Tuesday, August 1, 2006
Annan to visit Haiti, wants to keep strong UN force
By Irvin Arieff, Reuters Writer
UNITED NATIONS, Aug. 1, 2006 (Reuters) - U.N. Secretary-General Kofi Annan announced plans on Tuesday to visit Haiti as he advised the Security Council against cutting back the U.N. peacekeeping mission there after elections last February.
The U.N. mission now numbering nearly 7,100 troops and 1,700 police was sent into Haiti in June 2004 to support an interim government installed after President Jean-Bertrand Aristide fled into exile under international pressure.
After new President Rene Preval took office in May, the level of violence declined only to spike again in July, Annan said in a progress report on Haiti to the 15-nation council.
A thriving illegal trade in drugs and arms, gang violence and kidnappings will remain a problem, Annan's report said.
The Security Council should maintain its troop ceiling at 7,500 and keep in place the 1,000 officers serving in trained riot police units while increasing the number of civilian police to 1,951 from the current ceiling of 1,897, he said.
The mission's mandate, due to expire August 15, should be extended an additional 12 months -- the minimum needed to make progress in reforming the legal system and improving local and national governance, he said.
"It would also send an important signal to the Haitian people of the enduring commitment of the international community," said Annan, who has complained that previous international aid efforts in Haiti failed because they ended before reforms could take hold.
U.N. spokeswoman Marie Okabe said Annan would travel to Haiti on Wednesday, where he will meet with Preval and address a joint session of parliament. He will then go on to the Dominican Republic, where he will meet President Leonel Fernandez before returning to New York over the weekend.
Copyright © 2006 Reuters Limited
Wehaitians.com, the scholarly journal of democracy and human rights