Correspond with us, including our executive editor, professor Yves A. Isidor, via electronic mail:
letters@wehaitians.com
Want to send this page or a link to a friend? Click on mail at the top of this window.

Must learnedly read, too; in part, of intellectual rigor; in part, the repository of ultimate knowledge
Posted Monday, July 31, 2006
Van flips; 3 from Haiti killed, 9 hurt
By The Fayetteville Observer
Three people died in a single- vehicle accident Saturday on Interstate 95.
A 1993 Chevrolet passenger van was traveling south on I-95 around the 10-mile mark in Robeson County when the accident happened about 3:30 p.m.
The vehicle carrying 12 Haitian workers on their way from New Jersey to Fort Pierce, Fla., lost control when a back rear tire blew out. The vehicle slid sideways, overturned at least twice and came to rest on the median, according to the state highway patrol.
Two occupants were ejected from the vehicle and died. Four injured passengers were transported to Southeast Regional Medical Center and three others were airlifted, respectively, to Charlotte, Chapel Hill, and Duke Medical Centers.
The driver of the vehicle was Dieubeny Cyrius, 42. Among the passengers were Anom Josil, 53; Pierre E. Milord, 60; Francoise Desamges, 31; Pierre Raymond Milord, 31; Arthur Calvin, 71; Jean Desamges, 39; Roger Gerald, 63; and Jean Deilus, 51. Their conditions were unavailable.
The highway patrol is withholding names of the victims until notification of kin, according to Sgt. B.W.
Copyright 2006 The Fayetteville (NC) Observer
Posted Saturday, July 2006
Posted Friday, July 28, 2006
Posted Thursday, July 27, 2006
New fingerprint requirements at airports
By Leslie Miller, Associated Press Writer
WASHINGTON, Jul. 28, 2006 - U.S. residents with green cards, parolees and some Canadians will have their fingerprints checked every time they re-enter the U.S. by air or sea.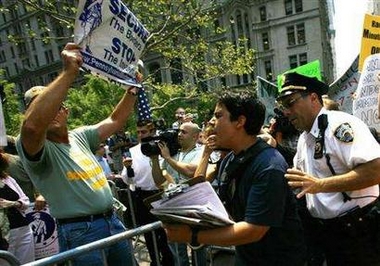 A pro-immigration protestor (R) confronts a member of the border watches group the Minutemen Project (L) at a news conference near the ground zero site of the World Trade Center in New York, July 26, 2006. REUTERS/Mike Segal
The new security checks announced Thursday by the Department of Homeland Security are part of the so-called US-VISIT program, which requires border-crossing documents to include a digital photograph and two fingerprints. The program, which currently has 61 million people enrolled from countries except Canada and Mexico, is being slowly phased in.
"We have a lot more steps along the way," said Bob Mocny, acting director of the US-VISIT program.
Mocny estimates that the new requirement, which will take effect Aug. 28, will add 1 million to 1.5 million enrollees.
The purpose of the program is to make sure that their travel documents aren't forged and to screen out criminals.
Under US-VISIT, the U.S. government has caught 1,100 criminals at ports of entry, Mocny said.
There are between 8 million and 12 million legal permanent residents — or green-card holders — in the United States. But only a fraction of them travel outside of the country, Mocny said.
Canadians who cross the border to shop, visit or take a holiday won't need to enroll in the program, according to the proposed rule published in the Federal Register.
Canadians required to enroll — including nurses, agricultural workers, students and religious workers — will only have their fingerprints checked at land ports if a Customs and Border Protection official questions the validity of their documents, Mocny said.
Everyone who re-enters the U.S. through an airport or seaport will be checked, he said.
The program won't apply to Mexicans coming into the U.S. with a border crossing card. ___ On the Net: Homeland Security Department: http://www.dhs.gov/dhspublic/index.jsp
Posted Tuesday, July 25, 2006
Donor nations pledge $750 million for Haiti
By Joseph Guyler Delva, Reuters Writer
PORT-AU-PRINCE, Haiti, Jul. 25, 2006 (Reuters) - International donors pledged $750 million on Tuesday to help fund impoverished Haiti's economic recovery efforts for the next fiscal year.
A small group of demonstrator protest against the white occupation in front of the Caraibe center during the international donors meeting in Port-au-Prince, Haiti, Tuesday, July 25, 2006. Haiti's new government pressed foreign donors for billions of dollars (euros) in urgent aid Tuesday, warning the impoverished country could fall back into chaos without immediate and long-term help. (AP Photo/Ariana Cubillos)
The pledges exceeded the $540 million requested by the newly elected government of President Rene Preval and Prime Minister Jacques Edouard Alexis in immediate donations to help build roads, schools and hospitals and to strengthen Haiti's police force and judicial system.
Delegates from about 40 nations and financial institutions gathered in Port-au-Prince for a conference aimed at helping the turbulent and destitute Caribbean country build social and economic stability.
The World Bank's director for the Caribbean, Caroline Anstey, said she was encouraged by the new government's assurances that the money would be spent responsibly.
"I think Mr. Preval and Mr. Alexis have made strong commitments to that kind of transparency, accountability that donors request to move forward," Anstey said. "It's a new beginning. We need to act now to break that vicious cycle of poverty, insecurity and instability."
The pledges were expected to clear the way for Preval's government to submit a budget to parliament for the fiscal year that begins on October 1
"We are delighted by the commitment of the international community," Alexis said. "Its response has been enthusiastic. We'll make sure those funds are used for good ends."
Haiti has requested $7 billion to pay for long-term efforts to improve security, health and agriculture and promote institutional reform in the poorest country in the Americas. Donors planned to meet again in November in Madrid to consider long-term funding for Haiti.
Participants in the meeting included delegates from the World Bank, the Inter-American Development Bank, the European Union and the U.S. Agency for International Development.
The donor community pledged $1.3 billion in 2004 to help Haiti rebuild after an armed rebellion toppled the government of President Jean-Bertrand Aristide, but the interim government that replaced Aristide complained that not all the money had been disbursed. The World Bank pledged $61 million for the next year, on top of $66 million already committed.
The donor pledges for the coming year include $120 million to compensate employees who were fired arbitrarily during the interim administration, fund job training, establish small businesses and integrate former soldiers into the civilian work force.
The pending long-term funding request includes $1.2 billion for health projects and $1.5 billion for public works projects, including a road system that would link all of Haiti's provinces.
Posted Saturday, July 22, 2006
In suffocated poverty Haiti, the economics of terrorism: Approximately 100 kidnapped for ransoms Thursday alone
By Yves A. Isidor, wehaitians.com executive editor
CAMBRIDGE, MA, Jul. 21, 2006 - There is a country in the Caribbean you should not visit, even for a few hours. A second practical advice is not investing your hard-earned money, even by proxy. Your investment, which may take the form of physical capital and inventories, will most likely yield a negative net present value. This is not to say there is not a possibility that you can be brutally murdered, in fact in broad daylight. The nation of concern is suffocated poverty Haiti. One of the many principal reasons for these cautions is growing terrorism - apparently state sponsored, in part.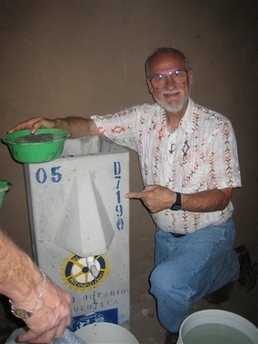 American businessman, Charles Adam, kidnapped in Haiti. He was released Thursday, July 20, 2006 after family members paid a ransom. (AP Photo)
Approximately 100 people were largely believed to have been kidnapped for ransoms Thursday (before 10:00AM) alone in the trashed-filled and dilapidated capital city of Port-au-Prince.
Today there is much debate - not serious or intelligent enough to be hopeful that Haiti will change, in the positive terms, from within in the short-run - over what exactly should be done to address the unprecedented problem of terrorism. But the truth is that such problem, which already has caused the never healthy economy to shrink by 4.7 percent, reflects extreme violence-issued totalitarian dictator Rene Preval's background as the man who personally detonated a bomb, according to former and current comrades who spoke to me on the customary condition of anonymity, during a public event in the Port-au-Prince suburb of Petion-Ville, in the late 1990s.
Economic opportunities - jobs and many other independent variables associated with a better quality of life - for the vast majority of dirt-poor and illiterate Haitians will come at the expense of security, in addition to serious macroeconomic policies.
But first here lie some clues to what a serious president, a duly elected head of state - not one who for nearly 15 years has extremely relied on terrorism for political and economic purposes - should do about it. He should not only speak out against terrorism but be certain that the terrorists are captured dead or alive. If the courageous policy is not, too, flatten the notorious crime infested ghetto of Cite Soleil, after a forced mass evacuation.
Sure, a general deterrence to smaller crime ridden, ultra-violent crime infested slums - if not, too, non-bidonville citizens-turned-terrorists, solely for monetary gains. You are terrorists; you are disciples of Osama bin Laden, on the indirect orders of former hell-sent, primitive, if not pre-historic, too, totalitarian dictator, druglord Jean-Bertrand Aristide, who repeatedly claimed that he was kidnapped by the United States, I, in a military fashion, destroy you, too, in an effort to protect the civil rights of the vast majority of Haitians.
Posted Friday, July 21, 2006
Notorious Vodou worshipper gets probation for bringing skull into country
By Macollvie Jean-Francois, Sun-Sentinel Writer
FORT LAUDERDALE, Jul. 21, 2006 -- A federal judge sentenced a Vodou practitioner accused of smuggling a human skull into the country to probation and $1,000 fine on Friday.
U.S. District Judge James I. Cohn also ordered Myrlene Sevère, 30, to obtain employment, her attorney Kenneth Hassett said outside the Federal Courthouse onb Broward Boulevard after the 11:30 a.m. sentencing.
The Miramar woman was arrested at Fort Lauderdale International Airport in February as she went through Customs. She was charged with bringing human remains into the country unlawfully.
Hassett told Judge Cohn Friday Sevère was merely exercising her religious beliefs when she bought in the skull, thought to provide protection to Vodou practitioners in her native Haiti.
"It's for her safety," Hassett said. "All of us has something unusual in our religions."
Prosecutors originally charged Sevère with three federal felony charges and she faced up to 15 years in prison.
In a deal reached with prosecutors in April, she pleaded guilty in exchange for the misdemeanor charge of improper storage of human remains.
Copyright © 2006, South Florida Sun-Sentinel
Posted Thursday, July 20, 2006
Posted Wednesday, July 19, 2006
Posted Tuesday, July 18, 2006
A Reconciliation of Memory
Voodoo faithful pray for miracles at sacred waterfalls in Haiti
SAUT D'EAU, Haiti, Jul. 18, 2006 (AP) -- Bearing offerings of rum and freshly slaughtered goats, thousands of Voodoo faithful bathe in sacred waterfalls, praying for a better life and an end to the spiraling violence that threatens to destabilize Haiti's new government.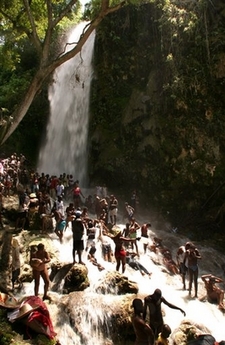 Voodoo faithfuls bathe in a waterfall during a voodoo pilgrimage where many pilgrims come seeking deliverance from Haiti's suffocating poverty, others for a cure to sickness and some seeking a better job or a winning lottery ticket in Saut d' Eau, in northern Haiti, about 40 miles from Port-au-Prince during a annual rite among Haitian Voodoo's holiest, Sunday, July 16, 2006. (AP Photo/Ariana Cubillos)
In an annual ritual that ended Monday, worshippers from across the Caribbean nation arrived for the weeklong Saut d'Eau pilgrimage.
The ritual, among Haitian Voodoo's holiest, comes amid a surge of violence in Haiti's capital that U.N. officials say is an attempt to destabilize the new government of President Rene Preval.
"The gods tell us what to do. That's why we're having so many problems: because we're not listening to the gods," said Yolette Jean, a Voodoo priestess.
Saut d'Eau's mystique owes to a 19th century legend that an image of the Virgin Mary appeared in the waterfalls. Believing the waters hold magical powers, followers strip to their underwear and scrub their bodies with aromatic mint leaves and soap.
Arms raised to the heavens, they ask the gods for help with fixing broken relationships, curing sickness and even lucky lottery tickets. Some collapse in convulsions, overcome by emotion -- or maybe spirit gods, called loas in Voodoo.
Posted Monday, July 17, 2006
Lottery winnings to be awarded to victims' families
By Alfonso Chardy, Miami Herald Writer
A judge has ruled that money from a Florida Lotto jackpot can be released to plaintiffs in a lawsuit filed against a former Haitian colonel accused of human rights violations.
A North Florida judge this week ruled that about $808,000 left over from a $3.2 million Florida Lotto jackpot won by a deported former Haitian military officer can be paid to relatives of victims of Haiti's 1994 Raboteau Massacre.
The decision, which moves the relatives a step closer to collecting compensation for their pain and suffering, came in a lawsuit filed by a California-based human rights organization, the former officer's Miami attorney said Friday.
Kurt Klaus, attorney for former Haitian army Col. Carl Dorelien, told The Miami Herald that Leon County Circuit Court Judge Janet Farris ruled Wednesday that a Haitian judgment awarding Raboteau victims one billion Haitian gourdes, or about $28 million, was valid in Florida and could be paid from Dorelien's jackpot proceedings. Dorelien has been sued separately in federal court in Miami where the human rights group is seeking damages for relatives of Raboteau victims.
Klaus said he will appeal Farris' decision and ask her to keep the money in the account until all legal actions are exhausted. Klaus said Farris issued her ruling orally and is now preparing a formal written order.
The ruling was a victory for the San Francisco-based Center for Justice & Accountability, which sued Dorelien for the money. But CJA officials were circumspect about the matter because Farris' order is not final until it's in writing.
''We are not in a position to comment because we do not yet have a final written order from the judge,'' said CJA litigation director Matt Eisenbrandt.
Dorelien won the jackpot in 1997, but did not take a lump sum payment because that option was not available at the time.
He was deported in 2003 after an immigration judge found him to be a human rights violator.
He has denied any responsibility in the two-day rampage at Raboteau, a poor seaside neighborhood of Gonaves in Haiti, where at least 26 unarmed men, women and children were killed.
Human rights advocates blamed the massacre on several Haitian officials at the time, including Dorelien -- not because he was involved but because the soldiers linked to the killings were nominally under his command.
Reprinted from The Miami Herald of Saturday, July 15, 2006.
Posted Sunday, July 16, 2006
Thousands, mostly lethal bandits, seek former proto-dictatorial president Aristide's return
By Stevenson Jacobs, Associated Press Writer
PORT-AU-PRINCE, Haiti, Jul. 15, 2006 - Thousands of demonstrators demanding the return of ousted president Jean-Bertrand Aristide marched to Haiti's National Palace on Saturday, pushing past riot police in a dramatic show of support for the exiled former leader.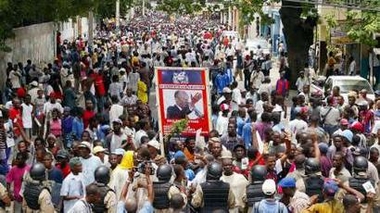 Haitians, mostly lethal bandits, shout slogans as they tussle with policemen during a demonstration calling for the return of former proto-dictatorial President Jean-Bertrand Aristide in Port-au-Prince, Haiti, July 15, 2006. REUTERS/Eduardo Munoz
Chants of "Aristide or death!" and "Aristide's blood is our blood!" rang out as a crush of demonstrators pressed against a line of national police, who eventually allowed some 3,000 protesters to fill the street outside the palace.
The march coincided with Aristide's 53rd birthday and marked the largest display of support in months for the deposed leader, who fled Haiti in February 2004 amid a violent uprising and has been living in South Africa.
Helmeted police wielding batons and riot shields formed a human chain to keep protesters from approaching the whitewashed National Palace, President Rene Preval's official residence, which was guarded by dozens of U.N. peacekeepers in armored cars.
Police pushed back several protesters but the confrontation did not escalate to violence. Still, the show of force prompted many to turn back, fearful of a clash.
"If there's blood it will be on your hands!" a man yelled at police before they yielded.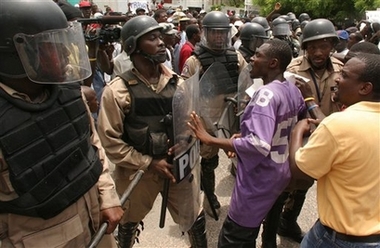 Supporters, mostly lethal bandits, of former proto-dictatorial President Aristide confront Haitian anti-riot police who are blocking them from passing in front of the Presidential Palace during a demonstration demanding for the return of ousted president Jean Bertrand Aristide in Port-au-Prince, Haiti, Saturday, July 15, 2006. (AP Photo/Ariana Cubillos)
"We voted for Preval on the condition that he bring back Aristide. That's the will of the people," said Bruce Pierre Richard, 21.
Preval, a champion of Haiti's poor who took power in May, has said Haiti's constitution allows Aristide to return but has not said whether he would welcome him home. Preval was prime minister under Aristide but the two grew apart and Preval has said little since his election about his former political mentor, frustrating Aristide supporters. The United States has warned Aristide's return could destabilize the Caribbean country.
"The international community doesn't want Aristide to come back, so they're pressuring Preval to keep him out," said demonstrator Harold Lafaliese, 40.
The protest came amid a surge of bloodshed that U.N. officials say is aimed at undermining Preval's new government.
Most of the violence is blamed on warring street gangs, including last week's massacre of 22 civilians in Port-au-Prince's Martissant slum. Militants in recent days have also spread rumors that Preval had died, cut telephone lines at Port-au-Prince's international airport and staged other disturbances to stir unrest, U.N. officials say.
U.N. officials have doubled patrols in the capital in a bid to crack down on the gangs, which operate with virtual impunity in Port-au-Prince's densely populated, maze-like slums.
Wehaitians.com, the scholarly journal of democracy and human rights