Correspond with us, including our executive editor, professor Yves A. Isidor, via electronic mail:
letters@wehaitians.com; by way of a telephone: 617-852-7672.
Want to send this page or a link to a friend? Click on mail at the top of this window.

Must learnedly read, too; in part, of intellectual rigor
First posted Tuesday, July 24; last updated, Monday, August 6, 2007
Long accused deposed dictator Aristide partner in crime, notorious Haitian polygamist Roman Catholic priest, with advanced AIDS, Edner Devalcin, died on July 22th, aged 55
By Yves A. Isidor, Wehaitians.com Executive Editor
CAMBRIDGE, MA, July 23 - For many years, mention the name of Haitian Roman Catholic priest Edner Devalcin to Haitians, both in Haiti (where citizens increasingly, in large numbers, suffer from the classic ailments of poverty: hunger, diarrhea, malaria, tuberculosis, AIDS, pneumonia) and the diasporas, you heard the same complaint that Haitian authorities and clergymen in position of responsibility in the Haitian catholic church quasily ignored.
"He has AIDS; he is a terrorist priest with a weapon of mass destruction, his AIDS suffering penis; he has a multitude of 'sweeties' and, in fact, he is doing his best to augment, and significantly so, the number of his 'girlies' so he will no longer be in the comfort of his bed, instead sleeping on top of as many of their warm bodies as possible, especially after drinking expensive beers - aha, paradise on earth."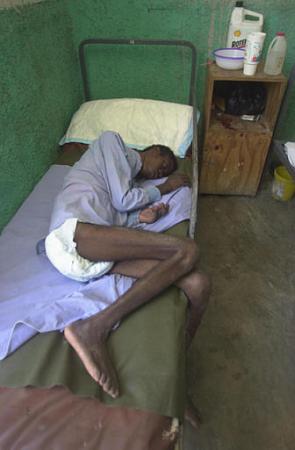 An unidentified patient suffering with AIDS rests in his bed at the "Lakou Lape" ("Peaceful Yard") Missionaries of Charities Hospice in Port-au-Prince, Haiti, in this Friday, July 12, 2002 file photo. Subsequently, file, wehaitians.com. (AP Photo/Daniel Morel)
It is, of course, possible that there was, at least, a verbal fight of 'sweeties,' involving especially the more and less beautiful 'girlies,' as intoxicated father? Devalcin watched with great satisfaction while he was in the comfort of his sofa and impatiently waiting to repeatedly bed them. "Ya, I'm sweety numero uno (number one); no, you're not; not you two ugly, skinny and fat 'girlies,' but me; give it to me, this gift of extravagant dress belongs to me, and I'm about to punch you both, stupid, stupid, stupid."

Sweeties, on display. Do not look or touch. Only father Devalcin is rightly permitted to do so.
The book of Job gives warning that "man is born into trouble, as the sparks fly upward." If I may paraphrase the partial or reduced content of such sacred book it is nothing but "man with a deep, an abiding belief that he must always spend a night of sexual merriment, most of the time unreciprocal, conjointly with as many women as possible, the price of so can be fatal, and for ever."
So now, what can really be said about accused polygamist priest Devalcin? According to a source I can trust and who spoke to me under the customary condition of anonymity, he expired late Sunday night at the Port-au-Prince private hospital of Saint François de Salle, after taken an overdose of his prescribed AIDS medication. He was 55.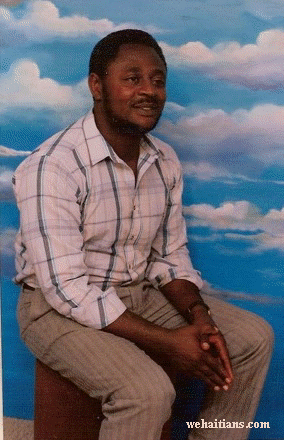 An undated photograph of Edner Devalcin, the man with a weapon of mass destruction, his AIDS suffering penis, which he used to infect with HIV untold number of women, mostly needy ones. He was invested with priestly authority on June 29, 1981.
Apparently, fearing the bar of justice, a sordid polygamist trial for having a propensity for contaminating mostly an untold number of destitute females with HIV, though many believed the chance for something of this nature to occur, given his connections and influence in scale in the extreme violence-issued government of Preval-Alexis, was infinitesimally slim and remote, he had committed suicide, after a first attempt a few weeks ago.
Now, is the immortal soul of father? Devalcin, who was born near the provincial town of Hinche, central Haiti, on the 24th day of May, 1952, in paradise or receiving eternal retribution for gravely sinning on earth? I rather believe, according to the teachings of the catholic church, that it is frying in hell - hopefully, not in the same ferocious manner of a piece of pork chop, for example, on earth.
According to Marx's dictum, "History always repeats itself"
Fifty years or so from now, will a sinner like Devalcin who also had a real talent for derangement to attack, with the help of his acid tongue, even assumed political opponents of deposed tinhorn tyrant Aristide become a saint? Probably he will become so since there is, at least, a precedent, and a very longtime ago. Augustine, the fourth century saint, but first great philosopher who was born in 354 in Tagaste, Numidia, now north Africa, was obsessed with sex, or so it appeared in his great work, "The City of God. "
More than being obsessed with sex certainly helped understand how much of a sinner was Augustine. As a teenager he stole pears, or so it appeared in his other great work: "Confession."
A memorial service for father? Devalcin who died in a sexually related mishap, will mostly likely be a real happy-sad affair, depending on the decease's affiliation with each one of the participants - a good friend, a partner in crime, an unmeasurably victim of his longtime AIDS suffering penis. It will be held on Monday, August 6th, 2007 in Port-au-Prince, Haiti I learned Thursday from a credible source, but did not identify the church where participants will congregate to formally say "adieu" to the man of God?, whose refusal to commit himself to remain sexually pure predisposed him to first succumb to the temptation of sexual pleasure, subsequently contract the HIV virus and finally become a victim of the nearly late last century, this century pandemic - AIDS. Amen!
The unanticipated ritual of morning, not without problems
After each death the ritual of morning resumes, and many times it is not without problems, especially when the decease is a notorious polygamist Roman Catholic priest, is what explains how much of a final embarrassment his cadaver is. As a result his church is forced not to show familiar vested interest, if not none at all, in being the one to duly officiate, at least, the principal service of religious nature, and finally, according to customs, inter his body in its cemetery.
The memorial service for notorious polygamist Haitian Roman Catholic priest, Devalcin, may not be held on Monday, August 6, 2007, as previously announced. There is reason for so. His children (at least two sons), mainly the progeny of masculine sex who resides in Haiti, not in Canada, as does his brother, are now quarreling with other family members. They have vowed to seek legal recourse to retrieve the cadaver of their father and give it a burial as they wish, I learned Friday.
Apparently, a change of heart by the Haitian Catholic Church
Think of a Haitian catholic bishop's principal church in Haiti's capital of Port-au-Prince, it is the cathedral, where the obsequies of father? Devalcin, on August 6th, commenced at 8:30a.m.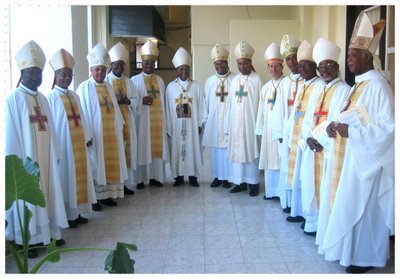 Haiti's catholic bishops.
Those (the A-list) in or expected to be in attendance included his mother Marie Gomez; his father Efficace Devalcin; his grand mother widow Eloi Devalcin born Losante Emmanuel; his brothers and sisters Allex Edouard Devalcin and his wife Marie Nicole Devalcin born Noël, Eddy Devalcin, Hérold Devalcin, Mario Devalcin, Wagner Devalcin, Evline Devalcin, Glincite Devalcin, Gladys Sénat; his nephews and nieces Stanley, Jean Sébastien, Bertholyni, Nicard, Kerlyne, Cassandre, Ervie, Alexandra, Nathalie Devalcin, Emmanuela Queslin, Sophonie Juste; his uncles and aunts Lumenes Gomez, Polygènes Gomez, Polynice Gomez, Anastalie Gomez, Emilia Joachim born Gomez, Glince Devalcin; his male and female cousins Elio Gomez, Jean Gomez, François Gomez, Gustave Deshommes, Eveillard Emmanuel, Joël Jeantillon, Sonthonax Pierre, Fred Brisson, Ramil Gomez, Ernesto Etienne, Astrel Ministre, André Bosselange Thermidor, Marie Carmel Thermidor, Jean Michel Dumas, Guy Thermidor, Mrs. Noclès Joseph born Christianne Thermidor, Mrs. Olga Beauvais born Multidor, Mrs. Georgette Midouin born Joseph, Mrs. Jeanette Gomez, and Piloude Gomez.
If family members were the only ones in or expected to be in attendance friends would not have a chance to say "adieu." The B-list also included Jean Claude Etienne, Jean Max Bellerive, Pierre Jean, Fritz A. Blaise, Emmanuel Cantave, Micheline Figaro, Jean Renel Latortue, Jean-Marie Chérestal (a Haiti former de facto prime minister), Chimène Sylvestre, Dr. Henry Claude Voltaire, Ulrick Jean Michel, Fritz Mews, Immacula Basile, Ambassador Alberto Descabrell, Josué Pierre-Louis, Rev. Fritz Sauvagère, R.P. Désiré Descieux.
Father? Devalcin's body was ultimately transported to the "Parc du Souvenir" burial ground, where there were also crocodile cries, according to a participant who spoke to me under strict condition of anonymity, by way a telephone, a few hours later.
A final prayer was said, and the text of it partially reads as such: "Today, we are all here to say a final adieu to our brother Devalcin, the servitor of God. We will dearly miss him. Like many before him who prided themselves on being men of God, women of the divine Creator on earth he always knew that the Lord would one day want him to be somewhere else. God would want him to cease laying on the divan in his flat after spending countless of hours daily attending to the poor, the sick, the infirm. Yes, brother Devalcin's soul is now duly in paradise, where evil is not allowed. Oh, God, finally your son is now with you. Blessed his soul, and only you can do it. Amen! Amen!"
LAST UPDATED August 6, 2007.
RELATED
Wehaitians.com, the scholarly journal of democracy and human rights