Correspond with us, including our executive editor, professor Yves A. Isidor, via electronic mail:
letters@wehaitians.com; by way of a telephone: 617-852-7672.
Want to send this page or a link to a friend? Click on mail at the top of this window.

Must learndly read, too; in part, of intellectual rigor
Posted Monday, July 9, 2007
Alleged terrorist Haitian Roman Catholic priest with advanced AIDS, Devalcin, equated to weapon of mass destruction after losing count of dirt-poor victims
By Yves A. Isidor, wehaitians.com executive editor
CAMBRIDGE, MA, July 9 - Never before did Radio Express International, a two-hour weekly Haitian radio program broadcast late Sunday night, on WURN 1600AM, in Boston, have a guest as Yolette LaGrandeur.
Of the tens of thousands, if not far more, of Haitians with AIDS, longtime Haitian Roman Catholic priest and close friend, partner in crime of deposed totalitarian dictator Jean-Bertrand Aristide, Edner Devalcin, is one of them, Ms. LaGrandeur repeatedly told host Mr. Jean-Hubert Laforest Sunday during a half and hour live interview.
As doctors and others hope to make HIV, the virus that causes AIDS, tests routine, in an effort to prevent more Haitians from being infected, despite Haiti's continued extreme poverty, father? Devalcin, according to the extremely convincing words of Ms. LaGrandeur, 33, today is incapable of enumerating the number of young Haitian women, most of them poor or dirt-poor, he has infected.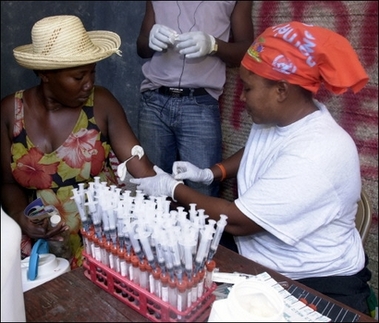 Haitian pilgrims take an opportunity to be tested for AIDS 16 July 2007 before attending a Voodoo pilgrimage and festival of the Miracle Virgin of Saut D'Eau in Saut D'Eau, some 60 kilometers (40 miles) from the capital of Port-au-Prince, Haiti.(AFP/File/Thony Belizaire)
Father? Devalcin, whose status as a priest (not at the top of the prestige pyramid, religious wise) accords him an uncommon degree of trust, respect in Haitian society and should be committed to remain sexually pure, was also accused of beating, depriving, with the help of a gun, Ms. LaGrandeur of her liberty after the victim uttered some unpleasant words and first threatened to go public: "You are not a priest, you are a vagabond with a collar, you are a voyeur (pervert) with a collar, you are a pedophile, criminal in religious vestment, and you should have your own place reserved in a penitentiary," she angrily told father? Devalcin as tears coming out of her eyes.
Father? Delvacin has contacts and influence, and significantly so in scale, in the extreme violence-issued government of Preval-Alexis. Extremely hard as life was already for the HIV infected Ms. LaGrandeur, a divorced mother of one and former "sweety," or sex toy, of the now believed kidnapper, merciless, and particularly polygamist father, still the accused weapons of mass destruction priest ultimately made several counter-attacks against her after she went public. One of them was having her taken out of the circulation after he made a series of false accusations against her, and this also in attempt to prevent other victims, including those who were yet to attain the age of consent, from coming forward.
"The church does exist to offer a way of life," said Pope Leo. But the continued silence of the Haitian Roman Apostolic Church, despite Ms. LaGrandeur's loud cries for help, proves otherwise, said many, including nuns, who trembled with anger as they spoke Monday, some of them by way of a telephone, of the very serious accusations against father? Devalcin. At least he should now be referred to in court papers as "indicted priest-terrorist for unlawful use of a weapon of mass destruction - his largely infected penis."
A large number of the people who also spoke on the customary condition of anonymity because of the nature and gravity of the accusations that blame belongs to those in vestment, those in position of responsibility in the Haitian Roman Apostolic Church, too, were priests.
RELATED TEXT: Father Devalcin succumbs to AIDS; his immortal soul is now believed to be receiving eternal retribution for gravely sinned on earth. Also, for United Nations 2006 Report on the global AIDS epidemic, please refer to wehaitians.com/science & technology.
Wehaitians.com, the scholarly journal of democracy and human rights