Want to send this page or a link to a friend? Click on mail at the top of this window.
When Blame Is Again Unjustly Assigned to Haitians for the Pandemic, AIDS
CAMBRIDGE, MA, Oct. 31 - Decades after more than 25 million people, the world over, unfortunately succumb after suffering with AIDS, about 40 million others who are more likely to infect other men and women (multiplying effect) are said to be infected with HIV, the virus that causes AIDS.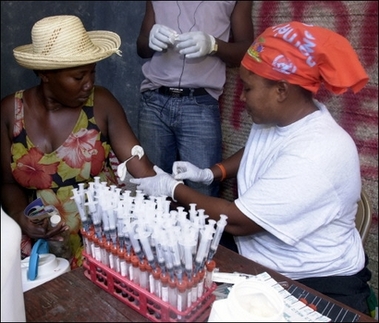 Haitian pilgrims take an opportunity to be tested for AIDS 16 July 2007 before attending a Voodoo pilgrimage and festival of the Miracle Virgin of Saut D'Eau in Saut D'Eau, some 60 kilometers (about 40 miles) from the capital of Port-au-Prince, Haiti. (AFP File Photo/Tony Belizaire-wehaitians.com File)
According to the results of a study published in the October 29, 2007 Proceedings of the Journal of National Academic of Sciences of the United States, blame for the AIDS epidemic is not distributed, a sort of consolation, though not acceptable, instead assigned to Haiti, where the HIV virus is said to have first entered, in 1966, from the Congo, Central Africa, and (HIV-1) subsequently circulated in the United States during the year of 1969 by an immigrant or immigrants of that Caribbean nation before it was ultimately formally recognized as AIDS by doctors, in 1981.
Deconstruction, until conclusive evidence
Michael Worobey, the principal researcher and a University of Arizona evolutionary biologist; Andrew Rambant, of the University of Endinburg and Dr. Arthur Pitchenik, of the University of Miami, to name only these ones, who further communicate the results of their study as such, that the probability is 99.8 percent, almost 100 percent (no margin of error, the results of their research are solipsistic), otherwise affirming that Haiti is the nation, the only one, in fact, responsible for the pandemic, the apparent largely questionable results of the authors' study, their consequences, not limited to nervous attention paid to Haitians by non-Haitians, can be disastrous for citizens of the Caribbean Republic, those who reside in foreign countries and nations, and for an indefinite time so, to put it this way.
Yet, the results of the authors' research, which many - including notable Haitian and foreign medical doctors, Haitian and foreign economists - are not yet convinced at all to have any useful scientific meaning, the research itself was not rigorous enough, after also taken their probability into account, of course, can present serious threats, which can affect the fundamental interests of the Republic of Haiti (its vitality) as a whole. The most shocking aspect of the threats can be primarily expressed in economic terms as the Caribbean nation continues to have a high level need for hard currencies to help pay for the items, including healthcare services, of its minuscule budget.
There are other legitimate reasons, if not the principal ones, which cannot be keenly debated by the authors, to say that the results of their study are more than a disappointment and why Haitians must vehemently and adroitly defend themselves against the accusation that they are responsible for HIV (an encore or a continuum), first in the Western world, which in turn is developed into or progressed into full-blown AIDS, as millions of family members continue to mourn the premature expiration of love ones after suffering for a longtime.
Not that the insignificant number of Haitians who emigrated to the Congo in the 1960s to work in the capacity of school teacher never returned to Haiti for many years thereafter but the random sample of 117 AIDS patients studied worldwide, for example, is far from being representative of the population of study to lend credence to the authors' combined contention that the hypothesis is that AIDS entered the U.S, via Haiti, from its origins, Central Africa, where it is reported to have first entered the human body after citizens consumed the meat of slaughtered chimpanzees, in 1930.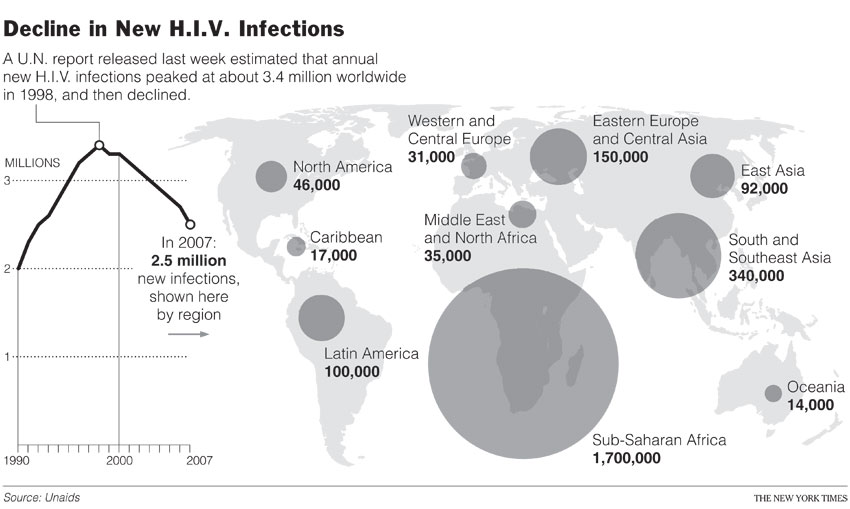 A November 21th, 2007 Uaids's revised estimate of the number of people infected with the H.I.V. virus worldwide is certainly lower than previously reported.
What is also certain the reduced number of Haitians, most of them fleeing the then François "Papa Doc" Duvalier's totalitarian dictatorship, who entered the U.S. from Haiti, in the 1960s, again when AIDS is said to have arrived there, never even visited Central Africa. But those who did emigrated directly from there to the U.S., in the 1970s.
What is truly further at odd with the results of the authors' study is that those same Haitians did not permit themselves to have Americans and other foreigners as lovers or contract marriage with them. They otherwise did so with their fellow compatriots. This can be explained by cultural and language barriers - even today, common among immigrant populations.
The authors should look at Americans (their high incomes permit them to journey to nearby foreign and distant lands in large numbers), young and old, too, who were persuaded that they had a duty, perhaps a God given one, to go overseas to help some of the least fortunate people of the world. Those Americans - missionaries, aid workers, Peace Corps volunteers, including others who helped attempt revolutions, to cite only these ones - returned to the U.S. from the Congo and other nearby parts of that vast African country, in the 1960s.
Findings yes, but not the authors' ones
Are the authors emulating James D. Watson, but by unjustly assigning blame to people of the African race, Haitians, for the AIDS epidemic, first in the U.S.? Watson, a co-discoverer of the double-helix structure of DNA, in an October 14th Sunday Times Magazine of London's profile of the scientist of the same, he was quoted as remarking, on his own volition, that he was "inherently gloomy about the prospect of Africa's" because "all our social policies are based on the fact that their intelligence is the same as ours [a reference to people of the white race]- whereas all the testing says not really."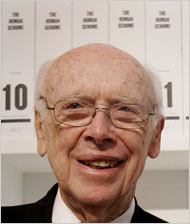 KIRSTY WIGGLESWORTH/AP
Dr. James D. Watson in London in June.
The words of Dr. Watson were certainly more than offensive for citizens, both of European and African decent, to mention only these two. They were scientifically weird. In the immediate aftermath of his thesis, preferably stupid comments, about human intelligence, involving people of the black and white races, he was disgracefully sent into disuse, as the cancellation of his London's Science Museum sold-out lecture and many others affirmed. The end result, he was eased out of the chancellorship of the New York-based Cold Spring Harbor Laboratory, including its board of directors, where he was employed (at first, his earning was a positive function of education and work experience) for nearly 40 years, presumably in the expectation of future significant scientific discoveries - by way of alternation, results of research that would intersect between laboratory and the wider world, as the double-helix structure of DNA would later confirm. His easement, sadly, after a plenitude of achievements - most of them incomparable, in scale.
By way of conclusion, findings that could have instead hastened the development of drugs that would attack AIDS at its true source, permanently stopping its deadly consequences, would surely prove beneficial to the world, which has long been awaiting so, than simply say according to the results of our study, oh, yes, there is no question about it, blame belongs to Haiti - a Manichaen sentiment. Sure, such a verdict, to put it this way, reached in utter secrecy, is also meant to be more than a virulent verbal attack on the friends of Haitians.
Yves A. Isidor, who teaches economics at the University of Massachusetts-Dartmouth, is spokesperson for We Haitians United We Stand For Democracy and executive editor of wehaitians.com.
RELATED
NOTE: This column's worth has been recognized by many editors of respected national newspapers, including the publisher of medicalnews.com, and gutted their publications to accommodate it.
Wehaitians.com, the scholarly journal of democracy and human rights