Correspond with us, including our executive editor, professor Yves A. Isidor, via electronic mail:
letters@wehaitians.com
Want to send this page or a link to a friend? Click on mail at the top of this window.

Must learndly read, too; in part, of intellectual rigor; in part, the repository of ultimate knowledge
Posted, Tuesday, March 28, 2006
In troubled Haiti, 11 more skulls found in dump
By The United Press International
PORT-AU-PRINCE, Haiti, March 27 (UPI) -- Eleven more human skulls were discovered near the Haitian capital, Haitian police said Monday, bringing the last few day's total to 28.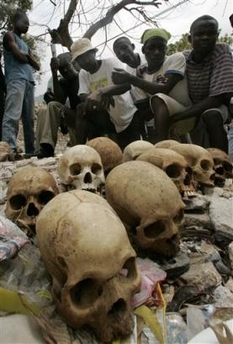 Haitians observe 10 human skulls discovered by garbage scavengers in Canape Vert a neighborhood in Port-au-Prince, Haiti, Monday, March 27, 2006. This is the second batch of skulls found after the first one of 17 found last Saturday in the Haitian Capital. (AP Photo/Ariana Cubillos)
The 11 skulls were reportedly found in a garbage dump just outside Port-au-Prince. Over the weekend, 17 other skulls were found in a dump in the upper class suburb of Petionville.
Brazilian peacekeepers were summoned to the sight to investigate the finding.
Leaders of the international force said the victims appeared not to have been shot, leading Haitian officials to suspect the skulls were used in ceremonial voodoo, which remains a popular religion in the poor Caribbean nation.
Posted Sunday, March 26, 2006
Haiti police find 17 human skulls
MARCH 26, 2006 - The skulls have been taken away for forensic examination Seventeen human skulls have been found in a wooded area in a suburb of the Haitian capital Port-au-Prince.
Witnesses said at least some of the skulls were thrown from a moving car in Petionville on Saturday morning.
The UN serious crimes unit is helping local police to investigate the find, a UN official said.
Haiti has been hit by a wave of violence and kidnappings since the rebellion that toppled former President Jean-Bertrand Aristide in 2004.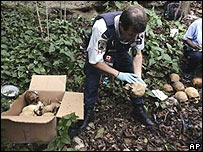 The skulls have been taken away for forensic examination. (AP)
The grim discovery was made on Saturday, in a rubbish-strewn area of woodland in Petionville suburb, not far from several upmarket restaurants.
Some of the skulls were found in small grey plastic buckets.
'Could be homicide'
Local resident Emmanuel Crepsac, 44, told the Associated Press bystanders had seen an object thrown into a roadside embankment from a moving car.
"They said someone in the car just threw something down there and then sped off. When people went to see what it was, they saw some skulls," he said.
UN civilian police officers were measuring and numbering the skulls before removing them, an AP reporter witnessed.
"All we know is that 17 skulls have been discovered," said UN spokesman David Wimhurst.
"The serious crimes unit (of the UN) is assisting the Haitian National Police, who are leading the inquiry."
"It could be homicide," Haitian police spokesman, Frantz Lerebours, said, adding that forensic tests would be carried out on the skulls.
Posted Friday, March 24, 2006
Preval due in US for first visit as declared Haitian president-elect
PORT-AU-PRINCE, Mar. 24, 2006 (AFP) - Rene Preval begins a three-day visit to the United States -- his first as Haiti's president-elect -- for talks with US President George W. Bush and officials from various international organizations.
A delegation of Haitian and US business leaders, including a former rival for the presidency, Dumarsais Simeus, will be making the trip with the incoming Haitian leader, sources close to Preval said.
On recent trips to Brazil, China and Argentina, Preval said the outlook is good for Haiti after the February presidential election and it is time to try to profit from international goodwill toward the Americas' poorest country.
It will be Preval's first US trip as president-elect. He was to have been sworn in on March 29, but his inauguration was pushed back by delays in organizing the second round of legislative voting, set for April 21.
As he is constitutionally required to be sworn in before the legislature, he is now expected to be at work as president in early May.
While in the United States, Preval will speak before the UN Security Council on Monday. He also is due to meet with UN chief Kofi Annan before having a working meeting with members of the UN Economic and Social Council.
Tuesday, he is to meet with US lawmakers from both major parties, before White House talks with Bush, officials here said.
While in Washington, Preval will also visit international organizations including the Inter-American Development Bank, the International Monetary Fund and the World Bank.
At a Caribbean Community meeting in Nassau this week, the United States and its Caribbean neighbors patched up their differences over Haiti and issued a joint call for more international help.
US Secretary of State Condoleezza Rice and her counterparts from the Caribbean Community (Caricom) issued the appeal after a meeting marked by Caricom's move to reinstate Haiti's membership in the group, suspended after the 2004 ouster of president Jean Bertrand Aristide amid a popular uprising and controversial US involvement.
Preval, who was elected in the first round of February's presidential election, was a onetime protege of Aristide.
Preval, 63, enjoys strong support from the country's poor and is expected to restore order, reassure donor countries and bridge a deep divide between a wealthy elite and the vast majority of Haitians living in grinding poverty.
Posted Thursday, March 23, 2006
Haiti's child mortality rate highest in Western Hemisphere
PORT-AU-PRINCE, Haiti, Mar. 23, 2006 (AP) - One in eight children will likely die before age 5 in Haiti, the highest child mortality rate in the Western Hemisphere, UNICEF said in a report Wednesday.
Preventable disease, malnutrition, environmental decay and violence are among the main reasons why 117 children out every 1,000 will die before their fifth birthday in this impoverished Caribbean nation, according to the report.
"There are few more challenging places to have a healthy childhood than Haiti," said Adriano Gonzalez-Regueral, a representative for the United Nations Children Fund in Haiti, in a statement.
In Latin America and the Caribbean, Haiti accounts for 2 percent of all births but nearly 20 percent of deaths for children under 5, the report said.
The report blamed many deaths on low immunization for infectious diseases. Only slightly more than half of children are vaccinated for measles in Haiti, a rate lower than sub-Saharan Africa.
The report also said Haiti's massive deforestation had contributed to more deaths among children during the Atlantic hurricane season. Storms killed some 3,000 people in Haiti in 2004, including hundreds of children living in low-lying communities of flimsy tin & wood shacks.
In addition, many children fall victim to gang violence, which exploded in the slums of the capital of Port-au-Prince after a bloody revolt ousted former President Jean-Bertrand Aristide in February 2004.
President-elect Rene Preval, expected to take power in May, has pledged to place homeless children in school.
UNICEF also said it was sponsoring programs to boost immunization, improve nutrition and purify water in Haiti, the poorest nation in the Western Hemisphere.
EDITOR's NOTE: In Haiti, approximately 3.8 children, according to UNICEF, are under the age of 5.
Posted Tuesday, March 21, 2006
Anticipated members of tyrant Prevals's de facto government
Posted Monday, March 20, 2006
Posted Friday, March 17, 2006
60 immigrants arrested as officials target Hub violence
By Maria Cramer, Globe Staff
During a two-day sweep through the city this week, federal officials arrested 60 immigrants, nearly all with records of arrests or convictions, in what they said was an effort to rid the streets of potential offenders and stem the recent violence that has gripped Boston's neighborhoods.
Of the immigrants arrested, 57 had been convicted or charged with crimes ranging from drug-related offenses to rape, kidnapping, and attempted murder, said Matthew J. Etre, acting special agent-in-charge of US Immigration and Customs Enforcement in New England.
The sweep marked the largest raid on immigrants with records in New England since the agency was formed three years ago, he said. Forty-three were legal residents, according to Immigration and Customs Enforcement, but legal immigrants are subject to deportation if they have been convicted of a felony.
Advocates for immigrants criticized the arrests, which were mostly of men living in Dorchester, East Boston, and Mattapan, saying that authorities had targeted people of color and gave too few details about the charges.
The sweep, dubbed Operation Avalanche, was launched Tuesday and finished Wednesday, about three months after city and federal law enforcement officials pledged to pinpoint the most dangerous parts of Boston and crack down on people with arrest warrants or immigration violations, or both. The goal was to locate and arrest immigrants whom law enforcement authorities saw as threats to the city, Etre said. Some had been here illegally, while others had been legal residents but were still on the streets despite orders to leave the country after they served prison time. NECN: 60 arrests in two-day ICE operation
''We were able to arrest people who had been wreaking havoc in our neighborhoods," Etre said.
But advocates for immigrants said that by listing the countries of origin of those arrested in charts, federal authorities stigmatized people of color.
''If the government is going to go as far as graphically displaying the countries of origin, what's the purpose there?" asked Ali Noorani, executive director of the Massachusetts Immigrant and Refugee Advocacy Coalition.
''ICE's role is to enforce immigration law," Noorani said. ''The role is not to have a public display of communities that are already under enormous pressure and higher standards of behavior."
The immigrants arrested came from 21 countries, including Vietnam, the United Kingdom, and Greece.
But more than half came from Haiti, the Dominican Republic, and El Salvador, according to charts the agency released to reporters before a press conference called to announce the results of the sweep. Others came from Cape Verde.
Asked if federal agents had focused on Central American and Caribbean countries, Etre said: ''We do not target any one ethnic group. We are targeting those individuals who are committing crimes in our neighborhoods, and violent crimes at that."
Nearly 60 percent of the arrests took place in one of Boston's crime ''hot spots," 10 sections of the city where more than 20 percent of the 75 killings in 2005 occurred, said Etre and Boston police Superintendent Paul Joyce.
''That's going to be an impact and send a very strong message," Joyce said of the arrests.
Those arrested are in ICE custody and are being held in various state and county jails. The cases of the 57 immigrants with records of arrests or convictions will be heard before a federal immigration court to determine whether they should be deported, said Paula Grenier, an agency spokeswoman. The three other immigrants were arrested on outstanding warrants of deportation and are being held pending their removal from the country, she said.
Grenier declined to release the names of the immigrants.
In addition to immigration violations, alleged crimes also included armed robbery, assault and battery on a child with injuries, and armed assault with intent to murder. But agency officials did not release a full list of the crimes the immigrants have been convicted of or been charged with committing.
Noorani, of MIRA, said he was concerned that so little information had been released on the arrested immigrants. Under the Illegal Immigration Reform and Immigrant Responsibility Act of 1996, any immigrant convicted of an ''aggravated felony," a crime that under the law carries a year or more in prison, would be subject to deportation.
''From an advocate's point of view, if it's a violent crime, it's a no brainer, it's inexcusable," Noorani said. ''If it's an aggravated felony under immigration law, but it's just shoplifting, [an arrest] doesn't make sense."
Maria Cramer can be reached at mcramer@globe.com.
© Copyright 2006 Globe Newspaper Company. © 20 The New York Times Company. Reprinted from The Boston Globe of Friday, March 17, 2006.
A brutal murder in New York; habitual Haitian criminal puts in tight handcuffs and chains
Past crimes, prison deal ring a bell. Witness says man accused in banker's death had sentence reduced in '98 case by lying about his client
By Ann Givens, Newsday Staff Writer
Mitch Dinnerstein never forgot the key witness who got his client locked away for life.
| | | |
| --- | --- | --- |
| | | |
| James Gottlieb, a banker, who is said to be brutally murdered by habitual Haitian criminal Reginald Gousse. (Haward Schnapp/Newsday) | | The victim's funeral. Haward Schnapp/Newsday) |
The witness, Reginald Gousse, had been accused of crimes of his own when he struck a deal with the Queens district attorney's office to testify against George Bell. Gousse testified that Bell had told him in jail that he had killed two men, including an off-duty New York City police officer. In exchange, the 21-year prison sentence Gousse had been facing for kidnapping and robbery was reduced to 5 years.
Dinnerstein was convinced Gousse was lying, and he never forgot it.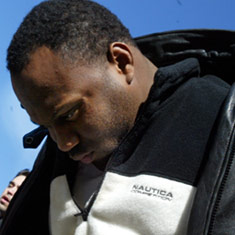 Reginald Gousse, the habitual Haitian criminal, leaves Police Headquarters to be arraigned on murder charges in Mineola, N.Y. (Harward Schnapp/Newsday)
So when he heard that Nassau police were looking for someone in a police impersonation murder that sounded similar to Gousse's past crimes, he was quick to pick up the phone.
"You didn't have to be a rocket scientist to figure out that he was a potential suspect in this case," Dinnerstein said yesterday, after testifying against Gousse in Nassau County Court. Gousse is charged with first-degree murder in the shooting death of banker James Gottlieb.
Dinnerstein said outside court that he believes the Queens district attorney's office acted irresponsibly in using Gousse as a witness in 1999. He said the deal they struck with him, which allowed him to get out of jail quickly and also to avoid deportation to his native Haiti, is a major reason why Gottlieb is dead.
Gottlieb's widow, Elizabeth, said she's inclined to agree.
"If he had 21 years in jail, this never would have happened," she said. "At least not to my husband."
Kevin Ryan, a spokesman for Queens District Attorney Richard Brown, said his office did the right thing.
"Mr. Dinnerstein had ample opportunity to cross-examine Mr. Gousse in front of 12 jurors, all of whom found Mr. Gousse to be a credible witness," Ryan said.
Dinnerstein said he remembered well when Gousse testified against Bell. On the stand, Gousse was asked about a 1998 crime in which he pretended to be a police officer, kidnapped a Staples manager, took the man's keys and went back to rob the store of computers.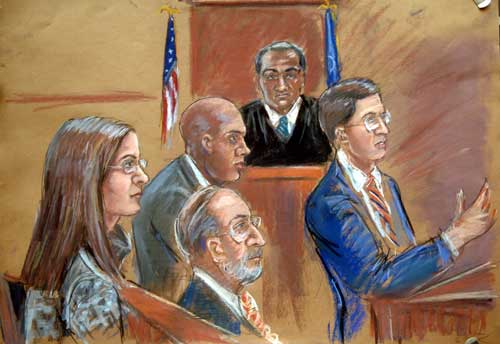 Gousse trial (Candace Eaton, artist)
The crime was similar to the one police believe Gousse was planning when they say he posed as a police officer and pulled Gottlieb over in January 2005 in Franklin Square and demanded his keys. But this time, police say, Gousse's plan went awry, and he shot Gottlieb.
In the transcript of George Bell's case in Queens, Gousse explained how he committed the Staples crime.
"I had a revolver, a set of cuffs, a scanner," he said then. "I approached the general manager and told him to ... get out of the car. I put the cuffs on him and took him to my residence."
Dinnerstein was the last prosecution witness in the case. Gousse's attorney, Martin Geduldig of Hicksville, is expected to call witnesses today.
Reprinted from Newsday of Thursday, March 16, 2006.
Court postponed for Haitian woman who had head in her luggage
FT. LAUDERDALE, FL., Mar. 16, 2006 - The woman charged with intentionally smuggling a human head into the United States last month, will have to wait even longer before appearing in federal court to answer to the charges against her. For the second time, there's been a postponement of her arraignment.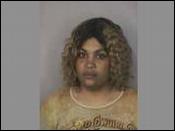 Mylene Severe, the Haitian skull lady caught. (CBS4 News)
Myrlene Severe's defense attorney is apparently trying to work out a deal that would keep his client out of jail.
Severe, 30 of Miramar, was released from a federal detention center Feb. 14 after posting $10,000 for her $100,000 bond.
U.S. Customs and Border Protection officers at Fort Lauderdale-Hollywood International Airport found the skull in Severe's luggage Feb. 9 after her Lynx Airline flight arrived from Haiti.
Severe told Customs officers she got the ''package'' from a Haitian man and planned to use it to ward off evil spirits as part of her Vodou beliefs, according to an Immigration & Customs Enforcement affidavit.
The skull, which had black curly hair, was found nestled inside a cotton rice bag, tucked among a banana leaf, some dirt, small stones and a rusty iron nail.
It is against the law to bring human body parts into the United States -- unless you have proper paperwork indicating they are being used for scientific purposes, such as for medical research or transplant.
Severe, a native of Haiti, was arrested and charged with intentionally smuggling a human head into the United States and not having the proper paperwork, as well as bringing hazardous material on an airplane.
Each count carries a five-year maximum sentence, meaning Severe could spend up to 15 years in federal prison if convicted on all charges.
The skull was delivered to the Broward County medical examiner who determined that it once belonged to a black male, roughly 40 years old or younger.
(© MMVI, CBS Broadcasting Inc.
Posted Wednesday, March 15, 2006
Irish join battle over illegal immigration; St. Patrick's Day vehicle for activists seeking reform, also benefiting Haitians and others
By Tyche Hendricks, Chronicle Staff Writer
The Irish are standing up to be counted among the nation's illegal immigrants, hoping their civic appeal at St. Patrick's Day will soften the debate over immigration reform.
At St. Patrick's Day parades in San Francisco and Chicago last weekend, activists with the Irish Lobby for Immigration Reform wore white-and-green T-shirts saying "Legalize The Irish" and passed out flyers urging people to call their elected representatives in support of allowing undocumented workers to earn legal status as guest workers. Similar activism is expected at parades in other cities in coming days.
Adding heft to the immigrants' message, Irish Prime Minister Bertie Ahern, who visited San Jose on Tuesday, plans to push President Bush for legal status for illegal Irish immigrants when he visits the White House on Friday, St. Patrick's Day.
Although most of this country's 11 million to 12 million illegal immigrants are from Mexico and Central America, about 50,000 Irish people are among 3 million illegal immigrants from countries outside Latin America. Other countries contributing significantly to illegal immigration are Russia, Poland, Canada, Haiti, Korea, India, China and the Philippines.
"We've had some very surprised reactions when they hear it is an issue for the Irish," said Celine Kennelly, executive director for the Irish Immigration Pastoral Center in San Francisco, an advice and referral service sponsored by the Irish Catholic Conference of Bishops.
They are in as dire straits as any other ethnic group," said Kennelly, who estimates there are 3,000 to 4,000 Irish illegal immigrants in San Francisco, most working in construction, in restaurants or as nannies and caretakers for the elderly. "They cannot get driver's licenses, it's harder to open bank accounts, they cannot travel home and return again. ... The relationship between Ireland and America is so long and fantastic, but it's in danger now."
More than 250,000 Irish immigrants reside in the United States, according to the census, and most of them are here legally. But in recent decades, most arrivals from Ireland have overstayed their visas and become illegal immigrants, said Kennelly, because the government is issuing fewer work visas. A 1991 program offered legal permanent residence to about 16,000 undocumented Irish, but there has been no legalization plan since then.
Kennelly helped organize a town hall meeting in San Francisco this month that drew 1,000 Irish immigrants ready to campaign on the issue. And she was among 2,000 Irish people who rallied in Washington last week for guest-worker legislation sponsored by Sens. John McCain, R-Ariz., and Edward Kennedy, D-Mass.
In Chicago on Friday, hundreds of Irish residents joined an unprecedented 100,000-strong rally opposing a bill that passed the House last year and another proposed bill that's scheduled to come to the Senate Judiciary Committee on Thursday that would make it a felony to be an illegal immigrant or to aid one.
"Most people thought it was just a Mexican thing, but it's not. It's Irish, Polish, Korean, Chinese," said Billy Lawless, the owner of two Chicago pubs who led a contingent called Celts for Immigration Reform. "If they want to deport the whole group, who's going to work in our kitchens? Who's going to work in our construction industry?"
Lawless compared the anti-immigrant sentiment he has encountered from groups like the Minutemen to the cold reception Irish immigrants received when they fled the potato famine in their homeland in the 19th century.
Illegal Irish immigrants, like those from other parts of Europe and Asia, generally enter the United States on a legitimate work, school or tourist visa and stay after it expires.
In the Bay Area, immigrant advocates plan a hunger strike and candlelight vigil all next week at the San Francisco Federal Building in a push for immigration reform. Organizer Sheila Chung said she expects participation from Irish immigrants, as well as Latino, Filipino, Chinese, Caribbean, Arab and others.
Irish participation -- motivated in part by Catholic archbishops -- can help advance the immigration-reform movement, said East Bay immigration lawyer Sarnata Reynolds, who is Irish by birth.
"They're a community that isn't viewed as 'bad.' People don't assume they might be undocumented," she said. "The Irish lobby has been very well organized for years, and they have a tradition of rallying around issues of social justice."
E-mail Tyche Hendricks at thendricks@sfchronicle.com.
©2006 San Francisco Chronicle. Reprinted from The San Francisco Chronicle of Wednesday, March 15, 2006
Wehaitians.com, the scholarly journal of democracy and human rights