Correspond with us, including our executive editor, professor Yves A. Isidor, via electronic mail:
letters@wehaitians.com
Want to send this page or a link to a friend? Click on mail at the top of this window.

Must learnedly read, too; in part, of intellectual rigor; in part, the repository of ultimate knowledge
Posted Saturday, December 30, 2006
Posted Friday, December 29, 2006
Posted Thursday, December 28, 2006
More terrorism in Haiti, terror chief Aristide urged this week in a tape-recorded Christmas and New Year Message
Reduced number of supporters march in Haiti to demand Aristide's return
PORT-AU-PRINCE, Haiti (AP)--About 1,000 supporters of ousted former President Jean-Bertrand Aristide marched through the Haitian capital Thursday to demand his return from exile and protest the presence of U.N. peacekeepers.
The peaceful demonstration marked the largest show of support in months for Aristide, who fled Haiti in February 2004 amid a violent uprising and has been living in South Africa.
"This is a gift for the end of the year for President Aristide," said Deshommes Presengloire, a spokesman for Aristide's Lavalas party.
Carrying photographs of the bespectacled former priest, demonstrators gathered at a church where Aristide once preached and walked to the National Palace, accompanied by vans blasting music and a police escort.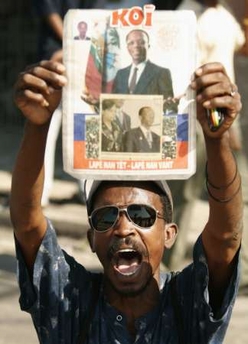 A Haitian supporter of ousted former leader Jean-Bertrand Aristide shouts slogans in front the National Palace in Port-au-Prince, Haiti December 28, 2006. (REUTERS/Eduardo Munoz)
Some of the protesters accused U.N. peacekeeping troops of firing indiscriminately during gunbattles with gangsters, killing and wounding civilians. The U.N. denies the charge and says its troops, which arrived in June 2004, only shoot when attacked.
Posted Wednesday, December 27, 2006
Posted Tuesday, December 26, 2006
Terror chief, accomplished embezzler, who must suffer Saddam fate, urges more terrorism in dirt-poor Haiti
By Yves A. Isidor, wehaitians.com executive editor
CAMBRIDGE, MA, Dec. 26, 2006 - The message for urging more terrorism in dirt-poor Haiti can be coded. Like many times before, this was exactly what Jean-Bertrand Aristide, a former deposed Haitian totalitarian, primitive dictator, an ex-accomplished embezzler, who had siphoned hundreds of million of dollars into offshore accounts, while the vast majority of the estimated 8.3 Haitian citizens endured crushing poverty and succumbed to fatal diseases, did this week when he sent a tape-recorded Christmas and New Year message to Haiti, from his luxury exile in South Africa, urging more terrorism.
If the international community, especially the United States, is truly determined to make the pursuit of peace and democracy in the long violent Haiti its policy has to feel comfortable leading to the arrest, trial, ultimately conviction of the chief terrorist that is still Aristide, a sentiment echoes by millions of other Haitians.
"Chief terrorist Aristide, they further, if not finally say, must ultimately suffer Saddam's fate, the now imprisoned former Iraqi murderous dictator who is now on death row, that is execution, by way of hanging, like an orange hanging from a tree.
Posted Sunday, December 24, 2006
Posted Friday, December 22, 2006
At least 12 killed in Haiti clashes; 30 wounded
PORT-au-PRINCE, HAITI, Dec. 22, 2006 - UN forces and Haitian police launched a joint operation in a shantytown in Haiti's capital early today, and at least a dozen people were killed and several others wounded in clashes.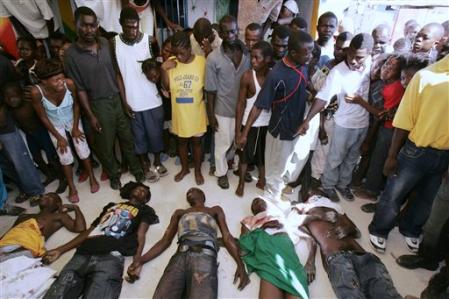 People stand around five men killed during clashes between UN peacekeepers and gang members at the Cite-Soleil district in Port-au-Prince, Haiti, Friday December 22, 2006. (AP Photo/Ariana Cubillos) More Images
A spokeswoman for the UN Stabilisation Mission in Haiti, Sophie Boutaud de la Combe, said a major operation was launched at 4.30am in the Cite Soleil shantytown.
She declined to specify a toll, but eyewitnesses said several victims were taken to hospital.
Later in the morning, shots could still be heard coming from the neighbourhood, as UN helicopters flew overhead.
A UN vehicle was also burned, a UN official said.
WEHAITIANS.COM: Four Filipino U.N. peacekeepers in troubled Haiti cheated death Thursday when their vehicles was fired upon by terrorists.
Posted Thursday, December 21, 2006
Margareth Martin, archetype defender of democracy, tragically died, November 20, 2006, aged 56
By Yves A. Isidor, wehaitians.com executive editor
CAMBRIDGE, MA, Dec. 21, 2006 - A large number of Haitians, both in Haiti and the diasporas, had their first glimpse of Margareth Martin long before she became a serious Haitian Senator, and this was in 1993.
Yes, many years before she became a rare public servant and that her instincts were to first make progress in small steps, not giant leaps, for the vast majority of her long fellow destitute Haitian compatriots, she lived in New York City for a substantial number of years, if not decades, and was a nurse by training at a prestigious medical institution in the city of the same name. But because of her arduous and consistent work for the cause of democracy and human rights in her native Haiti she cut an impressive figure. It was largely believed that there was something heroic about her and in college she rather majored in political science.
Ms. Martin (Maggy, as many friends preferred to call her), for approximately three and half years was the Haitian government top representative, in the southeast of Haiti, which capital is the touristee city of Jacmel, after she permanently returned to Haiti from Boston, where she safely took refuge after her life was repeatedly threaten by former primitive dictator, Jean-Bertrand Aristide, an accomplished embezzler, who not only siphoned hundreds of million dollars into offshore accounts, while the vast majority of Haiti's 8.3 million citizens endured crushing poverty, but ordered subordinate terrorists to brutally murder, even assumed political opponents, unfortunately, if not sadly, is no longer with us.
There are reasons for so. Ms. Martin, whose former husband, doctor Jean-Robert Richard, prematurely expired about two months ago, in Cambridge, Massachusetts, after suffering from a last fatal heart attack, tragically departed the world we continue to inhabit after her automobile, conducted by a driver, was savagely carried away by ferocious floods in the Haiti Southeast River of Nippes Wednesday, it is said. According to our sources, like many before her she was rather assassinated before she was robbed of a large sum of money she had in her possession.
Sure, like many of her friends, the destitute Haitians, history will certainly bother to remember her, and a great deal so. And if in the near future there happens to be a Magarath Martin Foundation or Preservation, many Haitians will certainly be inclined to not only be founding members but proudly serve on its board of directors, and for a longtime so.
At least 2 hurt as UN police clash with would-be lynch mob
Two hurt as UN police clash with would-be lynch mob PORT-AU-PRINCE, Haiti, Dec. 20, 2006 - Two people were injured when an angry mob clashed with police while officers tried to transfer two men suspected of attempting to kidnap a child, witnesses said.
HAITI MOB ANGER - Black smoke billows from burning used car tires as locals clash with Haiti police and U.N. peacekeepers following the arrest of suspected kidnappers. (REUTERS)
The melee erupted on Wednesday when several hundred people descended on the police station to demand the suspects be released so they could be lynched.
At least two men were wounded by gunfire when Haitian and United Nations police fired shots and tear gas to disperse the crowd, two photographers at the scene said.
A UN vehicle was set on fire and destroyed during the incident.
A Haitian police spokesman, Frantz Lerebours, said the two kidnapping suspects were later transferred to another jail and were being held for questioning.
Kidnappings are a serious threat in the Haitian capital, and the UN and national police have started operations to crack down on the problem.
The UN launched its peacekeeping mission in Haiti in June 2004 to quell widespread gang-related violence.
Posted Wednesday, December 20, 2006
Haiti's Unbelievable Geography
Hold Your Breath - Haiti:The narco state, the terrorist republic and perpetual dehumanizing poverty the vast majority of foreigners knows, and very well (left below); the civilized Caribbean nation a minuscule of foreigners barely knows
| | | |
| --- | --- | --- |
| Guns, drugs, munitions, money and radiotelephones seized in Haiti's capital last week in during an anti-kidnapping operation are displayed for the pr Tuesday December 19, 2006. (AP Photo/Ariana Cubillos) | | |
| | | Passengers on Royal Caribbean International's Mariner of the Seas relax on May 23, 2006, on a beach at Labadie, Haiti. Labadie or Labadee is a secludeMonday December 18, 2006. (AP Photo/Ariana Cubillos) |
Posted Sunday, December 17 2006
U.S. still trying to deport ex-citizen
By Alfonso Chardy, Miami Herald Writer
U.S. still trying to deport ex-citizenAfter France and his native Haiti refused to accept convict Lionel Jean-Baptiste, U.S. authorities now want to deport him to the Dominican Republic.
U.S. officials have notified Lionel Jean-Baptiste, the first naturalized American in 44 years ordered deported after losing citizenship over a drug conviction, that they will try to remove him to the Dominican Republic after Haiti and France refused to take him.
Jean-Baptiste told The Miami Herald that he received the notification Tuesday, the deadline for an administrative review of his custody case.
Under federal regulations, immigration officers review a foreign detainee's custody 90 days after his deportation order becomes final -- if removal has not been carried out. The U.S. Supreme Court has said foreign nationals who cannot be deported can be held in detention up to six months -- unless officials classify them as a danger to the community or ''special circumstance'' cases.
Jean-Baptiste, in a telephone call to The Miami Herald from the Krome detention center, said his deportation officer told him that if he cannot be deported, he may have to be released under conditions of supervision. It was the most definite statement to date from the government indicating that Jean-Baptiste could be released.
Barbara Gonzalez, a Miami spokeswoman for U.S. Immigration and Customs Enforcement, said: ``The case is still under review. Our obligation as a law enforcement agency is to carry out orders of removal as issued by immigration judges.''
Immigration judge Kenneth S. Hurewitz on Sept. 12 ordered Jean Baptiste, 59, deported to his native Haiti -- but advised him that he may get to stay in the United States if the Haitian government refused to take him back.
Haiti declined to take back Jean-Baptiste because he renounced his Haitian citizenship when he swore allegiance to the United States in 1996.
The French consulate in Miami also declined to take Jean-Baptiste because officials could not find any proof he was a citizen of France.
Officials at the Miami consulate of the Dominican Republic said they were not aware of the case but that they would look into it.
It's the first time since 1962 that a denaturalized citizen has been ordered deported after a drug conviction. In that case, an Italian-American was stripped of citizenship and then ordered deported -- the case cited as precedent in Jean-Baptiste's immigration court proceedings.
Jean-Baptiste arrived as a refugee in 1980. In April 1996, Jean-Baptiste became a U.S. citizen. But six months later he was indicted on drug-trafficking charges and federal agents arrested him.
Jean-Baptiste pleaded not guilty, but a federal jury convicted him in January 1997.
Reprinted from The Miami Herald, online version, of Sunday, December 17, 2006.
Haitian Senator is said to escape after kidnapping
By Stevenson Jacobs, Associated Press Writer
PORT-AU-PRINCE, Haiti, Dec. 16, 2006 -- A Haitian senator was kidnapped by gunmen while driving near a dangerous slum but escaped after several hours in captivity, a U.N. official said Saturday.
Sen. Andris Riche was seized Friday night along a highway through the capital of Port-au-Prince, U.N. police spokesman Fred Blaise said.
Blaise said the senator, a member of the opposition Organization for the People's Struggle party, escaped early Saturday.
The assault happened near the sprawling seaside slum of Cite Soleil, a base for well-armed gangs blamed for a string of recent abductions. Kidnappings for ransom have surged in the Caribbean nation since a 2004 revolt that toppled former President Jean-Bertrand Aristide.
Gunmen ambushed Riche's pickup truck as he and three companions returned from a celebration marking the 200th anniversary of Haiti's Senate, Blaise said.
Haitian broadcaster Radio Kiskeya reported the kidnappers initially demanded a $200,000 ransom.
Haiti experienced a lull in violence following the February election of President Rene Preval, but abductions and killings have increased in recent weeks. More than a dozen children were reported kidnapped this week alone, prompting criticism that Preval's government and an 8,800-strong U.N. peacekeeping force cannot secure the former French colony of 8 million.
WEHAITIANS.COM: According to two credible sources who spoke to us on the condition of anonimity because they extremely feared for their lives Sunday, December 17, 2006, Senator Andris Riche was kidnapped by terrorists, but regained his liberty only after the extreme violence-issued government of Rene Preval paid a large sum of money as ransom, as was the case of Fred Joseph, a former Finance Cabinet Minister, in the first so-called government of Preval, too kidnapped, but a few weeks ago.
Wehaitians.com, the scholarly journal of democracy and human rights