Correspond with us, including our executive editor, professor Yves A. Isidor, via electronic mail:
letters@wehaitians.com
Want to send this page or a link to a friend? Click on mail at the top of this window.

Must learnedly read, too; in part, of intellectual rigor; in part, the repository of ultimate knowledge
Posted Wednesday, August 30, 2006
Woman recounts gang-rape horror in Haiti
By Tom Hays, Associated Press Writer
NEW YORK, Aug. 30, 2006 - One of three women who claim she was gang-raped by soldiers loyal to a former Haitian strongman testified Tuesday that one attack took place as her five small children watched.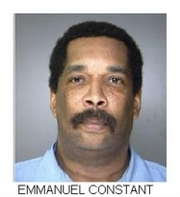 This undated photo of Emmanuel Constant was released by the Suffolk County Police Department in July
Masked men burst into her home in Port-au-Prince in 1994 and raped her while her children saw "everything that was being done to me," she said through an interpreter and behind a large video screen to shield her identity.
The hearing was about whether Emmanuel "Toto" Constant owes at least $1 million in compensatory damages and unspecified punitive damages to each of three women named as plaintiffs.
The witness, who fled to the U.S. in 2003, has accused Constant of sanctioning the systematic rape of women in the early 1990s to silence slum-dwellers still devoted to the ousted former president, Jean-Bertrand Aristide.
U.S. District Judge Sidney Stein granted her anonymity based on fears she still could be targeted for retribution.
The defense table was vacant: Constant remains in jail on Long Island after being charged in July with mortgage fraud. His attorney in that case has declined to comment.
Constant emerged as the feared leader of a right-wing paramilitary group after Aristide was deposed in 1991. It terrorized and slaughtered Aristide loyalists between 1991 and 1994, human rights groups say.
The alleged rape victim testified that her ordeal began when her husband, a taxi driver and fierce Aristide supporter, vanished in 1992. She described taking to the streets and voicing her despair.
Even after being jailed and beaten, she remained vocal until five men arrived at her door in April 1994. They beat up her 8-year-old son and took turns raping her, she said. Two months later, the nightmare was repeated.
Three months later, she saw a doctor who delivered some shocking news: She was pregnant by one her attackers. A son was born on Feb. 12, 1995. He and the rest of her children still live in Haiti.
Posted Monady, August 28, 2006
Posted Saturday, August 26, 2006
Posted Friday, August 25, 2006
LA. mom: Black kids sent to back of bus by white driver
By Doug Simpson, Associated Press Writer
COUSHATTA, La, Aug. 24, 2006. - A Louisiana school district suspended a white bus driver while it investigates complaints that she ordered nine black children to sit at the back of the bus.
No previous complaints have been lodged against the driver, who has worked several years for the Red River Parish school district, school Superintendent Kay Easley said Thursday. She refused to reveal the driver's name.
"I'm trying to get all this straight, and settled, so we can all move on," Easley said.
Two mothers, both black, sparked the investigation with a complaint on Monday that their children and the other black children had been ordered to sit in two rows of seats in the rear of the bus.
"In all these years, I've never had a problem like this," said Janice Williams, whose four children ride public school buses.
One of her children, Jarvonica Williams, 16, said the bus driver allowed many white students to have seats all to themselves while some blacks were forced to stand or sit in others' laps.
Iva Richmond, whose 14- and 15-year-old children were on the bus, said Thursday that they previously had a black bus driver, but their bus assignment changed this year. When school started this month, the white driver told them she had assigned them seats, with the black children at the back of the bus.
Richmond said she complained to a local principal, who told the driver that if any children were assigned to seats, all would have to be.
Early last week, the driver assigned black students to two seats in the back of the bus, Richmond said.
"All nine children were assigned to two seats in the back of the bus and the older ones had to hold the smaller ones in their laps," she said.
The women said their complaints to parish school officials were not immediately addressed.
Easley said she wanted to settle the matter. She said the driver had been suspended without pay, and she would announce the results of the district's investigation at a school board meeting on Sept. 5.
NAACP District Vice President James Panell told The Times of Shreveport that he would give federal attorneys details of the situation this week.
Coushatta is a small farming town in northern Louisiana. The school district has about 1,600 students, Easley said.
___ Associated Press Writer Kevin McGill contributed to this report from New Orleans.
Posted Tuesday, August 22, 2006
Lethal Haitian gang leader defies president he helps proclaim through extreme violence
By Stevenson Jacobs, Associated Press Writer
PORT-AU-PRINCE, Haiti, Aug. 21, 2006 (AP) — The leader of a major gang on Monday defied Haitian President Rene Preval's orders to disarm, saying his followers would give up their weapons only if U.N. peacekeepers stop conducting raids in the slums.
Earlier this month, Preval told gang members suspected of being behind a surge of kidnappings and attacks in this impoverished Caribbean nation that they must disarm or face being killed. Gang leader Amaral Duclona's refusal comply sets up one of the biggest challenges to Preval since he became president in May.
Duclona said he and his men in the Port-au-Prince slum of Cite Soleil had planned to disarm on Monday but reconsidered because of what he called deadly raids by U.N. troops.
"As long as (U.N. troops) keep attacking, we are not going to lay down our weapons," Duclona told reporters in the seaside slum, sitting on a red motor scooter.
A military official denied that U.N. troops were launching unprovoked attacks in Cite Soleil, a densely populated shantytown lined with bullet-pocked concrete homes, burned-out cars and mounds of trash.
"If armed gangs do not attack us, we will not fire at them," said Lt. Cmdr. Neuzivaldo Dos Anjos, a spokesman for the military of Brazil, which is heading up the 8,800-strong U.N. force in Haiti.
U.N. peacekeepers were deployed to Haiti to help restore order following the 2004 revolt that toppled then-President Jean-Bertrand Aristide, now exiled in South Africa. Preval is hugely popular among Haiti's poor masses and had pledged to crack down on violence and encourage foreign investment.
The United Nations mission in Haiti and the government had no immediate comment on Duclona's statements.
Fatal crash shatters Brockton family's dreams
By Jennifer Kovalich, Enterprise Staff Writer
BROCKTON, MA, Aug. 22, 2006 — At age 18, Wolf Alexis carried a lot of responsibilities on his young shoulders.
After a full day at school, he worked part-time at Kmart. He helped care for his three younger siblings, would tend to the needs of his diabetic father and played guitar at his church.
In two weeks, his parents, Marie Joselyne and Leocles, who moved to America from Haiti, were about to pack their firstborn off to Johnson & Wales University in Rhode Island.
"It was their dream to see him go to college, get a degree and make something better for himself and his family," family friend Gerald Thomas said Monday.
That dream was shattered Sunday night after the Land Rover that Alexis was driving left a rain-slicked North Quincy Street and slammed into a tree. He was pronounced dead at Brockton Hospital. Police say a preliminary investigation shows the Land Rover was going too fast for the road conditions and failed to negotiate a curve in the road.
At the time of the accident, the teen had been on the way to his friend Denard Mondesir's house to watch movies with other friends, including one who was set to leave for college on Monday.
Mondesir and two other friends were riding in a vehicle behind Alexis at the time of the crash, said Thomas.
"They usually traveled in one car. For some reason there was another car," Thomas said. "It could have been all of them." The sudden loss of Alexis, whose mother chose his name from a book she had read during her pregnancy, stunned his family and friends.
"He was my brother and my best friend," Mondesir said Monday. "We grew up with each other, went to school, played sports. No matter what I did, he was there."
Mondesir had planned to room with Alexis at Johnson & Wales.
"We had plans for the future," the teenager said in a soft voice that trembled with emotion.
Grief-stricken relatives and friends filled the Alexis home on Arthur Street on Monday afternoon.
Sitting in the living room, Leocles Alexis recalled his son as a boy with a generous heart who loved to play music, who would call his father several times a day to see how he was feeling and wait up for him at night, and who usually called before coming home from work to see if the family needed anything from the store.
"He was a very friendly guy. He was with me all the time," his father said. "This is a pain that I don't think can ever pass."
The Alexis family went to the crash scene Monday. Glass and debris was strewn around the tree in the yard where Tracey and Carl Cayford live with their three children. The couple called 911 after hearing the crash Sunday night and ran out to try and help.
"All we saw was steam and smoke," Tracey Cayford said.
Firefighters arrived and began performing CPR on the teen, she said.
Through this tragedy in their front yard, the Cayfords say they feel a connection to the Alexis family.
"They plan on coming back and putting up some type of memorial, and we told them that would be fine," Carl Cayford said.
The teen's wake is expected to be held Saturday followed by a funeral on Sunday.
Thomas said that although Wolf Alexis was only 18, he was somewhat of a father-figure to his siblings, sister, Sherwood, 16, and two brothers, Pascal, 9, and Ricles, 3, and said the teenager had the utmost respect for his parents.
"He was the kind of kid any parent would want to have," Thomas said. "I don't know how the parents are going to manage. They invested all they had in him and they were counting on him to look after the younger ones if something happened to them."
Jennifer Kovalich can be reached at jkovalich@enterprisenews.com
CONTACT US The Enterprise, 60 Main St., P.O. Box 1450, Brockton, MA 02303-1450 Telephone: (508) 586-6200.
Posted Thursday, August 18, 2006
Wehaitians.com, the scholarly journal of democracy and human rights