Correspond with us, including our executive editor, professor Yves A. Isidor, via electronic mail:
letters@wehaitians.com
Want to send this page or a link to a friend? Click on mail at the top of this window.

Must learnedly read, too; in part, of intellectual rigor; in part, the repository of ultimate knowledge
Posted Sunday, April 30, 2006
Posted Friday, April 28, 2006
Raid rumors spark fear among immigrants
By Laura Wides-Munoz, Associated Press Writer
MIAMI, Apr. 28, 2006 - Rumors of immigration roundups have prompted thousands of illegal immigrants to stay home this week and are making some afraid to participate in a national immigration protest planned for Monday.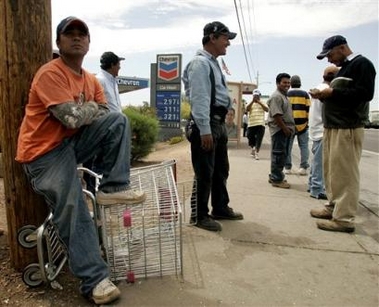 Day laborers wait for work near s Home Depot store in Phoenix, Friday, April 28, 2006. Activists supporting area immigrants workers plan to hold a protest outside the store Monday, as part the 'A Day Without an Immigrant' national boycott.
Though federal immigration officials said they were unfounded, rumors of random sweeps were rampant from coast to coast Friday, prompting thousands of immigrants to stay home from work, take their children out of school and avoid church.
The absences caused the rumors to build, as some thought their missing friends and co-workers had been arrested. Construction and agriculture were among the industries most affected.
Len Mills, executive vice president of the Associated General Contractors of South Florida, said he estimated at least 50 percent of workers on construction jobs in the region hadn't shown up for work. He said he believed even some legal workers were afraid.
"This is costing millions of dollars a day, and I don't know who is going to pay for it," he said.
Katie A. Edwards, executive director of Florida's Dade County Farm Bureau, said nearly a third of farmworkers didn't come to the fields earlier in the week.
Mari Ramos, a Peruvian nanny whose tourist visa ran out in 2003, listened when friends warned her not to take public transportation or risk arrest.
"That's when I became nervous. I stopped going to my night job," the 36-year-old Miami woman said.
"Everybody's edgy," said Chris Ruske, owner of a southern New Jersey nursery. "People are worried, and we're worried. There's an awful lot of rhetoric, and you wonder what's true. You wonder if the immigration Gestapo are coming to get you."
Immigration and Customs Enforcement spokesman Dean Boyd said the agency has received hundreds of calls in recent days asking about immigration raids. He said such rumors were typical after a raid like the one last week in which more than 1,000 employees of pallet manufacturer IFCO were arrested at more than 40 company sites nationwide.
But he added, "any suggestions that our standard, day to day law enforcement actions are timed or being staged to retaliate are absolutely false." ICE officials acknowledged they have stepped up arrests under their "Operation Phoenix," an existing program to find and deport fugitive illegal immigrants with criminal backgrounds.
Many wondered whether the rumors would deter people from national immigration protests planned for Monday.
"It is the ugliest of rumors because it has intimidated people who are already afraid. They are living in the shadows of society, wondering who is going to knock on the door," said the Rev. Allan Ramirez, pastor of the Brookville Dutch Reform Church in Long Island, N.Y.
In Tuscaloosa, Ala., organizers of an annual Hispanic festival scheduled for Sunday briefly considered canceling it.
The National Immigration Law Center called on organizations across the country to sign a petition urging ICE to assure the public that it will not engage in any immigration arrests during Monday's protests.
The agency said its policy is not to discuss potential operations. "ICE will continue to operate as it does every day of the year," Boyd said.
Elias Bermudez, an activist and talk show host for a Spanish-language radio station in Phoenix, said many believe they are being punished for participating in recent protests in favor of legalizing the status of many illegal immigrants.
"Some people in our community think we're getting payback," he said.
The rumors affected a wide variety of businesses. In New Jersey and New York, day-laborer gathering sites drew only a trickle of workers.
In southern New Mexico, construction industry leaders said an unknown number of immigrant workers did not show up to work over fears of being rounded up, setting back plans for the Las Cruces Home Builders Association's spring Showcase of Homes next month.
In the rural town of Homestead, Fla., more than a dozen parents lined up early to take their kids out of Redondo Elementary School Wednesday for fear of a raid, said activist Jonathan Fried, who heads the nonprofit "We Count!"
"It's caused tremendous fear in our community, like I've never seen before," Fried said.
On Friday, ICE announced the arrests of 106 illegal immigrant fugitives and 19 immigration status violators throughout the Midwest over the last 10 days. Of those, 46 had criminal records, according to the department. Earlier this week, ICE announced the arrest of 183 fugitives in Florida alone.
The American Immigration Lawyers Association said Friday it believes some of the concerns may have been fueled by confusion over a widespread fugitive roundup by the U.S. Marshals Service. That roundup lead to more than 9,000 arrests of people wanted for a number of crimes, and ICE assisted in the effort but it said most of those detained were U.S. citizens.
Boyd said the agency makes arrests on a daily basis. "However, we don't conduct random sweeps. All our arrests are the result of investigations, evidence and intelligence," he said.
____ Associated Press Writers Suzette Laboy in Miami, Bonnie Pfister in New Jersey, Amanda Lee Myers in Phoenix and Adam Geller and Pat Milton in New York contributed to this report.
Posted Monday, April 24, 2006
Posted Saturday, April 22, 2006
Posted Friday, April 21, 2006
Confusion, low turnout mar Haiti crucial legislative vote; one man fatally shot dead
By Joseph Guyler Delva, Reuters Writer
PORT-AU-PRINCE, Haiti, Apr. 21, 2006 (Reuters) - Confusion reigned at many polling stations on Friday as fewer Haitians than hoped turned out to vote in a parliamentary election that will decide if President-elect Rene Preval has enough support to govern the troubled Caribbean nation.
Haitian interim Prime Minister Gerard Latortue votes at a polling station in Port-au-Prince, Haiti. Citizens of the Caribbean country voted in the second round of legislative elections for 127 seats in parliament (AFP/Tony Belizaire)
While election officials said they were pleased with the second-round ballot, one man was shot dead in a fight with a relative who supported a rival candidate, and two other election-related deaths were reported but not confirmed.
Elsewhere, scuffles forced police to shut down a handful of voting sites long before polls officially closed at 4 p.m. (2000 GMT), and many would-be voters were told they had gone to the wrong polling place and were turned away.
Turnout, estimated by European Union observers at between 15-20 percent, was lower than in the chaotic first round of voting in February, when Preval won Haiti's first presidential election since former President Jean-Bertrand Aristide was ousted in an armed revolt two years ago.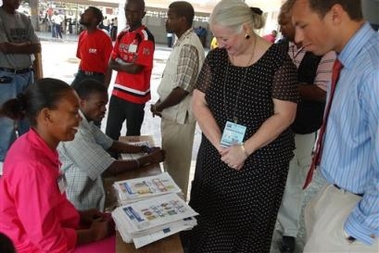 United States ambassador Janet Sanderson,center, observes the ballots at the polling center in Petionville during a parliamentary elections in Port-au-Prince,Haiti,Friday, April 21,2006. Polling stations were nearly empty Friday as voting got off to a slow start in a crucial legislative runoff intended to give this impoverished caribbean nation it's first popularly elected government since a revolt ousted President Jean-Bertrand Aristide two years ago. (AP Photo/Evens Sanon)
"A 15-20 percent turnout is very low," European Parliament member Johan Van Hecke told local radio.
Preval will need supporters in parliament, and an ally in the prime minister that parliament will pick, in order to chart a course, and the one-time ally of Aristide's and champion of Haiti's poor masses had urged his supporters to vote en masse.
Only two parliamentary races were decided in the first round, leaving 97 seats in the Chamber of Deputies and 30 in the Senate to be determined in Friday's runoff.
Polling stations were nearly empty at first in the capital Port-au-Prince. By midday lines had grown but many people were told they were in the wrong place and could not vote.
"I came to vote here during the first round. Now they told me my name is not on the list," said Monique Pean, 30.
"I'm eligible, I want to vote!" shouted an angry 50-year-old man. "I'll go wherever they want me to, but Lord, somebody needs to tell me where to go."
Max Mathurin, president of the Provisional Electoral Council, said the authorities couldn't just let voters cast ballots wherever they wanted.
"We are satisfied because we did everything we could to make sure polling stations opened on time and voters did not have to wait too long to vote," Mathurin told reporters.
UNDER GUARD
Haiti's last parliamentary elections in 2000 were tangled in a vote-tallying dispute, paralyzing the legislative body. Discord over subsequent presidential elections helped to undermine Aristide, once viewed as a hero of Haiti's fragile democracy but later accused of corruption and despotism.
The new government faces a daunting job of restoring stability to the deeply poor nation, which has been plagued by political violence and corruption for most of its 202 years.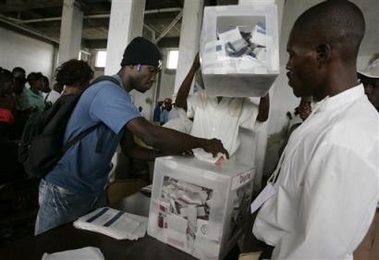 A man casts his ballot minutes before the deadline at a voting center during parliamentary elections in Port-au-Prince, Haiti, Friday, April 21, 2006. Polling stations were mostly quiet in a crucial legislative runoff intended to give this impoverished Caribbean nation its first popularly elected government since a revolt ousted President Jean-Bertrand Aristide two years ago. (AP Photo/Ariana Cubillos)
U.N. troops in armored vehicles and police were out in force.
Police arrested an election worker for electoral fraud in Carrefour near Port-au-Prince. Three people were arrested in the southern town of Port-Salut for threatening poll workers with guns, police spokesman Frantz Leurebours said.
In western Haiti, U.N. peacekeepers stopped protesters who were cutting up a roadway to block traffic, Leurebours said.
Under Haiti's constitution, the party holding at least half the seats in parliament will pick the prime minister. Final results are not expected until April 28, but no party has enough candidates in the runoff to win the required majority.
Preval will be sworn in on May 14.
© Reuters 2006. All Rights Reserved.
In Haiti, nearly all eligible voters stay home on crucial election day
By Stevenson Jacobs, Associated Press Writer
PORT-AU-PRINCE, Haiti Apr 21, 2006 (AP)— Polling stations were nearly empty Friday in a crucial legislative runoff intended to give this impoverished Caribbean nation its first popularly elected government since a revolt ousted President Jean-Bertrand Aristide two years ago.
In this handout photo provided by the U.N. Stabilization Mission in Haiti, electoral workers wait for voters during the legislative runoff elections at the Alexandre Petion High School in the Bel-Air neighborhood of Port-au-Prince, Haiti, Friday, April 21, 2006. Polling stations were mostly quiet in a crucial legislative runoff intended to give this impoverished Caribbean nation its first popularly elected government since a revolt ousted President Jean-Bertrand Aristide two years ago. (AP Photo/UN-MINUSTAH, Sophia Paris,HO)
The absence of lines and apparent public enthusiasm for the election was in sharp contrast to February's presidential vote, which returned former President Rene Preval to power.
"It's a slow start," said David Wimhurst, a spokesman for the U.N. mission that was called to Haiti to help restore order following Aristide's ouster. "We think some people are waiting to see if they can vote later in the day. We expect it to pick up."
Thousands of U.N. peacekeepers fanned out across the country to guard polling stations, but only a tiny fraction of Haiti's 3.5 million registered voters had arrived to cast ballots shortly after voting opened at dawn. There were no immediate reports of disturbances or other problems.
Hundreds of candidates from more than a dozen parties are seeking 127 legislative seats. The race features candidates from a broad political spectrum, including members of Aristide's center-left Lavalas party, former rebels who helped oust him and several center-right, pro-business aspirants.
"I want change for my country. We need development and opportunities, so that's why I came out to vote," said Garry Alcy, 35, one of about 50 people voting at a high school in Petionville, a suburb of the capital Port-au-Prince.
Under Haiti's constitution, the party or coalition with the most parliamentary seats gets to choose the prime minister, who acts as head of government and appoints Cabinet members and most administrative posts.
Preval's Lespwa party is likely to capture the largest number of seats, but no party has enough candidates to win a majority, meaning Preval will need to forge a coalition government. Final results are expected in about a week.
"We're here to vote for parliament because they will vote on the laws that will make our country better," said 26-year-old Patrick Saint-Tume, clutching his voter ID card as he stood in line at an almost empty voting station near Port-au-Prince's downtown.
Preval, a former president who shares Aristide's wide support among Haiti's poor masses, had urged citizens to vote, but the 63-year-old did little campaigning for candidates of Lespwa, which means "hope" in Creole.
A strong showing for Preval's party would boost his legislative agenda to rebuild Haiti, which has been battered by gang violence, the closure of many textile factories and high unemployment since the February 2004 uprising that forced out Aristide.
Preval, who was voting in his northern hometown of Marmalade, takes power next month and has pledged to restore security and attract jobs.
Election officials urged voters to cast ballots but said a low turnout wouldn't undermine the result.
"We will get a respectable percentage of voters to make this election legitimate," said Jacques Bernard, director general of Haiti's electoral council. He blamed the poor turnout on a tendency among Haitians to vote in large numbers only in presidential elections.
"The mentality in Haiti is to only vote for president, but the election for senators and deputies is important too," Bernard said on local radio.
Haiti, the poorest nation in the Western Hemisphere, has not had a functioning parliament since 2003, and observers said a huge amount of work will be needed to get it up and running after it is installed.
"There's no staff. There's very little in the way of physical facilities. This is basically starting from scratch," said Dan Erikson, a Haiti expert with the Washington-based Inter-American Dialogue.
Some 9,000 U.N. peacekeepers and 3,000 Haitian police were patrolling the country to prevent violence. Officials have deemed 37 areas as high security risks and will deploy rapid-response teams to put down any disturbance, U.N. spokesman Damian Onses-Cardona said.
Only two candidates won seats in the Feb. 7 first round of elections, which were hampered by late poll openings, delays in distributing ballots and a shortage of election workers needed to handle the crush of voters who jammed polling stations at dawn. Turnout was high because presidential elections were also held that day.
Copyright 2006 The Associated Press
Posted Wednesday, April 19, 2006
Haiti to hold crucial vote amid fear of violence
By Joseph Guyler Delva, Reuters Writer
PORT-AU-PRINCE, Haiti, April 19, 2006 (Reuters) - Amid fears of political violence, Haiti prepares to vote in legislative elections that will determine if President-elect Rene Preval has enough support to govern the poorest country in the Americas.
The parliamentary run-off election will determine whether Preval will have an ally in the Caribbean country's next prime minister, who will be picked by parliament.
Authorities, analysts and the wealthy elite who lost when Preval, a champion of the poor, won a February 7 presidential election consider Friday's ballot crucial as Haiti tries to return to stability after the ouster two years ago of former president Jean-Bertrand Aristide.
But many ordinary Haitians seem unaware of the stakes, and there are signs turnout could be low. Preval, who will be sworn in on May 14, urged supporters to turn out in force.
"Without support from parliament, there is not much a president can do," Preval said.
Debate between candidates and parties has become fierce at the local level since Preval's first-round victory under the banner of his political platform "Lespwa," Creole for Hope.
Two candidates from rival parties also won first-round victories in races for the Chamber of Deputies, the lower house of parliament. That leaves 97 seats in the Chamber and all 30 Senate seats up for grabs in the April 21 runoff.
Under Haiti's constitution, the party holding at least half the seats of parliament will pick the prime minister.
No one party has enough candidates in the runoff to win the required majority.
As chief of government, the prime minister names all public administration functionaries, forms the cabinet, conducts government policies and presides over the National Police High Council, overseeing state security and safety. Parliament can fire him or her through a no-confidence vote.
Preval has been meeting candidates from rival parties to try to persuade them to join his platform, seeking a comfortable majority. A growing number of opponents have engaged in talks to join forces against his party.
Poverty is pervasive in Haiti, where the World Bank estimates annual income at $390 per person. Coups and corruption have plagued two decades of attempts at democratic government and an unelected interim government has ruled since Aristide was driven out by an armed rebellion in 2004.
A U.N. peacekeeping mission in Haiti has launched an education campaign that includes radio commercials urging Haiti's 3.5 million registered voters to cast ballots.
But many voters complain that problems encountered in the chaotic first round of the election remain unsolved. They said they will have to walk miles (kilometers) to voting stations.
Police fear angry candidates who have been disqualified from the second round race could try to disrupt the election.
Violence has been reported in several towns, including the burning on Monday of a police station in Maissade, in the Central Plateau, said Haiti's police chief, Mario Andresol.
He said special security measures have been taken in "hot areas." U.N. peacekeepers also announced added security measures for the ballot.
"We know that there are places where angry disqualified candidates and other individuals are planning to disrupt the election," Andresol told Reuters. "We know there is a potential for violence, but the Haitian police and U.N. troops are prepared to quell any violent attack against the election."
Posted Monday, April 17, 2006
Wehaitians.com, the scholarly journal of democracy and human rights