Correspond with us, including our executive editor, professor Yves A. Isidor, via electronic mail:
wehaitians@gis.net
Want to send this page or a link to a friend? Click on mail at the top of this window.

Must learnedly read, too; in part, of intellectual rigor
Posted at 11:59 p.m., Thursday, October 30, 2003
Haitian radio station attacked by gunmen amid growing concerns over press freedom
PORT-AU-PRINCE, Haiti, Oct. 29 (AP) - One of Haiti's most popular independent radio stations suspended newscasts on Wednesday, just hours after gunmen sprayed the offices with gunfire.
Five men opened fire on Radio Caraibes late Tuesday. Bullets hit the sports director's car and damaged the office facade. The assailants stole pistols from two policemen but the gunfire came from assault weapons.
The gunmen's vehicle had a state license plate, but government spokesman Mario Dupuy said the car could have been stolen. He also said gunmen may have wanted it to look like the government was involved.
The Paris-based Reporters Without Borders released a report this month ranking Haiti 100 out of 166 countries with deteriorating press freedoms.
Haiti's state-run media tends to broadcast stories favorable to the government. Other stations, although independent, follow breaking stories such as steady anti-government protests plaguing much of the country.
Several journalists have fled the country, saying they cannot safely do their jobs. Four from Radio Caraibes fled earlier this year.
Haiti's most prominent journalist Jean Dominique was assassinated in April 2000 in the courtyard of his station, Radio Haiti Inter.
Human rights groups have accused the government of dragging its feet on the murder investigation. Two investigating judges quit the case saying they feared for their lives. One is now living in Florida.
Dominique's widow Michele Montas, who ran the station after her husband's death, shut the station down in February and fled to New York.
Suit accuses Police in Brooklyn of strip-searches in minor cases
By William Glaberson, The New York Times
Near the warren of cells that smelled of feces and vomit, the woman did not quite believe what was happening. She had been arrested in 2001 in Brooklyn on a minor charge and now, in a room with an open door, a police officer had asked her to strip naked and squat. "She used her finger to examine me internally," the woman testified at a deposition.
That same year, a Haitian man had been arrested for a misdemeanor because of a dispute with a tenant. He also said he had to remove all his clothes, this time in front of laughing officers asking him to bend down. One of the officers, he testified, was holding a wand that is usually used as a metal detector, and the man could not help thinking of Abner Louima, the Haitian man who was sodomized with a broken broomstick in a Brooklyn police station bathroom in 1997.
Those are some of the accounts at the center of a federal lawsuit that claims the New York Police Department has for at least five years routinely violated people's rights by strip-searching those arrested for misdemeanors and lesser offenses in Brooklyn, often in front of crowds of other detainees. The suit paints a picture of ordinary New Yorkers caught in a netherworld of degradations after being arrested on minor charges.
It is not the first time such grim claims have been made. Two years ago, the city agreed to pay as much as $50 million — one of the largest settlements in a civil rights case by a municipality in history — to as many as 50,000 people it conceded had been illegally strip-searched in Manhattan and Queens. The city's Correction Department had conducted the searches over a 10-month period.
The city's lawyers are fighting the Brooklyn case vigorously. But after several years of skirmishing, a federal judge, Charles P. Sifton, agreed earlier this month to let the suit continue not only on behalf of the 20 people who filed it, but also on behalf of all others with similar complaints who have been arrested in Brooklyn since 1998. Most of the alleged incidents of improper strip-searches happened after the settlement of the case involving the correction officers.
In his decision, Judge Sifton wrote that lawyers for people arrested on charges like loitering, disorderly conduct and subway offenses "have clearly produced evidence sufficient to form the basis for an inference that a policy, practice or custom existed with respect to strip searches at Central Booking" in Brooklyn.
Representatives of the Police Department and the city's Law Department would not comment on the suit, except to note that Judge Sifton's decision to permit the case to proceed as a class action was not a decision on the underlying claims. But in the legal battle, in addition to denying that there was any policy of strip-searching all of those arrested in Brooklyn, city lawyers have maintained that the law permitted strip-searches of some of the plaintiffs because they were originally arrested for felonies.
A federal appeals court ruled in 1986 that strip-searches were barred for people charged with minor offenses unless there was a reasonable suspicion that weapons or contraband were concealed.
The Brooklyn case, some lawyers say, could prove harder to win than the earlier case because the city has denied that there was any policy of strip-searching the Brooklyn detainees, while it acknowledged such a policy in the case involving the correction officers who processed those arrested in Manhattan and Queens. Brooklyn Central Booking is run by the Police Department.
Richard D. Emery, a lawyer who handled the earlier case but is not involved in the Brooklyn case, said the lawyers in Brooklyn face several hurdles that did not hamper the plaintiffs in the case two years ago. But he said that if the city were forced to acknowledge liability for the Brooklyn strip-searches, it might have to spend far more than it did in the earlier case.
So far, he said, the city has spent about $40 million on the 2001 settlement of the Manhattan and Queens case.
Lawyers for the city would not comment on the potential liability the city might face. Central Booking, which processes all people arrested in the borough, strip-searched people arrested on the minor charges even when there was no reason to suspect that they had hidden weapons or other contraband.
Central Booking in Brooklyn is in an aging court building at 120 Schermerhorn Street that has long struggled with vermin infestation, plumbing problems, sweltering heat and frigid cold.
Robert Gangi, the executive director of the Correctional Association of New York, a nonprofit watchdog group that monitors prison conditions, said his group has not studied the issue of whether detainees are strip-searched. But Mr. Gangi said that his group had inspected the Brooklyn Central Booking cells and had noted some progress in the conditions. "The Police Department," he said, "has made a sincere effort to address the problems, but some serious problems remain."
Richard J. Cardinale, one of the plaintiffs' lawyers in the Brooklyn case, said the police on duty in Central Booking often humiliated detainees by having them remove their clothing in front of groups of other prisoners, sometimes of the opposite sex. He said that it was not yet possible to estimate the number of people the suit might cover, but that the number could easily exceed the 50,000 covered by the $50 million settlement two years ago.
"It is continuing to go on," he said, "people are being strip-searched, they see others being strip-searched and the conditions in Central Booking are as deplorable as they have ever been."
The suit also challenges the physical conditions at Central Booking, including allegations that toilets in cells are often clogged and that mice and roaches roam the floors feeding on discarded food. The portion of the suit dealing with the conditions is only on behalf of about 20 plaintiffs, but Mr. Cardinale said the plaintiffs' lawyers planned to ask Judge Sifton to declare that portion of the suit a class action as well.
In pretrial depositions conducted by Mr. Cardinale and other lawyers in the case, some of the people who were arrested described haunting experiences in the bowels of the Schermerhorn Street courthouse.
Paul G. Brumaire, the Haitian man who remembered the Abner Louima case, said he was packed like a sardine with other people who had been arrested in a cell with a toilet clogged by vomit and feces. Another man described crowded cells that smelled of urine, bodies and rotting apples. Every spot was taken.
"You wouldn't put cattle in there," he said.
A woman said an officer grabbed her bra and pulled it up. From where she was standing, she testified, she could see men in one cage and women in another. "I remember I was in so much shock," she said. "The women were looking at me, and I faced them, and they were laughing."
Copyright 2003 The New York Times Company.
Reprinted from The New York Times, New York Region, of October 30, 2003.
Posted at 6:51 p.m, Wednesday, October 29, 2003
Posted at 8:12 p.m., Tuesday, October 28, 2003
Baby burns in flaming Haitian house as police raid seaside slum
PORT-AU-PRINCE, Haiti, Oct. 28 (AP) - A baby died in a burning house on Tuesday as police searched a slain gang leader's slum neighborhood for armed leaders of protest movement that has paralyzed Haiti's westcoast.
Witnesses said police raided the seaside Raboteau slum in Gonaives and burned five houses after they swept the area. In one of the houses, a one-month-old girl was burned to death, the private Radio Metropole reported.
``The police and other men dressed in civilian clothes set fire to my house,' the girl's mother, Micheline Limay, sobbed to the radio station.
It was the second day of violent police raids initiated in retaliation for an attack on the Gonaives police station Sunday. At least two officers were wounded and a teenage girl was shot and killed during the attack that was staged by followers of Amiot Metayer, who was killed last month.
Metayer's followers have been staging violent anti-government protests calling for the resignation of President Jean-Bertrand Aristide since Metayer's bullet-riddled body was found Sept. 22. The gang leader was once a fervent supporter of Aristide but his followers turned after his death.
| | | |
| --- | --- | --- |
| | | |
| An uncommonly tyrant Aristide's victim, brutally murdered at home on Oct. 22, 2003. A funeral mass was said for the victim on Oct. 29, 2003 before her remains were flown to the U.S. to be ultimately interred. | | |
Monday's police raids in Raboteau left one woman dead, two wounded and 12 of Metayer's supporters under arrest.
``Fifteen gangsters are holding 200,000 people hostage,' Interior Minister Jocelerme Privert told reporters Tuesday.
At least 12 have been killed and 35 shot and wounded in more than a month of protests in Gonaives, about 110 kilometers (68 miles) northwest of the capital of Port-au-Prince.
Posted at 2:45 p.m., Monday, October 27, 2003
Protesters attack police in Haiti, 1 dead
By Michael Norton, Associated Press Writer
PORT-AU-PRINCE, Haiti, Oct. 26 - Anti-government protesters loyal to a slain gang leader attacked a western Haiti police station, and gunfire killed a girl on her bicycle and wounded the police chief and two officers, a government spokesman said Sunday.
Followers of slain strongman Amiot Metayer launched Saturday night's surprise attack, government spokesman Mario Dupuy said.
As the siege carried on into Sunday, a girl riding a bicycle nearby was hit by a stray bullet and killed, Dupuy said. No arrests were reported.
The attack was the latest in more than four weeks of upheaval in Gonaives that started when Metayer's bullet-riddled body was found Sept. 22.
His followers, once loyal to President Jean-Bertrand Aristide, have accused the government of involvement in the killing, saying the strongman had damaging information on the president.
The government denied involvement, and Aristide refused demands that he resign.
The protests left at least 10 people dead and 34 injured with bullet wounds in Gonaives. Dupuy said the police station raid was led by fugitive Jean Tatoune, one of 150 inmates who escaped when Metayer's followers drove a tractor through the prison walls to free their leader in August.
Meanwhile, in Haiti's second-largest city of Cap-Haitien, Aristide partisans set up flaming tire barricades Friday night to block opposition supporters from entering the northern city and force an opposition alliance to cancel its protest Sunday.
The North District Front — composed of opposition parties and citizens groups — planned to hold the march as opposition leaders ended three days of strategy talks.
The opposition, which claims the last elections in 2000 were rigged, has refused to participate until the government meets its demands to disarm its partisans and reform the police.
Copyright © 2003 The Associated Press
Posted at 2:41 a.m., Sunday, October 26, 2003
Pay us U.S. $2.11 or your dead body will end up right on a trash-filled street, and it will ultimately be eaten by rats
By Yves A. Isidor, wehaitians.com executive editor
CAMBRIDGE, MA, Oct. 26 - The vast majority of Haitians continues to be promised a better quality of life by Haiti's uncommonly tyrant, Jean-Bertrand Aristide.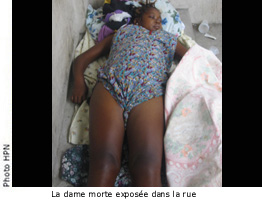 One of the latest tyrant Aristide's victims
Healthcare, for example, they have been repeatedly told, will make a difference (multiplying effect), that is, their life expectancy, currently 52 years, though I may be exaggerating, will go upward, meaning a significant decrease in the number of premature departures, and permanently so, from this world.
But this week, a further understanding that totalitarian dictator Aristide was a pathological liar came after a 9-month pregnant woman, unable to come up with about U.S. $2.11 to complete her total payment of less than U.S. $60.00, was refused medical care and forcibly removed from her hospital bed by so-called L'Hopital City Med (City Med Hospital), in the Port-au-Prince suburb of Petionville.
Minutes later, the woman I decline to identify by name, died on a nearby trash-filled street, and her body, like many before it, was, in part, eaten by parasites.
"Things may at last change for the better in this country," millions of tearful Haitians said immediately after learning of the unfortunate death of the young woman, "only after we get rid of thief Aristide and put him on trial for all of the odious crimes he has committed against us."
There were other regrettable incidents as well, as the brutal death of a 24-year-old woman, for example, in the provincial town of Hinche suggests.
The woman, who was throwing stones at her husband as she was quarreling with him, was shot dead three times in the head by a so-called Haitian police commissioner who later gave the reason for firing his gun that one of the stones thrown by the victim broke the windshield of his automobile.
In Port-au-Prince, Louima Jonathan, 16, was devoured by dogs after he was tortured for hours by Aristide's thugs, or Police, as officers cheered.
Seeking opportunity, Haitians children find slavery
By Amy Bracken, Reuters Writer
PORT-AU-PRINCE, Oct. 25 (Reuters) - At a busy downtown intersection on a Friday afternoon, about a dozen children and teens are hard at work, begging and wiping cars for change.
Some live in a nearby slum, others live on the street. Several have run away from houses in which they worked for relatives, acquaintances or other adults in exchange for room and board.
"I lived with a man who had a son, but I was the only one he told to clean the house. He beat me when I didn't," said Gredlin Deludorone, showing scars on his arms and legs. Deludorone has lived on the street since 2001.
"I've been on the street since 1988," said Merison Charles, older than all the youths around him. "I was mistreated at someone's house. They promised to send me to school but never did."
Today about one in every 10 Haitian children is a restavek, or child who works for free in exchange for room and board, according to a 2002 report by the National Coalition for Haitian Rights. Most are girls, sometimes as young as 4 years old.
When parents cannot adequately care for their children, they often send them to live with a relative or acquaintance or another adult in the city in the hopes that they will be cared for and sent to school.
SENDING THEM TO PARADISE
But that rarely happens, said Guylande Mesadieu of the Collective for Youth of the Savanna, which has a community center for young people in need in Port-au-Prince.
"Parents don't really know the situation," she said. "When they send their children to Port-au-Prince they think they're sending them to paradise, but the children just get stuck in work and poverty."
Despite increased publicity and efforts to stop the practice, it has grown in recent years. The number of restaveks in Haiti increased by 100,000 between 1990 and 2002, according to the National Coalition for Haitian Rights.
The United States has repeatedly threatened to cut funding to Haiti because of the common practice of "trafficking in humans," which includes transporting children over the border into the Dominican Republic.
But each year the United States has backed off "decertifying" Haiti because the government appears to be trying to address the problem.
This fall the Haitian senate proposed legislation to outlaw the practice of domestic child labor. President Jean-Bertrand Aristide has spoken out against it on numerous occasions, and his wife, Mildred Trouillot Aristide, wrote a book about it.
But some question the substance of such efforts.
"People are saying in 2003 that this practice must be eliminated," said Jean Lherisson, director of the human rights group Haiti Solidarity International, which conducted a restavek study with UNICEF in 2001. "And I say you have a law. Why was this law never applied?"
Haiti's parliament passed a law as early as 1958 calling for the government to develop a process to end the restavek practice.
"It's not a legal question," said Lherisson. "It's a socioeconomic question."
THE WEALTHY DON'T WANT THEM
Today, the socioeconomic influences behind domestic child labor are more pronounced than ever as the employers of restaveks have shifted from predominantly wealthy to predominantly poor. The wealthy no longer want restaveks, said Lherisson, because it is an embarrassment. They can afford to pay a maid, and their needs are different.
"Rich people today don't need restaveks to get water from a well. They get it delivered," said Lherisson.
Meanwhile, the need for help in poor families is great, said Yannick Etienne, director of the worker rights organization Batay Ouvriye.
Low-wage laborers who work 12-hour days and raise children "are in a situation where they have to get the help of a young person, probably a young girl, from a distant relative or whatever," she said. "If you are to get rid of this type of slavery in Haiti, people have to have a better salary so they can pay people to do domestic work and also respect their rights."
But better pay is a difficult solution in a country where the unemployment rate hovers around 70 percent and the legal minimum wage is scoffed at in many sectors.
Lherisson said it is difficult to understand "why someone would send their children into captivity." But what is clear is that there is no quick-fix solution. "One must assume that what must be done will take 10 or 15 years," he said.
Copyright © 2003 Reuters Limited
Posted at 1:10 a.m., Saturday, October 25, 2003
Man charged with Boston Airport bomb hoax
Man Charged with Boston Airport Bomb Hoax Fri Oct 24, 3:51 PM ETAdd U.S. National - Reuters to My Yahoo!
BOSTON, Oct. 24 (Reuters) - Authorities charged an airline passenger on Friday with transporting a hoax device after an item resembling a bomb -- but which was really an alarm clock tied to three plastic sticks -- was found in his checked luggage.
Jacques Jean, 43, was arrested at Boston's Logan International Airport after baggage screeners found what initially appeared to be a timer attached to dynamite sticks, a state police spokesman said.
Jean had been scheduled to fly from Boston to Miami on American Airlines Flight 989, and then on to Haiti, said Ann Davis, a spokeswoman for the Transportation Security Administration.
"Bringing a hoax device into an airport is ... just not a smart thing to do," Davis said. "Even a plastic toy that looks like a bomb is going to be taken very seriously by our screeners."
Jean's arrest came just days after a college student who said he hid box cutters and other banned objects on airliners to show up flaws in the security system was charged in federal court with carrying a dangerous weapon onto an aircraft.
Nathaniel Heatwole, 20, a Quaker studying at Guilford College in North Carolina, was released without bail and faces up to 10 years in prison and a fine of up to $250,000 if convicted of the charges.
Copyright © 2003 Reuters Limited
Editor's note: One may be a law abiding citizen. By way of alternative, a model for others to follow. But sometimes, the inconceivable happens: he is taken out of the circulation and then charged with a crime. Jacques Daddy Jean, a law abiding citizen, a prominent community and political leader, in the city of Boston, Massachusetts, must not be confused with the Jacques Jean, who had a local address in the city of Malden, Massachusetts, arrested yesterday, after a clock that resembled a bomb was discovered in his luggage as he was about to board a flight at the Boston's Logan International Airport to the city of Miami, where another one would transport him to his final destination, Haiti, his native country. Since we, or wehaitians.com, are not a court of law, but a supermarket of ideas, we cannot determine Jacques Jean's guilt or innocence. But one thing for sure, the painful situation in which Jacques Jean finds himself in today, often, is the result of a gross error of judgment. We wish him well. We assume others, not only Haitians and Haitian-Americans, have learnt a great deal from such a regrettable incident and that it will not recur.
Posted at 2:01 p.m., Thursday, October 23, 2003
Government supporters demonstrate in the capital, preventing a protest by opponents of President Jean-Bertrand Aristide
PORT-AU-PRINCE, Oct. 22 -- (AP) -- Government supporters threw bottles and rocks at antigovernment demonstrators in Haiti's capital Wednesday, preventing a protest called to demand President Jean-Bertrand Aristide's resignation.
University students, labor unions and political activists were scheduled to march through Port-au-Prince at midmorning. But hours earlier, people set afire tire barricades, prompting nearby schools to cancel classes for fear of violence.
About 20 antigovernment protesters gathered a half-hour before the demonstration's planned start and were met by 100 Aristide supporters hurling rocks and bottles and shouting epithets, organizers of the opposition march said.
No serious injuries were reported.
The smaller group sought refuge in the offices of an opposition party as Aristide partisans pushed and shoved them, keeping them trapped inside the building, student leader Herve Saintilus said.
''Under the eyes of the police, Aristide's supporters have barricaded us in the party headquarters and threatened us,'' Saintilus said.
About an hour later, police pushed the government supporters back, allowing the opposition protesters to leave.
Later, about 100 government supporters chanted: ''If Aristide leaves, we'll cut off heads and burn down houses.'' The number of demonstrators backing Aristide's Lavalas Family party swelled to hundreds as they marched toward the National Palace.
''Aristide will stay for five years,'' said Valeur Walter, a Vodou priest. ``Lavalas will stay for 150 years.''
The opposition accuses Aristide of leaning toward dictatorship and contends that poverty has deepened in Haiti, already the poorest nation in the Americas.
Posted at 12:59 a.m., Thursday, October 23, 2003
Posted at 11:49 p.m., Tuesday, October 21, 2003
Posted at 12:49 a.m., Saturday, October 18, 2003
Haiti hands accused drug trafficker to U.S.
PORT-AU-PRINCE, Haiti, Oct 16 (Reuters) - Haitian police on Thursday arrested a prominent businessman indicted by the United States for drug-trafficking, and U.S. anti-drug officials immediately whisked him away, said an official familiar with the case.
Elie Aubert, known in the politically troubled Caribbean nation as "ED1" for his ED1 Construction company, was detained on the outskirts of the Haitian capital and handed over to the U.S. Drug Enforcement Administration (DEA), said the Haiti-based official, who spoke on condition of anonymity.
A DEA official in Miami said he could not confirm details of the case but believed it was related to a Fort Lauderdale indictment.
Aubert's was the second high-profile drug-related detention in Haiti in the last four months.
Washington's annual report on the global drug trade said earlier this year that Haiti's failing economy, corruption, weak police and faltering democratic institutions made it a key stop for traffickers running cocaine to the United States.
Last month, President George W. Bush's annual report on how well other countries were cooperating in the war on drugs said Haiti had "failed demonstrably" to meet its obligations.
The Dominican Republic, which shares the island of Hispaniola with Haiti, is also a major transit country for cocaine and heroin but Washington says the government cooperates closely with the United States in the drug war.
Copyright 2003 Reuters Unlimited
Posted at 5:49 p.m., Thursday, October 16, 2003
Haiti's ruler faces angry protests
By Jane Regan, Christian Science Monitor
PORT-AU-PRINCE, HAITI, 15 - Maxim Rony is no stranger to democratic struggle. As a student, he took part in the movement that toppled Haiti's notorious Duvalier regime and helped elect Jean-Bertrand Aristide president in 1990. During a 1991 coup, when Mr. Aristide was ousted for three years, he was one of hundreds working for the president's return.
Now he has switched sides.
Today, Mr. Rony spends much of his time struggling against Aristide's government, which he says relies on volatile armed gangs, repression, and propaganda campaigns to maintain power. Exactly nine years and some three billion US tax dollars after the Clinton Administration restored Aristide to power, none of the democracy that was promised has come about. And once again, protesters have taken to Haiti's streets.
"Democracy was not restored on Oct. 15, [1994]," says Rony, coordinator of the Platform of Haitian Human Rights Organizations. "Not only that, today we are witnessing a crisis in values and ethics. We need to keep fighting for real democracy."
This week, thousands of demonstrators marched in the city of St. Marc, homemade anti-Aristide posters held high as they passed shuttered storefronts. Last week, for two days in a row at noon sharp, women in the northern city of Cap-Haitien put aside their laundry to join in a classic "beat steel" protest, clanging their pots and pans, the din rising above the crumbling colonial-era wooden row houses. Six people have been killed and dozens injured in the protests.
"Tell the Americans to take Aristide back! We don't want him any more!" one woman shouted before ducking out of sight.
To the south, the dusty port city of Gonaives was shut down once again on Oct. 6 as thousands accompanied the flag-draped coffin of local strongman Amiot Mtayer, which seemed to float on a sea of shouting, sweating heads in the Caribbean sun.
In the city where, 200 years ago, slaves declared victory over the French after a bloody 13-year revolution, former Aristide supporters have been in revolt since Mr.
Mtayer's body was found bullet-ridden in a ditch on Sept. 22. Mtayer's pro-government "Cannibal Army" gang, some of whose members are armed, used to harass Aristide-opposition marches. Now, convinced that the strongman was eliminated because he had become a nuisance, the "Army" has turned on Aristide and has kept Haiti's fourth-largest city shut for more than three weeks with violent protests and burning barricades.
There are international protests as well. Last week, Amnesty International released yet another report condemning the government for its tolerance of police brutality, torture, and impunity, and Transparency International, the Berlin-based group that tracks government corruption, just ranked Haiti as among the planet's worst offenders.
Haiti's spot on the United Nations Human Development Index slipped again this year, to 150th among 175 nations; 40 percent of children don't go to school, life expectancy is dropping, and poverty on the rise.
"We don't have the means to deliver the fruits of democracy because of the economic sanctions," says the Rev. Grard Jean-Juste, a member of Aristide's first government and once head of Miami's Haitian Refugee Center. "There is a group of people in the US that is continually plotting against the Haitian people."
Mr. Jean-Juste, Aristide, and other officials tend to pin all of Haiti's problems on foreigners. Many foreign countries and institutions like the World Bank cut off aid after the allegedly flawed parliamentary and presidential elections three years ago.
But since then, their demands that Aristide make democratic reforms have mostly gone unheeded. Rights abuses have gone unpunished, journalists have been killed or exiled, and gangs have not been disarmed. Beyond that, the political squabble between Aristide's Lavalas Party and the opposition--which is refusing to participate in overdue local and parliamentary elections until security and rights issues are addressed--has hit an impasse. The Constitution calls for legislative elections this year and presidential elections next year.
The Aristide government counters that the opposition is intransigent. But the Organization of American States, the European Union, and the thousands of Haitian protesters seem to agree that the president could take more resolute steps toward delivering the "justice, transparency, and participation" he promised when first elected in 1990.
Ten years ago, while fighting to restore Aristide to power, Rosemond Jean, then a teenager, took a bullet in the back as he fled Haitian soldiers. He is paralyzed.
Today, like the thousands at the Mtayer funeral, he says that Aristide has turned his back him and his slum, with its open sewers glistening green, its water bought by the bucket, and its hungry, half-naked children playing in the dust.
"They have forgotten us," he says from his wheelchair. "We don't exist."
The protesters behind him brandish an American flag and chant angrily,
"Tell the world! Tell Bush! Aristide's in trouble!"
But Mr. Jean's sad eyes don't share his friends' verve. He is tired and frustrated. He takes high school seriously and has missed three weeks already.
Copyright © 2003 OneWorld.net. Copyright © 2003 Yahoo! Inc.
Posted at 5:50 p.m., Wednesday, October 15, 2003
Orlando man shoots, kills two of his girlfriend's children
ORLANDO, Fla, Oct. 15.- A married man shot his girlfriend and three of her children, killing two of the siblings and leaving the mother and the other child critically hurt, because he thought she found a new boyfriend, authorities said.
Wilson Cherenfant, 55, answered the door at his girlfriend's apartment Tuesday holding a gun, but he surrendered to authorities without incident. He was being held without bond Wednesday at Orlando County Jail on charges of first-degree murder, a jail official said. No information on his lawyer was available.
Sheriff's officials did not release the victims' names, but friends and acquaintances said Denise LaPaix, 35, and three of her children were shot in the apartment. A fourth child was not injured.
"He thought she was seeing another guy," Orange County sheriff's spokesman Jim Solomons said. "It was because of jealousy."
LaPaix was listed in critical condition along with her oldest son, Steven, 14, after undergoing surgery at Orlando Regional Medical Center, deputies said. The sheriff's office said a boy and a girl died of multiple gunshot wounds. Friends and neighbors of LaPaix said those children were Sean, 13, and Stephanie, 11.
LaPaix's youngest, Lindsay, 10, fled to a neighbor's home after Cherenfant apparently spared her, authorities said.
Cherenfant, a Haitian immigrant, was married and had two children with his wife, Jeannette. Family members said LaPaix lived with the Cherenfants after arriving from Haiti, and that's how the affair began.
Jeannette Cherenfant said she knew about the 10-year relationship, but that in Haiti women usually stay with their husbands, even if they are cheating.
"He was still my friend," she told the Orlando Sentinel. "He was still my husband." ___ Information from: The Orlando Sentinel, http://www.orlandosentinel
© 2002 - The E.W. Scripps Co.
Posted at 1:52 a.m., Wednesday, October 15, 2003
In Haiti, anti-de facto and totalitarian government protests continue
PORT-AU-PRINCE, Haiti, Oct. 14 - Protesters hurled rocks at police and blocked streets with flaming tire barricades for a second day Tuesday in a town on Haiti's west coast, demanding President Jean-Bertrand Aristide's resignation.
Police fired into the air to break up the demonstration in St. Marc, where about 1,000 protesters took to the streets, Haitian radio news reports and witnesses said. No one was reported injured.
The 12-party opposition alliance Convergence, meanwhile, issued a statement Tuesday encouraging "all demonstrations" against the government that are "peaceful."
Supporters of a street gang have held three weeks of violent demonstrations since the gang's leader was found murdered last month near St. Marc, accusing the government of involvement.
Aristide has denied the charge and said the protesters were being manipulated by Haiti's opposition to cause unrest that could jeopardize plans to hold legislative elections sometime this year.
The opposition has said it will boycott new elections unless the government can disarm partisans, bring to justice perpetrators of political violence and reform the police force.
Copyright © 2003 The Associated Press
Wehaitians.com, the scholarly journal of democracy and human rights