NASHUA, NH, Jul. 4 - Today, as I was circulating in the United States of America's rural state of New Hampshire, which became so and the 9th one in the Union (named used to refer to the federal government of the U.S. during the Civil War) on June 21, 1788, observing citizens happily participating in celebrations of freedom or 4th of July (U.S. independence day-related festivities), the more I asked myself why it cannot be the same for my native land of Haiti (especially after more than 206 years of birth), the more I became chagrined. Immediately thereafter, as I continued to consume a major-size cup of black coffee with cream (sugar, not included), which subsequently permitted me to achieve a high degree of personal utility, came to mind the new president of that very same latter nation - one with a
tortured history
, where new leaders are never inclined to arduously work to help make its catalog of unwanted problems things of the past as the sunny Republic is progressively attempting to rightly find its place in the pantheon of nations, where an acceptable minimum of quality of life, among many others, is the norm - not blanket dehumanizing poverty. Overall, a
NO RETURN
to a very painful past.
Mr. Michel J. Martelly, the new president of Haiti in a wehaitians.com file photo.
As if he was a grandfather with a plethora of grand children, all sons and daughters of his large number of now adult progenies first he fathered with different "manmancitas" or mothers (to borrow a few words from the urban dictionary), as was the case of former Haiti's president Rene Preval's chosen successor, Judge Celestin, 42, who had at least 23 minor children with 13 different women (including the former president's daughter he again impregnated), the Caribbean nation's recently sworn head of state, Michel Martelly, Saturday imparted what sounded like rather 'grandfatherly' advice to members of Haiti's news media during a meeting he hastily called for at the temporary replacement building of the earthquake-destroyed very impressive or once-grand National Palace edifice in the capital city of Port-au-Prince.

"Today, I am here to once again help guide you, how to be responsible journalists; I do not mind being criticized," Mr. Martelly, who recently did not hesitate to assign the hard-to-earn grade of A+ to himself after he self-assessed the first thirty days of his presidency, giving many the impression that he was incapable of distinguishing activities from achievements, jokingly told the reduced number of men and women in attendance for the circumstance. "Do not, do not emulate those who sure only portray my hardworking presidency, especially Haiti, in a negative way," he added.

The week-end presidential gathering, which reminded some of the journalists and others in attendance of Stalin's practice, including that of many other tyrants influenced by the same late Soviet Union's bloodthirsty, botcher dictator, of reeducating critics after they were all sent to reeducation camps, came only a few months after Mr. Martelly, then a presidential candidate, verbally threatened a member of the press who questioned his preparedness for the very demanding job of the long tarnished office of the Haitian presidency since he lost three high-end homes, on the average, in the U.S. state of Florida after they were all foreclosed on by banks because he failed to abide by the terms and conditions (making the required timely monthly payments - principal and interest, at least) of the lending contract he first entered into, as his affixed signature at the very bottom of each relevant document, including promissory note, suggested.

"Yes, I knew you were coming; yes, I know very well they sent you here; anyway, tell those F people that I am ready to fight them back." Unfortunately, those were the very unpleasant words Mr. Martelly, who many long believed had a corrosive tongue, had for the journalist who simply was only doing his job.

Many could easily rather refer to Mr. Martelly as a repeat offender of press freedom - not Mr. the president. A few weeks ago, he threatened to resign the office of the presidency and then made himself available for an unprecedented fist fight with members of the news media he very much disliked, because they were rightly critical of his chaotic, misguided presidency, which then was still in its very infancy.

"I will punch them all hard, very hard, and, in fact, right in the face,' Mr. Martelly said, but not before days earlier when he loudly told or ordered them to stop talking politics, particularly on their radio shows, rather the subject of discussion should be how citizens can better reconstruct their earthquake-destroyed homes, for example.

The limited number of participants in the grandfather-grandchildren like meeting did not have to try hard to convince themselves that Mr. Martelly's unfounded fast growing concerns or criticism was aimed principally at this journal (Wehaitians.com); Haiti-based radio stations, such as Radio Kiskeya and Radio Caraibes. Also, the international press and organizations.

In another news, Mr. Martelly does not know that U.S. government documents, classified as secret or top secret, do not fall, even partially, under the purview of the nation just mentioned Freedom of Information Act, say foreign leaders, especially Third World ones, having unlimited access to them. Still, the president who clearly does not know what he is doing, according to his words, promised his citizens that he will ultimately obtain those, if any, that concern many of his key supporters (all with an alleged drug trafficking past), after Haiti's human right group (RNDDH) urged him to distance himself from the said past narco-traffickers to prevent the office of the presidency from further being tarnished.

And the president's most recent brief voyage to the U.S. cost about $140,000. How much will an anticipated one, his soon-to-be séjour, mostly to Europe, cost dirt-poor Haiti? What purpose will it really serve for the latter nation - one that is not only has long been classified as mendicant but made no effort to cease having a niggardly public purse, which is often largely pillaged by the very few (president, cabinet ministers, for example) at the very top of the pyramid of government who practize grand-scale corruption? 15 days, that's a longtime (extended period of time) for a president to be away from a land with pressing problems. I am rather convinced that he will be going on a fancy vacation. Mr. the president, have a good time at the Louvre (one of the world's largest and most prestigious, popular art galleries and museums) in Paris while your acts or thoughts that deviate from what is correct or reality continue to fast infuse pessimism in citizens' brains about a nation they cherish, even in its blanket crushing poverty.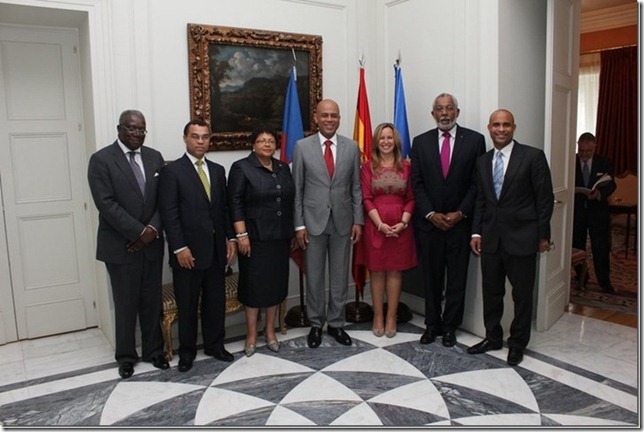 President Michel Martelly, in grey suit, during hi visit to Spain.
"Mr. Martelly is certainly fast adding to doubts about his ability to effectively govern as a responsible, competent president,' said many foreign longtime observers of Haitian politics, a sentiment echoed by untold number of Haitian nationals who are very pessimistic about the future of their beloved Haiti.

The writer, Yves A. Isidor, who teaches economics at the University of Massachusetts-Dartmouth, is also the Spokesperson for We Haitians United We Stand For Democracy.

RELATED