Want to send this page or a link to a friend? Click on mail at the top of this window.
Posted May 22, 2011
AN EDITORIAL
In Haiti, a New Name but Old Gross Incompetence, Theatrical Ritual
A novelist once famously wrote that "You can tell the ideals of a nation by its advertisements." You can tell what a nation expects, to paraphrase the man of letters, by the president it elects.
What's wrong with the choice of Daniel-Gerard Rouzier, 51, as Haiti's newly sworn president, Michel Joseph Martelly, prime minister-designate? His arguably non-fancy, non-impressive curriculum vitae is worth bearing in mind. How he really sees himself is as an author of books - how many of them? No one has the answer. Always, there are risks with assumption. Still, let's assume that he has written two books or booklets, whichever applies. They were not commissioned by a serious publishing house or publishers, and so far there are absolutely no reviews of them (in the positive terms or in the negative terms) or references made by thinkers.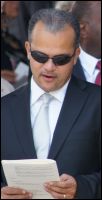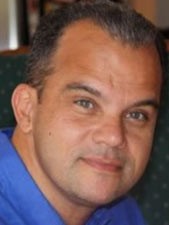 Daniel Gerard Rouzier, most likely Haiti's next premier. What is he reading? One of his two booklets, we assume.

More Images:

Will he feed them all? (Photos credit: LeNouvelliste, left, and Metropolehaiti.com)
More, a small car dealer, by the Western world standards. That's all. Only in less than what many always justifiably refer to as the significantly less than equal of a Banana Republic like Haiti a nomine for the governmental position of premiership, so demanding that less than equivalent to ultimate post is, it commands a reservoir of respect (regardless of the nation, country - rich or poor), is not required to have a number of years of proven or professional experience relevant to public administration or in the respective area of economics (its laws cannot be defied), in addition to an advanced or terminal university degree in his or her chosen relevant area of expertise. Otherwise, a closely related subject or subjects of study. And why not a baccalaureate degree? The nominee with such an average college education is insufficiently trained to say, with authority, that he or she has an established command of, say, Adam Smith's chosen relevant field of expertise.
Yet, so sectoral and reduced is the motor vehicle market in the minuscule Caribbean corner, where the perpetual very high unemployment rate, extreme under-unemployment rate, combinely is estimated to be 85 percent, and as a result untold number of citizens are forced to reside in earthly infernos (ghettos), the number of automobile proprietors, out of a population of 9.9 million people, does not surpass the percentage point of 2 percent. In fact, most of the motorized means of transportation that are in circulation around the small Caribbean land are sent home by expatriates. And those same cars, too, in large numbers, are often found to have numerous or severe defects not readily apparent before their purchase - a very limited use of life left. In a normal nation, like the United States of America, they certainly would not conform to rigid regulations governing safety, emissions, or both.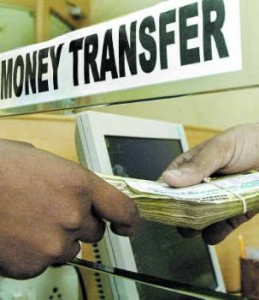 NOT JUST US DIASPORAS

One of President Micky's milky few powers, making expatriates pay an added-fee on each remittance. Unfortunately, nothing yet is said about racketeers (most of those who control the very few means of production are classified as such) making their compulsory tax payments.
And like President Martelly, whose choice of prime minister clearly suggests he is rather now regrettably a musician-in-chief, not a commander-in-chief, alternately he is incapable of making intelligent choices associated with the serious affairs of the state, Mr. Rousier is not known to have been a political activist, nor has he gained the political experience needed, by way of being affiliated with a political movement, a protest party or party government. Overall, he is not known to have been studiously cultivating an image as a man of the people - one who is a compelling communicator to multiple audiences, but diverse, in the tumultuous, if not dangerous, world of Haitian politics, where the narrative of corrupt politicians (including the president) supplicants of the morally repugnant, dishonest small elite, blinded by the habit of abuse and the arrogance of absolute monopoly power (a racket) or exclusive control of the means of selling services and imported commodities at hyperinflationary prices, ignoring the concerns of ordinary citizens, has long been de rigueur.
Unfortunately, the process of effective governance in Haiti (where democracy has yet to be more than a perpetual largely fraudulent, chaotic ballot process, and that a functioning one must include deliberation, mature institutions and checks and balances), an urgently needed departure from the superbly painful past, begins to malfunction. With Mr. Rouzier (in matter of politics, he is from the planet Venus) as the historically troubled nation of dirt-poor Haiti's next chief of government or chief executive of a parliamentary democracy?, it will certainly stop being a valve and instead become the entire engine. Overall, an added-tragedy for an already very unhappy nation with a catalog of unwanted problems (indisputably, they all are the equivalent of terminal cancers, because of their immediate gravity, their long-term multiplying effect, in the negative terms), not limited to grand-scale corruption that is well à l'ordre du jour (the order of the day) and nearly all citizens who lack even the very basics of civilized life, including pipe water and electricity.
The writer, Yves A. Isidor, who teaches economics at the University of Massachusetts-Dartmouth, is executive editor of Wehaitians.com, a democracy and human rights journal.
RELATED: With Martelly, a better Haiti or new den of largely incompetent thieves
Wehaitians.com, the scholarly journal of democracy