Correspond with us, including our executive editor, professor Yves A. Isidor, via electronic mail:
letters@wehaitians.com
Want to send this page or a link to a friend? Click on mail at the top of this window.

Must learnedly read, too; in part, of intellectual rigor; in part, the repository of ultimate knowledge
Posted Friday, December 30, 2005
In troubled Haiti, comic opera-like national elections postponed a fourth time
PORT-AU-PRINCE, Dec. 30, 2005 (AFP) - An electoral official indicated that Haiti will have to postpone its national elections for a fourth time as the violence-wracked country was not prepared to hold the polls.
Haiti, which had scheduled the elections for January 8, has struggled to keep a date for its first elections since former president Jean Bertrand Aristide was forced from office in early 2004.
Provisional Election Council (CEP) member Pierre Richard Duchemin said Friday the polls would be have to be rescheduled yet again.
"None of the target conditions have been achieved for the country to be ready to hold the elections on January 8," Duchemin told AFP, while stressing he did not speak officially for the council.
"We cannot ask people to go vote without the conditions being met," he said.
The CEP met Friday with leaders of political parties to discuss the issue, though three CEP members were absent.
Preparations for the voting have been mired in disarray. Many of the 3.5 million registered voters have not received their electoral identification cards, while officials have yet to determine the location of the 800 voting offices and the make-up of electoral observer teams.
In addition, violence and kidnapping for ransom have continued to rock Haiti since Aristide fled the impoverished Caribbean nation on February 29, 2004 as insurgents closed in on the capital.
On Thursday a Guatemalan and a Peruvian working for the Organization of American States, and the spouse of one of them, were kidnapped.
In Washington, OAS Secretary General Jose Miguel Insulza expressed "strong condemnation" of the kidnapping and said the two employees of the pan-American organization were in Haiti to set up technical equipment for the elections.
A Canadian policeman and a Jordanian soldier, both part of the UN stabilization force deployed following Aristide's ouster, were also killed last week.
The Jordanian was shot dead during a patrol of the large and violent Cite Soleil slum in the capital, and the Canadian was killed at a checkpoint just outside the shantytown.
Cite Soleil is considered a bastion of support for Aristide, and critics claim armed gangs who control much of the slum were given weapons by the ex-president before he stepped down under US and French pressure.
Because of all the problems, interim Prime Minister Gerard Latortue has urged electoral authorities to come up with a "more realistic" date for the balloting.
When the elections are finally held, voters will be asked to choose from among 35 presidential hopefuls, including two ex-presidents and a former rebel leader who had played a key role in ousting Aristide.
One of the few opinion polls that has been made public shows that former president Rene Preval, a longtime Aristide ally, leads the crowded field of candidates with about 30 percent support.
Ironically, the Cid-Gallup poll indicates that the second most popular hopeful is Haitian-American Dumarsais Simeus, who was bumped off the list of candidates because he holds a US passport, even though the high court said he could run for president.
Former president Leslie Manigat, 75, trails far behind with five percent voter support, while ex-rebel leader Guy Philippe and a few other candidates got four percent support in the survey published earlier this month.
Should none of the candidates garner 50 percent of the vote, the election would go to a second round.
OAS officials abducted in Haiti
OAS officials abducted in Haiti
Three officials of the Organization of American States have been kidnapped in the Haitian capital, police have said.
Police official Michael Lucius told the AFP news agency that the two foreigners and a Haitian national had been abducted in Port-au-Prince on Thursday.
Haiti has been blighted by political and criminal violence, despite the presence of UN peacekeepers since the ousting of President Aristide in 2004.
Elections scheduled for 8 January are expected to be postponed again.
Posted Wednesday, December 28, 2005
In Canada, a funeral service for former officer killed in Haiti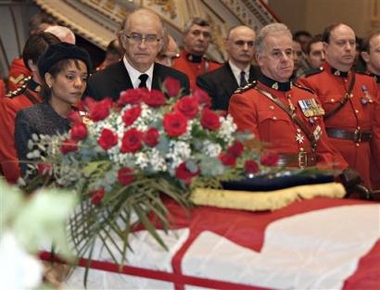 Canada's Governor General Michaelle Jean, eft, her husband Jean-Daniel Lafond, second from left, and Royal Canadian Mounted Police Commissioner Giuliano Zaccardelli stand before the casket of former RCMP officer Mark Bourque during the funeral service Wednesday Dec. 28, 2005 in Quebec City. Bourque was killed in an ambush in Haiti during a United Nations mission on Dec. 20. (AP Photo/Jacques Boissinot, Cp)
Posted Monday, December 26, 2005
Former primitive Haitian totalitarian dictator Aristide orders subordinate bandits to also 'brutally kill American citizens' to facilitate return to dirt-poor Haiti
By Yves A. Isidor, wehaitians.com executive editor
CAMBRIDGE, MA, Dec. 26, 2005 - Former primitive Haitian totalitarian dictator Jean-Bertrand Aristide, who had nothing to offer his people but corruption, abject poverty, oppression and brutal death, may be living in exile, ultimately in South Africa, since he voluntarily accepted a free ride on a U.S. aircraft nearly two years ago.
But the deranged man, culturally Voodoo, who is widely believed to be a druglord is now back in full banditist mode - determined to make the United States of America, especially President George W. Bush, pays dearly for kidnapping him, he said in a coded tape recorded Christmas and New Year' message sent to Haitian news media.
"I must remind you ... ahah ... that not just me was kidnapped by United States President George W. Bush but the whole of the Haitian people... you understand."
He also said rather more than this. "Today, I am ordering you my supporters to mobilize, to mobilize, to mobilize to facilitate my return to Haiti."
What exactly the former chief bandit, who should be behind secured bars, as is the case of at least ten of his former senior officials/partners in crime now serving long sentences for drug trafficking in U.S. prisons, means: "Also kidnap, kill all American citizens residing in Haiti."
U.N. Jordanian peacekeeper shot dead in Haiti
PORT-AU-PRINCE, Haiti, Dec. 26, 2005 (AP) - A United Nations peacekeeper in Haiti was shot to death while on patrol in a slum that has seen almost daily violence since the ouster of President Jean-Bertrand Aristide, a U.N. military spokesman said Sunday.
The Jordanian soldier was on patrol in Cite Soleil when he was shot in the head and killed Saturday, according to Lt. Col. Fernando da Cunha Mattos, U.N. military spokesman.
U.N. authorities declined to release further details, including the soldier's name, which was being withheld pending notification of his family.
Cite Soleil, where gunbattles between peacekeepers and gangs take place almost daily, remains the most insecure place in Haiti ahead of national elections scheduled for Jan. 8. Observers fear the gangs could disrupt the elections.
Haitian police do not enter the slum, which a battalion of 1,500 Jordanian peacekeepers in armored vehicles has pledged to reclaim from the gangs.
Some 7,600 U.N. peacekeepers arrived in Haiti in June 2004 to stabilize the country after Aristide's Feb. 29, 2004, ouster.
Seven peacekeepers have died in action since June 2004, according to the U.N.
Kidnappings plague residents across Haiti
By Alfred de Montesquiou, Associated Press Writer
PORT-AU-PRINCE, Haiti, Dec. 26, 2005 (AP) - Quesnel Durosier walked out of a bank with $3,500 tucked into his sock, buoyed by thoughts of his upcoming wedding. Seconds later, a car cut him off, gunmen sprang out and shoved him into the car along with a woman passer-by. What followed was a nightmare of torture and death threats for these latest victims of a wave of attacks that has made impoverished Haiti the kidnapping capital of the Americas.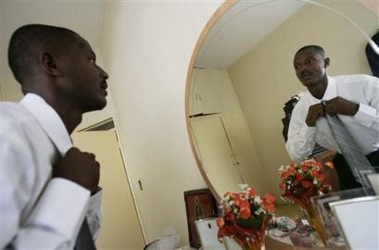 Quesnel Durosier
Everyone is a target - schoolchildren, foreign aid workers and pedestrians in the upscale and heavily guarded Petionville district of the capital, where Durosier and the unidentified woman were snatched.
Tourists are not targeted, but only because they are virtually nonexistent.
Police and an 8,860-strong U.N. peacekeeping force have pledged to restore security, which evaporated after the February 2004 rebellion that toppled President Jean-Bertrand Aristide. But kidnappings have skyrocketed, and as Jan. 8 presidential and parliamentary elections approach, stemming the kidnappings is an "absolute priority," said Damian Onses-Cardona, the U.N. spokesman in Haiti.
The peacekeepers have been trying for months to penetrate the vast Cite Soleil slum, where gangs stash many of their hostages. A Canadian peacekeeper was shot dead near Cite Soleil in an apparent kidnap attempt five days before Christmas.
Thirty kidnappings were reported in Haiti in November, and 30 during the first week of December alone, said police spokesman Frantz Lerebours. The actual number is probably much higher because many families prefer to negotiate with kidnappers rather than notify police.
Recent victims include 14 schoolchildren abducted on their school bus in December, and Emmanuel Cantave, a prominent leader of Aristide's Lavalas Family party. Another was Phillip Snyder, an American missionary shot in an ambush and seized along with a Haitian boy he was taking to Michigan for eye surgery. All were eventually released after ransoms were paid.
Eight to 10 people are abducted every day in this Caribbean nation of 8 million, more than any other country in the Americas, said Judy Orihuela, an FBI spokeswoman in Miami. That surpasses even Colombia, which for years has had the world's highest kidnapping rate.
Since April, 28 U.S. citizens have been reported kidnapped in Haiti, Orihuela said.
"In the last year or so, it's just exploded down there," Dick Hildreth, a security consultant, said in a telephone interview from his office at Corporate Risk International in Fairfax, Va. The company advises its clients to hire bodyguards while visiting Haiti, or avoid it altogether.
A South Korean factory manager was recently kidnapped, held in Cite Soleil and released for $10,000.
Some freed victims have said that what they heard while being held captive suggest the kidnappings may be connected, at least loosely, to the election and to U.N. efforts to gain control of Cite Soleil, where 200,000 people live in squalor. It is a stronghold of armed gangs, allegedly close to Aristide, which are threatening to disrupt the elections.
Michael Lucius, chief of the Haitian Judiciary Police, said he doubts politics are involved.
"This is purely criminal activity. Gangs are raising cash to spend during the holiday season," he said.
All Durosier knows is that his abductors wanted money.
Forced to crouch in his seat and choking from a plastic bag placed over his head, he was brought to a house outside Port-au-Prince and tied to a chair. The kidnappers quickly found his wedding savings.
Durosier could hear the woman scream in another room as the kidnappers poured hot water onto her to make her say who could pay her ransom. The two hostages never got a chance to talk to each other, and the woman's identity and fate remain unknown.
Durosier, a journalist for the newspaper Le Matin and an occasional AP contributor, said that after a few hours of questioning and threats, his abductors appeared satisfied with the cash they had stolen from him, and released him in the countryside.
"I still wonder what happened to the woman I was held with," Durosier said. --- Associated Press writer Ben Fox in San Juan, Puerto Rico, contributed to this report.
Posted Thursday, December 22, 2005
Like candidate Aristide, in late 1990, current Haiti presidential hopefuls have ties to trafficking, officials say
By Mozingok, Knight Ridder Newspapers Writer
PORT-AU-PRINCE, Haiti, Dec. 22, 2005 - At least three candidates in Haiti's upcoming elections have links to a cocaine-trafficking industry that wants to ensure the next government is weak and corruptible, a half-dozen Haitian and U.S. officials say.
Two of Haiti's best-financed presidential candidates - Guy Philippe and Dany Toussaint - have long been linked to cocaine trafficking by U.S. Drug Enforcement Administration (DEA) officials. And a Senate candidate who's a nephew of interim Prime Minister Gerard Latortue has close links to a gang that controls drug smuggling in the port of Gonaives, according to the Haitian and U.S. officials.
| | | |
| --- | --- | --- |
| | | Rebel leader Guy Philippe left, center, smiles during a demonstration in Port-au-Prince, Haiti, Tuesday, March 2, 2004. (AP Ricardo Mazalan) Dany Toussaint, above. (wehaitians.com file photos) |
| | | |
Haiti, where the average person struggles on less than $1 a day, is a pass-through point for about 8 percent of the Colombian cocaine detected heading to U.S. streets, according to U.S. State Department narcotics reports.
Despite the presence of 8,000 U.N. peacekeepers deployed after the rebellion that ousted President Jean-Bertrand Aristide last year, the arrival of cocaine ``is essentially unimpeded,'' said the State Department's 2005 International Narcotics Control Strategy Report.
Analysts fear that traffickers are quietly working to subvert any return to an elected democracy, either by backing candidates they can control or sowing chaos on the streets to delay the balloting.``
At this point the entire transition is at risk,'' said Mark Schneider, of the International Crisis Group, a nonprofit that analyzes conflict around the world. ``Drug traffickers don't want a functioning, effective government with a functioning, effective police force and customs.''
`They have their hooks in the police, they have their hooks in parts of the transitional government,'' he added.
U.S. prosecutors in Miami have gone after 10 of the biggest traffickers and corrupt officials of the Aristide years. But there are plenty of suspicions about officials of the current interim government.
Diplomats and counter-drug agents have expressed particular concerns about Youri Latortue - the security chief for his uncle, the prime minister, and a Senate candidate for the Gonaives region, a major drug-smuggling area.
The U.S. Embassy warned the prime minister in private in March 2004 that his nephew was linked to illegal activities and should not be part of the government, according to one top U.S. official familiar with the issue, who requested anonymity because he's not authorized to discuss the issue. At that time, Washington refused the nephew a U.S. visa.
The French newspaper Le Figaro last year reported the nephew's nickname was ``Mr. 30 Percent'' for the commissions he allegedly demands on government contracts.
The prime minister publicly defended his nephew, saying he trusted him and, in a nation that has seen 32 coups in 200 years, he wanted the nephew to stay on as his chief of security and intelligence.
U.N. Civilian Police are concerned that Youri Latortue is trying to take control of the diplomatic lounge at the Port-au-Prince international airport, one way that drug traffickers have traditionally bypassed official scrutiny while entering and leaving Haiti, one top U.N. official told The Miami Herald.
And there are credible reports that Youri has close ties to a gang of armed thugs in Gonaives that controls the drug trafficking through the seaport, the official added.
Youri Latortue, meanwhile, has struck a political alliance with Guy Philippe, one of the leaders of the rebellion that ousted Aristide and now a candidate for the presidency. The two apparently knew each other when they served in the Haitian police.
The DEA suspected Philippe was involved in drug trafficking when he was police chief in the northern port of Cap Haitien, Haiti's second biggest city. U.S. drug agents once tried to recruit Philippe as an informant, but he turned them down, saying that the traffickers paid him more, two top U.S. officials told The Herald.
Philippe has vehemently denied such allegations. ``Where is the evidence?'' he asked, in an interview with The Herald last year.
But he has acknowledged that one of his rebellion's financial supporters was a Canadian-Haitian businessman named Jean-Claude Louis-Jean - who has been linked to the drug trade by the International Crisis Group. Haitian police arrested Louis-Jean in September 2004, though it is unclear what the charges are against him.
Philippe vigorously defended his friend in an interview at the time with Radio Metropole.
``The judicial authorities will have to say why they arrested him and of what they accuse him,'' he said. ``I just hope that they will not say that there are rumors that he is involved in drug dealing, as they always do.
''When Aristide fled, Philippe put down his weapons and formed a political party. He is among 35 presidential candidates on the ballot for the election tentatively scheduled for Jan. 8. A CID-Gallup poll in November showed him a distant third, with 4 percent, behind former President Rene Preval with 32 percent and Leslie Manigat with 5 percent.
Rebuilding the corrupt police force has been the perhaps most critical priority for the U.S. State Department and the U.N. peacekeeping mission here. The newly-appointed police chief, Mario Andresol, has estimated in media interviews that at least 25 percent of his force is corrupt.
U.N. officials say they fear that some of the officers may be more loyal to Dany Toussaint, a senator and chief of police under Aristide who broke with the president in 2003 and is now running for president.
Long labeled by U.S. officials as a suspected trafficker, and now the owner of a security business, Toussaint got 2 percent support in the CID-Gallup poll, behind nine other candidates.
Toussaint has denied the drug allegations and brushed off the claim that he controls some police officers.
Fresh doubts about Haiti ballot
More than 30 candidates are running for president Members of the Election Council in Haiti have indicated that elections scheduled for 8 January may have to be postponed for a fourth time.
The Council's chairman warned there could be unrest if the voting was not organised in acceptable conditions.
Max Mathurin said he would not lead Haiti into disaster.
This are the first elections since President Jean-Bertrand Aristide fled into exile in February 2004 when opposition to his rule grew violent.
An interim government was installed after Mr Aristide's ousting, and UN peacekeepers were sent to the impoverished Caribbean country.
However, political and criminal violence and instability have continued.
'Serious problems'
The polls were originally due to be held on 13 November, but were delayed a number of times because of organisational difficulties.
Other members of the Election Council again highlighted serious problems with the distribution of voter identification cards, and the recruitment of polling station workers.
Earlier, a senior US official, Nicolas Burns, said on a visit to Haiti that there should be no further delays in the country's presidential and legislative elections.
He said the polls were a chance for Haitians to choose a new government that could provide stability and peace.
The UN has also voiced concerns about the postponements.
Despite the uncertainty over the exact date of he vote, campaigning is already under way with more than 30 candidates running for president.
Posted Wednesday, December 21, 2005
Canada demands UN probe into cop's killing in Haiti
MONTREAL (AFP) - Canadian Foreign Affairs Minister Pierre Pettigrew called for a United Nations investigation into the death of a Canadian policeman in Haiti on a peacekeeping mission.
"We want the United Nations to shed some light on what exactly happened," Pettigrew told French-language broadcaster Radio-Canada.
Retired Royal Canadian Mounted Police officer Mark Bourque was killed Tuesday by unknown gunmen while riding in a vehicle with a colleague near a UN checkpoint close to Cite Soleil, the largest slum of Port-au-Prince.
He died before UN peacekeepers could get him to the hospital, said a spokesman for the United Nations force. His colleague was not wounded in the attack.
Bourque was part of a group of 25 police officers sent by Canada in October to reinforce the United Nations Stabilization Mission in Haiti (MINUSTAH), which is providing security ahead of general elections in January.
"We're there to help Haitians. We hope elections will be held January 8," Pettigrew said.
"This tragedy deeply affected us, but we continue to work with the United Nations," he added. In Ottawa late Tuesday, Canadian Prime Minister Paul Martin condemned Bourque's death.
"Canada condemns this senseless act of violence," Martin said. "We are profoundly saddened by the loss of a fellow Canadian who served his country with distinction both at home and abroad."
Canada has warned its nationals to take extra care if travelling to Haiti.
Posted Tuesday, December 20, 2005
Roger Toussaint, apparently a Haiti native, announces an unprecedented strike for all buses and subways in New York City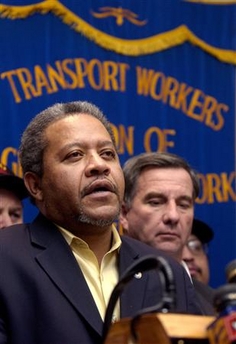 Roger Toussaint (L) President of Local 100 of the International Transit Workers Union, announces a strike for all buses and subways run by the Metropolitan Transit Authority (MTA) in New York, December 20, 2005. REUTERS
More terror: Bandits shot and killed Canadian U.N. peacekeeper in Haiti
PORT-AU-PRINCE, Haiti, Dec. 20, 2005 (Reuters) - Gunmen shot and killed a Canadian police officer with the U.N. peacekeeping force in Haiti on Tuesday, a U.N. official said.
The officer was shot on National Route 1 not far from Cite Soleil, a large slum in the capital Port-au-Prince, said Marc Jaquet, a spokesman for the police contingent of the U.N. peacekeeping force.
Canada identified the victim as Mark Bourque, and said he was one of 25 police officers who went to Haiti in October as part of the Canadian Special Elections Contingent.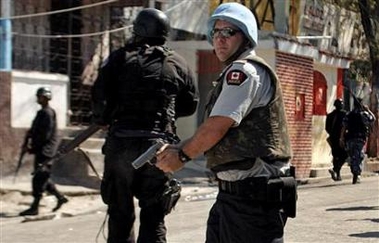 A Canadian U.N. policeman patrols a street in the volatile Bel-Air in Port-au-Prince, Haiti in this November 26, 2004 file photo. REUTERS
The peacekeepers, now numbering nearly 9,000 soldiers and police, were sent to the troubled Caribbean nation to restore security after the bloody rebellion that pushed President Jean-Bertrand Aristide from office in February 2004.
Including the Canadian police officer, nine U.N. peacekeepers have died since the deployment of the U.N. mission, four of them in accidents, according to U.N. officials in Haiti. Thirty others have been wounded.
Three Chilean soldiers were ambushed and shot in the northern town of Plaisance on Friday.
(Additional reporting by Allan Dowd in Vancouver, British Columbia)
Wehaitians.com, the scholarly journal of democracy and human rights