Correspond with us, including our executive editor, professor Yves A. Isidor, via electronic mail:
letters@wehaitians.com; by way of a telephone: 617-852-7672.
Want to send this page or a link to a friend? Click on mail at the top of this window.
| | | | |
| --- | --- | --- | --- |
| | wenty | | |

Must learnedly read, too; in part, of intellectual rigor
_________________________
Posted Monday, July 25, 2011
Last modified Tuesday, July 26, 2011
Haiti's president, not as lucky as Mary Magdalene was, his motorcade stoned
Yves A. Isidor, Wehaitians.com, executive editor
NASHUA, N.H., Jul. 25 - It was more than 2000 years ago when Jesus successfully stopped the people from stoning Mary Magdalene. But this past weekend, Haiti's president, Michel Martelly, sure was not as lucky as Magdalene was. His motorcade was stoned, pelted with soft drink bottles Sunday during his first presidential visit in Haiti's second largest city of Cap-Haitien.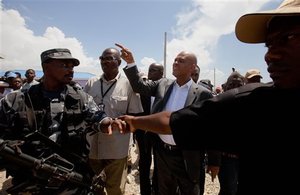 In this photo taken Thursday, July 21, 2011, President Martelly (in white shirt) during a tour of model homes in Port-au-Prince, Haiti. (Photo: Eduardo Verdugo/AP)
The president, who was not injured, continued with his visit, suggesting that he was not stopped at the entrance of the city or Barrierre-bouteille, as was Islam at the gates of Vienna, in 1683, as it attempted to conquer Europe during the Ottomans.
Two people believed to be some of the alleged aggressors, because law enforcement officers found stones in their possession, were taken out of the circulation in the immediate aftermath of what many called a "regrettable incident," which police said will remain under investigation. Twenty others or so were summonsed to appear at police headquarters for questioning.
Police have yet to determine the cause or causes of the unpleasant welcome some had for the president. Perhaps, some others said, while laughing out loud, the perpetrators were simply emulating the Muslims in an attempt to get Mr. Martelly closer to God, perhaps for his past bawdy performances and foul-mouthed stage antics.
In another news, Dionalde Polyte, a deputy recently elected under the banner of Haiti's last governing party (INITE or UNITY), was found shot to death in his automobile early Monday while en route to Port-au-Prince, the capital, in the rural locality of Catiche, near the town of Camp Perin and, not far from the seaport city of Le Cayes in southwestern Haiti. Like the deaths of many before Mr. Polyte's, the investigation is infinitesimally continuing - meaning that the person or persons responsible for his death will never face the bar of justice.
Wehaitians.com, the scholarly journal of democracy and human rights