Correspond with us, including our executive editor, professor Yves A. Isidor, via electronic mail:
letters@wehaitians.com; by way of a telephone: 617-852-7672.
Want to send this page or a link to a friend? Click on mail at the top of this window.

Must learnedly read, too; in part, of intellectual rigor

___________________________________

Posted Monday, August 29, 2011

Strauss-Kahn makes farewell visit to IMF

By Agence France-Presse



Former International Monetary Fund chief Dominique Strauss-Kahn visited the Fund on Monday to bid farewell to his former colleagues following the dismissal of sex assault charges.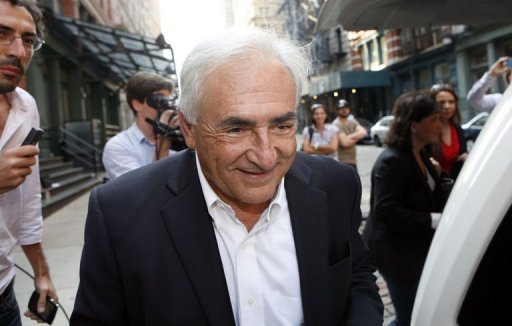 Former head of the International Monetary Fund (IMF) Dominique Strauss-Kahn and his wife Anne Sinclair (R) leave their home in New York on August 26, 2011.


An AFP correspondent saw Strauss-Kahn and his wife Anne Sinclair arrive in a black Audi at the Washington-based global emergency lender, which the French economist ran from 2007 until May, shortly after his arrest.

Strauss-Kahn, who last week walked free when the judge dismissed charges alleging that he sexually assaulted and attempted to rape a hotel maid in New York, wanted to make a last visit to his former headquarters in Washington.

"The former managing director Dominique Strauss-Kahn has indicated that, on a personal visit to the Fund later today, he would like to have the opportunity to say goodbye to staff," according to a staff memo obtained by AFP.

"All staff who would like to do so can meet with him this afternoon."

Strauss-Kahn, who was arrested in May, returned to his Washington residence on Friday. He made no statement to journalists outside his home in an upscale district of Washington, waving them away with his hand.

Strauss-Kahn, 62, resigned as the International Monetary Fund's managing director after he was arrested and charged in May. He was replaced in July by former French finance minister Christine Lagarde.

A New York judge approved a request by prosecutors to drop the case after they said they could not pursue the charges because the accuser's lies had made it impossible to prove her accusations beyond a reasonable doubt.

Wehaitians.com, the scholarly journal of democracy and human rights