___________________________________
Posted Sunday, March 18, 2012
Once again, a national disgrace, an irrefutable proof of Haiti's government or tropical gang's incomparable gross incompetence, as alleged blanket grand-scale public corruption persists, also without interruption
By Yves A. Isidor, Wehaitians.com Executive Editor
CAMBRIDGE, MA, Mar. 18 - He, with great fanfare, repeatedly declared himself the unprecedented, if not first 'education president' of Haiti.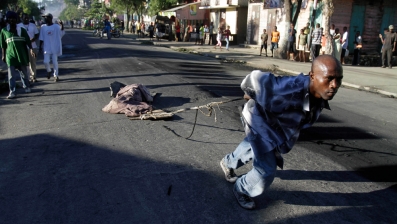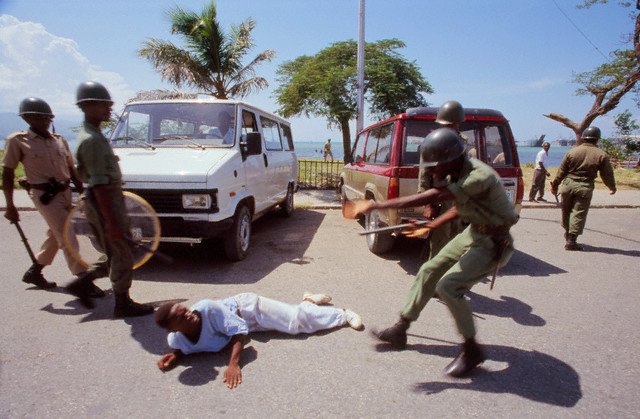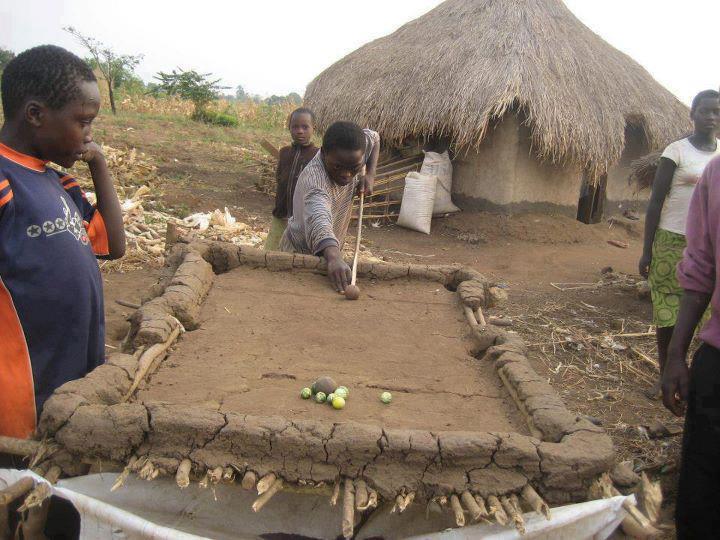 Man, left, dragging the body of his father-in-law on a Cap-Haitien (Haiti's second largest city) street after he succumbed last year to the cholera epidemic. Center, members of the Haitian army torturing a man in an undated photo and, ping pong, not the activity that provides entertainment or amusement only for the affluent few (enlarge). As they say in the vernacular, life goes on in Haiti, despite blanket grinding poverty. (Photos may be copyrighted/Wehaitians.com-file) More Images
For the historically tortured Caribbean nation's head of state, Michel Joseph Martelly, to apparently further prove that the act or process of educating or being educated was one of his administration's top priorities, he went as far as issuing an authoritative order having the force of law, thought without first seeking parliament approval, to levy taxes on all money transfers (up to $1.50 for every $100 transferred) and long distance telephone calls ($0.05 charge per minute on calls as well from foreign lands) to pay, at least, for the cost (accounting) of free education for approximately 860,000 illiterate and poor children (moun sal or filthy children, they are always regarded as by the very few upper-class Haitians), as the 1987 constitution (Section F, Article 32-1) provides for, and with regularity.
But the unknown large sum of money collected so far, as do other large amounts of a medium of the same that can be exchanged for goods and services and is used as a measure of their values on the market, which Adam Smith spoke of as "the obvious and simple system of natural liberty," has yet to be accounted for, since all expenses associated with free public education in the perpetually dirt-poor Caribbean small corner, according to a recent report published on Mr. Martelly's Facebook page (in French), have been rather, as usual, covered by foreign nations.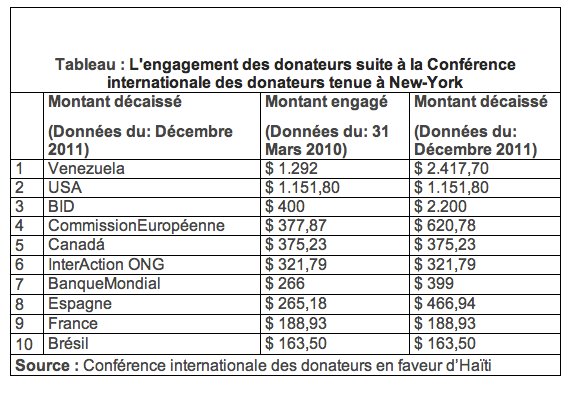 Sums of money given to Haiti by donor nations, via Mr. Martelly's Facebook page.
_____________________________________
The President of the Republic of Haiti, like all other heads of state, chiefs of government, the world over, has a constitutional responsibility, an ethical obligation to exercise, without reservations, the constitutional powers that are vested in him to not only discourage corruption, both public and private, but to attempt to progressively consign it to the archives of history. Otherwise, financial malfeasance, which can, indisputably, be equated to a Damocles' sword, because it obstructs progress, excepts for a reduced number of the estimated 10,000,000 Haitian citizens, will not only continue to hang over the heads of nearly all citizens of the same but further send enumerable number of them to the dark embrace of death. Otherwise, one may be convinced that the president, his immediate subalterns, those in far more lower positions, others (tropical gangsters who are also suppressing the talents and intelligence of even nearly all of those who are of Haitian extraction), too, to paraphrase Archibald "Archie" Bunker, a reactionary, conservative, blue-collar worker, and fictional New Yorker in the 1970s top-rated U.S. television sitcom All in the Family, are, in fact, all in the family of men and women who are marked by immorality and perversion.
_____________________________________
Yet, sadly the recently inaugurated University of Limonade or Universite Limonade (where will even the non-qualified professors needed be found?), an unprecedented institution of higher learning, at least because of its impressive edifices, donated by neighboring Dominican Republic's citizens to the body of persons living in Haiti, may soon become a thing of the past without being first one of the present.
Ironically, there have been plenty of money to pay for Haiti's annual carnival festivities (

Also singing, dancing, Haitian president), which, unfortunately, continue to convincingly prove not to be cost effective, in monetary terms. After years of military interference in politics, including untold number of military coups de force, military coups d'état, most of the latter very bloody affairs, Haiti's government seems to have the funds needed to pay for the cost (accounting or economic, whichever applies) of reviving the Haitian army - a force, also with a long history of repression, that was humiliatingly disbanded in 1995. But the government of the same, which loudly on many occasions told citizens that it viewed education more than an instructive or enlightening experience, does not have the money needed to even fully pay for the cost of operations for the first few months of the 2012-2013 academic year. This, according to a source who spoke, by way of telephone, to Wehaitians.com late Saturday afternoon on the customary condition of anonymity because he was not authorized to speak publicly about an issue he was deeply convinced will soon be viewed by millions of citizens, after it becomes public, as proof that the Martelly's administration did not have a method worked out beforehand for the accomplishment of such an important objective: educating thousands of young men and women at all levels, which serious nations are so dependent on (or as critical as a laboratory is to a chemist) today for social and economic progress. And, why not, too, political advancement, which is not limited to having the right to express electoral sentiments for candidates for public offices of choice, as despotic regimes are fast becoming things of the past.
More, but by way of conclusion, a national disgrace, an irrefutable proof of the administration of the same incomparable gross incompetence, as alleged blanket grand-scale public corruption persists, also without interruption.
Yves A. Isidor, who gives instruction in economics at the University of Massachusetts-Dartmouth, is executive editor of Wehaitians.com.
Wehaitians.com, the scholarly journal of democracy and human rights