Correspond with us, including our executive editor, professor Yves A. Isidor, via electronic mail:
letters@wehaitians.com; by way of a telephone: 617-852-7672.
Want to send this page or a link to a friend? Click on mail at the top of this window.

Must learnedly read, too; in part, of intellectual rigor

Posted Thursday, September 2, 2010

Movers and shakers never thought to ask about Moniz's diploma or qualifications
By Jack Spillane,
Standard-Times, Staff Writer

The list of endorsements that came Walter Moniz's way for the District 1 governor's council race was impressive.

New Bedford Mayor Scott Lang. Taunton Mayor Charles Crowley. Former District Attorney Paul Walsh Jr. State Rep. Steve Canessa. Ten of 11 New Bedford city councilors. Eight of nine Fall River city councilors. Four of six New Bedford School Committee members.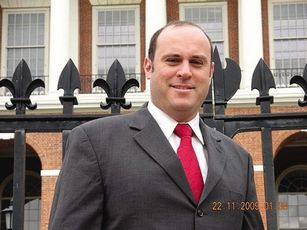 Walter Moniz, sans G.E.D. or high school diploma candidate for Governor's Council. (Standard-Times Photo)

Month after month, the endorsements came into The Standard-Times' office. I myself put up most of the "thumbs uppers" on my blog, "All Politics is Local."

Like a torrent of approval from the best and the brightest in SouthCoast, Walter Moniz, the endorsers told us, was the man we certainly needed on the Governor's Council.

But all the while the endorsements came, I felt vaguely uncomfortable.

I felt uncomfortable because I know Walter Moniz personally.

I have known Walter for almost 10 years, since he worked as Mayor Frederick Kalisz's neighborhood liaison.

Because I knew Walter, I knew that he was not what most people would describe as a smart man. I knew that Walter was certainly not very well informed about, or even familiar with, complex legal matters or government policy.

Now, though Walter Moniz is not what most would describe as smart, he is certainly what most would describe as very nice. In fact, Walter is one of the most pleasant people on the local political scene.

And Walter Moniz has always wanted to be a player in politics. His ambition, I think it would be fair to say, is larger than his ability.

Now, the Governor's Council is an outdated job. John Adams wrote it into the state Constitution as a check-and-balance on the power of the Legislature and governor. Its most important remaining function these days is to approve judges who have already been selected by the Judicial Nominating Committee and the governor.

The main problem with the Governor's Council is mischief; its members have the ultimate power to approve a bad judge, or jettison a good one.

The governor's councilors are paid $26,000 a year to go to Boston once a week and vote on judges and assorted other public matters, including pardons and commutations.

If you've worked in government before — as Walter and almost all of the other Governor's Council candidates have — you can boost your state pension by working on the council for that one hour a week.

Now, why would all these politicians who know Moniz just as well as I do get on the bandwagon to endorse him?

They would have to know that Walter is a man of some limitations. They would also have to know, however, that Walter is well connected to the region's political establishment.

He and his business partner Steve Economos — who once owned The Mansion, a well-documented, drug-infested rooming house in the South End of New Bedford — have in recent years been doing foreclosure evictions for area sheriffs.

So Walter — who worked with Economos on The Mansion problem when he was Kalisz's neighborhood liaison — has given $1,200 to both Bristol Sheriff Tom Hodgson and Plymouth Sheriff Joe McDonald since 2006. Since 2004, he's given more than $5,000 to everyone from Kerry Murphy Healey to Canessa (though not Lang and Walsh).

Moniz told me the moving business is the only one south of Brockton licensed by the state to do the sheriffs' evictions (and the sheriffs themselves are not involved in hiring the movers). So The Standard-Times sent out a questionnaire asking the candidates what their education was. Moniz wrote "Greater New Bedford Regional Vocational-Technical High School."

He didn't say he had graduated, and he didn't say he hadn't. He just wrote the name of the school. You decide whether he was trying to mislead the paper.

Now, some might argue that if Moniz becomes the District 1 governor's councilor, the people who endorsed him in this race — all of the glitterati of the SouthCoast political scene — will be "helping" Walter as he deals with the issues of the day on the Governor's Council, including deciding on judicial appointments.

Some might say that men like Mayor Lang or former D.A. Walsh might even have the idea of being a judge someday.

(For the record, Lang has already said he has no ambition in that arena and probably Walsh doesn't either.)

The issue, however, is not whether Lang, Walsh or anyone else wants to be a judge.

The issue is whether there are unseen people willing to manipulate Moniz. The issue is whether these people didn't know that he lacks both a high school degree and a GED because they didn't want to know. They simply wanted Walter to be the next governor's councilor.

Some of these are the same people who run the New Bedford and Fall River school departments with their abysmal dropout rates.

And the message they seem to be sending is that you don't need a high school degree to succeed in SouthCoast; you just need to be connected.

Contact Jack Spillane at jspillane@s-t.com

Copyright © 1995-2010 South Coast Media Group, a division of Dow Jones Local Media Group. Published Thursday, September 2, 2010.
Wehaitians.com, the scholarly journal of democracy and human rights