Correspond with us, including our executive editor, professor Yves A. Isidor, via electronic mail:
letters@wehaitians.com; by way of a telephone: 617-852-7672.
Want to send this page or a link to a friend? Click on mail at the top of this window.

Must learnedly read, too; in part, of intellectual rigor
Posted Sunday, November 23, 2008
Illiteracy will most likely soon cost at least five Haitian nationals their taxi driver's licenses
By Yves A. Isidor, wehaitians.com executive editor
CAMBRIDGE, MA, Nov. 23 - Given the magnitude and gravity of today's fast growing economic crisis in the United States, as an innemurable number of defaults and the near-collapse of the financial markets, involving banks, brokers, insurers and giant mortgage agencies, Fannie Mae and Freddie Mac, also affirm, no one should doubt that the quality of life of the vast majority of citizens will, in the near future, further change, in the negative terms.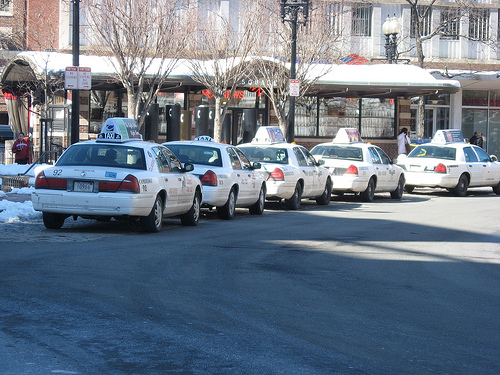 Boston's taxis.
But for at least five Haitian nationals, all more than full-time conductors (some of them use a large portion of their hard earnings to help their children pay for college) of taxi, in the City of Boston, the cause of their lives being marked by great sadness, with a lasting multiplying effect, will soon surely be more, and extremely so, than the economic downturn (4 new reports reveal battered economy), which already has also meant the lost of 2.5 million jobs, and it may not be long before it further means, but this time, the lost of additional employment opportunities as more business enterprises become insolvent, forcing more than 20 million people to use federal workforce services, up from 14 million in 2005, by year end.
Hackney Carriage, a unit of the Boston Police Department that is responsible for regulating all taxis, sight-seeing automobiles and horse- carriages in the city of Boston, according to a source who spoke, by way of a telephone, to wehaitians.com on the customary condition of anonymity because the person in question was not authorized to, in part or in full, speak to this publication and others, will soon indefinitely revoke the taxi driver's licenses (their livelihoods) of at least five Haitian nationals, a few weeks after a recent investigation revealed that they were illiterate (this is also ample proof of Haiti's governments gross incompetence) and as a result they were all considered to be threats to public safety.
Other taxi drivers, including those who cannot pass a basic English language test, convicted of committing criminal acts will, too, most likely see their taxi driver's licenses revoked, but only if the offense, a misdemeanor, is five year-old or less. For the taxi conductors who have committed a serious offense, a felony, the revocation may be permanent.
Wehaitians.com, the scholarly journal of democracy and human rights