Correspond with us, including our executive editor, professor Yves A. Isidor, via electronic mail:
letters@wehaitians.com; by way of a telephone: 617-852-7672.
Want to send this page or a link to a friend? Click on mail at the top of this window.

Must learnedly read, too; in part, of intellectual rigor
___________________________________
Posted Friday, September 2, 2011
Last modified Monday, September 5, 2011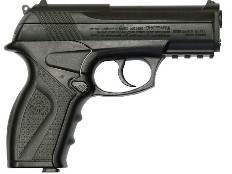 Crime: Haiti: A very violent, dangerous place - overall, a Taliban nation
By Yves A. Isidor, Wehaitians.com Executive Editor
CMBRIDGE, MA, Sept. 5 - It is, quite justly, what Haiti has finally become, a Taliban nation, where total destruction, murders, to name only these two, are the norm. Progress, sure is something the new Talibans are incapable of comprehending.
Less than a month after the Caribbean nation second largest city of Cap-Haitien Roman Catholic Cathedral was desecrated, late Saturday early Sunday, unfortunately, a frank masonic lodge was vandalized by unknown terrorists.
And Saturday, Jean Denis Fortin, 41, a former official of Haiti's National Police was assassinated in Tobeck, not far from the Southern city of Les Cayes.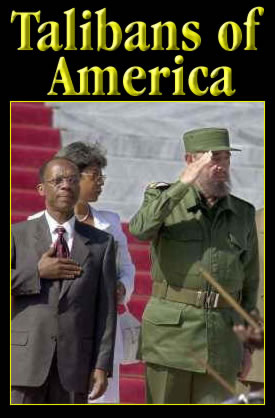 Former murderous Haitian dictator Jean-Bertrand Aristide (L) and Cuba's totalitarian dictator Fidel Castro. (Wehaitians.com file photo)
Not one or two, but exactly three fatal shots were pumped into the body of Marie Collins, resource manager of Port-au-Prince-based Brasserie de la Couronne, a long established company that produces soft drinks, as she was walking towards her car after departing her office, late Thursday.
Darolina Bien-Aime, 4, was kidnapped while a shooting was in progress, also late Thursday, just a few miles west of the capital city of Port-au-Prince's well-to-do suburb of Laboule.
The latest acts and others, all of extreme criminality, came less than a week after a well-known notary public, Emile Giordanni, 62, was kidnapped in his study at gunpoint and then forced into the trunk of his BMW automobile. His lifeless body, as is customary, was found next to his luxury vehicle on a Port-au-Prince's street the following day.
Francois-Henry Dossous, a Haitian-American, who worked at the Port-au-Prince's prestigious school, Union School, was superbly lucky not to be sent to the dark embrace of death after he was, too, kidnapped for ransom. With the help of police special forces, he regained his liberty a few days later without paying the US$300,000 demanded by bandits.
Related
Wehaitians.com, the scholarly journal of democracy and human rights