Correspond with us, including our executive editor, professor Yves A. Isidor, via electronic mail:
letters@wehaitians.com
Want to send this page or a link to a friend? Click on mail at the top of this window.

Must learndly read, too; in part, of intellectual rigor; in part, the repository of ultimate knowledge
Posted Wednesday, February 21, 2007
The Dominican Army considers Haiti a threat
SANTO DOMINGO.- The Chief of Staff of the Dominican Army said today that, because of its particularities, Haiti poses a danger for the Dominican Republic, citing among the absence of an Army, and lack of logistical support to fight crime and drug trafficking.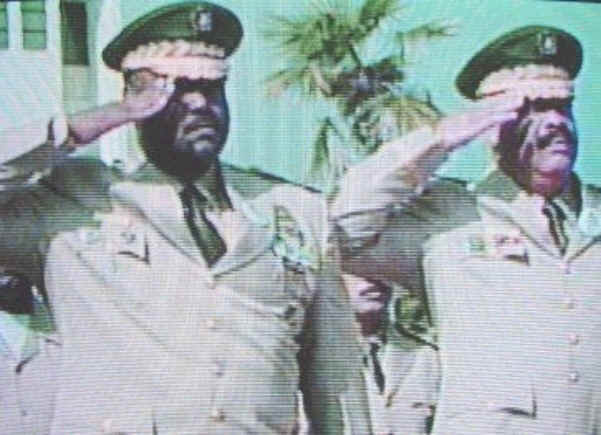 Republic Dominican army generals.
"Undoubtedly that it would mean a danger for us, for anybody, if any country has a neighbor with those characteristics it as a danger for that country," said General Juan A. Campusano.
He said the Army works around the clock to confront narcotics traffickers, contraband and other crimes.
The senior official defined the border as a strainer, because despite the Army's efforts drug trafficking continues. "The border is a strainer and if we are there it's for that reason."
He said that he has not been informed on reports that heads of recognized gangs and Haitian criminals have entered the country. "We are watchful to avoid that this has an affect against us," he said.
Campusano said that periodically the Army exchanges information with the Haitian authorities regarding criminals that operate in that country. "There is reciprocal cooperation," the military official said.
The head of the Army, speaking with he press during a wreath laying ceremony this morning in the Altar of the Nation, also announced that 800 solders are being trained to work in the various military installations at the border.
Reprinted from Dominican Today of Friday, February 16, 2007.
Wehaitians.com, the scholarly journal of democracy and human rights