Correspond with us, including our executive editor, professor Yves A. Isidor, via electronic mail:
letters@wehaitians.com; by way of a telephone: 617-852-7672.
Want to send this page or a link to a friend? Click on mail at the top of this window.

Must learndly read, too; in part, of intellectual rigor
Posted Tuesday, May 15, 2007
Boston's Haitian vice-consul, Pierre, said to flee the F.B.I. after a life of crimes
By Yves A. Isidor, wehaitians.com executive editor
CAMBRIDGE, MA, May 15, 2007 - What is certain is that the former interim Haitian government of Boniface Alexandre-Gerard Latortue did not attempt, at least, to rediscover the virtue of one of the most ancient forms of punishment - public humiliation. Longtime Boston's resident Haiti native, Alex Pierre, who a few years ago was convicted in a federal criminal courtroom of charges related to commercial tax fraud, meaning that false tax returns prepared for clients by the statutory deadline of April 15th, had his name aired, say on government television, ultimately preventing him from being appointed Boston's Haitian government vice-consul.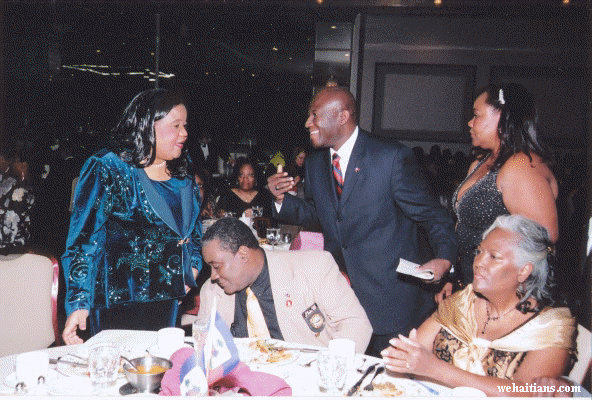 EGREGIOUS CRIME MAN, IN NICE SUIT Mr.Alex Pierre, center, in blue suit, seen conversing, with all the apparent charm of a professional womanizer, with a female participant in early January 2007 at a Haiti Independence Day gala, at Lambardo's, a luxury conference and function facilities, situated in the State of Massachusetts upper lower middle class town of Randolph. More Images
So the subsequent government, that of Rene Preval-Jacques Edouard Alexis can, too, be chastised, or extremely assigned the same blame, given its failure to terminate the employment of Mr. Pierre - a major embarrassment - as the reputation tortured Caribbean nation says to be making every effort, though not adroitly so, to change its image around the world, in the positive terms.
To say a conviction had taken some doing, that the criminal offender, Mr. Pierre had attained the age of "criminal menopause" - he was no longer inclined to commit a crime or crimes - was not to say that he was required by the United States judicial system to wear an ankle monitor 24 hours a day, the same ankle bracelet that some rapists and other convicted criminals have to wear on parole.
Now, a fugitive from justice
Still, Mr. Pierre, who frequently presented himself as Dr. Tax, given many the impression that he possessed a Ph.D. degree in taxation, in a barrage of advertisements, until recently continued to show scant regard for the rule of law by failing to appear in a Boston's federal criminal court Monday, May 7, when a jury was to return a guilty verdict against him for money laundering, among many others. The absent defendant was immediately considered to be a fugitive from justice, prompting the trial judge to issue an arrest against him.
Shortly thereafter, to the surprise of the Federal Bureau of Investigation (F.B.I.), the bracelet, a few days ago, wehaitians.com learned from a person close to the case who insisted on condition of anonymity because he was not authorized to communicate information related to it to the newsmedia, took a hard cut, with the help of a special saw, from Mr. Pierre, who immediately thereafter fled the U.S. by way of commercial aviation, presumably using a passport with different first and family names.
The new development caused the F.B.I. to pay a very unpleasant visit to the Boston's Haitian consulate, but long after searching his business enterprise, Eureda Mail Rental and Income Tax Preparation, in the Boston's Mattapan section. One of the many questions asked by federal investigative agents was: "Did Mr. Pierre have more than one passport?" He certainly had in his possession a diplomatic one, too.
A possible return to the U.S., in tight handcuffs and secured chains
Given some precedents, of criminal nature, those of many Haitian national and other criminal offenders who fled the U.S. and took refuge in Haiti, only to be later returned to the U.S., in tight handcuffs and secured chains, Mr.Pierre, who is now believed to be there is a risk-averse criminal. He is most likely to be first taken out of the circulation by Haitian authorities and subsequently escorted back to the U.S. by F.B.I. agents or marshals to further face the bar of justice, despite there is not an extradition treaty between the two nations.
ERRATUM: The criminal offender was previously wrongly identified as Alex Jean. His name is instead Alex Pierre. UPDATED: Tuesday, May 15, 2007.
Wehaitians.com, the scholarly journal of democracy and human rights