Correspond with us, including our executive editor, professor Yves A. Isidor, via electronic mail:
letters@wehaitians.com ;by way of a telephone: 617-852-7672.
Want to send this page or a link to a friend? Click on mail at the top of this window.

Must learndly read, too; in part, of intellectual rigor; in part, the repository of ultimate knowledge
Posted Wednesday, April 25, 2007
Ala. legislators OK slavery apologies
By Phillip Rawls, Associated Press Writer
MONTGOMERY, Ala., Apr. 24, 2007 - The state House and Senate approved separate resolutions apologizing for slavery Tuesday — one day after Confederate Memorial Day, an official state holiday.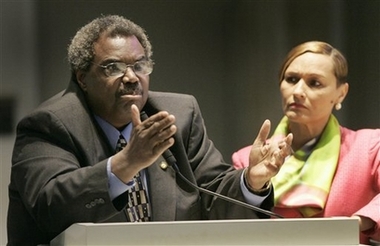 AP Photo: Sen. Hank Sanders, D-Selma, left, along with Sen. Vivian Figures, D-Mobile, right, debates in favor of a resolution apologizing for slavery in Alabama, Thursday, April 12, 2007, at the Statehouse in Montgomery.
"An apology goes a long way," said Sen. Hank Sanders, a Democrat from Selma who sponsored his chamber's resolution. "Some of us can't begin to heal until we have an apology. Some of us can't move into reconciliation until we have an apology."
Neither resolution will become official unless approved by the other chamber and signed by the governor. The House passed its resolution with an unrecorded voice vote; the Senate's vote was 22-7.
Sponsors were optimistic that at least one of their resolutions would make it to the governor's desk. Republican Bob Riley was expected to sign it.
Legislatures in Virginia, Maryland and North Carolina have approved similar slavery apologies this year.
"It's been a long time coming," said Rep. Mary Moore, the House sponsor, a Democrat from Birmingham.
The Legislature resumed work Tuesday after state offices were closed the day before for Confederate Memorial Day, which commemorates secessionist soldiers in the Civil War. The vote occurred across the street from the former capitol of the Confederate States of America.
Moore's resolution expresses state government's "deepest sympathies and solemn regrets to those who were enslaved and the descendants of slaves, who were deprived of life, human dignity, and the constitutional protections accorded all citizens of the United States."
Not all legislators agreed with the apologies. Some Republicans feared the resolutions would be used to seek reparations, and the sponsors added language that they were not intended to be used as a basis for lawsuits.
"What I have a problem with is apologizing for something I didn't do," said Rep. Jay Love, a Montgomery Republican.
Copyright © 2007 The Associated Press
Wehaitians.com, the scholarly journal of democracy and human rights